Simple Online Bank Reviews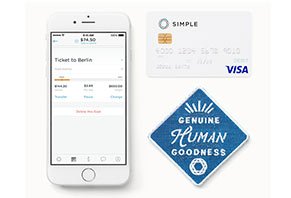 Simple is a fee-free online checking account with a budget-focused app, Visa debit card and many of the features that come with a regular a bank accounts.
What Is Simple Online Bank?
Simple is a relatively new online "bank" that offers a fee-free checking account and debit card.
The company's app encourages savings by letting you set goals either to stash away money for the long term or build up reserves for a short-term expense like a vacation or the holidays.
According to their website, Simple users save 10% of their money per year, as opposed to the average person under 35, who saves -2% per year.
The bank and its app are marketed toward Millennials, whose distrust of financial institutions s put to rest by Simple's non-confrontational, plain-language website.
"It's the whole idea of banking, remade with lovely design, equally lovely tools to help you save (right inside your account), and genuine human goodness," Simple's website says.
While we admit that Simple does an excellent job of making banking sound approachable, we also admit we're a bit skeptical. Is Simple just a normal bank wrapped up in fancy marketing, or is it actually something more than that?
To answer that question, we explored who is behind Simple, what Simple offers, what fees or drawbacks you need to know about, what other people are saying and what alternatives are out there. We'll finish up this review with a few overall observations about the product.
Who is Behind Simple?
Financial apps like Simple give you a cool user experience, but they aren't actually banks. In order to offer checking accounts, they partner with a bank.
Simple has chosen to partner with The Bancorp, a financial institution who has worked with more than 100 companies like Simple. The bank processes more than $230 billion a year in transactions.
Hersh Kozlov is The Bancorp's director. He has an extensive background in financial services and was appointed by President George W. Bush to be a member of the Advisory Committee for Trade Policy & Negotiations.
The bank is FDIC-insured, which means your money is insured up to $250,000 if the bank goes under.
What Does Simple Offer?
Whenever you consider an online bank, it's important to check out all the different feature you'll get as a customer.
Simple offers two things: a savings-focused app and a debit card.
The Simple App
Most of what you'll read on the Simple website covers what you can do with the company's app. The features focus on two things: saving and spending wisely, which, I guess, you could say are pretty much the same thing.
The app has a "Goals" feature you can use to set up savings goals for whatever it is you want to do in the future. Need to save $500 for a TED conference? Set up the goal and, as your account accrues extra cash, you'll see your TED Talk savings meter slowly move from $0 to $500.
Simple also has a "Safe to Spend" feature that helps you avoid overspending through budgeting. The app has "digital envelopes" where you set aside money for your bills. Basically, it's a budgeting feature like what you'd find in Mint or You Need a Budget.
Once you have your money split up into these envelopes, Simple knows how much leftover money based on your current balance. If you're about to make a big purchase, you can check "Safe to Spend" to find out if your purchase will put you in the hole, all future bills considered.
The app also has a Photo Check feature, which means you can deposit a check to your account by taking a photo of the check while you're logged into your Simple app. This feature isn't unique among banking apps: Bank of America, Chase and Wells Fargo let you do the same thing.
Simple has a few limits on how many checks a new customer can deposit, as well as the total cash value of those checks. Click here to learn more about these limits.
The Simple Debit Card
Your Simple debit card works just like any other debit card. You can use it to make purchases or to withdraw cash from an ATM.
Because Simple is linked to an online banking account, you can't write paper checks, although your account lets you send electronic checks.
Other Features of a Simple Account
Simple gives customers a few other features common among banks:
Bill pay
Direct deposit
Transfer money
Link to Mint, PayPal and more
Joint accounts
What are the Fees for Owning a Simple Account?
Whenever a bank or business tells us their products are free, we tend to think they're hiding something. In the case of Simple, there's not much to hide. The company doesn't charge users a fee unless they swipe their card in a foreign country (up to 1%) or they withdraw a cash from an out-of-network ATM machine.
Simple is part of the STARsf ATM network. To find out how many ATMs are near you, head to Star's location search page. At the time of research, there were multiple ATMs in this network in every state.
Aside from that, Simple's website says you don't pay a dime. How do they make their money? Simple says they stay afloat by charging merchants each time you use your debit card (it's called an interchange fee).
"Fees" for Fraudulent Charges
While Simple doesn't charge you fees for their account, you will be on the hook for a significant chunk of money if someone steals your card and card number and makes fraudulent debit charges. These fees aren't specific to Simple or The Bancorp; they're federal regulations that apply to all debit purchases:
You are liable for $50 of the fraudulent charge if it's reported in the first two days.
You are liable for $500 of the fraudulent charge if it's reported more than two days after the purchase.
If it takes you more than 60 days to report the fraudulent charges, you are responsible for 100% of those charges.
If you suspect your card has been lost or stolen, report it as soon as possible.
See Also: 3 Reasons Why Your Credit Card is Better Than Your Debit Card
Simple Reviews: What Are Other People Saying About Simple?
Personal finance websites Credit Karma and My Bank Tracker have the most consumer reviews of any websites we found.
Credit Karma
A total of 93 users gave Simple 4.3 out of 5 stars. Several of the reviewers praised Simple's no-fee policy, pointing out that none of the big banks (Chase, Bank of America, Wells Fargo) offered that perk. Customers also said they enjoyed responsive customer service from Simple.
However, not all reviewers praised Simple. Several complained that the good customer service stops when you're dealing with serious issues.
One customer wasn't allowed to deposit a check to his account from another one of his accounts because Simple changed their policy (we didn't find this rule in Simple's FAQ's or policies). Another customer had a frozen account was overdrawn as a result of cashing a bad check they didn't know was bad.
My Bank Tracker
The reviews on My Bank Tracker reveals that some users have experienced account freezes that, when presented to customer service agents, were not removed. One customer's account was frozen because she was traveling abroad, even though, according to her, she notified Simple before she left that she'd be out of the country.
On the positive side of the things, reviewers said they love the user-friendly interface of the app and appreciate the lack of fees.
Our Conclusions About Simple
Simple's easy user interface and no-fee checking accounts are very attractive for Millennials and other customers who've become tired of bank fees and clunky websites that emphasize function over form.
In that sense, we can see why Simple would be a no-brainer for today's modern banking customer. However, keep in mind that online banks have their pros and cons, as Investopedia's Geoffrey Michael points out.
"It's important to consider that just because online banking is a good addition to the world of consumer banking," Michael wrote, "it doesn't necessarily mean that direct internet banks are a substitute for their brick-and-mortar peers in all cases."
Michael brings up a good point here, especially in light of some of the negative feedback we read on Credit Karma and My Bank Tracker. If you have a problem with a transaction or Simple freezes your account, you don't have the option of speaking face-to-face with someone.
Along with that point, Michael also notes that securing a loan or mortgage may be easier if you have a brick-and-mortar bank because you can leverage relationships you build with your personal banker.
However, if you're convinced that you want the perks of an online bank, remember that Simple is one among several choices you have.
In an article for The Huffington Post, GoBankingRates' Cameron Huddleston provided a list of the top 10 online banks of 2016. Their list includes Ally Bank, Bank of Internet USA, EverBank and several other choices.
Huddleston ranked Ally Bank at the top of the list for its 1% returns for checking accounts, as well as their 24/7 customer service. We haven't researched or reviewed Ally Bank, so we can't say for sure it's better or worse than Simple.
One of the things we appreciate about Simple's app is the emphasis on budgeting. We're big believers in planning out your monthly, yearly and long-term finances, which is why we wrote some helpful articles on how to become a top-notch budgeter:
Our articles talk about budgeting mindsets and provide practical, wise advice on how to create and maintain a budget, as well as how to use one to achieve financial freedom.
1 out 1 people found this review helpful

Hold on my account

By Jean B.

,

Pittsburgh, PA

,

Nov 25, 2019
Verified Reviewer

After declining payment causing me to have to pay extra because there was a hold on my account without no notifications what so ever but was still receiving incoming transfers, now nobody can tell me anything after every threat to expose them. They claim something is not right with the documents. First it was my passport was not clear enough, then it was something else when I send them new ones, it's pattern practice. It's not only me, they are doing this to, and customer service told me that it was at random, smh. I will report them to the Better Business Bureau...

Bottom Line: No, I would not recommend this to a friend

---

3 out 4 people found this review helpful

Bad service

By Gabrielle D.

,

Chicago, IL

,

Oct 24, 2018
Verified Reviewer

I recently signed up for Simple Online Bank because of the online banking they provided. I loved it...at first with the goals they let you design and set up. It was great, until they sent me a card and it was returned to them. I recently moved into my boyfriend's apartment and the landlord hadn't put my name on the mailbox yet. Though my ID had the address but a different unit number, because I went from one apartment in the building to living into another apartment in that SAME building, they FROZE my account! I stupidly put my savings into the online banking, and of course, right when I needed my money, to fix my car that decided to break down that same weekend, I was told I could not get any of my money until they could verify where I lived. FINE. So I took selfies in front of my building holding my ID, in front of my apartment, sent a video of me opening the door with my key. STILL, I was told they could not verify because the one picture I sent of just my ID didn't have all four corners in it. SO once again, I sent in my ID front and back, made sure all corners were in the picture. I sent all of this and I am still waiting on them to respond.

NOW mind you, I've spoken to TWO supervisors through the app, and one was really snarky about the whole thing and told me not to try and TRICK them, they've seen it all...OK. And a few reps were just like, well, sounds like you're SOL and we're keeping your money. SO as a CONSUMER, who set up the account myself, put money into the online banking from MY PERSONAL BANK ACCOUNT with all MY INFORMATION, not once did they try to approach it in another security way, as far as verifying my social or even my bank account or any other secured method they could of taken. NOW I am here waiting on their team to verify all of my documents. I've been dealing with this for 5 days now and I am just getting the runaround.

So my advice to Simple is to figure out better ways of security for a customer, so they can answer questions no one else would know and also to customers, just deal with a REAL BANK that has locations. This online thing was the biggest mistake, especially dealing with a bunch of rude reps. ONLY two reps actually tried to help me, the rest I could feel their eyes rolling back while I cried on the phone trying to get MY MONEY BACK.

Bottom Line: No, I would not recommend this to a friend

---

Advertisement

---

3 out 4 people found this review helpful

Worst experience

By Valerie O.

,

Los Angeles, CA

,

Oct 13, 2018
Verified Reviewer

They took $5,000 from my external account without my knowledge. When I called them to ask where my money was, they denied it, claiming they didn't see any transfers. I had to get the external bank involved and it took over a week to resolve. They had no sympathy that they took a large sum of money and were not at all in any hurry to help. Were extremely rude and incompetent. Stay far away from this bank.

Bottom Line: No, I would not recommend this to a friend

---

4 out 5 people found this review helpful

Enrollment refused without explanation or appeal.

By Lawrence P.

,

New York

,

Oct 4, 2018
Verified Reviewer

I was referred to Simple by an associate. While completing the application, I received a few error messages related to my mailing address. Simple wouldn't accept my PO Box address - as my primary OR secondary address.

I live in an area of forest and farmland and have experienced several incidents wherein someone has knocked down several of the mailboxes along my road.

Failing to get satisfaction from law enforcement we removed OUR mailbox and got a PO Box inside the local Post Office. Therefore the ONLY legal postal address I have IS a PO Box - which IS accepted by all government and commercial (including banking) entities as my mailing address.

I attempted to re-enroll using a different username and my "911" (street) address but was refused again.

I really wouldn't mind so much except for the refusal of Simple to explain to enrollees its refusals, discuss solutions AND retain my Social Security Number. They can't even seem to answer their phone!

I seriously consider this Simple banking scheme to be a sort of phishing scheme - designed to gather ID data from trusting individuals and am reporting it to the FBI.

Bottom Line: No, I would not recommend this to a friend

---

Advertisement

---

1 out 2 people found this review helpful

Perfect for my needs!

By Becky E.

,

Portland, OR

,

Sep 7, 2018
Verified Reviewer

I love Simple! The app is easy to get the hang of, and I love the emergency fund feature, it locks your funds to an emergency fund that can't be accessed unless you transfer the funds back to your own personal account. There are no transfer limits or the number of transfers you are limited to, that I'm aware of. I'm able to stick money in the emergency fund if I want to "forget" it's there. (Good for me since I tend to overspend.) I wish Simple would add a few "simple" additions to their app, one being daily balance notifications each morning, and something that shows how much you've spent on different categories total each week or month. I'd also love a pie chart of where my money is going each month. Something colorful and visual that helps me identify areas in which I could improve. Managing my money is much easier when I know my balance and when I have easy access to a summary of my spending.

Bottom Line: Yes, I would recommend this to a friend

---

Best bank ever

By Allen S.

,

Knoxville, TN

,

Aug 4, 2018
Verified Reviewer

There is a saying that banks are never your friend. That's very true, but Simple is definitely an ally. They do their best to create policies that will help their users. I love their jobs by accounts, and love how I have a personal account tied to it so I can hide a gift I'm buying for my wife.

One thing to be aware of is they give merchants three business days to clear transactions. That means if it takes a little while longer, your balance might be artificially inflated. The good news is, if you spend that money without knowing it, they don't count it against you if you overdraw your account.

They do this so if a transaction was canceled, it will fall off quicker. Most banks do seven days hold or longer. This is why I consider Simple an ally. They create policies that help you.

Bottom Line: Yes, I would recommend this to a friend

---

Advertisement

---