SimpliSafe Reviews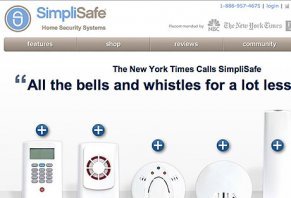 SimpliSafe is a simplistic home security system that claims to help you "live safely, without introducing any complexity, hassle or annoyance" into your life.
About SimpliSafe
Whether you're a homeowner or renter, SimpliSafe claims to offer a sleek, high-tech security system, and "fanatical" customer service.
Based out of Cambridge, MA, the company claims that instead of scaring customers into purchasing obsolete technology at extremely high prices, they focus on simple, straightforward security systems that can be self-installed¾and require no contract.
SimpliSafe has been featured in publications such as Elle Décor, Fortune Magazine, and the New York Times; on radio programs such as The Clark Howard and Dave Ramsey shows; and on TV via Fox News and NBC.
The company is very active in the social media sphere, with 37,000 Facebook likes and more than 1,300 Twitter followers.
SimpliSafe has an A+ rating with the Better Business Bureau, with seven closed complaints within the past three years.
Customer sentiment appears to be overwhelmingly positive, though what complaints there are tend to focus on bulky/overly large sensors, frequent false alarms, faulty equipment, and poor customer support.
How SimpliSafe Works
SimpliSafe claims their security systems use wireless technology to transmit signals to a base station, which then connects to the monitoring company via cellular technology. Systems are "plug and play," meaning they can be self-installed with no tools whatsoever.
Based on the SimpliSafe website, monitoring is effective for all but the largest homes and commercial buildings.
Your SimpliSafe security system will arrive preprogrammed, and will work as soon as it is plugged in. Once your base station starts up, the system will provide voice notification that it's ready to begin monitoring, at which point you'll adhere the battery-strip-powered sensors to wherever they're needed in your home.
According to the SimpliSafe website, your base station can support up to 41 separate components, and when your sensors' battery power runs out, you should be able to replacement them "in seconds" using replacements from any drug store.
Once your system is up and running, it operates using three basic principles:
Your SimpliSafe base station is alerted after a sensor is triggered, which then notifies the 24/7 monitoring center.
Customer support personnel will contact you prior to calling the authorities.
You'll tell customer support your "safe word." If you're unable to confirm this, the authorities will be dispatched.
It's important to note here that emergency dispatch, "professional" monitoring, and tech features such as phone alerts come at an additional cost. In fact, in order to receive full smartphone capabilities, you must subscribe to the most expensive monitoring package. However, all SimpliSafe monitoring comes without the requirement of signing a contract, and can be cancelled at any time without incurring additional fees.
SimpliSafe Pricing
The SimpliSafe security system is available in three different packages:
Starter: $229.96 – The Started package is best suited for small homes or apartments, and includes:

1 base station
1 wireless keypad
1 burglary entry and motion detector
1 keychain remote

Plus: $259.95 – The Plus package includes everything in the Starter package, with the addition of:

2 extra entry sensors
1 extra entry sensor (total of 2)

Deluxe $374.90 – The Deluxe system is ideal for individuals who would like to monitor freezing pipes and water leaks, in addition to burglary. The system is comprised of everything in the Plus package, in addition to:

2 extra entry sensors (total of 4)
1 panic button
1 extra 105db siren
1 freeze sensor
1 water sensor
Regardless of the SimpliSafe package you choose, additional sensors can be added at a cost of $14.99 each, as well as a wide variety of other components, which can be found here. 24/7 monitoring starts at $14.99 per month, and can go as high as $24.99 per month depending on the level you'd like.
Full details can be found here. When compared to the competition, the company claims their low prices can save you as much as $1577 over the course of three years.
From a technology perspective, only the Deluxe plan provides you with the ability to fully engage with your system using the SimpliSafe Android, iPhones, and Windows-capable app. This provides features such as "worldwide control" over activation, alerts, and even your home's temperature.
All SimpliSafe security systems come with a three-year warranty and a 60-day satisfaction guarantee. According to the company's website, if you're unhappy for any reason, you simply have to return the hardware using a pre-paid return label. Once they receive your package, they'll then process a full refund.
Bottom Line: Does SimpliSafe Work?
SimpliSafe claims that they're "fanatical about customer support," and use only US-based customer support personnel who are focused on providing "speedy resolutions" to your problems. In addition, they appear to provide a relatively well-rounded security monitoring, with some caveats.
While the company's claim of using only the latest technology may or may not be true, it does appear to come wrapped in a relatively clunky package that may not always perform as advertised.
However, the system does come with a 60-day money back guarantee, which the company seems to honor without a large amount of hassle.
So, should you try the SimpliSafe security system? Based on our research, it appears best suited toward individuals who may not be worried about having bulky electronics exposed or those who may move relatively frequently.
Ultimately, if you don't like the system, you can always return it within the first 60 days for a full refund.
They will wear you down and steal your money.

By Tara C.

,

Klamath Falls, OR

,

Feb 21, 2019
Verified Reviewer

Be aware, you cannot leave a review on SimpliSafe site or most of the others where they have a high rating...it is buyer beware.

On 7/31/2018 I upgraded an existing system we had from SimpliSafe, from a solicitation to upgrade for a reduced price by returning our old system. We purchased a camera as part of the package but could not get it to work. The cameras did not work and we switched out at least five of them. Two worked for about a week and then went offline and could not be reconnected.

I have spent at least at least 648 minutes (which is 10.8 HOURS) over a minimum of 28 phone calls to rectify the situation. It took an act of Congress to receive a $59.40 refund for the non-functioning camera. I finally became so frustrated I canceled both our personal and business accounts. We asked for a refund on the system, SimpliSafe refused, stating the order was over 60 days. This was over sixty days because we kept trying to get the camera to work and SimpliSafe continued to insist we replace the camera. I spent hours trying to get this to work from August through the end of November and then waited months to receive the refund after many LONG phone calls being told it was being refunded and then excuse after excuse of why it had not been refunded. I would have given up trying to get the $59.40 back but it is the principal.

How many people have they stolen money from? People who just give up because you really have little reasonable options. I want to return the system and receive a full refund.

Bottom Line: No, I would not recommend this to a friend

---

Disappointed

By Mike

,

California

,

Oct 23, 2016
Verified Reviewer

What they don't explain or offer is that for a $14.99/ month service you can't name your sensors and locations throughout your home. Really, a simple thing like that should be an automatic, no matter the price of installation of alarm set up right unless you upgrade to a $24.99 a month, that's the catch where they get you.

I will not recommend to anybody or family members. Instead, go to ADT for $27.99 and with a better service and no hidden B.S.

Now I'm screwed and very upset. What a waste of money, they get you by that sales pitch at $14.99 with no contract but you're screwed with their equipment after 60 days.

I would throw it in the trash before I would give it away for free.

Bottom Line: No, I would not recommend this to a friend

---

Advertisement

---

Simplisafe

By Bobtenn

,

Union City Tennessee

,

Nov 6, 2015

I could not be more pleased, it is simple to install and gives the best protection. They have amazing alerts for any alarms. I wouldn't have any other system.

You don't need a landline phone, it has its own phone in the alarm, and it calls several others plus yourself if it has an alert.

It's only 14.99 per month, has lots of options, I couldn't be more pleased. I'd give it 10 stars if I could.

Bottom Line: Yes, I would recommend this to a friend

---

Setting things straight: SimpliSafe is simply the best

"What complaints there are tend to focus on bulky/overly large sensors…" I moved from an ADT system to SimpliSafe. The entry sensors are larger than ADT's but not by much. The motion detectors are smaller than ADT's were. Everything else is comparable.

"…frequent false alarms…" Chalk that up to inexperience. Every security system generates false alarms, some more than SimpliSafe's. It's an aggravation you have to put up with if you want security.

"…faulty equipment…" In my experience, SimpliSafe's equipment is actually more reliable than most.

"…and poor customer support." "Overwhelmingly positive customer sentiment"—your words—would seem to belie this. A look at the readily available public blogs would provide some actual data. Can that be said about any of SimpliSafe's competitors? You have to wonder why not.

"SimpliSafe claims their security systems use wireless technology…" Instead of stating this as a "claim," as if there's some reason to doubt it, why not do due diligence and check it out? I own a SimpliSafe system. It's wireless, as has been the case for several years. SimpliSafe is a pioneer in the area of wirelessly-connected systems.

"It's important to note here that emergency dispatch, 'professional' monitoring, and tech features such as phone alerts come at an additional cost." As is the case with every single security system provider. What isn't noted is the important fact that SimpliSafe provides these at the lowest cost among all providers. Why gloss over this fact? And why put "professional" in quotes, again implying that you doubt it?

"In fact, in order to receive full smartphone capabilities, you must subscribe to the most expensive monitoring package." As is the case with every other security system provider.

"However, all SimpliSafe monitoring comes without the requirement of signing a contract, and can be cancelled at any time without incurring additional fees." As is definitely NOT the case with all other security system providers. In fact, some make their customers sign 3- and 5-year contracts, with fees ranging up to $199 per month. That's nearly $12000 over the life of the contract!

In sum:

- Do research before writing. Merely quoting hearsay doesn't do anyone much service.

- When you emphasize that the company "claims" things, put product features and benefits in quotation marks, and omit very pertinent facts, it appears that you have a bias against the company and/or its product.

- Upshot: just stick with the facts.

Bottom Line: Yes, I would recommend this to a friend

---

Advertisement

---

Fantastic Response & Easy Install

By Karen C.

,

Washington State

,

Jun 8, 2015

In December 2013 I forgot to turn the alarm off when I let my little dog out in the morning. I doubt if 3 minutes had passed before the Jersey call center contacted me. Super easy installation. Some other reviews noted the following downsides but here is my response to those: battery cost, REALLY people, you spend at least $4 a day on your Starbucks coffee. Decibels of base unit, they offer a louder speaker, mine is in the master bedroom so it is loud enough. Flashing blue lights on base & sensors, I personally like knowing at a glance things are working. I am extremely happy with this system By the way this is not my first alarm system and another F.Y.I. for future SimpliSafe buyers - my home is fairly large, 3 levels and coverage is great.

Bottom Line: Yes, I would recommend this to a friend

---

Fantastic Alarm System

By Doug Ulberg

,

Bellmore, NY

,

Feb 26, 2014

I bought this alarm system after reading the overwhelmingly positive reviews on the internet. I installed the system and I have been really impressed with both the monitoring and customer service. My only complaint with the system is the base station alarm isn't loud enough. I purchased a external siren to remedy this. I love the text messages telling me the system is armed or disarmed as well as which PIN number disarmed the system. Overall, this is a fantastic alarm system.

Bottom Line: Yes, I would recommend this to a friend

---

Advertisement

---