Simply Sonic Toothbrush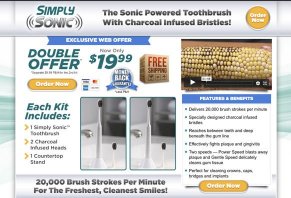 The Simply Sonic Toothbrush from Spark Innovators delivers 20,000 vibrations per minute, charcoal-infused bristles, a countertop stand, and two replacement heads, all at a competitive price.
Simply Sonic Toothbrush Review
Vibrating at 20,000 brush strokes per minute, Simply Sonic Toothbrush uses specially designed charcoal-infused bristles to reach between teeth and deep below the gum line.
The website advertises the toothbrush is also perfect for cleaning crowns, caps, bridges, implants, and between braces, as well as for easily reaching molars and dentures at the back of your mouth.
Together, the company advertises Simply Sonic helps effectively fight plaque and gingivitis and leave you with your whitest, brightest, freshest, and cleanest teeth ever.
Even a brief stroll through the oral care section of your local pharmacy or big box store, or quickly browsing popular online retailers, reveals that Simply Sonic is up against a massive number of competitors. Here, we'll help you decide which options might deliver maximum value for the money, starting with the basics.
Taking a Closer Look at How the Simply Sonic Electric Toothbrush Works
Simply Sonic's brush head vibrates so fast that it generates an audible sound (i.e., in the sonic range). It also features a built-in timer that lets you know how long to brush each quadrant of your mouth, along with two speeds: Power for blasting away plaque, and Gentle for cleaning delicate gum tissue.
Compared to standard models, which remove plaque and debris using only a brushing motion, Animated Teeth explains that sonic toothbrushes also create "a secondary cleansing action that helps to disrupt dental plaque beyond where the tips of its bristles actually touch."
Simply Sonic's bristles also contain charcoal, which acts as a mild abrasive to further promote plaque and stain removal.
» Related: Does Activated Charcoal Teeth Whitening Work?
How Much Does Each Simply Sonic Toothbrush Cost?
Two Simply Sonic Toothbrushes will cost you $19.99 plus $9.99 P&H. Each set includes one toothbrush, two charcoal-infused heads, and one countertop stand.
Spark Innovators offers a 90-day money-back guarantee on all Simply Sonic purchases, less return shipping, and original shipping fees. You can call 866-249-4105 or send an email to sparkinnovators@customerstatus.com.
Sonic Toothbrushes Compared to Traditional Models
Writing for the Mayo Clinic, Thomas J. Salinas, D.D.S. reports that we should brush our teeth twice per day.
This brushing action helps to break up a sticky, bacteria-laden film—known as plaque—that forms on the surface of teeth after eating sugary foods, which can break down tooth enamel and lead to cavities over time.
According to the American Dental Association, manual and electric toothbrushes are both effective for removing this plaque and preventing gingivitis, although Healthline reports, "A review of studies showed that, in general, electric toothbrushes do decrease more plaque and gingivitis than manual toothbrushes."
Outside of cleaning power, the ADA points out that although electric toothbrushes are more expensive than manual versions, they're typically easier to use for those with limited mobility or dexterity concerns. Healthline adds they may cause less waste, could improve your focus while brushing, are safe for sensitive gums, and are especially useful for those with orthodontic appliances.
Choosing Between Simply Sonic & Other Sonic Toothbrushes
Although Sonicare was the first company to release a sonic toothbrush way back in 1992, hundreds of options exist today. In addition to sonic technology, many of these share the same features as Simply Sonic, including built-in timers, dual speeds, multiple heads, and countertop stands.
Here are popular options the HighYa team has investigated in the past, along with top-rated choices on Amazon at the time of our research:
| Brand | Price | Vibrations/Strokes Per Minute | Special Features |
| --- | --- | --- | --- |
| Simply Sonic Toothbrush | $29.95 (2 sets) | 31,000 | Charcoal-infused bristles, 2 modes |
| BURST Sonic Toothbrush | $69.99 (replacement head $6 every 3 months) | 33,000 | 3 modes, promises to feature the longest battery life on the market |
| Quip Toothbrush | $30+ | 15,000 | Available in different sets (includes toothpaste, replacement heads, batteries, travel cover), Versions with metal or plastic handles |
| Oclean One | $89.99 (replacement heads $19.99) | 50,000 | Dupont / Pedex diamond bristle filaments, IPX7 water-resistant body, BPA free, 60-day battery life, customized oral plans via app connectivity |
| Phillips Sonicare Essence | $24.99 (2 x replacement heads $17.95) | 31,000 | Patented Dynamic Fluid Action technology, up to 2-week battery life, reminders bristles let you know when it's time to replace |
| Liberex Sonic Electric Toothbrush | $24.99 (4 x replacement heads $11.99) | 48,000 | Includes 4 replacement heads, rechargeable battery, minimum 1-month battery life, 5 modes |
Comparing these options, we can see that Oclean One offers the highest brush strokes per minute (although this doesn't necessarily ensure the 'best' clean) and the most technological features. However, it's also the most expensive by quite a margin—both when it comes to upfront costs, as well as replacement heads.
From a price perspective, Phillips' Sonicare Essence comes with the lowest upfront cost and is manufactured by the originator of the sonic toothbrush. Although, with the second-highest expense for replacement heads in the table above, you might make up for this lower price over time.
Still, Quip is only $6 more than the Essence. And with the complete sets offered by the company, they could provide more overall value since you'll receive replacement heads, toothpaste, and so forth.
Simply Sonic's $29.95 price tag is undoubtedly competitive, although it features fewer modes. There are also a lot of essential details overlooked on the toothbrush's website. For example:
Is it powered using standard batteries (and which kinds), or is it rechargeable?
How long will it last per charge or battery replacement?
Are replacement heads available? If so, how much do they cost?
We contacted multiple customer service representatives looking for additional details during our research, although each advised that it was a brand new product and they didn't have anything outside of what was listed on their website.
Our Final Thoughts About the Simply Sonic Toothbrush
Just like with manual toothbrushes, your 'perfect' sonic toothbrush will heavily depend on your individual preferences and comfort level. Specifically, while sonic toothbrushes might clean better, not everyone appreciates the sensations they deliver.
As a result, the process might take some trial and error.
So, it's positive that Spark Innovators stands behind Simply Sonic with a 90-day money-back guarantee, should you find that it doesn't meet your needs. We think this is important because poorly made sonic toothbrushes and heads can actually damage your teeth and gums, so you'll want to purchase from reputable manufacturers.
Just keep in that if you decide to request a refund, you'll lose half of it in P&H fees, plus whatever it will cost you to send your toothbrushes back to the manufacturer.
On top of this, there remain several critical unanswered questions about Simply Sonic's battery life and ongoing costs. And based on what we learned from professionals during our past research, the charcoal-infused bristles won't necessarily deliver better whitening results than third-party abrasive toothpaste.
» Related: Tips to Help Kids Overcome Their Fear of the Dentist