Siren Diabetic Socks Reviews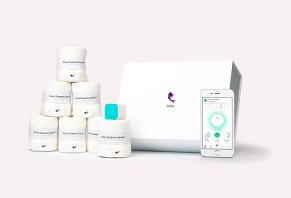 The Siren Diabetic Socks system uses six different sensors on key areas of each foot, along with a wireless Hub and app connectivity, to help monitor temperature changes and prevent infected ulcers.
About Siren Diabetic Socks
The innovative Neurofabric used in Siren Diabetic Socks features seamless, virtually invisible microsensors that monitor temperature changes in the bottom of your feet. This data is sent to a small tag near the top of the sock, which is then wirelessly transmitted via Bluetooth to the smartphone app and Hub.
Together, the company advertises that their system can help track temperature at six key points on each foot, helping you to find potential signs of diabetic ulcers and related infection, before amputation is necessary.
All you have to do is wear your Siren socks daily (the more you wear them, the more data they can collect and the clearer insight you can gain); receive notifications via the app, text message, or email if signs of inflammation are detected, and replace your supply every six months.
The Online Web Portal also provides access to your temperature readings, additional educational materials, and the ability to connect with their online diabetic community.
Considering this functionality and ease of use, in addition to Siren's comfortable design and convenient subscription model, it certainly seems like it could help those with diabetes fight injury, as claimed on their website. But in this article, we'll help you decide if they're the right diabetic socks for you.
The Basics of Diabetic Foot Ulcers
Healthline explains that all people with diabetes are at risk of developing foot ulcers, which "are a common complication of poorly controlled diabetes, forming as a result of skin tissue breaking down and exposing the layers underneath. They're most common under your big toes and the balls of your feet, and they can affect your feet down to the bones."
As mentioned on the Siren website, there are a variety of factors that can influence the development of foot ulcers, including lifestyle (poor fitting shoes, improper toenail trimming, alcohol and tobacco use, etc.), diet, medical history, and genetics, while Healthline adds to the list poor circulation, high blood sugar, nerve damage (neuropathy), and irritated or wounded feet.
To help prevent some of these from leading to foot ulcers, specialized diabetic socks exist that are constructed from moisture-wicking materials that contain no seams and won't bind, and feature strategic padding to help prevent rubbing and irritation.
Even when following doctors' orders and implementing preventative measures like diabetic socks, though, a major problem is that in many instances, patients might not even be aware they have foot ulcers until they've become dangerously infected.
The good news is that according to David G. Armstrong DPM MD Ph.D., writing for Podiatry Today, "Monitoring skin temperature can be an effective method of predicting and preventing diabetic neuropathic foot ulceration, according to a" 2013 meta-analysis published in the Journal of Foot and Ankle Research.
How does the Siren system implement this approach to help maintain foot health?
Taking a Closer Look at Siren Diabetic Socks & App
Like standard diabetic socks, Siren's are seamless, non-binding, and moisture wicking, although they're not designed to improve blood flow like compression garments. Comparatively, though, they're comprised of four total components:
Socks, which are made of proprietary Neurofabric with sensors embedded at the six "highest points of pressure and the most common sites of injury"
A tag, which is embedded near the top
An iOS and Android companion app, which works on any smartphone or tablet using these operating systems
A Hub, which plugs into any standard outlet and can be used instead of the app to send alerts to your home phone or e-mail
The socks' embedded sensors transmit the data they gather to your smartphone or the Hub via Bluetooth Low Energy (BLE), which will compare each of the spots between both feet. If a significant difference is noticed between the same two spots on different feet, you'll receive a notification.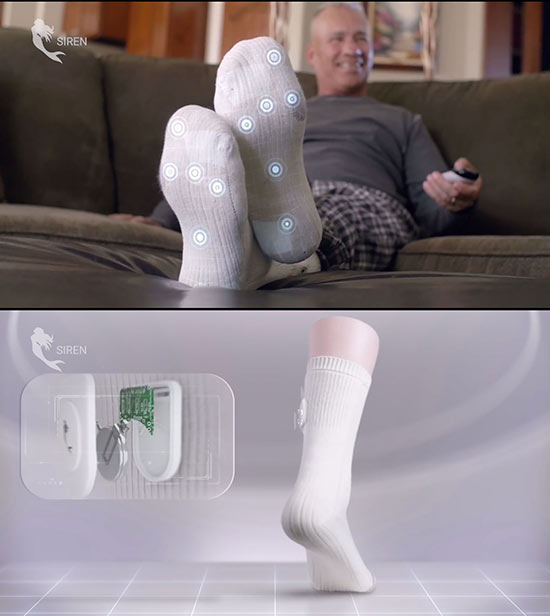 In these screenshots from the Siren commercial, we can see where each of the Neurofabric's microsensors are installed (top), which send data to the embedded tag (bottom) and then pass it to the app or Hub. Credit: Siren Care
The website tells us the socks are comfortable and ultra-soft with a padded footbed, don't need to be charged, will not receive interference from home alarms, cell phones or other electronics, and are machine washable on low heat. Each order includes a washing bag to help you keep your Sirens in one place during the process.
The company will send you a fresh set of their Diabetic Socks once every six months in order to ensure optimum fit and foot protection. The tags are powered by coin cell batteries like those found in watches, which will last the entire cycle, before receiving your new set.
With each new set, you'll open the Siren app and scan the QR code on your Diabetic Socks. The Hub will automatically connect to your home's Wi-Fi and your smartphone app after inserting it into any standard outlet.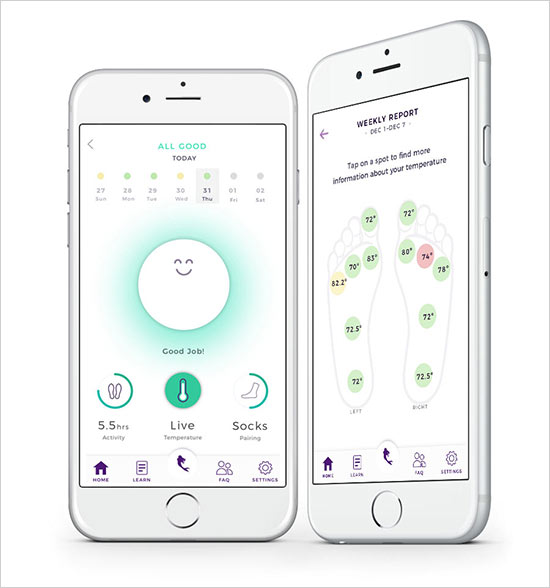 Although Siren's app isn't currently available on Google Play or iTunes, in the screenshots above, we can see that it provides details like live temperature readings on all 12 sensors between both feet, status reports, and cumulative weekly reports. Credit: Siren Care
How Much Do Siren Diabetic Socks Cost?
Siren's socks, which are available in all standard sizes and in four different colors (although they'll initially only be available in white and black), can be pre-ordered for $19.95, with expected shipping late 2018. You'll receive one delivery every six months, which will include:
Five pairs of Diabetic Socks
App download
One Hub
Web portal access to view in-depth historical foot health data over time
One washing bag
One sock organizer
Concierge service (the company will call or text you about potential injuries)
While Siren's socks aren't yet covered by health insurance, the company does accept HSA/FSA cards for payment.
All subscriptions come with free U.S. shipping and can be canceled at any time.
Socks also come with a 30-day money back guarantee, although per their Refund Policy, items "must be unused and in the same condition that you received it," as well as "in the original packaging." To request one, customer support can be reached at 888-339-0246 or info@siren.care.
What Do We Know About the Company Behind Siren Diabetic Socks?
As a company, Siren Care was founded in 2015 and is based out of San Francisco, Ca. According to the bio on their website, CEO Ran Ma had already created the initial concept for Neurofabric when she crossed paths with COO Henk Jan Scholten and CTO Jie Fu at the 7th International Symposium on the Diabetic Foot.
Today, their "vision is to empower people to avoid complications caused by chronic disease and aging" by developing "innovative wearable health technology that seamlessly integrates into the user's everyday life." In March 2018, the company successfully raised $3.4 million from three different investors.
Are There Other Diabetic Socks Like Siren?
As we discussed earlier, diabetic socks are nothing new, and are widely available online and at local retailers, often for less than a couple of bucks per pair. At this price point, they obviously won't feature app connectivity or other smart features.
Along these same lines, we didn't encounter any other 'smart,' app-connected, or all-in-one diabetic sock or foot temperature monitoring systems during our research, so Siren currently seems to be in a class of its own.
And since Siren's diabetic socks aren't slated for release until late 2018, you'll have plenty of time to schedule an appointment with your doctor and discuss your needs with them. From there, they can run the appropriate tests and ask the right questions to properly diagnose your condition, and then prescribe science-backed, related treatments.
But as we mentioned earlier, there is mounting clinical evidence (including several studies referenced on the Siren website) indicating that regularly and closely monitoring foot temperature can be an effective method of reducing the likelihood of forming an infected diabetes-related ulcer.
Does this necessarily mean that you should go ahead and place a pre-order? Let's carry this thought over to the final section as we wrap things up.
Our Final Thoughts About Siren Diabetic Socks
Considering the fact that there currently aren't any other connected, all-in-one foot temperature monitoring systems on the market, Siren's Diabetic Socks are the only game in town.
So, if you're at risk for diabetic foot ulcers and want a potentially easy solution for monitoring temperature (remember, it hasn't been released for consumer testing yet)—which has been clinically shown to help identify ulcers before they become infected—the system certainly seems like a logical choice.
Just remember that according to the disclaimer on their website, "Our products and services are only intended to be a health and wellness product and are not intended for use in the diagnosis of disease or other conditions or in the cure, mitigation, treatment or prevention of disease." Again, this is where your doctor comes in.
Another potential caveat to keep in mind is that if you don't have a smartphone, it appears you'll have to wait until you're in close proximity to the Hub before uploading (and consequently viewing) data. Alternately, you'll have to carry the Hub around with you and plug it in periodically while on the go, which might be inconvenient, depending on your needs and preferences.