Sit Means Sit Dog Training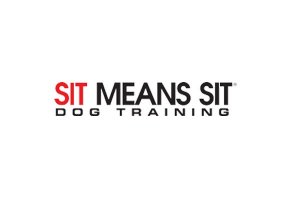 Sit Means Sit is a franchise of dog training centers that use remote collars to teach your pet to resist distractions and pay attention to your commands for better behavior.
Sit Means Sit Dog Training Review: A Detailed Overview
What Is Sit Means Sit Dog Training?
Sit Means Sit is a dog training franchise located across the United States that claims to use a remote collar as a cutting-edge approach to dog training and behavioral modification to help you eradicated problem behaviors in your pup.
Founder Fred Hassen developed this remote collar training method as a way for owners to improve their pet's ability to listen to instructions and maintain focus.
Since forming his unique training system and establishing Sit Means Sit training centers, Hassen has presented hundreds of seminars to pet owners, professional trainers, and K9 handlers both abroad and across the United States.
It's possible to attend training classes at Sit Means Sit locations across the country or to enroll your pet in a boarding stay where they will be taught commands in your absence.
While each site will vary slightly in what they offer, all Sit Means Sit courses use training techniques to maintain your dog's focus on the instructor despite distractions.
Should you send your dog away to behavioral classes with Sit Means Sit? Let's go through the premise of this training approach so you can determine whether it's the right fit.
How Does Sit Means Sit Dog Training Work?
According to the company's primary website, Sit Means Sit's dog training approach encompasses a variety of tools tailored towards different behavioral issues. However, their core training philosophy is focused on using the Sit Means Sit Remote Collar.
Training Your Dog at Sit Means Sit Training Locations
Sit Means Sit is a franchise, which means that each Sit Means Sit location offers different training programs. Some examples include private lessons, group lessons, board & train programs, lifetime training, puppy training, and agility training, AKC (American Kennel Club) competition, hunting retrieval, and more.
You can find Sit Means Sit Training Centers near you through the company website by sharing your zip code on their search page. You'll get a list of local training centers, each of which has a website.
The closest center to me was in Northwest Michigan, and it offers obedience training, off-leash control, and distraction training. Also available is an on-site doggy daycare for weekdays.
The three primary forms of training offered at the center included the following:
Board & Train: These sessions are best for pets who need basic obedience training and don't have serious behavioral issues. Your pet will stay at the training facility for either seven or 14 days while staff members train them through phase one of using the remote collar. This lets you pick up the training after your pet learns the basics.

Day Train: This training program splits the responsibility between trainers and owners through a blend of immersion and private lessons. Sit Means Sit trainers will work with your pet one day a week for three consecutive weeks, while you're given instructions for completing 30-minute lessons to build on that training in the days between sessions.

Private Lessons: Select dogs may qualify for one on one training where you both learn the fundamentals of remote collar dog training. These sessions break down to about 90% the responsibility of the dog owner and 10% the trainer.
Training Your Dog At-Home with the Sit Means Sit Collar
The Sit Means Sit Dog Training Collar is a waterproof remote electric collar that includes a receiver and transmitter.
This collar works within a ¼ mile range and has a programmable transmitter you can configure to the intensity that makes sense for your dog. It's possible to handle up to three dogs in training collars with one remote.
According to the company website, these collars rely on technology similar to the electronic muscle stimulators that are common in medical devices used for physical therapy.
When the owner uses the transmitter, it gives your dog a low-level electric stimulation that triggers muscle contractions. This creates a "tap," or a cue for the dog to snap to attention without causing pain or disrupting your pet's emotional state.
In other words, this electric "tap" gets your pet's attention similar to if you were pulling on a leash or using a clicker.
Using the collar as a training tool allows you to condition your pet to respond to your commands quickly and to associate them with something positive, like getting a treat.
This makes it simple to get your dog's attention in situations when they are away from you and would otherwise be difficult to control.
How to Use the Sit Means Sit Training Collar for Training
The Sit Means Sit website highlights how to use the collar. The end goal is to get your pet to reliably respond to your commands so that the collar is unnecessary except for occasional retraining sessions.
This training is broken into three phases:
Phase 1: The Teaching/Control Phase (6 to 12+ weeks)
During this phase, you're working to gain control over your dog and teach them your preferred rules, boundaries, and behaviors. You'll practice getting your dog to focus on your commands even when around distractions. Once your pet can perform your commands quickly and reliably, you can move on to Phase 2.
Phase 2: The Reinforcement Phase (6 to 12+ weeks)
You'll start to phase out the training collar during this phase and work on developing a consistent response from your pet, even if they perceive you aren't in control. Some dogs will require you to go back to Phase 1 for several weeks before they succeed in obeying your commands without any outside reinforcement. Once your pet filters out distractions entirely when you give a command, you can move on to Phase 3.
Phase 3: The Maintenance Phase (Ongoing)
This third and final phase is designed to help your pet maintain their training for the long run. You shouldn't have to use the training collar often, though it might still be necessary as a reminder if you start to see your pet's behavior slipping.
How Much Does Sit Means Sit Dog Training Cost?
The Sit Means Sit website makes it clear that the company doesn't offer set rates for its services. Rather, the training and boarding costs will vary based on your dog's unique personality, your training goals, and the center's location.
As a ballpark price estimate, online reviews we looked at for Sit Means Sit showed that many customers were quoted $1,200 or more for packages that included four individual lessons, lifetime support, and lifetime access to group classes.
You can get a free quote by taking advantage of the company's no-obligation consultation policy to get a sense of what services your pet will most benefit from and their cost.
You can decide what (if any) training you want to commit to after. It's best to reach out to the center closest to you to set up this initial appointment.
It's best to direct any further questions to the company's primary contact page.
The Sit Means Sit collars retail for $240 on the company shopping page. Each purchase comes with a lifetime warranty, meaning that you can contact the company directly at (800)732-0144 to start the process of receiving a new one if it stops working for any reason.
If you decide you don't like the collar within the first 30 days after purchase, you can contact the corporate office at (702) 877-4581 to request a full refund.
How to Franchise with Sit Means Sit Dog Training
Sit Means Sit offers franchise opportunities for those who are interested in starting their own dog training business. You'll first need to fill out an online application that will establish an appointment time for your first Franchise interview.
If you're accepted, you will need to complete a three-week training course of the Sit Means Sit method in Las Vegas which costs $45,000, not including travel and food expenses. It's possible to repeat this training at any time for no additional fee.
After this training, you can start your training center. The company estimates you'll need to budget at $1,500 for specialized equipment at the beginning, not including the cost of renting a training space.
You'll continue to receive support from the company throughout the year in the form of annual conferences, seminars, and private email discussions.
Analysis of Sit Means Sit Dog Training Customer Reviews and Complaints
Since Sit Means Sit is a franchise, the reviews we found online all reference specific training centers. Nonetheless, they offer insight into whether this training method makes sense.
We saw dozens of Yelp reviews for different locations, and most were four stars or above.
Many reviewers noted that their pets showed improvements in their behavior after a few sessions, as they seemed to have quieter energy and tended to be more focused on their owners.
Others wrote that they appreciated the chance to drop their pet off for several weeks, and pick them up fully trained.
Other pet owners reported more negative experiences. Some stated that the training didn't address their dog's root behavioral problems and that the training was too expensive.
In one instance, a reviewer complained that the offered solution for her pet with separation anxiety was to leave him alone in a crate for 16 to 17 hours each day.
A few reviewers also took issue that Sit Mean Sit's training regimen was limited to remote collars because they wanted to have more options for choosing how to train their dog.
The Bottom Line: Is Sit Means Sit Dog Training Worth It?
Now that we've looked at the facts, let's summarize whether we think Sit Means Sit makes sense for dog training.
This chain of training centers garners excellent reviews online, and most people who sign up for sessions seem to think they are worth the expense for the improvements they experience in their pets.
That's not to say this training method is for everyone. Sit Means Sit exclusively relies on a remote collar for "tapping" your dog to attention, which some people might take issue with.
While the company claims that this collar isn't painful and doesn't cause any problems to your pet, a few online reviewers noted that they had sensitive dogs who were scared of the collar and shut down to the point that they weren't receptive to learning new behaviors.
Likewise, Sit Means Sit's hands-off approach to dog training might not be your style if you want more control over the process. You might not like the cues or commands the trainers use and find it difficult to retrain your pet after a multi-week boarding stay.
Our view is that Sit Means Sit appeals to a specific type of dog owner and seems it excel at what it promises to deliver them.
If you have a mild-mannered but slightly out of control pet you wish you had more control of, Sit Means Sit is a great way to establish some baseline training without having to commit to mastering every step yourself.
This makes it an excellent dog training option for people who prefer to outsource the task to someone else.
If, in contrast, you want more personal control over how you train your dog, Sit Means Sit's style likely isn't right for you.
---
Friendly staff, clean facility, and informative

By Nicci L.

,

Edmond, OK

,

Aug 26, 2020
Verified Reviewer

Length of Use: Less than 3 months

Overall Experience:

The staff is very willing to talk to you about any issue and try to resolve it as quickly as possible.

From what I can tell they don't try to add extra time to the process, they really want to see a change in your animal as soon as possible!

The staff is very knowledgeable and willing to share this with you to the best of their ability. Encouraging questions and positive vibes in general.

Definitely would recommend to any dog owner that struggling for dominance or obedience or whatever the case is!

Pros and Cons:

Friendly and helpful staff
Clean facility
Worth the cost
No "cons" were specified in this review

Bottom Line: Yes, I would recommend this to a friend

---

Disappointed

By Melissa B.

,

Fort Worth, TX

,

Aug 21, 2020
Verified Reviewer

Length of Use: Less than 3 months

Overall Experience:

The trainer seemed very nice when we dropped off our dog, but after 2 weeks of boarding and training we were told that our dog was immature, has a strong will, and that small dogs are harder to train. We were told we may need a follow-up. Asked about the follow-up, was told we would receive a phone call the following day, this was about 2 or 3 weeks ago.

Pros and Cons:

Dog did learn how to sit
Sometimes "leave it" works
Wanted potty training, very little improvement
Did not get much for the money

Bottom Line: No, I would not recommend this to a friend

---

Not what we expected for the cost

By Laura M.

,

Las Vegas, NV

,

Jul 24, 2020
Verified Reviewer

Length of Use: Less than 3 months

Overall Experience:

The trainer was very nice, the training was minimal and could have been accomplished in one 4 hour course of how to use the collar. My dog never got past "phase 1". The most learning she got was that when the collar was tapped to sit down. It was built up to be much more in the consultation than what we actually received.

Pros and Cons:

They picked the dog up and dropped her off after the lesson
That the price is inflated as much as the presentation of the training

Bottom Line: No, I would not recommend this to a friend

---