SkiErg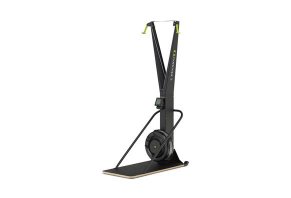 Manufactured by Concept2, SkiErg is a home workout solution that helps you train indoors for Nordic skiing or to get in shape.
SkiErg Review: Important Things to Consider Before You Buy
What Is SkiErg?
SkiErg is an American-made piece of exercise equipment designed to mimic the movements and exertion level of Nordic skiing.
The machine is manufactured by Concept2, a company considered to be an industry leader in home rowing machines since 1976. The brand states online that SkiErg was made by adapting key rowing machine elements to a vertical orientation in order to simulate the movements of cross-country skiing.
According to the SkiErg website, it offers one of the most challenging strength and endurance workouts available.
The machine's movements target muscles throughout the legs, arms, and core and can be adapted for almost any size and skill level. At the time of writing, it was possible to mount the machine directly to your wall or purchase a special-made floor stand for extra portability.
But will you really get a quality workout in from pretending to ski indoors? Let's see what this innovative machine offers so you can make the right decision.
How Does SkiErg Work?
Concept2 believes you can find value in the SkiErg even if you never plan to go skiing through the Alps.
The company claims that Nordic skiing is an aerobically-demanding sport that requires participants to be in incredible shape. They brand the SkiErg as an excellent way to improve your general fitness through the movements you'd do in Nordic skiing.
The company sees this as a way to achieve a standing cardiovascular workout without putting pressure on your knees, and as a training strategy for skiers during the offseason.
SkiErg's resistance ranges mimic what you'd experience in outdoor conditions, so it gives you a quality training option that is safe, low-impact, and independent of the weather. You can use it to practice both double pole and alternating arm skiing techniques.
One detail that makes SkiErg stand out is its flywheel resistance and electronic monitoring system, which is similar in function to what's offered by the Concept2 rower.
You'll see accurate performance data in real-time so that you can continuously modify your exertion level to get the best workout.
This makes it appropriate for all fitness levels, as you control the resistance level by how hard you pull for each repetition. Harder pulls make the flywheel spin faster, which produces in more resistance.
With the included Performance Monitor, you receive immediate feedback on every pull as well as cumulative data at the end of the workout. This monitor self-calibrates so you can compare every workout statistic against your previous performance.
This Performance Monitor has both Bluetooth and ANT+ wireless connectivity, which makes it possible to sync up heart rate monitors, apps, and other fitness devices.
SkiErg users can create an online profile through the Concept2 platform, and the Online Logbook lets you keep a record of your performance and compare it to others worldwide. It's also possible to take part in online challenges and distance award programs to keep you motivated for the long term.
SkiErg Cost
At the time of writing, you can purchase SkiErg from the Concept2 website for $770, plus approximately $45 for shipping across the continental United States. We also saw it for sale through other online retailers like Amazon for about $815 and free shipping.
Included with each purchase are a Performance Monitor, necessary assembly tools, a product manual, and quick start guide.
It's also possible to purchase a SkiErg floor stand if you don't want to mount it directly to your wall. The stand costs $180 and comes with an anti-skid deck and castor wheels to make the machine more mobile.
Regarding returns, the company offers a thirty-day policy if you buy directly from the manufacturer, minus return shipping costs. You can message the company with any further questions at (800)245-5676 or at info@concept2.com.
A Look at SkiErg Customer Reviews
Amazon is a trusted vendor for SkiErg, so we looked closely at previous customer reviews to see whether people are getting the quality workout SkiErg claims to deliver.
The consensus seems promising, as reviewers awarded the machine 4.8 stars after more than 50 reviews.
That's not to say every review was entirely positive. Several users commented that they had a love-hate relationship with their SkiErg because the workouts were so intense.
Many considered it to be their "secret weapon" for getting in shape, while acknowledging they could only use it at high intensity for a few minutes at a time.
These reviewers also noted that you should plan on spending about an hour on assembly when you receive it, though they stated that the process wasn't difficult with the tools provided.
Many people also suggested buying the base because of the extra level of convenience that it offered.
Overall, the consensus we saw was that SkiErg users thought it was a high-quality exercise machine that delivered a challenging full-body workout.
Those who seemed to appreciate it most were professional skiers or people dealing with leg injuries that limited their ability to perform traditional exercises.
SkiErg vs. Alternatives
There's no lack of options if you're looking for a home exercise system for a cardio workout. A few we think are worth considering including the Peloton Cycle, the Bowflex MAX Trainer, and the NordicTrack Free Stride.
Peloton has taken the home fitness world by a storm in the past few years with their tech-integrated fitness equipment.
When you purchase their $2000 bike, you gain unlimited access to live and on-demand fitness classes filmed from their New York studio—for a $40/month subscription fee.
Many people love Peloton equipment because it helps them capture the energy of a live class without having to make it to the gym. However, you'll pay close to the price of a gym membership to own and use this premium equipment.
The Bowflex MAX Trainer is designed to give you an intuitive yet effective workout through a machine that operates as a "reverse elliptical," stair stepper and stationary bike all in one. It's designed to give you a zero-impact workout—similar to SkiErg—so that you can tone up regardless of any lingering injuries.
You'll pay between $1000-$2200 per model, and each comes with multiple resistance models and workout programs. That's different than SkiErg, which relies on the force of your push to control the resistance level.
Finally, the NordicTrack FreeStride Trainer is a workout machine that combines the features of a treadmill, stepper, and elliptical in one. This makes it possible to change your stride to adjust the workout intensity without putting any impact on your joints.
The center drive design comes with 24 levels of magnet-controlled resistance and a 7-inch touchscreen so that you can monitor your progress in real-time.
However, this machine loses points with reviewers because of its proclivity to defects and mechanical problems. Others found that it restricted their stride length too much to be comfortable. You can purchase it for $1,999.
While each of these machines offers a low-impact home workout option, they vary in price and functionality.
SkiErg is the most affordable option we looked at as well as the only piece of exercise equipment that focused specifically on the muscles used for skiing, so if that's a deciding factor for you, we suggest that it's the way to go.
The Bottom Line: Is SkiErg Worth It?
As this research should make clear, SkiErg is a quality piece of fitness equipment that will give you an intense workout. In fact, it might be too intense for those who aren't already fans of Nordic skiing.
We read nothing but good things about this machine from a quality and functionality standpoint, and many users noted that they loved the optional floor stand for an easy storage solution.
It's likely to provide you with a brutal workout, so make sure you're ready for that before purchasing unless you're okay with the machine gathering dust in your basement from lack of use.
Overall, we think that SkiErg is an exceptional indoor fitness solution for a niche sport.
If you're looking for a more traditional way to get in shape or aren't concerned about performing high impact exercises like running, you might prefer a workout machine that offers more moderate intensity fitness options like a stationary bike or treadmill. If that's not you, we think there's a good chance you'll be pleased with SkiErg.