Skintology MD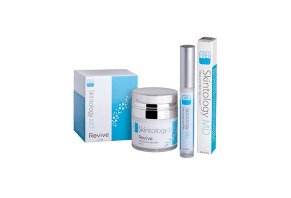 Skintology MD is a topical ointment that has been designed by dermatologists to reduce (and ideally, eliminate) skin tags entirely using an all-natural formulation.
Skintology MD Review – Removes Skin Tags or Hype?
Skintology MD is a topical serum that is designed to provide a safe, effective solution to remove skin tags from the body in a matter of hours.
The product's website describes it as using an all-natural formula that has been proven to eliminate skin tags, as well as prevent them from recurring.
The topical serum can be applied anywhere on the body where skin tags might form. The manufacturer claims that the application can take as little as 30 minutes to take effect. It is also mentioned that the product can be used for warts and moles, as well.
So, how exactly does Skintology MD actually work? Let's take a look in the section below.
How Skintology MD Works
The makers of Skintology MD assert that the product uses "ancient techniques discarded by mainstream medical science" in order to eliminate skin tags.
They go on to say that the ingredients found within the product formula help to dry out moles and skin tags, reducing their appearance, and ideally, eliminating them altogether.
The formula itself is said to have been custom-designed by a team of dermatologists to eliminate these blemishes using a three-step process:
Cut off hydration supply to the skin tag or mole. This is said to prevent additional growth.
Dry out the affected area. This drying effect is what is responsible for the skin tag ultimately withering and falling off of the skin.
Nourish and hydrate the area. Helps the healing process, protecting the skin and preventing new growths in the process.
This sounds promising, but before we can determine whether or not Skintology MD will actually work for you, we need to look at some basics. For instance, what are skin tags, and how are they formed in the first place?
Additionally, what are some of the conventional methods for treating and removing them? We'll take a closer look at both of these questions next, before diving deeper into Skintology MD's formula.
Skin Tags: What Causes Them?
Let's start off with a bit of good news; though skin tags may be unsightly and annoying to some, in the vast majority of cases, they are completely benign.
According to WebMD, they cause virtually no symptoms and typically are either formed right on the surface of the skin or on short stalks that seem to "sprout" out from nearly any area on the body.
Skin tags are also quite common; approximately 25% of people develop them at some point in their lives, and this is increasingly common after the age of 50. They are also reported to be more prevalent in those living with diabetes, as well as those who are overweight.
Conventional Skin Tag Removal Methods
According to WebMD, there are several conventional methods for removing skin tags that are well-established, safe and effective.
These include physically cutting it off using a scalpel or scissors, freezing it off with cryosurgery, and electrosurgery (using an electrical current to burn it off).
Of course, each for these treatments requires that you pay a visit to a doctor or specialist, and for many, higher costs may be a compelling reason to look to a product like Skintology MD instead.
Skintology MD Formula Ingredients & Side Effects
According to one the manufacturer's Skintology MD websites, the following ingredients are included in the product's formula:
Mentha piperita (peppermint)
Melissa officinalis (lemon balm)
Jojoba seed oil
Melaleuca alternifolia (tea tree oil)
No information was provided as to the concentration of each of these ingredients found inside the serum. There is an option to view the full product label, but as of this writing, it seemed to be a non-functional link.
We reached out to customer service, who they told us they were unable to provide a full list of ingredients and concentration amounts at the time. That said, do any of these substances show clinical promise in terms of being effective at treating skin tags, moles, and other blemishes?
Based on information provided by WebMD, Examine.com, and Healthline, we found that none of these four ingredients had a significant, clinical link to removing skin tags or moles.
It is important to note that this doesn't necessarily mean that the product won't work for you; only that there isn't sufficient evidence to conclusively prove that the ingredients found inside its formula are effective in clinical trials.
In fact, Healthline reports that many topical products can be effective for treating skin tags and that surgical treatments may be better suited as a backup plan if these treatments fail.
Additionally, none of the ingredients found in Skintology MD's formula were reported by the sources above to have any severe side effects when used topically. Of course, as always, if you are concerned about any potential allergies you may have, it is always best to speak with a doctor before trying a new product for the first time.
Skintology MD Pricing & Return Policy
As of this writing, Skintology MD was only available via the manufacturer's various product websites. It is packaged in three different quantities, and the pricing for each is as follows:
One bottle - $59.99 + free shipping
Two bottles - $99.98 + free shipping
Three bottles - $134.97 + free shipping
Regardless of which option you were interested in, each order is listed as including a 30-day money back guarantee. Digging into the fine print, we found refunds are handled on a "case-by-case" basis.
We reached out to customer service again to see if they could provide any clarity and they let us know that unopened products can be returned within 30 days for a full refund. Opened products, meanwhile, were only eligible for a "partial" refund, though the agent declined to state how much that might be.
If you were considering making a purchase, we feel this is important to keep in mind when considering which quantity to purchase.
The Bottom Line: Is Skintology MD Right For You?
Skintology MD promises to provide a quick, efficient and proven method for removing skin tags anywhere they may appear on your body. Can you count on the product to deliver these results?
Based on the information we've collected above from sources like WebMD, Healthline, and Examine.com, none of the ingredients found in the product's formula are clinically proven to be effective for skin tag removal.
That said, Healthline did report that there are a number of over-the-counter solutions that are potentially effective, and Skintology MD could feasibly fall into this category. Ultimately, you may want to reach out to your dermatologist and get a recommendation before committing to any specific product.
If you'd prefer to simply give Skintology MD a shot and see how it goes, keep in mind that you'll only be able to receive an unspecified "partial refund" if you determine it isn't for you after using the serum.
We might recommend that those interested in trying the product purchase a single bottle initially. This way, you'll have less money to lose if you determine that it isn't the right solution for your skin tags in the end.
Have you used Skintology MD before? What were the results? Share your valuable experience with other HighYa readers below.
Scam - don't waste your money

By Bubba M.

,

Vero Beach, FL

,

Apr 1, 2020
Verified Reviewer

My experience exactly follows that of others who have commented.

Beware of the fine print that says you are signing up for a monthly subscription program. Regardless of the number of bottles initially purchased, they will start sending a bottle monthly and charging your card $49.99.

Since I have had numerous skin tags for years, I ordered the 3 bottle package to get the lowest price per bottle.

Before starting use I had my annual dermatologist visit. My doctor had not heard of the product but offered to freeze three skin tags with nitrogen as a comparison. The three doctor-treated tags dried up and fell off in four days.

I starting using "Scamtology MD" at the same time. After a couple of weeks, I could see no change in the tags treated with the "Scamtology" product. To my surprise, another bottle arrived in the mail. I checked my credit card account and found the $49.99 charge. I complained to customer service and got the same response as noted by other victims. After speaking to a supervisor I was offered the same 75% refund, which I accepted. It took 2 months to use the 4 bottles with daily morning and evening applications, with no apparent change in my tags.

Bottom Line: No, I would not recommend this to a friend

---

The only product that works!

By Yvonne H.

,

San Rafael, CA

,

Feb 17, 2020
Verified Reviewer

Over the years, I've ordered numerous products to rid myself of neck moles, all to no avail. Finally, I discovered Skintology MD that actually works, sometimes right before your eyes, leaving the skin without evidence of the mole ever being there. It doesn't seem to get rid of "old" moles yet it prevents new ones coming to fruition if you're on top of them! Thank you Skintology MD for finally providing a solution with pain!

Bottom Line: Yes, I would recommend this to a friend

---

Advertisement

---

I have been robbed by Skintology MD

By Danny S.

,

Tipp City, OH

,

Jan 15, 2020
Verified Reviewer

I ordered two bottles of this product. It did absolutely NOTHING to remove my skin tags and moles. Having concluded that I wasted near $100 on the two bottles, imagine how I felt when I was charged another $50 and received another bottle in the mail! The owners/operators of this scam should be jailed. I am furious.

Bottom Line: No, I would not recommend this to a friend

---

Don't bother

By Debbie W.

,

Federal Way, WA

,

Oct 31, 2019
Verified Reviewer

I've called and was given a confirmation number to cancel my order and was just shipped and charged for another order. This time I will cancel it on my cc and then call them again and get a refund...don't bother with this...first time I called to cancel they kept putting me on hold and finally was given a number but only to have another shipment sent out...enough is enough...

Bottom Line: No, I would not recommend this to a friend

---

Advertisement

---

Skin tag removal

By Robert L.

,

Tennessee

,

Sep 7, 2019
Verified Reviewer

We tried the skin tag removal and it was totally worthless. It did absolutely nothing. It's a scam. Save your money. Take the money you would have used and give to a charity where it would be far better used.

Bottom Line: No, I would not recommend this to a friend

---

Ineffective product

By Yvonne H.

,

Chester Springs, PA

,

Aug 16, 2019
Verified Reviewer

The product does not work - I tried it according to directions for a month and saw no change. Automatically sends you another order and charges $50 even though the product does not work.

Bottom Line: No, I would not recommend this to a friend

---

Scam

By Kaye G.

,

Los Angeles, CA

,

Aug 14, 2019
Verified Reviewer

Do not buy it! Very unhappy with the product and being dumb enough to try it. I should have read more and realized it doesn't work. Then after calling customer service I found it that they don't take care of their customers either. She refused to give me a total refund even when the website states "If you are unhappy, we will refund - NO QUESTIONS ASKED!" That's a LIE! I really wanted this product to work and told the people that over email and over the phone. But as my 30 days were coming to an end, I decided it wasn't going to work since the video says 6-8 hours and I have been using it 2 and 1/2 weeks. Don't buy it! You will save yourself a hassle.

Bottom Line: No, I would not recommend this to a friend

---

SCAM! Does NOT WORK!

By Rebecca J.

,

Missouri

,

Jul 31, 2019
Verified Reviewer

If I could give no stars I would! I bought a 1-time product for $59.99 on June 22, 2019 for my mother. It didn't take very long to get here, but when she opened it, I remember her remarking that it didn't smell like anything (which is odd for something with peppermint in it to not smell like anything). She applied it faithfully 3 times a day for the next 3-4 weeks and nothing happens.

I see a charge on my credit card on July 22, 2019 for $49.99 from Skintology MD, which was odd because I only ordered the one-time product and clicked the box for it. I email the company letting them know that I don't want to be charged again and that I want a full refund for both charges - seeing as the product did not do what it said it would. I was told by Myra that I'd have to call to see about the refund because they could only cancel the alleged "subscription" over email. I call the toll free line and speak to an agent who gives me her employee number (either 103 or 183) and then tells me about how I supposedly signed up for a monthly subscription and that it's already canceled. When I ask for a full refund for both charges to my account, she tells me that I can only get a refund for the second charge as it was past the 30-day money-back guarantee. This I knew was a lie that they had told many people because it was the 30th day of my guarantee and I should've been able to still get my money back. The odd thing is that the website says that it takes 3- 6 weeks for results so shouldn't there be a longer trial time (like 60 or 90 days)? Sorry about that short tangent there.

After this, the customer service rep tells me that if I want a refund I'll have to pay S&H to send the stuff back that they just shipped out as well as a $7 (and some change) "stocking fee;" on top of that they told me I'd only get back 75% of the $49.99 if I did this but if I decided to keep the product - which, mind you, did not work - I'd only get 25% of my money back. I told her that I ordered the 1-time product and that the whole second charge was their mistake to begin with and that I was only on the 30th day of the first trial's money-back guarantee so I wanted a full refund for both. She told me that she was going to speak to her manager and came back saying that they'd give me 50% of the money for the second charge and allow me to keep the product. I told her that I have no use for a product that doesn't work and she told me that I'd have to call back AGAIN for the return information.

I decided I'd take this up with the BBB as I knew I was entitled to a full refund considering the circumstances that they'd made the second mistake and I was well within the boundaries of the 30-day guarantee to get my money back for the first charge but was denied it by them. I'm waiting to hear back from the BBB now! I can't believe they only offered me $12.49 - of the $109.98 I was charged - back just because they wouldn't acknowledge their own guarantee and knew that nobody wants to spend their own money to ship the product back and pay the stocking fee.

Bottom Line: No, I would not recommend this to a friend

---

Does not work for me

By Jenny O.

,

Ferndale, CA

,

Jul 15, 2019
Verified Reviewer

Bought three tubes of Skintology because they were the "Best Value". Did absolutely nothing for my moles. Time got away from me so I could not return them for my money-back guarantee because I was over the 30 days. I would buy only one tube until you see if it works for you. Why waste the money on a super deal if it doesn't work? In case you don't read all of the legal fine print, you are also signing up for automatic monthly delivery as well. If it had worked as advertised, why would you need four tubes of this product? On the last tube that showed up they offered 25% off to not have to bother sending it back and then when I balked, they offered 50% off the $49 tube to be done with it. I am into this product just under $200 and my refund is $25.00. I am over 60 years old and have never written a negative review about any experience or product before but I feel this situation deserves a comment.

Bottom Line: No, I would not recommend this to a friend

---

This is a SCAM

By Ralph G.

,

Las Cruces, NM

,

Jun 21, 2019
Verified Reviewer

I originally ordered what I thought was a product that might work. It doesn't, and when I called them, after having received a fourth product, was that my order was a subscription. And what that means is I get once a month a tiny tube of some kind of liquid that simply does not work. And each month I get a bill for about $45. I called the listed telephone number (844-200-0458) several times and left voice messages, no response. Finally, I got to speak to a living person who kept giving me a sale pitch. I finally got the individual to accept my cancellation and I want to WARN others that this is probably mail fraud as the product DOES NOT live up to their claims and NOWHERE could I find that I was subscribing to a monthly product at an outrageous price!

Bottom Line: No, I would not recommend this to a friend

---

Don't waste your money

By Susan S.

,

Lancaster, SC

,

Jun 19, 2019
Verified Reviewer

My husband has been using this for a month every day religiously and to his dismay, it does not work. Today, after checking my bank account I found out that they have debited my account for another month supply. Getting ready to call them. What a scam!

Bottom Line: No, I would not recommend this to a friend

---