Sky HD Antenna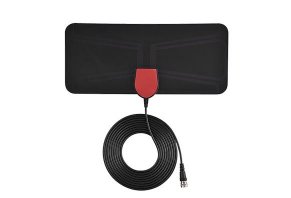 If you're trying to cut the cable and want an HD antenna to get free channels, the SkyHD Antenna claims to help you by using the latest technology to capture multiple local channels in your area.
Sky HD Antenna Review: Things You Should Consider Before You Buy
The Sky HD Antenna is an HD television antenna that claims to be the "#1 rated indoor HDTV antenna in America" and can provide you with premium TV channels.
Among other claims the company makes is that the antenna was designed by "a military expert using extreme bandwidth technology" and that set-up takes three minutes.
With the big claims that the antenna makes, it's hard to say no, especially considering their website emphasized, at the time of publishing, 50% off the regular price of the device.
However, when you're making a decision like this, it's important to take a minute to do some research on the product and see how it compares to other TV antennas. In this review, we will help you in that process by telling you how this antenna works, how much it costs and how it compares to similar TV antennas.
Where possible, we'll include reviews from people who've used this antenna or another device like it.
How the Sky HD Antenna Works
Your antenna will ship with the antenna itself and a coaxial cable that you'll use to screw into your TV. Before you install the antenna, make sure you've positioned your TV so that you have easy access to the coaxial input – it's the threaded input with the small hole in the middle.
Once you identify where it is and you have easy access to it, you can screw your antenna in. At this point, you'll want to position your antenna on walls facing outside or on a window. The goal is to put the antenna in a place where there are the fewest obstructions as possible.
TV advice site Disable My Cable recommends using two-sided adhesive tape as a way to temporarily stick your antenna to a spot. Why temporarily? Because you'll want to try out a couple of different spots in order to see which location gets you the most channels, or at least the channels you want.
Once you've got your Sky HD antenna in place, you'll need to go into your TV's settings and find the "Channels" option. In that menu, you should have an option to auto scan channels.
This process entails your TV using the antenna to scan for high-definition local channels available from various TV antennas within a 30-mile radius of your home. This process may take a few minutes but most TV's have a progress bar you can monitor.
When the scan is done, you should be able to see how many HD channels you get. If you aren't satisfied with the number of channels you have, you can reposition your Sky HD and do the scan again.
Does the SkyHD Antenna Give Your Premium Channels?
The introduction to our review mentioned that SkyHD says it can give you premium channels. What makes this claim interesting is that "premium" is open to interpretation. For example, the popular interpretation of "premium" is "paid."
So, when a company claims their antenna can give you premium channels, we believe most readers would interpret that as an antenna that can give you stations like ESPN, HBO, Showtime and more. These are channels you'd have to pay extra for from your cable company.
However, HD antennas can't give you premium channels. They're limited to the stations that are broadcast from the TV towers in your area and, in most cases, those channels are ABC, NBC, CBS, FOX and a smattering of other local stations including PBS affiliates.
This gets to the heart of what HD antennas do – they transmit the same local stations you would've gotten twenty years ago except in federally-mandated high definition (in most cases).
HD antennas do not provide premium channels you'd otherwise have to pay for through your cable company.
Now, even though these antennas are limited, they're still a great tool for getting HD local stations. For example, my wife and I have a basic cable package through Comcast. Our cable box provides standard definition channels, not HD, so we don't even have a cable box hooked up to our TV. We use an HD antenna we bought at Walmart. We miss out on the premium channels in our cable package but we see it as a good tradeoff.
The important thing to remember is that the SkyHD antenna doesn't provide access to paid TV channels – it gives you channels that other HD antennas can give you.
SkyHD Antenna's Pricing
At the time of publishing, you had multiple pricing options for buying this antenna. Each price includes the cost of shipping:
One antenna: $61
Two antennas: $79.95
Four antennas: $120
Six antennas: $160
While the website for this antenna features a logo that says the device comes with a 60-day money-back guarantee, the fine print notes that you have 30 days to return your antenna.
However, you can only return it if "you have received a damaged or defective product." In other words, if you don't like how the antenna works you can't return it.
You can increase the antenna's ability to work better by putting it on a window or on a wall that's facing the outdoors.
Comparing the SkyHD Antenna to Other HD Antennas
HD antennas are ubiquitous. You can buy them at big-box stores and local electronics stores. Choosing the right one can be a bit overwhelming, so we'd suggest picking one that fits in your budget and has good customer reviews.
Two examples of highly-rated HD antennas under $30 would include the following products we found on Target.com:
Phillips Flat Panel HD Passive Antenna: $19.99, 4.75 stars
Philips HD 1.0 Contour Series Indoor Passive Antenna: $25.99, 4.5 stars
Both of these antennas are affordable and produced by a well-known manufacturer and both have excellent reviews from users.
The Final Word: Summarizing the Pros and Cons of the SkyHD Antenna
Based on our research of this product and its claims, as well as the backdrop of similar antennas and highly-rated offerings from Target, we believe the evidence reveals the SkyHD's specific strengths and weaknesses.
The main advantage of the SkyHD antenna is that it provides you with a way to get HD television channels without having to pay for a cable subscription. For those looking for a way to cut costs, an antenna like the SkyHD can help you save money.
That being said, we think that the antenna may disappoint you. As reviews of nearly identical antennas attest, there's a good chance the channel lineup you get will be very limited and, according to the fine print, getting limited channels isn't a valid reason for returning the product.
In other words, unless the antenna shows up at your door broken or damaged, you're stuck with it. And, considering that other antennas from brands like Philips will cost you half as much as the SkyHD, the evidence we found in our research seems to say it may make more financial sense for you to consider other antennas before buying the SkyHD.
» For Further Reading: How I Cut the Cord and Keep TV, Internet, and Cell Phone Bills Under $150