SkyWire TV Antenna Reviews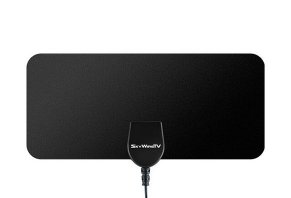 SkyWire TV Antenna comes with many potential benefits, including a lightweight, install-anywhere design, two-minute setup, and access to HD over-the-air broadcast signals.
About SkyWire TV Antenna
Advertised as America's top-rated indoor HDTV model, the SkyWire TV multidirectional antenna promises to provide access to 100+ over-the-air channels in 1080p resolution, without monthly contracts or bills.
The antenna is compatible with televisions, HD receiver boxes, PCs, and laptops, and its space-saving design means it can be installed quickly and easily, whether on the wall, window, or even behind a picture frame. Then, plug it in, and you're ready to begin enjoying programming like local news, sports events, and your favorite shows.
Together, this is why the manufacturer claims that more than 1.5 million SkyWire TV Antenna units have been sold worldwide. Should you become their next customer, though? Can you realistically expect it to save you thousands of dollars, as advertised on the website?
We'll help you find some actionable answers, starting with the device's functionality.
How Do Antennas Like SkyWire TV Work?
Digital Antenna Basics
According to the Digital Transition and Public Safety Act of 2005, all television stations and networks were required to cease broadcasting analog signals and start broadcasting digital signals, as of February 17, 2009.
Among other things, this meant that if you picked up over-the-air analog signals using a pair of old-school rabbit ears, you'd need to switch to an antenna capable of picking up digital signals (initially developed by the military) and then translating them into a picture on your screen. And this is precisely what models like the SkyWire TV Antenna help you accomplish.
Important: Keep in mind, though, these types of antennas only pick up signals from local broadcast stations, such as ABC, NBC, CBS, PBS, FOX, CW, Univision, and Telemundo. They do not receive premium cable-only content from stations like HBO, Showtime, TNT, ESPN, Nickelodeon, and so forth (no name just a few).
As a result, if you're expecting to cancel your cable subscription, purchase the SkyWire TV Antenna, and regain free access to all of your cable-only programming, you'll likely end up disappointed.
SkyWire TV's Specifications, Installation, & Channel Selection
Size-wise, SkyWire is 8.3 inches wide by 4.7 inches tall, weighs about 12 ounces, is multidirectional (it can receive signals from all directions, versus a single direction), features dual-band reception (VHF/UHF), and 20 dB gain. It comes with a 10 ft high-performance coaxial cable, which can attach directly to many TVs and set-top boxes.
If you need to connect it to more than one set, though, you'll need to purchase a separate amplifier.
According to the website, just plug the antenna into the back of your TV using the included coaxial cable. Then, you'll position it wherever you need to achieve the best reception, whether on the wall, window, behind a picture frame, or on a shelf.
Pro tip: Keep in mind that your physical location is the most significant factor that will determine which channels you'll have access to, whether using SkyWire TV, or any other indoor HDTV antenna.
Some of the most popular methods of finding out which channels you can receive are by visiting the FTC's DTV Reception Maps, TV Fool's Signal Analysis Tool, as well as AntennaWeb.org. And while the manufacturer advertises that SkyWire can pick up signals from up to 30 miles away, remember that other factors can impact your reception, such as hills, mountains, or trees in the way, as well as inclement weather.
Finally, you'll select the antenna as your source, perform a channel scan on your TV, and then enjoy your free programming. In all, the company indicates you can be up and running in just a couple of minutes.
How Much Does SkyWire TV Antenna Cost?
How much you pay for your SkyWire TV Antenna seems to depend largely on how many you buy, as well as which of the company's sites you purchase from, For example, on their main page, they're priced as follows:
1 Antenna: $31.43
2 Antennas: $57.53 ($28.81 each)
3 Antennas: $78.59 ($26.20 each)
4 Antennas: $94.30 ($23.58 each)
5 Antennas: $112.64 ($22.53 each)
If purchased from their 50 Percent Off page, however, the prices increase to:
1 Antenna: $39.95
2 Antennas: $69.90 ($34.95 each)
3 Antennas: $99.99 ($33.33 each)
4 Antennas: $130.00 ($32.50 each)
5 Antennas: $149.75 ($29.95 each)
Regardless of which site you purchase from or the quantity you choose, all SkyWire TV Antenna orders come with a 30-day exchange policy, which the Terms emphasize is only available for damaged or defective products.
To request one, you'll need to reach out to customer service for an RMA at (800) 204-7702 or support@skywiretvantenna.com.
What Can We Learn From Online Customer Reviews for SkyWire TV Antenna?
We encountered four customer reviews for SkyWire TV on Yelp at the time of our research, who had given the company an average rating of one star. Complaints commonly referenced reception problems and less-than-stellar support.
Related: How I Cut the Cord and Keep TV, Internet, and Cell Phone Bills Under $150
We also encountered 17 customer reviews and 18 closed complaints on the Better Business Bureau's website, where NYC-based SkyWire TV held an F rating, as of 5/21/18. Most of the complaints were similar to those on Yelp, although a company representative responded to many of the negative reviews.
Are There Other Indoor HDTV Antennas Like SkyWire TV?
The good news is that, if you're in the market for an indoor HDTV antenna, you have perhaps thousands of options to choose from.
And many of these share similarities with SkyWire TV, including slim designs, the ability to place them almost anywhere, receive signals from 30+ miles, and coaxial connection w/long cords, to name just a few. Add to this that some of these options are available on marketplaces like Google Shopping and Amazon for as little as $13, and the number of options at your fingertips can seem insurmountable.
How to choose the best option?
First, keep your expectations realistic, both from a reception quality perspective, as well as the number of channels you'll receive. Based on our experience writing about electronics that can help you cut the cord, these are the two most common complaints from readers.
Related: How to Cut the Cord and Get Rid of Cable
Along these same lines, while multidirectional antennas like SkyWire TV can pick up signals from multiple directions, they're not always ideal. Specifically, Crutchfield explains, "Because multidirectional antennas "see" in many directions, they are more likely to pick up noise, interference, and multipath distortion."
On the other hand, "directional HD antennas are able to pull in signals from greater distances, and because they "see" in only one direction they are resistant to noise and "multipath distortion" (a problem created when an antenna receives reflections of the desired signal)."
Therefore, if you're located in a single direction from most towers (such as suburban or rural locations), but are farther away than the 30-mile distance covered by many multidirectional antennas, a directional option might deliver better results.
Finally, like any other product, you'll want to only do business with companies who:
Price their products competitively
Stand behind their products with at least 30-day refund policies, with no restocking fees
Come with mostly positive online customer feedback, which could be a good indication what you'll experience after handing over your money
When applying these criteria to the SkyWire TV Antenna, does it look good from a consumer's perspective?
Our Final Thoughts About SkyWire TV Antenna
While we didn't test any products ourselves to provide firsthand feedback, the SkyWire TV Antenna seems to come with several potentially useful features: it's multidirectional, compatible with most popular devices, can be installed just about anywhere, comes with all the equipment you need, and can be set up in a matter of minutes.
It also comes with a reasonably competitive price—especially those purchased from their main ordering page.
It's important to balance these positives with the fact that we encountered dozens of less expensive options during our research, primarily via online marketplaces like Amazon and Google Shopping. Many of these claimed to deliver the same core benefits as SkyWire TV.
In addition, the majority of these retailers and sellers offered at least 30-day refund policies. Something that—unless you receive damaged or defective merchandise—isn't available with SkyWire.
Finally, the antenna's manufacturer came with ultra-low customer feedback across sites like Yelp and the Better Business Bureau, many of which complained of functionality and support concerns.
Bringing all of this together, as consumers ourselves, we're not sure the level of risk presented by SkyWire TV outweighs its potential benefits. Just keep in mind that whichever option you choose, none of them will provide access to premium cable-only content.
This product does not work.

By Kurt J.

,

Summerland, British Columbia, Canada

,

Jun 3, 2018
Verified Reviewer

I just installed SkyWire. What a scam. Do not buy this product. I received zero channels. Then I discovered, that the company does not give refunds. What a waste of good money. Shame on you SkyWire.

Bottom Line: No, I would not recommend this to a friend

---

Do not buy this product!

By Polly T.

,

Concord, NC

,

Jun 8, 2018
Verified Reviewer

I first saw this product on the home screen of my internet provider.

I am a handicapped senior widow existing on SSI only so I quickly clicked into the site and took advantage of the 50% off and a bonus $5.00 coupon to purchase two antennas at $32.45 each, in an effort to eliminate the high cost of satellite TV.

While waiting for delivery, I went to a local electronics outlet and purchased the MOHU Leaf (25-mile range) antenna at just $18 for my office TV. I had it installed in minutes and got 10 solid channels but only one national (ABC). This antenna has an interchangeable connection in case you need a longer coax cable.

One week later, my SkyWire Antennas arrived. Although the website shows the SkyWire logo clearly printed on the antenna, my order arrived in plain packaging, no "SkyWire" anywhere on the box, the instructions or the antenna. I believe I got a knockoff product.

I installed one on my 48" Samsung Smart TV, scanned for channels and got the same 10 that I got with the MOHU unit. So, I scanned again, and this time I got 18, but half of them are all 'weak signal' even though they fall within a 20-mile range to local towers. Every time I turn off the TV, I have to rescan for channels the next time. This antenna is a knockoff piece of crap! It does not work as advertised.

Their website does not say anything about what might cause interference with these antennas. Their installation instruction page (a 4x6" slip of paper with NO logo on it) says "your geographical location may limit channel reception."

NOTE: The RCA and GE antennas ALL say exactly how the product works on the outside of every package and they can be returned - no questions asked.

I contacted SkyWire. It took three emails, but I finally got an RMA number to send the product back, but the email says NO REFUND unless the product is damaged.

I believe they are using their access to Facebook and internet screens to catch seniors with their 50% discount and then they send out a knockoff. They are adamant about putting that RMA number on returned packages, yet their package doesn't say their name ANYWHERE.

Now, I have to go to the local big box store and get two new 55-mile range antennas FOR A LESSER PRICE, and I am out $65 thanks to SkyWire! Even if I send them back, they are only going to send me two replacements.

I posted my thoughts on this product on Facebook (without saying the SkyWire name) on 6/4/18 only to get back several "piece of junk" comments from my friends.

Thank you, HighYa, for giving a more definitive explanation of how these "Free TV antennas" actually work!

Bottom Line: No, I would not recommend this to a friend

---

Advertisement

---

Found it to be a scam

By Len S.

,

Claremont, NH

,

Jun 5, 2018
Verified Reviewer

I think it's an awful shame that they scam the elderly to say they can get free TV at a fraction of the cost. They advertise discounts, BS, it still cost me full price and then some, and now I am finding out I might not get my last dollar back. I think that is a disgraceful act; they should be ashamed of themselves and reported to the proper people who can do something to stop them ripping people off! Shame, shame, shame!

Bottom Line: No, I would not recommend this to a friend

---

They got me for $1100

In my opinion, and experience, this company solicits for the sole purpose of intentionally stealing your money! They're laughing all the way to the bank with each and every one of our $100 unwittingly made donations! I am so damn mad at myself for falling for this scam, I could just scream.

Furthermore, they go to the lengths of putting a statement in the paperwork that comes with the device that no returns will be accepted for items deemed to be in functioning order. So the device may be in perfect working order, whatever that is, but that in no way means it will work for you. Who knows what the heck it'll work for, that doesn't matter. It means nothing when it doesn't work for you, or is capable of providing you with the service in which it was purchased for. That doesn't mean the equipment is broken or faulty, which is required to just be eligible for the possibility of return.

I don't have a clue if there's anyone anywhere that actually got something that did anything to aid in watching something on their TV. But I can tell you I was so angry about my equipment not doing anything, that I hired a tech (not from this company because they're no way in hell they'd have them) and after every effort on his part to somehow figure out a way to get it to do anything, he had no better results than I did.

You cannot contact anyone for any reason at this company, although they again lie through their teeth stating they have a working customer service, that's nothing more than more BS. I finally got a number that is supposed to be used on a return, of course at your cost, that does nothing more than conveniently relieve you of any evidence you may have of ever having received the device. I don't care if you send it registered mail. All that does is send it off to gain a signature of God knows who, which you could never locate or use to your benefit anyway. This is a setup, folks! And I personally am not only contacting the BBB but will make sure I take a minute to help prevent anyone else from getting flat robbed with no recourse, by reviewing anywhere possible!

We need to stop people like this from being capable of stealing simply by claiming to sell an item that is no more real than the biggest lie you've ever heard, then simplifying the process needed to accomidate their thefts. Someone, please come up with a way of preventing this from being possible, to begin with. Some form of providing an overwhelming abundance of proof positive before being capable of selling any product to the open market, or your credit card not working to purchase items not listed on a guaranteed database!

This money could have gone to help with my cancer bills. I thought I would be saving money by not having cable bills, which you're pretty much resigned to doing when you're ill, this hits twice as hard!

I just got something from their customer service that states they are in no way affiliated with SkyWire. How is that possible! Even their own customer service doesn't want to be affiliated with them. It doesn't get any worse than that. Let's go get these rotten ripoffs!

Bottom Line: No, I would not recommend this to a friend

---

Advertisement

---

Antenna does not work.

By Kevin C.

,

Cadwell, GA

,

Jun 1, 2018
Verified Reviewer

I checked with SkyWire before buying and was assured that if it did not work, they would refund my money. It didn't work at all. No channels. Since I live in a rural area, I also bought the booster. I got no channels. When I tried to contact the person who gave me the assurance, there was no reply. They finally sent me an email saying they were busy and would get back to me. That was a week ago. No contact. This is a SCAM, and HGTV should help us. They provided the advertising area for this SCAM company. I have contacted HGTV and await an answer.

Bottom Line: No, I would not recommend this to a friend

---

Piece of junk

By Anil T.

,

Streamwood, IL

,

Jun 5, 2018
Verified Reviewer

I bought three SkyWire TV Antennas online. After receiving them, I opened one and tried on two TVs keeping the Antenna at different locations and sides. It scanned only 30 channels and most of them were advertising and non-English. Few channels like ABC and CBS, which you can receive on any ordinary antenna, were among them.

I wrote them to return them. The reply was that they cannot refund even for unopened packages. DO NOT waste your money!

Bottom Line: No, I would not recommend this to a friend

---

Beware, it does not work!

By Jerry C.

,

Broseley, MO

,

Jun 13, 2018
Verified Reviewer

This is just a scam. It does not work as they advertise. It is a shame that they are taking money from people as there is a no return policy. I should have known there was a catch. Very disappointed. I will be warning others.

Bottom Line: No, I would not recommend this to a friend

---

SkyWire purchase

By Sonya H.

,

South Carolina

,

Jun 1, 2018
Verified Reviewer

I received my SkyWire package yesterday with nothing in it but a piece of paper. It had been ripped open, and I paid $70.00 for a plastic bag. I tried calling the company, no response. This is a ripoff in the biggest kind of way. Shame shame on you SkyWire.

Bottom Line: No, I would not recommend this to a friend

---

Scam

By Lori K.

,

Seattle, WA

,

May 31, 2018
Verified Reviewer

I reviewed this product everywhere to just be sure, and now after my purchase and installation, I have realized it's nothing more than a regular antenna you can buy at any electronics store. I have requested a return address and my numerous emails are ignored, and the only responses I get are about installation and their satisfaction rating. Customer service takes days to respond and I still don't have what I requested. I am calling my credit card company today to file a complaint.

Bottom Line: No, I would not recommend this to a friend

---

Beware

By Nancy A.

,

Missouri

,

Jun 5, 2018
Verified Reviewer

I got one to replace my old antenna hoping it would get more channels. It didn't get any more channels than my old antenna. And BEWARE! Their policy is NO return OR exchanges unless the product is defective - then all they do is replace it. I'm sure this information is cleverly buried somewhere on the website but still a bad practice if you respect your product at all.

Bottom Line: No, I would not recommend this to a friend

---

Unhappy

By Juanita R.

,

Strawn, TX

,

Jun 11, 2018
Verified Reviewer

I received two SkyWire Antennas (even though I only ordered one) and was charged for both. They do not work in my area. I sent them back to the company. I received a message that customer support would be I touch with me and my money refunded. That was over two weeks ago. NO RESPONSE.

I am still waiting for a response and my refund.

Bottom Line: No, I would not recommend this to a friend

---