Sleep Eight Reviews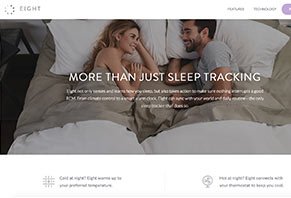 Sleep Eight is a mattress cover with built-in sensors that track 15 different factors, like sleep patterns and disturbances, to monitor and improve your sleep.
About Sleep Eight
Marketed as "the most advanced sleep tracker," Sleep Eight is a personalized smart mattress cover that uses unique built-in sensors to help anybody monitor and improve sleep.
As you slumber, Sleep Eight analyzes and records 15 different factors, including sleep patterns, bedroom environment, and disturbances, and sends this data to your iOS or Android smartphone. From there, you'll be able to quickly access this information to help you better understand (and act upon) the conditions that allow you to get the best rest. Sleep Eight can even use this data to automatically regulate the temperature in your home!
Compared to the competition, Sleep Eight accomplishes this without requiring you to wear a clunky device with blinking lights, which itself can be disruptive.
Are you having trouble sleeping? Or, would you like to ensure that you're getting the best rest possible? Either way, if you're interested in tracking your sleep in the comfort of your own home—without being subjected to intrusive sleep studies—there's perhaps no better time than now. In other words, you've got some good options.
Compared to other sleep trackers though, is there anything meaningfully different about Sleep Eight? Who might this sleep tracker work best for? What kinds of results can you expect? Are there some important considerations to keep in mind before placing your order? You've got questions, and we'll help you find some answers in this review.
To make sure we've got a solid foundation to work with, let's begin with Sleep Eight's details.
Sleep Eight's Tech Specs—& How They Might Benefit You
The Sleep Eight Smart Mattress Cover
If viewed from the right side, Sleep Eight doesn't appear any different than a standard mattress cover, except for its "simple pattern [that] resembles a ceiling of stars, [but] that is light enough to disappear under white bed sheets." It's made from 100% polyester built to withstand stretching or bulging, features a special layering composition that dissipates heat, as well as a hydrophobic fabric treatment that repels water, dust, and stains. This way, you'll be able to accurately track 15 different sleep factors, without worrying about blinking lights or phones next to your head.
According to the company, the cover is "compatible with most mattress brands and styles, including memory foam, latex, innerspring mattresses, air mattresses, hybrids, and adjustable bases;" is placed onto your mattress just like any other cover (it goes under your fitter sheet), and won't affect the feel. However, it's not recommended for split adjustable mattresses.
On the left side of Sleep Eight's mattress cover, however, you'll notice a small grey disk attached to a cord. This is where all of its sensors are powered and is what sends the information collected to your smartphone (more in a second).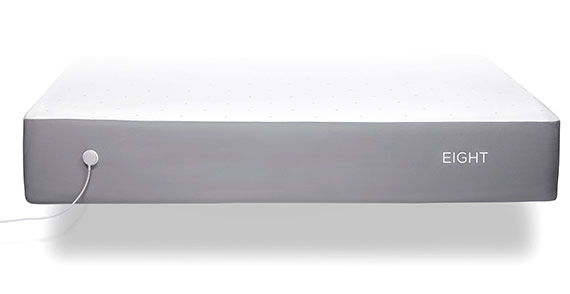 ​Except for the unobtrusive grey disk and cord, Sleep Eight doesn't look much different than standard mattress covers.
Speaking of which, just what kinds of information does Sleep Eight provide?
What Data Does Sleep Eight Track?
By syncing with your iOS (8 or later) or Android (4.2 or later) smartphone via Bluetooth or Wi-Fi, Sleep Eight tracks:
Temperature in bed
Your usual bedtime
The time you fall asleep
Your usual wake-up time
Time you got out of bed
Hours slept
Amount of movement
Heart rate
Breathing rate
Room temperature
Room humidity
Bedroom noise levels
Bedroom light levels
Local weather forecast
From there, Sleep Eight provides two main benefits:
Sleep Score – Taking all of this information together, the company claims Sleep Eight will build a "blueprint of your individual sleep patterns," which is constantly updated in order to improve your sleep.
Personalized Climate Control – Using these data points, Sleep Eight determines the perfect temperature settings for your body. In fact, because the mattress cover is dual-zone, it can do this for each side of the bed independently.
From there, Sleep Eight integrates with your smart thermostat (such as Nest), along with other home automation products like door locks and light bulbs, to automatically adjust the temperature to keep your room cool enough for optimal sleep. For the ultimate in control, you can also choose between scheduled and manual temperature adjustments.
The Sleep Eight Smartphone App
More than anything, Sleep Eight claims their smart mattress cover was designed to be simple and to work—without any gadgets in your bed, batteries to replace, or buttons to press—and their app is where it all comes together.
Here, Sleep Eight uses ballistocardiography (i.e. turning your body's data into graphs and stats) to track what you need, such as sleep quality and duration, sleep cycles, and more.
Sleep Eight's iOS and Android apps will track and graph 15 different metrics, including sleep duration, shown here.
Sleep Eight will also sync with your fitness tracker or platform, such as Apple HealthKit and Google Fit "to identify what helps you sleep best." This means that regardless of what you're doing, Sleep Eight can "sync with your world and daily routine."
How much will all this technology cost you?
Is Sleep Eight Expensive?
The Sleep Eight mattress cover is available in Full, Queen, King and California King bed sizes. Current reserve price is $99, with the remaining $150 due at shipping.
Important note: At the time of our research, the first wave of Sleep Eights (those ordered before 3/17/15) were set to ship in February 2016, while the second wave (those ordered on or after 3/27/15) were set to ship in March 2016. Remember this, because we'll come back around to it in the final section.
Regardless of when you ordered your Sleep Eight, it will come with free shipping. Inside the box, you'll find the mattress cover, power cable, smart box with connector cable, and a quick start guide.
All Sleep Eights come with a free 30-day return policy, along with a 1-year limited warranty against manufacturing defects.
Do Customers Think Sleep Eight Is a Good Buy?
As you might imagine, since Sleep Eight had yet to ship at the time of our research, there weren't any online customer reviews yet.
Based on the fact that it can help you track your sleep without phones by your head or gadgets attached to your body, it's received a lot of media attention, having been featured in outlets like TechCrunch, The Huffington Post, Engadget, and more. Other than high-level overviews (and a couple showroom and trade show demos) though, there wasn't any in-depth information about the mattress cover's real-world functionality.
Given this, although it seems to be a change in direction for the industry, we'll just have to wait and see if Sleep Eight lives up to expectations. We'll be sure to update this review as soon as feedback starts flowing in.
Sleep Eight's Competition: Where's the Real Value?
Although Sleep Eight seems to have carved out an unexplored niche for themselves, the sleep tracking industry is quickly evolving past being required to keep phones by your head (as mentioned on the Sleep Eight website), don wearable devices, or endure flashing lights throughout the night.
Although there seems to be a lot of excitement about all this new smart sleep tracking technology, there's also a lot of hand-wringing going on about just how useful these devices are. In other words, even with all this information at your fingertips, what do you do with it? How can you realistically use it to measurably improve your sleep?
From this standpoint, it's positive that Sleep Eight can sync with your smart thermostat (and supposedly, other smart devices at time progresses) to affect real change (e.g. temperature) that can help you sleep better. However, just like we've noted in our other reviews, we'd have to wonder exactly what you'll use Sleep Eight's other data for, other than for curiosity's sake, since the app doesn't appear to provide recommendations.
Will Sleep Eight Really Change Your Sleep "For Ever & for Better"?
At HighYa, we're passionate about new tech, and we enjoy watching as products like Sleep Eight move through funding, production, and finally into customers' hands. But before they make it to you, keep in mind that there are often delays, and in some instances, these products fall far short of customers' expectations (Coin Credit Card and TrackR immediately come to mind).
While we're certainly not saying you'll experience the latter with Sleep Eight, there appears to have already been some delays. According to the company's most recent blog post posted 3/21/16, only the first 50 customers have received their mattress covers, although the second wave was originally expected to have shipped by now.
What does all of this mean for you? In our opinion, if you're in the market for a non-wearable sleep sensor that isn't located near your head, such as on a nightstand, your options are pretty much limited to Sleep Eight. But unless you're passionate about trying out new tech, you might want to wait until the customer reviews start rolling in before placing your order.
Poor quality electronics

By Andy T.

,

Iowa

,

Nov 2, 2019
Verified Reviewer

We purchased it in December of 2017. The electronics failed under warranty in 2018 and were replaced. The replacement equipment has now failed. There's a serious quality issue if the electronics will not last longer than one year. We have had the bed for only 22 months.

Bottom Line: No, I would not recommend this to a friend

---

Great at the start then fizzled

By Jennifer W.

,

Massachusetts

,

Sep 27, 2018
Verified Reviewer

We bought the mattress and sleep tracker about two years ago. It was great at first. Then we started having problems with the sleep tracker. Then it wouldn't connect to our WiFi, so we were told the hub had to be replaced. We got a new hub and a new mattress cover, which was not as good of quality as the original. Just past the 90-day warranty they give on replacements, it died. So now, instead of trying to make it right, they said we have to purchase new. Why would I purchase a new one if a replacement only lasted 90 days?

I am not happy with the customer service and disappointed in the outcome as I loved having a warm bed in the winter.

Bottom Line: No, I would not recommend this to a friend

---

Advertisement

---

Literal hell since the moment I ordered this mattress.

By Jason D.

,

Texas

,

Jun 26, 2018
Verified Reviewer

I ordered a mattress, and 6 hours later I called and canceled it, and since then I have spent hours on the phone, refused delivery from FedEx, and have begged to have them keep the mattress (despite claiming 120 night return policy), and still they keep sending me boxes in pieces claiming they have no control of delivery. Now I have NO mattress and I'm on the hook for $1700! I'll let you decide if they're legit.

Bottom Line: No, I would not recommend this to a friend

---

Horrible; don't purchase.

By LauraD

,

Indianapolis, IN

,

Jan 14, 2018
Verified Reviewer

I bought this about 14 months ago. I've had multiple problems with it registering correctly and with it going down. I've probably only contacted them six times as it's not worth my time anymore.

I get similar excuses: (1) They are calibrating on their end. So hear me if that's accurate, they can tell when you are not using your bed (not home). (2) An internet issue. Yet all my other devises work. (3) They wanted me to go through tons of stupid steps and take screenshots.

I have seen similar reviews. I'm not out of warranty so I am screwed. Do NOT purchase!

Bottom Line: No, I would not recommend this to a friend

---

Advertisement

---

Bad product, bad service

This product sucks. The sleep tracker was increasingly randomly wrong. I had to go through weeks of supposed fixes on their end before getting a replacement.

The replacement died the first time I used the heat. They expected me to disassemble it because multiple sensors weren't responding. The thing is brand new, and after doing their diagnostic work for them, I found nothing out of place.

Now they are once again dragging their feet over my request for a refund.

Having two units die in 6 months is bad quality control. Sending a replacement unit that hasn't even been tested is a ridiculous failure. My support tickets are over 75 messages long now, yet they don't see fit to refund me or respond within a week to my request.

If you like being overcharged for a crappy memory foam mattress with defective electronics on top, and like constantly talking to customer service, Sleep Eight is for you.

Bottom Line: No, I would not recommend this to a friend

---

I like it; it does help

We ordered the mattress and cover combo via Costco. We figured that way we'd always be able to return it. After two months I have to admit we love the Sleep Eight. The mattress they offer is comfortable. Not too firm or soft. If you are a particularly heavy person, you may want something with more support.

Now on to the cover. My wife and I have had issues sleeping over the years, and this has been helpful for us to see what's keeping us from sleeping. The app only tracks room and bed temp, along with heart rate and breathing. If it tracks other sleep data, I don't know how to get to that data. If you are up for a long period, you get "session 1" and "session 2" scores. I don't know what to do with that, add them and divide by two?

In fact, the reason for four stars is that the app seems to need a bit more refinement:

1) It doesn't tell you what to do with the data.

2) If you are having issues with your partner being visible, there's no real help to solve.

3) If you like to cuddle in the middle of the bed, it has a hard time figuring that out.

Other than that, I love it.

Bottom Line: Yes, I would recommend this to a friend

---

Fantastic cover

By Angelica Mc

,

Los Angeles, CA

,

Feb 28, 2017
Verified Reviewer

I purchased the cover when they first started their funding campaign, and I love it, so much so, that I can't wait until I need to get a new mattress so that I can buy their new Smart Mattress.

The cover not only adds a layer and fluffy comfort to our bed, but it's also able to do all those smart things for you (sleep tracking, home automation, alarm, heating, etc.).

Simply, it is a great product and a company with superb customer support.

Bottom Line: Yes, I would recommend this to a friend

---

A dud so far

By Tom Stanley

,

Dallas, TX

,

Dec 16, 2016
Verified Reviewer

After investing in this product on Indiegogo and waiting for a number of months, the mattress cover arrived a couple of weeks ago. I finally installed and have tried to use it the last couple of nights. I am sorry to say that it has been a very underwhelming experience so far.

I've installed and tried to activate it for the past 2 nights. The first night, it simply did not register any sleep or other activity, which was frustrating. After reinstalling (re-pairing, setting up wi-fi and all the parameters) I slept with it again last night. Sadly, even though I was in bed for 6.5 hours and awoke at 6:30 am, the device bizarrely stated I had only slept for 4.5 hours. The stats are wrong, and there doesn't seem to be anywhere where I can adjust or troubleshoot it.

My wife's side (or app) haven't worked for EITHER of the nights she's tried to use it. So, the device and software are batting a 250 out of a possible 1000. Ridiculous.

The app and software are hard to work with and have limited functionality. I am sad that after all this buildup, that even when it is working, this device can't seem to handle even the simplest aspect of monitoring my sleep, i.e. actually registering the number of hours I sleep, let alone more advanced functions.

One more night with this experience and I will be returning the device for a full refund. What a waste of time and energy so far.

Bottom Line: No, I would not recommend this to a friend

---