Sleep8 CPAP Sanitizing Companion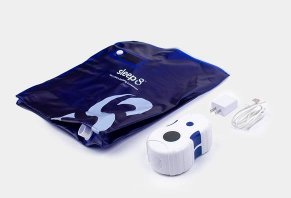 The three-part Sleep8 CPAP Sanitizing Companion system promises to help you sleep and feel better using ozone (O3) to eliminate 99% of germs that could cause respiratory issues.
Sleep8 CPAP Sanitizing Companion Review
Sleep8 CPAP Sanitizing Companion is a patent pending system that uses waterless activated oxygen to quickly kill more than 99% of potentially harmful bacteria that could lead to mold formation, sinus issues, and overall illness.
The company advertises that their three-part system can sanitize areas where UV light can't reach, which is why similar ozone (O3) technology is also commonly used in the hospital, food, water, and skincare industries. And it's compatible with all PAP machine masks, as well as heated and non-heated tubing and dry water tanks, without the need for adapters.
Simply add your gear to Sleep8's bag, connect the device, and press its power button, and the system will quietly handle the rest in a matter of minutes. Ultimately, this could lead to better sleep and health.
The Sleep8 CPAP Sanitizing Companion isn't inexpensive, and it's also not covered by insurance. Before handing over your hard-earned money, we'll help you explore how it compares to other sanitizing systems so you can make a more informed decision.
Let's start by zooming in and taking a closer look at its functionality.
How Does the Sleep8 CPAP Sanitizing Companion Work?
To help remove germs from your CPAP setup, the Sleep8 system "activates" air drawn from the surrounding room by adding a molecule to oxygen (O2), thereby transforming it into ozone (O3).
While this might seem like a minor change, Erik Lief of the American Council on Science and Health explains that this "additional oxygen atom makes ozone a powerful oxidant that destroys microorganisms."
As a result, large, industrial ozone-emitting machines have become popular for killing MSRA bacteria in "public high schools and NFL equipment rooms alike."
Sleep8 System Overview
Instead of emitting its ozone into the surrounding room like larger machines, the Sleep8 system concentrates its activated air into a wedge-shaped filtered bag—15 inches long, 12.5 inches wide and 6 inches tall—that can hold any positive airway pressure mask, heated or non-heated tubing, and water chamber.
However, Sleep8 is not designed to sanitize your CPAP machine itself. The company emphasizes that doing so might cause damage and void the manufacturer's warranty.
Before entering the bag, this activated air is sent through a charcoal filter to further remove any particulate matter present.
Overall, Sleep8 recommends that you use their system each day, so your PAP is sanitized for you at night, without requiring you to resort to chemicals, solvents, or liquids. And in the end, this could lead to better sleep and better health (more on this in a few minutes).
Using the Sleep8 System
Based on what we learned from their website, setting up and operating the Sleep8 Sanitizing Companion seems simple and straightforward.
After detaching the tubing from your PAP machine, unzip the filtered bag and attach one end to the valve at the bottom. Then, place your mask, tubing, and empty, dried water chamber in the bag, zip the bag closed, and attach the port on your Sleep8 device to the triangular valve on the outside.
Sleep8's FAQ points out that you'll want to wipe your mask with a clean cloth or wipe before placing it in the bag. Otherwise, oils from your skin or cosmetics can cause discoloration when exposed to ozone.
Next, just press the round, blue power button in the center of the device, which will cause the screen to light up and display:
Battery icon: Displays charging progress.
Two-digit timer: Counts down minutes remaining in the sanitization process.
Fan icon: Pulses during the sanitization process.
O3 icon: Appears when the bag is connected correctly to the device. If there is a red X in its place, this indicates there's an improper connection.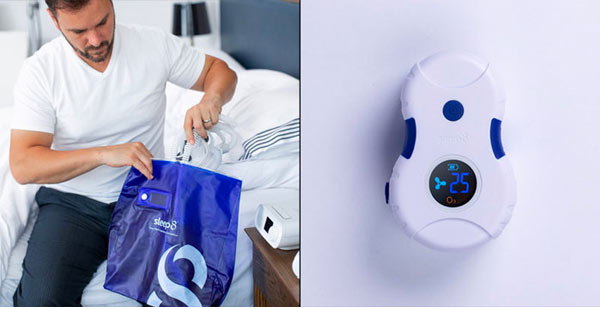 After loading Sleep8's filtered bag (left) with your CPAP mask, tubing, and dried water reservoir, you'll power up the sanitizing device (right), which will handle everything from there. Credit: Sleep8
During the process, you'll hear the device's fan quietly oscillate while the bag slowly inflates and deflates. Once everything is finished, it will beep five times and automatically turn off. Do not unzip your bag until this occurs.
When used wirelessly, the website explains Sleep8's battery will last long enough for approximately three cleanings. You can recharge it in about 1.5 hours using the included mini USB cable and adapter, which works with any standard wall outlet.
Alternately, you can leave the device plugged in, since the website emphasizes that you can use Sleep8 while it's recharging, and it can never be over-charged.
Once sanitization is complete, the website explains you might notice a "clean" smell that is sometimes described as "similar to the scent of air after a heavy rain or thunderstorm."
This is the ozone produced by the Sleep8 system, which will naturally dissipate. Or, you can "run your CPAP for a few minutes before you put it on to further reduce the scent," they indicate.
Do You Need an O3 CPAP Disinfection System in the First Place?
Here's the key question: Is there a direct relationship between your body's bacteria, your CPAP system, and the reduced sinus and respiratory health mentioned on the Sleep8 website?
Writing for Verywell Health, Brandon Peters, MD, explains, "any germs inside the mask, tubing, or device are your germs," so "you are at low risk of acquiring a new infection from a CPAP if you are the only one using your device."
Furthermore, he goes on to clarify, "there is little research in adults supporting an association" between CPAP bacterial buildup and reduced health.
"In fact," he says, "there are currently zero—yes, zero—case reports by doctors found in the scientific literature of CPAP machine use contributing to an increased risk of upper respiratory infection like sinus infections or pneumonia."
Still, he notes you'll want to minimize fungus, yeast, and mold growth, which can cause illness and respiratory problems.
How to accomplish this? By cleaning your CPAP system with hot water and dish soap once per week (or immediately after you've been sick), avoiding leaving water in the reservoir for extended periods, using distilled water, and replacing filters and other supplies at intervals recommended by the manufacturer.
Given these details, if you're not opposed to a little elbow grease once per week, you could potentially maximize your health just as well as with a CPAP sanitizing system, but without spending the associated money.
On the other hand, if you're looking for a hands-off, set-it-and-forget-it solution that kills 99% of germs, a sanitizing device might deliver meaningful value for the money.
How Much Does the Sleep8 CPAP Sanitizing Companion Cost?
The complete Sleep8 CPAP Sanitizing System (device, bag, charger) is priced at $219.
While the company points out that it's not covered by insurance, you can pay with your HSA/FSA accounts using code 9274.
Sleep8 recommends that you replace your sanitizing bag every three months, which is available on their website for between $15.95 and $19.95 each, depending on whether or not you sign up for a subscription, as well as quantity ordered. Used bags are recyclable.
You can also pick up a replacement USB charger on their website for $9.95.
All Sleep8 orders come with a 30-day refund policy, less return shipping charges, as long as the items are unused and undamaged. The company also offers warranties of different lengths against defects in manufacture or workmanship:
CPAP Sanitizing Device: 18 months
USB Charger: 12 months
Filtered Bag: 90 days
If you'd like to view a Sleep8 Sanitizing Companion in person before buying, the store locator page on their website lists multiple retail locations around the country that sell the device.
If you have additional questions, the company urges you to give them a call at (888)549-9799 or send an email to Support@Mysleep8.com.
Sleep8 Companion vs. Competing CPAP Sanitizing Devices
By allowing users to place their accessories inside a bag quickly, press a button, and then walk away, Peters says these systems "might make it easier to keep things clean on a daily basis."
Although, he points out that if you "commit yourself to cleaning your equipment with soap and hot water at least weekly," the "cost likely outweighs any potential benefit," since these devices are designed "to reduce the risk of infection that is simply not there."
Several other sanitizing systems are competing in the same marketplace as Sleep8, which feature the same O3 technology that kills 99% of germs, water-free operation, carbon filtration, compatibility with most CPAP systems, relatively compact designs, rechargeable batteries, and set-it-and-forget-it functionalities.
Here are some of the most popular options, as well as how they meaningfully differ:
| Brand | Price | Device Warranty | Special Features |
| --- | --- | --- | --- |
| Sleep8 | $219; $15.95–$19.95 each replacement bag | 18 months | O3-emitting device attaches outside the bag via a triangular port |
| SoClean 2 | $319; $30 each cartridge filter | 12 months | Plastic, hard-shell "chamber" design |
| Respify | $69.99; $24.99 each replacement bag | N/A | O3-emitting device is placed inside the bag along with CPAP accessories, can also work inside a plastic tote |
| Rescomf | $119.99 | 18 months | Individually sanitizes mask along with the inside of CPAP machine, about the size of an iPhone |
| Moocoo Portable Mini CPAP Disinfector | $46.89 | N/A | Weighs 0.5 lbs, individually sanitizes mask along with the inside of CPAP machine |
Given all of these details, the right CPAP sanitizing option will primarily come down to which factors are most important to you and how well they mesh with your specific needs.
For example, SoClean 2 comes with the highest price in the table above, it's heavier and less portable than the other options, and also requires an adapter when sanitizing some CPAP setups. However, you might have to worry less about damaging its hard plastic shell, compared to the flexible bags used by Sleep8 and Respify's systems.
Speaking of which, Respify seems to use similar bag technology as Sleep8 but comes with a 70% less expensive price tag. However, long-term costs might be higher, as each Respify replacement bag costs $5 to $10 more than Sleep8's.
Still, since you can also use Respify with an inexpensive plastic tote available at just about any local big box store, it could offer greater flexibility, depending on your needs.
Finally, if you travel frequently or are otherwise focused on compactness, the Moocoo Mini is the smallest, lightest option above, as well as the lowest priced. The company doesn't provide any warranty details, though, and we encountered dozens of functionally identical competitors on sites like Amazon at the time of our research.
Our Final Thoughts About the Sleep8 CPAP Sanitizing Companion
The bottom line is that you want to maintain the best health possible, and there's perhaps a no better place to begin than with the air you breathe. But, based on what we learned earlier from Dr. Peters earlier, you can accomplish functionally identical CPAP sanitization using only hot water and dish soap.
As such, if you decide to spend your hard-earned money on one of these ozone-sanitizing systems, it's probably best to consider it a luxury purchase versus a necessity.
Even as a luxury item, though, you want to achieve the most value for your money. And from this perspective, Sleep8's price tag is more than three times that of Respify's, which also uses a very similar bag-based setup to sanitize CPAP gear.
Granted, Sleep8's system might function much more quietly than competing units, as advertised on their website.
Just remember that while Sleep8 offers a 30-day refund policy on all CPAP Sanitizing Companions, this only applies to unused and undamaged items. As a result, as soon as you give it a try, you own it.
» Related: How Sleep Apnea Can Negatively Affect Your Appearance
The bag is poorly designed and defective

By Shelley G.

,

Pennsylvania

,

Dec 4, 2019
Verified Reviewer

This is an expensive solution to the annoying need to sanitize daily but I liked it at first. Yes the smell after is somewhat annoying, but I can deal with that. The bag closure broke after only a few uses and now it does not completely seal tight! It is a poor design. I sent an email to the company and am awaiting a response. Montgomery Medical, who I purchased from, is useless. They never answer their phones!

Bottom Line: No, I would not recommend this to a friend

---

Cleans well

By Daniel R.

,

Albany, NY

,

Aug 1, 2019
Verified Reviewer

Setup was self-explanatory. I plugged my tube in and put my equipment in the bag. Sealed the bag and an hour later my supplies were clean. It seems to be working perfectly. I haven't tried my humidifier yet but that's up next.

Bottom Line: Yes, I would recommend this to a friend

---

The ozone smell is very unpleasant

By Fred S.

,

South Florida

,

Jul 17, 2019
Verified Reviewer

I have used the Sleep8 as directed for two weeks. It is well made and easy to use. The instructions are easy to follow and well thought out.

HOWEVER, the ozone odor only dissipates slightly and I find it unpleasant, and even repugnant. While some may describe it as a scent that one would smell after a heavy rain or thunderstorm, that is not a fair comparison. Remember, this is highly concentrated as your mask is over your face and you are getting focused air through your tubing and humidifier all night long.

Also, it had discolored my mask even though I wash it frequently. I cannot say for sure, but I do wonder if it has affected the suppleness of my silicon mask.

In summary, I regret buying a CPAP ozone cleaning device. I will stick to washing my equipment weekly and the enjoy the REAL pleasant scent of cleanliness.

Bottom Line: No, I would not recommend this to a friend

---