Sleeper Fantasy Football Reviews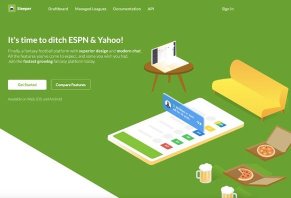 Sleeper fantasy football rivals bigger fantasy sites by offering a trimmed-down version of a draft platform as well as crowdsourced advice, injury reports and analysis articles.
About Sleeper Fantasy Football
Sleeper fantasy football, formerly known as Sleeperbot, is a new fantasy football site that focuses on design and simplicity. It provides custom fantasy football leagues with redraft, keeper and dynasty options.
The site and app aren't nearly as popular as the four main sites who offer fantasy football: ESPN, NFL.com, CBS Sports and Yahoo. However, their website and blog posts emphasize that their design-forward focus and in-app chat are what separate it from the competition.
We wanted to know how Sleeper stacked up against the other fantasy football sites, so we did some research on it, downloaded the app and created a league to get a sense of what it offers, how easy it is to use and how helpful its various tools and options are.
The areas that we'll cover in this review are:
The types of leagues you can play
Drafting with Sleeper
Sleeper's analysts
Comparing it to other fantasy sites
As always, we'll finish up the review with our thoughts about the site's strengths and weaknesses.
The Types of Fantasy Football Leagues Sleeper Offers
Sleeper is completely free and provides three different types of head-to-head leagues: redraft, keeper, and dynasty. Unlike CBS Sports, NFL.com and Yahoo, Sleeper doesn't provide prize leagues run by the site.
The three types of leagues we mentioned each have their nuances. Redraft leagues are called "redraft" because you don't keep any players from year to year, so, every new season, you have to redraft an entirely new team.
Keeper leagues are leagues in which your commissioner sets a limit on how many players you can keep from one year to another. For example, I played in a keeper league in which we were able to keep three players for up to two additional years.
The final type of league you can set up is a dynasty league. In these leagues, you keep all players from your previous year's roster. The concept here is that you can create a "dynasty" by drafting the right players and creating a juggernaut that can win championships year in and year out.
Some of the things that you're missing here are the option for doing a points-only league. You also miss out on DFS and prize-league options, too.
However, Sleeperbot does give you the option of creating cash leagues that you have to pay an entry fee to enter. These are typical of groups of friends or co-workers who want to create a private league with cash payouts for the top three finishers.
Another option you have is to use a site like LeagueSafe, which is a site that you can use to collect payments from players, hold the money until the season is over and then send the prize payments to the winning managers.
A Quick Note About Sleeperbot Chat
One of the things that Sleeper emphasizes about their site and app is that you have a chat feature through which you can talk with other managers in your league.
I've used this feature and found it to be a little choppy and slow at times, so much so that the league I'm in on Sleeper has switched to Discord, a chat channel popular with gamers.
However, it's a good way for a league commissioner to keep in communication with the league. Having all messages and notices in one place ensures there's no confusion about announcements about or changes to the league.
You'll also get notifications of players who managers have added or dropped. Here's Sleeper's explanation of their chat function, what it does and why it presents an advantage over sites like Yahoo and ESPN.
"Modern chat is critical to running a league, including organizing the draft, staying informed with leaguemates, making trades, and trash talking. Sleeper leagues are more active and fun due to chat being central to the league experience," a blog post on their site reads. "League chat shows adds/drops/waivers, weekly reports, commissioner rule changes, gifs, photos, polls, and is completely synced between the mobile and web apps. This means that you no longer need email or a messenger platform to chat with your leaguemates or to conduct trade discussions."
Yahoo has a messenger option for their fantasy football app that works similar to Facebook's Messenger, in that you have an inbox with messages from various people in the league. While it's not exactly a chat feature, it does provide the opportunity to send messages back and forth with other managers.
Drafting With Sleeper
Most fantasy football sites have three draft components – the actual draft platform you use on draft day, mock drafts you can use to practice your draft strategy, and the draft kit the site's analysts create to provide you advice about players you should and shouldn't pick.
Sleeper provides one of those three options: a draft platform. They don't take the traditional approach to draft packages, choosing to forego mock drafts and draft kits.
If it's information you want, then you'll have to add Sleeper's fantasy football channels. The three I use are "Fantasy Football Alerts," "Fantasy Football Chat," and "Fantasy Football Q and A." The Chat and Q & A channels are great for getting advice and insight from fellow managers about draft or roster decisions, the most popular of which is "Who should I play?"
I've found these particularly helpful because they give you a steady stream of news and any new articles will trigger a notification. This can be a big help if someone on your team gets injured during a game or during practice, as it can help you get a head start on picking up a new player to replace the injured player.
As for the actual draft platform, Sleeperbot runs a bare-bones operation. Whereas the draft platforms from NFL.com, ESPN, Yahoo and CBS Sports feature multiple modules, big banners with player stats and various sorts of graphics, Sleeper bot is simple.
Here's a screenshot of Sleeper's draft platform followed by a screenshot of Yahoo's draft platform: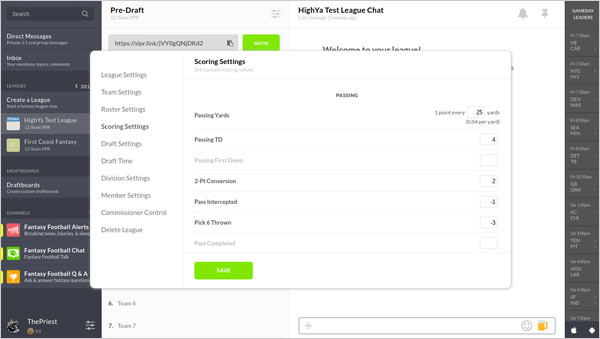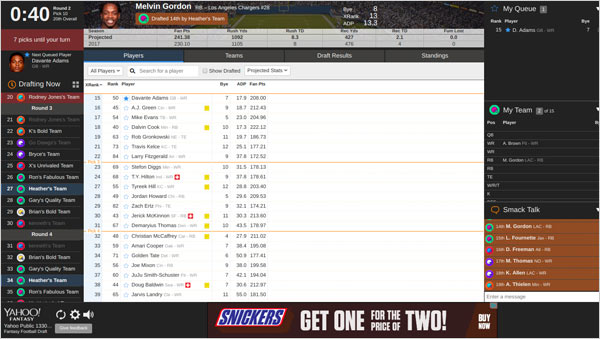 Clicking on a player's name reveals a pop-up window that has the player's latest news and game log from the previous season.
You can click on an eye icon next to the player's name to add him to your draft queue. Aside from that, there are no other special features to the draft platform as it relates to stats about players or, like Yahoo, a draft grid that lets you see the number of players other teams have drafted in each position.
What we like about Sleeper's draft is that it gives league commissioners flexibility when it comes to doing offline drafts. Normally when you do an offline draft, you have a physical draft board with player cards you place on the board when a player is chosen.
If managers can't make it to the draft, then they miss out and have to use Skype or another online messenger to get a live feed and then communicate your picks to a proxy who calls out your picks for you.
Sleeperbot's draft platform allows commissioners to record offline draft picks as they happen. So, a manager who can't make the offline draft can go into the Sleeper draft platform, follow the picks and then make his or her picks via the draft platform.
The commissioner watches the app to see which player the absent manager picked, then adds that player to the physical draft board.
It's a simple solution; I used it to draft a team in 2017 when I couldn't make the league's offline draft. It was a bit laggy at times but, overall, I felt like it was a suitable solution.
This particular feature isn't included in the draft platforms for Yahoo, ESPN, NFL.com or CBS Sports.
Sleeper Fantasy Football Experts
Sleeper has no experts of their own. Rather, they repost articles from various websites who cover fantasy football. For example, they have a channel for The Fantasy Footballers, a popular fantasy football podcast and website. This channel includes links to fantasy football articles and podcasts from The Fantasy Footballers.
Aside from these reposted articles, you also have the ability to tap the knowledge base of Sleeper users by posting in their Q &A channel. A popular sub-channel in Q&A is "Mock Drafts", where you can post the results of your mock drafts from other sites and users will comment or leave good/bad emoticons to rate your team.
However, if it's expert advice you want, you simply won't find any native articles on Sleeper. Some of the advice you get from other users could be solid, but there are no Sleeper analysts/experts producing daily or weekly content for you to read.
Comparing Sleeper to Other Fantasy Football Sites
Sleeper is an interesting fantasy site because it focuses on crowdsourced opinions, reposted material, multiple chat channels and a simple drafting interface.
In one sense, this could be a drawback when you compare it to the complexity and extensive expert content you'll find on ESPN, NFL.com, Yahoo and CBS Sports.
Those sites definitely beat out Sleeper because they have an extensive catalog of player rankings, position primers, draft advice and player projections. In fact, the experts from CBS Sports and Yahoo are ranked in the top 100 of most accurate fantasy football analysts, according to FantasyPros' 2017 Accuracy rankings.
However, if you take a moment to consider that Sleeper integrates you into a wider fantasy football community where you dialogue and debate other managers in other leagues about players, sleepers, busts and other popular conversations, it's certainly a more entertaining and dynamic option.
Also, while the draft interface is very simple, it does provide a key element that you won't find on ESPN, Yahoo, NFL.com or CBS Sports: a hybrid-style offline draft through which those who can't be at the draft in person can still participate in real time.
Also, we like how Sleeper allows you to choose between a redraft, keeper and dynasty league.
In our opinion, when you compare Sleeper to the competition, you see a lack of a cohesive body of analysis but you do have a dynamic community and super straightforward drafting platform.
The Final Word: Pros and Cons of Sleeper
Based on our research of this fantasy football site and other sites, we believe that Sleeper's strength is that it streamlines fantasy football leagues and improves communication via the league chat. Commissioners who run leagues need to have simple tools that allow for quick changes. Sleeper provides that.
Also, communication is a huge issue with many leagues and we see the chat function on Sleeper being an excellent way for commissioners and league members to discuss league changes, identify errors or mistakes in league settings and talk smack with their fellow managers.
There are two main downsides to Sleeper, in our opinion. First, you don't have an easy way to see articles from experts, as all the articles they provide are streamed like a Twitter feed, so you can read an article without first clicking on the post, then clicking again to get to the original article.
Second, there are not public cash games. For someone who wants to pay a big entry fee to win a big cash reward may not have friends or colleagues who are willing to pay a big fee to play, so the public cash-prize leagues in Yahoo and CBS Sports are crucial for them.
In general, we believe that Sleeper is a great option for experienced commissioners and fantasy players who want a simple, stripped-down version of fantasy football without all the sometimes-unnecessary bells and whistles that come with ESPN, Yahoo, CBS Sports and NFL.com.
Beginning players may want to start out with a bigger site like the ones we just mentioned, mainly because those sites make content much easier to access.
» For Further Reading: Guide to the Best Fantasy Football Sites: Comparison of Yahoo, ESPN, NFL, CBS Sports, and Sleeper