Sleepgram Pillow Reviews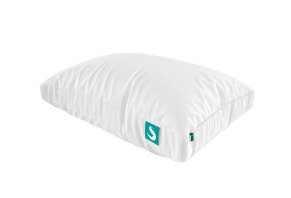 Summary
The Sleepgram pillow is a microfiber pillow designed from the ground up to offer superior comfort and support via a pair of inserts: one soft and one medium. Our personal review examines how this pillow performed.
Sleepgram Pillow Reviews - Is It Worth It? (We Tested It)
Claiming to offer a superior sleeping experience, the Sleepgram is a microfiber pillow utilizing multiple firmness combinations to tailor to your preferences.
Stating that they felt traditional feather pillows were in need of a serious facelift, the creators of the Sleepgram say that they revised the plan for their product dozens of times before finding the perfect pillow.
What separates the Sleepgram from other pillows is the way you can use their combination of soft and firm microfiber pillows to find just the right firmness for you.
With all these things in mind, we wanted to know how well the Sleepgram pillow worked, so we tested the pillow for a month before writing our review.
Our Experience With the Sleepgram Pillow
As we mentioned above, the main aspect separating the Sleepgram from traditional feather pillows is the two different microfiber pillows. Basically, your pillow arrives in the mail with two inserts that fit into a 100% cotton cover.
One insert has a red tag on it and one has a blue tag. The insert with the red tag is of medium firmness while the blue insert is soft.
If you want a firm pillow, you put a red and blue pillow inside the cover. For medium firmness, you use one medium pillow. And, for a soft pillow, you use one of the soft pillows. Both of us are side-sleepers.
For me, it was pretty fun to see the Sleepgram box arrive. It was heavier than I thought and that's due to the fact that there were two pillows and four inserts in the box.
The directions tell you to throw the insert pillows into the dryer for a few minutes so they expand. I did that, and then my wife and I made two pillows with the red- and blue-tag pillows, creating a firm pillow.
The first few nights I used the pillow, my back hurt the next morning, something that's pretty standard when you change pillows or mattresses. Your body has to get used to a spine alignment and weight distribution.
There was, no doubt, a big difference in support between my old pillow, which was two cotton pillows crammed into one pillowcase, and the Sleepgram that included two of their firm pillows.
The initial back pain wore off after about four days. I started to notice that I was sleeping better and not waking up as much as I normally do. Typically, I wake up at least three or four times a night but that number was cut in half during the weeks I tested the pillow.
I also noticed that there was a streak of three or four nights where I only woke up one time. Based on this, I believe that the Sleepgram pillow provided me a better night's sleep.
Another thing to note is that, during the time I tested the pillow, there are only a couple of times I had to adjust the pillow after I woke up. It seemed to be more supportive than my old cotton pillows.
One of the things I noticed is that, when I put my head on the pillow, it gave until just about a third to halfway down and then held steady. My head didn't sink all the way down as it does with my old pillows.
My wife, who also tried the pillows, had a slightly different experience. She said that the pillow compacted too much during the night and the ear on which she slept hurt in the morning.
Sleepgram Pricing & Return Policy
As of this writing, the Sleepgram pillow was available exclusively from the product's main website online. It is available in two different sizes, standard/queen (18" x 26") and king (18" x 33"), and each is available in four different quantities:
Single pillow: $54.95 ($69.95 for king)
Two-pack: $89.95 ($109.95 for king)
Four-pack: $159.95 ($199.95 for king)
Sleepgram comes with a 100-night return policy, not including any shipping & handling fees.
The Bottom Line: Our Thoughts on Sleepgram
Based on our own experience, the pillow provides a solid night's rest for most people who try it.
We believe that the Sleepgram improved our sleep, a fact that's confirmed by the positive reviews the pillow gets on Amazon.
One of the most important factors in choosing a pillow, however, is budget and preference. On the budget side of things, we believe Sleepgram's price is higher than many cotton- or down-based pillows. If money is a concern for you, then the Sleepgram may not be worth its relatively high price tag.
If sleeping preference is your deciding factor, then Sleepgram may be worth it because you'll have 100 days to try it out. Experiment with the various options you have for calibrating firmness. Use the red and blue together, then do the blue by itself and the red by itself.
Customer Reviews
Posted on Feb 1, 2021
Crazy checkout
My husband hated the pillows within an hour, but I folded the inserts in half to try and create a more comfortable pillow. There is a lot of effort involved in cramming two inserts into the outer pillow. I spent an hour trying to get the inserts to fill out to the edges. I'm going to give them a week in different configurations, but the whole concept is ridiculous. I will most likely buy two soft fiber-fill pillows and stuff both in a pillow protector to achieve a so-called luxury pillow. Save your money!
In addition, I had the same overcharge issues checking out thru PayPal. Luckily the overcharge was removed by PayPal because Sleepgram didn't respond. However, they didn't ship the merchandise, which tells me they saw the dispute with PayPal and removed from my order rather than being upfront.
Length of Use: Less than 3 months
Bottom Line: No, I would not recommend this to a friend
Pros and Cons
The concept
DIY pillow idea
Misshapen inserts
Uncomfortable
Princess and the Pea
Posted on Aug 8, 2020
Greatest pillow ever
Honestly, I haven't slept this well in years. The best pillow ever purchased. I tried medium and medium/firm loft levels and settled on medium after day 3! Amazing experience. Thank you Sleepgram.
Length of Use: Less than 3 months
Bottom Line: Yes, I would recommend this to a friend
Pros and Cons
Adjustability
Softness
No "cons" were specified in this review
Posted on Jul 15, 2020
Fraud and the biggest scam
This company charged me $240.00 three weeks after I made a purchase and refused to allow me to return an UNOPENED ITEM FOR A REFUND!
Length of Use: Less than 3 months
Bottom Line: No, I would not recommend this to a friend
Pros and Cons
No "pros" were specified in this review
Worst customer service
No refund, no return policy
Cheaply made products
Product is not as described
Posted on Jun 23, 2020
Double charge
When I first bought the pillows, it was "buy 2 pillows for $80, get a comforter for free." So I did and they charged me $98.00 and about two weeks after I got the pillows and comforter they charged me $195.00. I don't know why. The pillows and comforter are ok but not worth the $293.00 that they took out of my account.
Length of Use: Less than 3 months
Bottom Line: No, I would not recommend this to a friend
Pros and Cons
Pillows are nice
Comforter is nice
Double charge
Not worth the $293.00
Posted on Jun 10, 2020
Scammers!
Please save yourself lots of money and frustration. This is a very unscrupulous company. They actually have decent pillows. But they put add-ons after you try to check out. Claim the items are free. Then a month later you get a large charge on your credit card. They refuse to take items (even unused!) back for refunds. Their customer service is a joke. They change their email address and you can't get anyone to help.
Length of Use: Less than 3 months
Bottom Line: No, I would not recommend this to a friend
Pros and Cons
No "pros" were specified in this review
Their scam tactics
False misleading website
Unscrupulous business practices
Posted on Apr 4, 2020
Good pillow; sales scam
A friend loaned me a pillow to try. I liked it. I saw it advertised on a news site. I bought a "One Bedroom" pair (two pillows for $80); was then led through other Offers for pillowcases (which I selected for $30), sheets, comforters, mattresses, etc. "Plus Get Free Shipping For Orders Over $100." Actual prices are not displayed until AFTER the commitment to purchase. Only then did I realize that they overcharged for the pillows and did not provide free shipping for my $110 order. Actual price: Pillows $85.60 + Pillows $20 + SHIPPING $9.95 = $125.55. I called customer service. I was told "What you paid is the correct price. That's the way it is."
I might have bought the pillows at the price charged - or not. But I resent being baited and price-switched.
Bottom Line: No, I would not recommend this to a friend
Posted on Mar 6, 2020
BEST sleep for the money!
Getting enough loft for my head and back has always been elusive for me with other brands of pillows. I've tried nearly all of the big brand names out there in cyberspace. Then I found Sleepgram! I use all of the packs in a single pillow. Provides me with all of the loft for my back and head that I could ever ask for! Has reduced nightly indigestion. I take my Sleepgram on camping trips. BEST night's sleep in a tent! I use a Helinox cot, Pendleton USA Yakima Camp Throw, and my Sleepgram.
Bottom Line: Yes, I would recommend this to a friend
Posted on Jan 17, 2020
Crap/scam
I ordered the pillows and then it sent me to add pillowcases to your order page, then an add bamboo sheets page, then a comforter for $9 page, then a mattress protector page. I got all but the mattress protector. I was charged instantly for each piece I added to my order so 4 separate charges and no way to overlook my order and confirm it. There was NOTHING on the comforter page that said 14-day trial. Had there been I wouldn't have added it to my order. I was then charged a 5th time yesterday for $195. Talked to them today and the comforter only has the 14-day warranty and does not fall under the 100-day warranty but everything else does. When I asked why she wouldn't tell me. The sheets do not help the bed sleep cooler like they claim. The top sheet sticks to the crappy comforter and they both slide off the bed if you move just a little. The pillows have hard as rock clumps in them that I have tried and tried to fluff out and so it is lumpy and uncomfortable. And the sheet set comes with pillowcases that slide off the pillow if you move the pillow which you have to do many times at night because the pillow does not conform to your head like it claims. I have tried it for 15 days now and I wake up with a sore neck and headache. I do NOT recommend anything about this company from crap product to awful customer service that does not care about customer satisfaction.
Bottom Line: No, I would not recommend this to a friend
Posted on Jan 3, 2020
Terrible service. Scam.
This company is a scam with their advertising.
I ordered two pillows and pillowcases. I was offered a price of $8.95 for a comforter on their "special" deal. No mention anywhere that this was "trial." A month after I had the order I got billed $195 for the comforter. When I called I was told it was a 30-day trial and if I did not return it before then I would be billed the $195. There is nowhere stated in their order form of this pricing. I would never have ordered it for that price. Of course, I am now told it cannot be returned and too bad for me. I am disputing this with my credit card company.
Bottom Line: No, I would not recommend this to a friend
Posted on Dec 17, 2019
Horrible experience
Message sent to:
Sleepgram Customer Service,

Please address the following a few points:

Why would you state that message state that you could not stop the order due to the product has the already processed with in a half hour of submitting the order?
Then I received this today:
Matt XXXXXXX, are you ready to start sleeping better?

Your Sleepgram order has shipped. Your tracking number is XXXXXXXXXXX 62725 .

If you have any questions about your order, or need to check on another order, please call 877-25-SLEEP (877-257-5337).

Tracking provides unparalleled insight into when your package will be delivered. Tracking also allows you to manage your shipments.

Thank you

Sleepgram Customer Service
Why did I not receive that 30% discount, as advertised throughout your site?
Bottom Line: No, I would not recommend this to a friend
Posted on Nov 20, 2019
Totally amazed
I have tried every pillow on the market from the least expensive to the most expensive, none have ever helped me to wake up without aching neck and shoulders. That is except the Sleepgram Pillow! I've had my pillow for about 2 months now and have told all my clients about how I have woke up with no neck or shoulder pain since purchasing my Sleepgram Pillow. One has actually purchased from you since my telling her and she loves hers as well. I will never go anywhere without it!
Bottom Line: Yes, I would recommend this to a friend
Our Promise to You
In order to safeguard you and ensure helpfulness and relevance, our compliance team manually assess every customer review before it goes live.
We have a zero-tolerance policy for fake reviews, and companies cannot control or alter any reviews at any time.