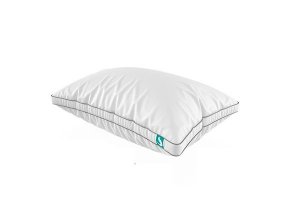 The Sleepgram pillow is a feather pillow designed from the ground up to offer superior comfort and support thanks to its three-chamber down/feather design.
About Sleepgram Pillow
Claiming to offer a superior sleeping experience, the Sleepgram is a feather pillow crafted to bring perfect balance to the bedroom with its chambered design. Stating that they felt traditional feather pillows were in need of a serious facelift, the creators of the Sleepgram say that they revised the plan for their product over 25 times before finally settling on the end product.
What separates the Sleepgram from other pillows is the way the interior is structured, with the soft, down outer perimeters giving way to a firmer inner chamber that is filled with thicker feathers; something the manufacturer says will help to support your neck and keep the pillow from pancaking.
They also say that the down feathers trap heat in pockets within the pillow, pulling it away from your face, allowing you to sleep cooler and more comfortably overall. The Sleepgram uses premium materials, claiming that the entire product is down-proof, keeping the material inside and allowing it to stand the test of time while also being machine washable.
What's the Story Behind the Sleepgram?
On the product's website, we're told that the Sleepgram pillow started with a series of sleepless nights faced by co-founder Logan Newell's wife. After trying out several different mattresses, they discovered that the key to a better night's sleep actually lied in the pillows the couple was using. After sharing their story with co-founder Leo Haury, the initial idea for Sleepgram took root.
On the about us page of the website, we're told that Sleepgram was born with the mission to make sleep, and pillow shopping, a happy experience. Neither of the founding members appear to have a background in the sleep industry, with the website claiming that their prior experience was in software engineering and data analytics.
What Causes Poor Sleep?
According to Medical News Today, sleep deprivation can be caused by a wide variety of medical problems such as depression, obstructive sleep apnea, hormone imbalances and other chronic illnesses. They list that some steps to take in order to ensure you get the best quality sleep possible include the following:
"Going to bed when tired
Following a routine for bed and wake-up times, keeping it consistent every day of the week
Avoiding eating 2-3 hours before bedtime
If unable to fall asleep after 20 minutes of trying, going to another room and trying to read until feeling sleepy, then returning to bed
Engaging in regular exercise during the day
Keeping the bedroom quiet, dark and a comfortably cool temperature
Turning off electronic devices when you go to bed."
There are also other common causes of poor sleep, such as insomnia, which is a disorder that can make falling asleep (and staying that way) very difficult for many. But what about choosing the right pillow? The Sleepgram website claims to help you sleep better at night, but is there any evidence supporting the idea that the right pillow can improve your night's rest?
In an article from WebMD, Michael Breus, PhD, a clinical psychologist and author of Beauty Sleep: Look Younger, Lose Weight, and Feel Great Through Better Sleep states that "Pillows can not only impact the quality of our sleep, but also how healthfully we rest and recharge."
For instance, if you tend to sleep on your back, you may need a pillow with medium firmness to provide that extra bit of support for your neck. If you're more of a side sleeper, however, you may find that you need additional firmness to support the gap created by your shoulders. Meanwhile, stomach sleepers need the thinnest pillow possible, or even no pillow at all, depending on what you prefer (we'll come back to this topic shortly).
In order to understand how well it may suit your individual needs, let's next take a closer look at how the Sleepgram differs from a conventional feather pillow.
Comparing the Sleepgram to a Standard Feather Pillow
As we mentioned above, the main aspect separating the Sleepgram from traditional feather pillows is the three-chamber design at the product's core. A standard feather pillow is filled with one large inner "chamber" of feathers, usually from a duck, goose, or similar waterfowl. With the Sleepgram, you have three different layers that work together to provide additional support at the top of the spine
The outer chambers on the top and bottom of the pillow are filled with ultra-soft duck down, which the manufacturer claims feels better and allows for cooler sleeping to boot. The inner chamber, meanwhile, features a thicker white duck feather filling, providing what they describe as a perfect blend of firmness (support) and softness (comfort).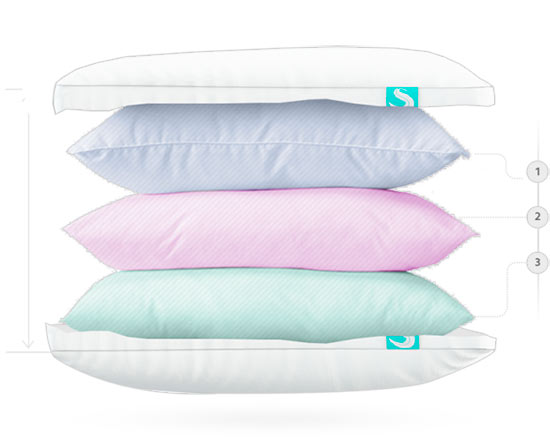 This image shows how the Sleepgram's three-chamber design is situated within the 280-thread count cotton cover. Credit: Sleepgram.com
Sleepgram Pricing & Return Policy
As of this writing, the Sleepgram pillow was available exclusively from the product's main website online. It is available in two different sizes, standard/queen and king, and each is available in four different quantities:
Single pillow: $64.99 ($84.99 for king)
Two-pack: $79.99 $ (99.99 for king
Four-pack: $149.99 ($189.99 for king)
Six-pack: $219.99 ($279.99 for king)
Shipping is based on the number of pillows you order, with standard shipping going for anywhere from $9.99 to free for larger orders, and USPS Priority running anywhere from $60 to $100+.
Sizing Chart
Standard/Queen: 18" x 26" + 1.5" gusset
King: 18" x 30" + 1.5" gusset
The checkout page informs us that each order comes with a 60-night return policy, not including any shipping & handling fees. To initiate a return, you'll need to reach out to customer service by phone at 877-257-5337 or via email at help@sleepgram.com. You'll be required to pay return postage to get the product back to the manufacturer.
Sleepgram vs. Other Similar Pillow Designs
You may not be surprised to discover that there are thousands of different pillows available both online and in-stores today. That said, are there any options out there that utilize a similar three-chamber design to the Sleepgram pillow?
While we didn't encounter a product that emulated its design outright, we did find several that featured a similar "firmer near the middle" design, including quite a few that were adjustable in terms of resistance. We also came across products with similar chamber "layers" within them, like the WENERSI Premium White Goose down pillows or the Three Geese White Goose Feather bed pillow.
So, while the Sleepgram's design is still unique, we feel hesitant to call it a true "breakthrough," as several products–including those mentioned above­–feature a similar "layered" filling structure. In addition, many of these pillows could be found for less than the product at hand, ranging from $24.99 to $39.99 and up when we checked during our research.
In terms of brand reception and feedback, several of these products featured hundreds of customer reviews on Amazon, many of which were five-stars. As of this writing, Sleepgram was not listed on Amazon, but we were able to find over 140 reviews on the product's Facebook page. Of these, just over 100 were five-stars, while 28 left negative, one-star comments.
Common complaints included remarks about the pillow going flat after several uses, as well as some users complaining about a hard and generally uncomfortable experience when sleeping on the product.
Interestingly, though Facebook displayed over 100 five-star reviews as of this writing, when we clicked on them, we were taken to an error page, making it impossible to see what customers were saying.
If you're searching for the perfect pillow for your specific needs, consider the following:
What position do you normally sleep in? As we mentioned above, depending on whether you are back sleeper, a side sleeper, or a stomach sleeper, a pillow with a certain type of thickness and shape may be desired. For more information on how your position can affect the pillow you need, be sure to read through our guide to the Top Pillow Picks for Each Position.
Consider all of your options before deciding on one. Because there are so many different pillows out there, it's important to slow down and do a bit of research beforehand. Compare several products by price and similar features, and read through what customers are saying about each of them. Just be sure to watch out for fake reviews.
Understand the return policy going into a purchase. Because pillows are such a personal item when it comes to preferences of style, filling, weight, etc, it can be difficult to nail down the one that's right for you without trying it out for yourself first. For this reason alone, it's important to read and understand the product's return policy before entering in any credit card information.
The Bottom Line: Our Thoughts on Sleepgram
Based on everything that we've learned about the Sleepgram pillow, is it safe to assume that the product's three-chamber design is enough to improve the quality of your sleep? Our honest answer, as of now, is maybe.
As discussed above, we came across several studies illustrating that the wrong pillow could indeed have a tangible impact on the overall quality of your sleep. Also, based on our past research, that one of the primary factors for choosing a pillow is your preferred sleeping position.
With this in mind, we didn't come across any direct evidence from the manufacturer that the three-chamber system in use in Sleepgram could actually improve the quality of your sleep—which is obviously very personal and will vary by individual. That said, the product did feature several different glowing reviews on its Facebook page, albeit alongside a handful of particularly negative ones.
Ultimately, as consumers ourselves, we feel that simply trying out a pillow and evaluating how well it works for you in practice is the best approach to take here.
If you feel that the Sleepgram represents your ideal vision for a down pillow, you can always jump in and give it a shot. You'll have the 60-night return policy to fall back on should you decide that it isn't right for you–as long as you're willing to lose a bit of cash in return shipping fees in the process.
3 out 3 people found this review helpful

Worst pillow

Very uncomfortable pillows. Too high or too flat, and definitely overpriced pillows.

Very bad customer service. I do not recommend.

They won't send a return label and the cost to return is $70 UPS or USPS $140. The company paid $9.99 to send it to us.

Poor customer service.

Bottom Line: No, I would not recommend this to a friend

---

1 out 1 people found this review helpful

Bad "pillow," worse return policy

By

Robert K.

,

Connecticut

,

Jun 9, 2018
Verified Reviewer

We ordered two pillows. Long story short, once we "fluffed them up" and laid down on them, we knew they'd have to go back. Too soft and no support. We paid $99 for these. USPS (the least expensive way to return) said it would cost $56 PLUS a $15 "balloon" fee because of where it was being returned to (Van Nuys, California). That's almost as much as I paid for these so-called pillows. This is why Amazon is taking over the world. Great service, easy returns, and customer service that cares.

Bottom Line: No, I would not recommend this to a friend

---

Advertisement

---

2 out 2 people found this review helpful

Love them!

I just received them. I love the way I can choose, "soft," "medium," or "firm." Love them! Happy! I would not only recommend these pillows. I actually already shared the ad with a friend who has trouble sleeping.

Bottom Line: Yes, I would recommend this to a friend

---

7 out 9 people found this review helpful

Sleepgram Pillow is a ripoff

By

Robert Debene

,

Albuquerque, NM

,

Apr 27, 2018
Verified Reviewer

I ordered the pillows on 4/3/18 and was told I would receive the pillows in five days. I waited a week and no pillows. I called and was told the delivery was scheduled for the following day. Today is 4/21 and after three phone calls, I still have no pillows and no satisfactory answer as to why not! This is a ripoff! Don't waste your money!

Bottom Line: No, I would not recommend this to a friend

---

Advertisement

---

6 out 6 people found this review helpful

Best sleep of my life

By

Jae Longo

,

New York City, NY

,

Apr 26, 2018
Verified Reviewer

I don't know what it is about these pillows, but I keep both inserts in and while they feel squishy, which would allude to them being "soft," they are actually medium firm when I lay on it. I use them every night!

Additionally, I have a loveseat in my living room that is smaller than I am, so sleeping on it is really uncomfortable always, however, I wanted to see what would happen if I sleep on it with this pillow and I was able to sleep on that couch for a week with zero aches and pains and I attribute it to the support my neck gets with this pillow.

My sister stayed over for a week on an air mattress using these pillows, and she's a fussy sleeper, and she had nothing but great things to say about these pillows. I can see how people may have issues if they are expecting something different, but for me, it's made a game-changing difference. A+.

Bottom Line: Yes, I would recommend this to a friend

---

12 out 12 people found this review helpful

Too many issues

I bought two king size pillows for $117. They came vacuum sealed in a small box, and you have to put them in the dryer to fluff them up. Then you put two pillows inside a cover, which is very difficult. The pillows weigh about 5 lbs each after all the fluffing. We slept on them a few days and did not find them comfortable at all. They were so heavy and bulky.

I called to return them, and the woman was not at all helpful, she said to put them back in the box! There is no way they would fit! I ended up going to FedEx, buying a box and sending it, which cost $52, since they weighed 10 lbs!

Ridiculous! I would not recommend these at all. The shipping was half the amount I paid for the pillows.

Bottom Line: No, I would not recommend this to a friend

---

10 out 11 people found this review helpful

It's a rip off if you don't like the pillow

This pillow was too soft for me. Returning it per the "guarantee" cost me over $85! I tried in vain to get some help from them, but they will only refund the $9.95 original shipping. It is not worth the risk and the cost of this! Coop Company guarantees complete return shipping if you don't like their pillow. I'm ordering that one.

Do not take the chance; it's too costly!

Bottom Line: No, I would not recommend this to a friend

---

11 out 12 people found this review helpful

Not what I thought they would be. Ad said free return shipping, website says you pay for shipping back. Guess I am stuck.

By

Lou Pope

,

New Bern, NC

,

Apr 13, 2018
Verified Reviewer

I am very disappointed with these pillows. I have tried with one filler and with both, and they are NOT what the company says they are. I guess I am stuck with them. The ad said free return shipping but the website says you pay shipping. So I guess I am stuck with pillows I do not like. It hurt my ear and head.

Bottom Line: No, I would not recommend this to a friend

---

12 out 12 people found this review helpful

Scam

I ordered and paid for two pillows. They shipped FedEx, FedEx got them to Dallas and took them to the post office for delivery. They're lost. The post office says the tracking they gave me is no good. I've called three times; no refund, no pillows! They won't let you talk to a supervisor, and won't give you a corporate name, phone or address. They said they'd resend, but they didn't. They said they'd run it up the ladder, but they didn't. I am getting ready to report them to the attorney general, DA and BBB.

Bottom Line: No, I would not recommend this to a friend

---

11 out 11 people found this review helpful

Disappointed

By

Maria Hons

,

New York

,

Mar 7, 2018
Verified Reviewer

I ordered two pillows. I slept on them for a week. Maybe that wasn't enough time, but for me, it was enough. I kept tossing and turning all night and woke up with a neck ache. I tried a different pillow with the Sleepgram and am still not satisfied. I packed everything in a different box and brought it to the post office. Here is where they get you! $35.00 for shipping and $55.00 for 3-day delivery! Am I that crazy? I said forget it; I am not paying that much to them back. I am stuck with them! Another lesson learned the hard way.

Bottom Line: No, I would not recommend this to a friend

---

8 out 11 people found this review helpful

Excellent sleep support

By

Fred Holland

,

Hempstead, NY

,

Mar 7, 2018
Verified Reviewer

Believe or not, this pillow replaced my old four pillows. This is the best sleep support pillow I ever had. Very soft, super comfortable, no smell, excellent stitching, and high-quality materials. I'm planning to order two more today.

Bottom Line: Yes, I would recommend this to a friend

---