Sleepgram Pillow Reviews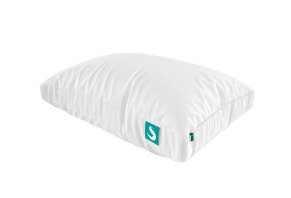 Summary
The Sleepgram pillow is a microfiber pillow designed from the ground up to offer superior comfort and support via a pair of inserts: one soft and one medium. Our personal review examines how this pillow performed.
Sleepgram Pillow Reviews - Is It Worth It? (We Tested It)
Claiming to offer a superior sleeping experience, the Sleepgram is a microfiber pillow utilizing multiple firmness combinations to tailor to your preferences.
Stating that they felt traditional feather pillows were in need of a serious facelift, the creators of the Sleepgram say that they revised the plan for their product dozens of times before finding the perfect pillow.
What separates the Sleepgram from other pillows is the way you can use their combination of soft and firm microfiber pillows to find just the right firmness for you.
With all these things in mind, we wanted to know how well the Sleepgram pillow worked, so we tested the pillow for a month before writing our review.
Our Experience With the Sleepgram Pillow
As we mentioned above, the main aspect separating the Sleepgram from traditional feather pillows is the two different microfiber pillows. Basically, your pillow arrives in the mail with two inserts that fit into a 100% cotton cover.
One insert has a red tag on it and one has a blue tag. The insert with the red tag is of medium firmness while the blue insert is soft.
If you want a firm pillow, you put a red and blue pillow inside the cover. For medium firmness, you use one medium pillow. And, for a soft pillow, you use one of the soft pillows. Both of us are side-sleepers.
For me, it was pretty fun to see the Sleepgram box arrive. It was heavier than I thought and that's due to the fact that there were two pillows and four inserts in the box.
The directions tell you to throw the insert pillows into the dryer for a few minutes so they expand. I did that, and then my wife and I made two pillows with the red- and blue-tag pillows, creating a firm pillow.
The first few nights I used the pillow, my back hurt the next morning, something that's pretty standard when you change pillows or mattresses. Your body has to get used to a spine alignment and weight distribution.
There was, no doubt, a big difference in support between my old pillow, which was two cotton pillows crammed into one pillowcase, and the Sleepgram that included two of their firm pillows.
The initial back pain wore off after about four days. I started to notice that I was sleeping better and not waking up as much as I normally do. Typically, I wake up at least three or four times a night but that number was cut in half during the weeks I tested the pillow.
I also noticed that there was a streak of three or four nights where I only woke up one time. Based on this, I believe that the Sleepgram pillow provided me a better night's sleep.
Another thing to note is that, during the time I tested the pillow, there are only a couple of times I had to adjust the pillow after I woke up. It seemed to be more supportive than my old cotton pillows.
One of the things I noticed is that, when I put my head on the pillow, it gave until just about a third to halfway down and then held steady. My head didn't sink all the way down as it does with my old pillows.
My wife, who also tried the pillows, had a slightly different experience. She said that the pillow compacted too much during the night and the ear on which she slept hurt in the morning.
Sleepgram Pricing & Return Policy
As of this writing, the Sleepgram pillow was available exclusively from the product's main website online. It is available in two different sizes, standard/queen (18" x 26") and king (18" x 33"), and each is available in four different quantities:
Single pillow: $54.95 ($69.95 for king)
Two-pack: $89.95 ($109.95 for king)
Four-pack: $159.95 ($199.95 for king)
Sleepgram comes with a 100-night return policy, not including any shipping & handling fees.
The Bottom Line: Our Thoughts on Sleepgram
Based on our own experience, the pillow provides a solid night's rest for most people who try it.
We believe that the Sleepgram improved our sleep, a fact that's confirmed by the positive reviews the pillow gets on Amazon.
One of the most important factors in choosing a pillow, however, is budget and preference. On the budget side of things, we believe Sleepgram's price is higher than many cotton- or down-based pillows. If money is a concern for you, then the Sleepgram may not be worth its relatively high price tag.
If sleeping preference is your deciding factor, then Sleepgram may be worth it because you'll have 100 days to try it out. Experiment with the various options you have for calibrating firmness. Use the red and blue together, then do the blue by itself and the red by itself.
Our Promise to You
In order to safeguard you and ensure helpfulness and relevance, our compliance team manually assess every customer review before it goes live.
We have a zero-tolerance policy for fake reviews, and companies cannot control or alter any reviews at any time.