Sleepgram Pillow Reviews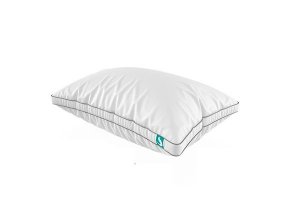 The Sleepgram pillow is a microfiber pillow designed from the ground up to offer superior comfort and support via a pair of inserts: one soft and one medium.
About Sleepgram Pillow
Claiming to offer a superior sleeping experience, the Sleepgram is a microfiber pillow utilizing multiple firmness combinations to tailor to your preferences.
Stating that they felt traditional feather pillows were in need of a serious facelift, the creators of the Sleepgram say that they revised the plan for their product dozens of times before finding the perfect pillow.
What separates the Sleepgram from other pillows is the way you can use their combination of soft and firm microfiber pillows to find just the right firmness for you.
On the product's website, we're told that the Sleepgram pillow started with a series of sleepless nights faced by a company co-founder's wife.
After trying out several different mattresses, they discovered that the key to a better night's sleep actually lied in the pillows the couple was using. After sharing their story with another eventual co-founder, the initial idea for Sleepgram took root.
On the about us page of the website, we're told that Sleepgram was born with the mission to make sleep, and pillow shopping, a happy experience.
Neither of the founding members appear to have a background in the sleep industry, with the website claiming that their prior experience was in software engineering and data analytics.
With all these things in mind, we wanted to know how well the Sleepgram pillow worked, so we tested the pillow for a month before writing our review.
Our Experience With the Sleepgram Pillow
As we mentioned above, the main aspect separating the Sleepgram from traditional feather pillows is the two different microfiber pillows. Basically, your pillow arrives in the mail with two inserts that fit into a 100% cotton cover.
One insert has a red tag on it and one has a blue tag. The insert with the red tag is of medium firmness while the blue insert is soft.
If you want a firm pillow, you put a red and blue pillow inside the cover. For medium firmness, you use one medium pillow. And, for a soft pillow, you use one of the soft pillows. Both of us are side sleepers.
For me, it was pretty fun to see the Sleepgram box arrive. It was heavier than I thought and that's due to the fact that there were two pillows and four inserts in the box.
The directions tell you to throw the insert pillows into the dryer for a few minutes so they expand. I did that, and then my wife and I made two pillows with the red- and blue-tag pillows, creating a firm pillow.
The first few nights I used the pillow, my back hurt the next morning, something that's pretty standard when you change pillows or mattresses. Your body has to get used to a spine alignment and weight distribution.
There was, no doubt, a big difference in support between my old pillow, which was two cotton pillows crammed into one pillowcase, and the Sleepgram that included two of their firm pillows.
The initial back pain wore off after about four days. I started to notice that I was sleeping better and not waking up as much as I normally do. Typically, I wake up at least three or four times a night but that number was cut in half during the weeks I tested the pillow.
I also noticed that there was a streak of three or four nights where I only woke up one time. Based on this, I believe that the Sleepgram pillow provided me a better night's sleep.
Another thing to note is that, during the time I tested the pillow, there are only a couple of times I had to adjust the pillow after I woke up. It seemed to be more supportive than my old cotton pillows.
One of the things I noticed is that, when I put my head on the pillow, it gave until just about a third to halfway down and then held steady. My head didn't sink all the way down like it does with my old pillows.
My wife, who also tried the pillows, had a slightly different experience. She said that the pillow compacted too much during the night and the ear on which she slept hurt in the morning.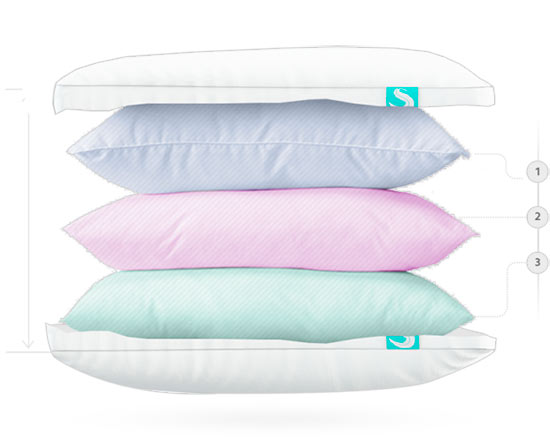 This image shows how the Sleepgram's three-chamber design is situated within the 280-thread count cotton cover. Credit: Sleepgram.com
Sleepgram Pricing & Return Policy
As of this writing, the Sleepgram pillow was available exclusively from the product's main website online. It is available in two different sizes, standard/queen (18" x 26") and king (18" x 33"), and each is available in four different quantities:
Single pillow: $64.99 ($74.99 for king)
Two-pack: $79.99 ($99.99 for king)
Four-pack: $149.99 ($189.99 for king)
Six-pack: $219.99 ($279.99 for king)
Shipping is based on the number of pillows you order, with standard shipping going for anywhere from $9.95 for a single pillow or a two-pack, to free for larger orders.
The checkout page informs us that each order comes with a 100-night return policy, not including any shipping & handling fees.
To initiate a return, you'll need to reach out to customer service by phone at 877-257-5337 or via email at help@sleepgram.com. You'll be required to pay return postage to get the product back to the manufacturer.
Sleepgram vs. Other Similar Pillow Designs
There are thousands of different pillows available both online and in-stores today. That said, are there any options out there that utilize a similar design to the Sleepgram pillow?
We found one pillow, the Morphiis, that's similar to the Sleepgram in that you can insert multiple pillows into your pillowcase to adjust firmness. The Morphiis has six 100% cotton inserts. Its price tag, at the time of publishing, was $85 for a queen-size pillow and $95 for a king.
Whereas the Sleepgram can fit up to two of their insert pillows, the Morphiis utilizes up to six insert pillows. The advantage here is that Morphiis' pillows can add a significant height difference for side sleepers with bigger shoulders.
We also came across single pillows that utilized various designs to provide firmness, like the WENERSI Premium White Goose down pillows or the Three Geese White Goose Feather bed pillow.
These pillows tend to be more affordable than Sleepgram, ranging from $24.99 to $39.99 and up when we checked during our research.
In terms of brand reception and feedback, several of these products featured hundreds of customer reviews on Amazon, many of which were five-stars. At the time of publishing, the Sleepgram had an average rating of four stars from 99 reviewers.
Common complaints included remarks about the pillow not being firm enough or too flat, as well as not being cool enough.
If you're searching for the perfect pillow for your specific needs, consider the following:
What position do you normally sleep in? As we mentioned above, depending on whether you are back sleeper, a side sleeper, or a stomach sleeper, a pillow with a certain type of thickness and shape may be desired.
Consider all of your options before deciding on one. Because there are so many different pillows out there, it's important to slow down and do a bit of research beforehand. Compare several products by price and similar features, and read through what customers are saying about each of them. Just be sure to watch out for fake reviews.
Understand the return policy going into a purchase. Because pillows are such a personal item when it comes to preferences of style, filling, weight, etc, it can be difficult to nail down the one that's right for you without trying it out for yourself first. For this reason alone, it's important to read and understand the product's return policy before entering in any credit card information.
The Bottom Line: Our Thoughts on Sleepgram
Based on everything that we've learned about the Sleepgram pillow and our own experience, we believe the pillow provides a solid night's rest for most people who try it.
We believe that the Sleepgram improved our sleep, a fact that's confirmed by the positive reviews the pillow gets on Amazon.
One of the most important factors in choosing a pillow, however, is budget and preference. On the budget side of things, we believe Sleepgram's price is higher than many cotton- or down-based pillows. If money is a concern for you, then the Sleepgram may not be worth its relatively high price tag.
If sleeping preference is your deciding factor, then Sleepgram may be worth it because you'll have 100 days to try it out. Experiment with the various options you have for calibrating firmness. Use the red and blue together, then do the blue by itself and the red by itself.
Editor's Note: Sleepgram Pillow was sent to us free of charge for review. This review is based on our honest opinion and impression of the pillow after sleeping on it for a number of nights. There is no material relationship between Sleepgram and HighYa. This article was revised on 9/12/18 by J.R. Duren
---
Overall Experience:

I was so anxious to receive the Sleepgram Pillows; it sounded exactly like what I was looking for. I received them fairly quickly and followed the enclosed directions to fluff for 5 to 10 minutes on low heat in the dryer. The pillows came out looking and feeling thick, fluffy and soft. The first night, after about an hour, I woke with neck pain and headache. The pillow was flat, hard and terribly uncomfortable. So disappointed. To send them back cost half the price of purchasing them, so they are going in the trash.

Bottom Line: No, I would not recommend this to a friend

---

Overall Experience:

I ordered these pillows online on the 14th of November. My card was charged on the 15th of November. Today is the 29th of November and no pillows. They were to notify me when they were shipped, providing me with a tracking number. No notification, no tracking number, NOTHING! I would love to write a review of the pillows IF I HAD THEM!

Bottom Line: No, I would not recommend this to a friend

---

Advertisement

---

Will not recommend to anybody, let alone a friend

Overall Experience:

I ordered 3 sets. I opened the one and it was flat shortly after using it. I gave it to my daughter who likes very little fluff. The other 2 will cost me a pretty penny postage to return. I called for a return authorization, and the first person was rude, and when I asked for a supervisor, I was disconnected. The second call was somewhat better. I had to listen to a spiel but got the number.

I will not purchase anything again that does not offer free return shipping. NOT happy with this company.

Bottom Line: No, I would not recommend this to a friend

---

Sleepgram Pillows purchased, no order number but proof of payment

Overall Experience:

The website shows a 24/7 number to call but I waited over 30 minutes and no one answered. The feedback link is not a real link so you can't leave feedback. It offers satisfaction guarantee but you can't get ahold of anyone. I emailed them and honestly will be surprised if I get a response.

Pillows are "feather," or so they say, but they are horribly stiff and uncomfortable. I needed and wanted a good feather pillow so I gave them an honest try. So much for customer service.

Bottom Line: No, I would not recommend this to a friend

---

Advertisement

---

What a waste of good money.

Overall Experience:

I bought two of these pillows and both of us were very disappointed. They were supposed to be birthday presents, but I wish I had saved my money and gotten something else. There is NO support to these pillows whatsoever. There is nothing in these pillows for any kind of support or cooling. I've slept on feather pillows before, but even they had more feathers and support than the Sleepgram Pillows.

Bottom Line: No, I would not recommend this to a friend

---

Overall Experience:

The order was placed on November 14 and I have not received the pillows. I have a tracking number, and neither FedEx nor USPS have received the pillows from Sleepgram for shipment?

I do not recommend buying from them. I am thinking this is scam?

Bottom Line: No, I would not recommend this to a friend

---

Very poor communication

By Lisa Griggs

,

Oklahoma

,

Dec 19, 2017
Verified Reviewer

Overall Experience:

I ordered this product a month ago. I checked the tracking number and found they had been returned to the company due to an incorrect address. I called a week ago, and the return has still not been processed. The customer service agent resolutely refused to pass my call to a supervisor. She told me that is not how this company works. She was also unable to cancel my order and refund my money.

Stay far, far away from this company. I won't recommend this product at all.

Bottom Line: No, I would not recommend this to a friend

---

Worse pillows I have ever bought

Overall Experience:

These pillows are cheap, uncomfortable, and go flat in seconds. You can feel the hard ridges of the big feathers in them. I can honestly say you can go buy a $5.00 foam pillow and have better quality, and that's pretty sad being a senior citizen on a limited income. I do not appreciate being ripped off by this company.

I did report them to BBB in Texas. Since the pillows were shipped from California I contacted the BBB there but later was transferred to Texas BBB as that is where the main company is. Everyone that has been ripped off should file a report.

I have also had the pillows looked at by one of our senators who lives close by. Granted, they have no contact with this company, but they can advise me as my best resource. The pillows, I believe, were purchased in another country. We are working with that info right now to find out more since I have to pay to ship these junk pillows back. I will, but I still have time and there are things that need to be looked into for this rip off sale. Too many elderly like myself have been taken advantage of, and when I send these pillows back, I'm sure they'll be passed on to an unexpecting person who will be ripped off just like I was.

Bottom Line: No, I would not recommend this to a friend

---

Overall Experience:

I was SO disappointed. Reading reviews, I really was looking forward to a great pillow. I ordered the two pillows together. I followed instructions when I first got the pillow. Fluffed it up really nice. But when I laid on it, it went completely flat. The most uncomfortable thing I ever tried to sleep on.

Bottom Line: No, I would not recommend this to a friend

---

Overall Experience:

I ordered and paid for four king size pillows. I received regular size pillows. Customer service says "too bad, pay to return them and you will get a refund." Really! They send the wrong product, and I have to pay to correct their mistake.

No customer service at all. A total scam. Beware.

Bottom Line: No, I would not recommend this to a friend

---

Overall Experience:

After making every effort to adapt to using the pillow, I've simply given up. Even after months of use, it still has a chemical smell, especially when you place your head on it and a puff of that smell hits your face. This pillow is very heavy and difficult to pick up or flip over at night. Getting a standard kingsized pillowcase on is very difficult. It's really hard and not soft. I'm giving them away to anyone who will take them.

Bottom Line: No, I would not recommend this to a friend

---