Slice Right Reviews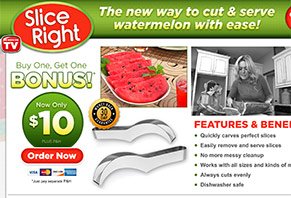 Slice Right is a new kitchen gadget that's claimed to help you evenly slice your watermelon, which then flips over to provide a mess-free way to serve it.
About Slice Right
Slice Right is a new tool that's claimed to help you quickly and evenly carve perfect watermelon slices and serve them with ease, without messy cleanup. On top of this, Slice Right is claimed to work with all sizes and kinds of melons, including honeydew and cantaloupe, and even for slicing and removing birthday cake.
In order to accomplish this, Slice Right is claimed to work over 3 steps:
Slice
Flip and grab.
Serve!
And once you're finished using your Slice Right, the manufacturer claims cleanup is a snap with its dishwasher safe design.
Sure, nothing says summer quite like a cool slice of watermelon, but the reality is that cutting and serving it can be a hassle—not to mention messy. So can Slice Right help you spend more time in the sun instead of struggling with your watermelon, or will it just leave you burned?
To answer this, let's first talk about Slice Right's design.
Slice Right's Design
Among its competition, Slice Right appears to feature a unique design. However, this doesn't mean that you don't have dozens of options from which to choose, especially if you prefer to slice your watermelon in a different manner. What's that?
For example: Slice Right appears to work best for cutting through watermelon halves, although if you prefer watermelon slices or chunks, then Slice Right's design might not be the best way to meet your needs. Or if it does, then this might mean you'll still have to continue cutting with a knife, which might defeat the original purpose.
As such, in instances like these, it might be best to look at other options, which is what we'll discuss next.
There Are Many Ways to Slice Your Watermelon
If you want to get a good idea of just how much competition the Slice Right has, type the phrase "melon slicer" or "watermelon slicer" into your favorite search engine and see how many results pop up. The fact of the matter is that melon slicers are so popular that it's even likely you'll be able to find at least one option at essentially every retailer near you—even some gas stations.
As we alluded to above, not all of these options will slice melon the same as Slice Right, although many will be less expensive, considering its high, non-refundable S&H charges (more about this in the Pricing section).
Now that we've talked about what we do know about the Slice Right, let's quickly address a couple of unanswered questions.
What We Don't Know about Slice Right
First, unlike some of the other melon slicers we discussed above, it doesn't appear that Slice Right features the ability to remove seeds. As such, although the device might make slicing easier, if you prefer your watermelon without seeds, it won't make this aspect any less difficult.
Second, there's no mention of Slice Right's material, either on the product's website or in the commercial. If we had to guess though, it's likely aluminum, which could provide several years of service if properly take care of.
However, since most ASOTV products are made inexpensively in overseas factories, we'd also be concerned that Slice Right is wrapped in a thin plating (often to add shine), which might come off with repeated use, and may even contain toxic materials not intended for human consumption.
Granted, we're not saying that this is the case with Slice Right, but that based on our experience reviewing hundreds of these types of products, it might be something worth keeping in mind.
Although we have some unanswered questions about the Slice Right product, here's what we know about its manufacturer.
Slice Right Pricing & Refund Policy
Two Slice Rights are priced at $10 plus $13.98 S&H (did you have to do a double take?), which come with a 30-day refund policy, less S&H charges.
Ultimately, this means if you're dissatisfied and decide to send your Slice Rights back to the manufacturer, you could feasibly spend twice as much on S&H charges as you'll ultimately receive as a refund.
If you'd like to request a refund, you'll need to contact Spark Innovators's customer service department at 855-704-5412.
Is Slice Right the Watermelon Slicer for You?
In short, if you mainly slice your watermelons in half, then Slice Right could provide a viable solution for easy and mess-free use.
However, if you prefer to slice you melon in other ways, or if you'd like to potentially save $20+ on lost S&H charges if you're dissatisfied, we'd recommend exploring local options at nearby retailers. And in addition to saving you money, purchasing locally could also make the overall return process as easy as hopping in your car.
Horrible

By Steven Hawk

,

Florida

,

Aug 31, 2017
Verified Reviewer

I bought mine at Walmart and mine fell apart as soon as I started using it. I wouldn't recommend it to anyone. This is by far one of the worst things that I have ever spent money on.

Bottom Line: No, I would not recommend this to a friend

---

Sort of works but not easily

Even if it did work, you'd have to eat a lot of melon to make up for the room it takes in the drawer. I put it by itself with the knife side nearest side so no one accidentally gets cut.

To make it cut you really have to line it up perfectly in the red part because it won't move through the rind at all. Then you must push in all the way while slicing and trying to keep the melon straight (if not your first cut) or your lines will be wonky. I haven't been able to pick up the wedges using the tong portion at all, and I can't figure out what the different designs are for.

Bottom line, I use it for watermelon only (not cantaloupe, too hard) and it keeps me from having to cut the entire melon into wedges before cutting into bite size pieces. I have to make more than one pass after I take out all the pieces I slice the first go through, but it's still kind of cool. Buy it from a store like I did ($8) and it's worth it. I just wish it could tell me how to pick out a ripe watermelon!

Bottom Line: Yes, I would recommend this to a friend

---

Advertisement

---

4 out 4 people found this review helpful

Disappointed!

By Norma

,

Los Angeles, CA

,

Nov 14, 2016
Verified Reviewer

Bought this thinking it would actually work. What a useless piece of a gadget. I made a mess trying to get "perfect" cuts, which by the way are very thick.

It wouldn't cut all the way to the bottom of the watermelon and I had to add so much force, I thought I was going to break the watermelon.

Anyway, I ended up with pieces of all sorts of sizes and still didn't get all the fruit.

Let me get a knife so I can finish what I started.

Bottom Line: No, I would not recommend this to a friend

---

3 out 3 people found this review helpful

Built to break

I received this product as a gift so I don't know where to return it for a refund! The concept seems okay but manufacturing is such poor quality that it will break quickly.

The thin metal looking wire that is supposed to do the cutting came out of its side and bent while cutting a melon. This was just the third time that I used it. I think it's junk and non-repairable.

What a rip off for the price I've seen.

Bottom Line: No, I would not recommend this to a friend

---

Advertisement

---

2 out 2 people found this review helpful

Would not recommend.

By Mary

,

GA

,

Aug 14, 2016
Verified Reviewer

Nice idea that was poorly executed. The cutting bar needs to be sharp enough to cut through a melon and the device needs to be longer to get to the bottom of larger melons. I ended up using a knife to cut around the edge of the watermelon. At least, mine did not fall apart after one use. DISAPPOINTED.

Bottom Line: No, I would not recommend this to a friend

---

3 out 3 people found this review helpful

Broke On First Use

By Shan Meils

,

Loveland, CO

,

Jul 23, 2016
Verified Reviewer

This sort of worked, but came apart after only half a small melon was sliced. Totally not worth the trouble; a knife is just as efficient and easier.

Bottom Line: No, I would not recommend this to a friend

---

4 out 4 people found this review helpful

Overrated

By Dwaine Moore

,

Raleigh, North Carolina

,

Jul 13, 2016
Verified Reviewer

Nice idea, but way over rated, even the upgrade to stainless steel is so cheaply made, yet what can you expect from having it made in china? Just another guy trying to make more than a buck from the consumer. Just a thought you might want to think about your future in this business. It's not nice to sell a cheap product for a quality price.

Bottom Line: No, I would not recommend this to a friend

---

18 out 18 people found this review helpful

Not worth the money

By Lianne

,

Kansas

,

Jun 17, 2016
Verified Reviewer

It doesn't work. Don't waste your money. Mine didn't break as the others stated. The blade isn't sharp enough to cut butter. I got one decent cut out of a full watermelon. I am a kitchen professional and was hoping to find an easier way to make even slices and cubes but you can forget using the Slice Right for that! I will be contacting the company for a refund.

Bottom Line: No, I would not recommend this to a friend

---

30 out 31 people found this review helpful

Nice but broke the first time using it!

Swansea, MA

,

May 27, 2016
Verified Reviewer

Nice. It seems to work well but after the first usage, it broke and is unable to use again. Now it's in the trash!

Bottom Line: No, I would not recommend this to a friend

---

39 out 39 people found this review helpful

Broke on the first melon

By Kevin

,

Conneaut Lake, PA

,

May 20, 2016
Verified Reviewer

Another poor cheap Chinese product. The unit broke halfway thru the first cantaloupe. Do not waste your time or money on this product.

Bottom Line: No, I would not recommend this to a friend

---