Sling Television Reviews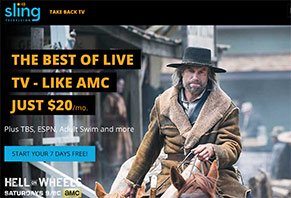 Sling TV is a streaming service that allows you to watch content from networks like ESPN, HBO, HGTV, Food Network, TNT, and more, without a cable subscription.
About Sling Television
Sling TV is a streaming content company that provides access to live TV, sports, hit shows, movies, and breaking news from dozens of popular networks, in addition to on-demand new releases—without a cable subscription.
Despite what their name might lead you to believe though, Sling TV allows you to do all of this on your television, tablet, computer, or smartphone. Because of this, Sling TV claims to feature "everything you love about TV, for a fraction of the price you'd expect to pay."
If you're tired of paying $100 or more per month for your cable subscription and are thinking about cutting the cord, there are some important considerations you should keep in mind about Sling TV.
With this said, let's start by talking about what "cutting the cord" even means.
What is Cutting the Cord?
Despite the fact that your cable subscription might provide access to hundreds of different channels, the reality is that you probably watch less than 10% of these on a regular basis. And considering that the average American pays $1 per month for their cable bill, this means you're paying a lot of money for content you're not even using.
Basically, you're throwing money out the window.
Factor into this equation that cable rates have risen an average of 9.4% per year since 2011, and you've got an increasingly costly monthly expense that's not fully utilized.
As such, consumers have started cancelling their cable subscriptions in droves, and are instead accessing much of their favorite content through websites like the Sling TV (we'll delve deeper in the next section). This is what's known as "cutting the cord."
While this basic explanation should point you in the right direction, we'd recommend reading our Guide to Cutting the Cord for more in-depth information.
If you're thinking about cutting the cord though, you have to remember that each streaming service comes with its own set of pros and cons. Let's explain what we mean.
What Kinds of Content Can You Watch with Sling TV?
Although cutting the cord can save you a ton of money, it's not a turnkey solution. In other words, although you only watch about 10% of your cable channels, all your content is in one nice, neat package. Simply turn it on, change the channel, kick back, and relax.
However, once you cancel your cable subscription, you'll likely have to subscribe to other services if you want access to even remotely the same amount of content. Although we'll provide more detail shortly, take the following as an example: If all your favorite TV shows are on Comedy Central, you might need to choose a service like Hulu Plus, but if you're more interested in watching documentaries, a service like Netflix and/or Amazon Instant might be more up your alley.
On the other hand, if you can't live without some premium cable channels, Sling TV might just be your best bet. We'll wrap up this section with a better look at this, but let's first talk about the competition.
Netflix
Netflix offers subscribers access to a range of newer (and classic) movies and TV shows, in addition to award-winning original content, although there can be a significant lag between a movie or TV show's release date and when it appears on Netflix.
Hulu Plus
On the other hand, Hulu Plus features only TV shows from major networks (as well as a limited number of movies and original content), although their content is generally available within 3 days of the air date.
Amazon Instant
Amazon Instant is another popular option for cutting the cord, as you'll get access to thousands of movies and TV shows, from documentaries to soap operas. But unless you pay for the newest on-demand content, as with Netflix, there will be a fairly decent wait between the date content is released and when it's available for viewing on Amazon Instant.
Sling TV
Compared to the competition, Sling TV appears to have carved itself a nice—and much-needed—niche within the content streaming industry, by providing access to content that would otherwise be lost without an expensive cable subscription.
This includes ESPN, HBO, HGTV, Food Network, TNT, and many others, although some options might require additional money. On top of this, you'll be able to watch live television with Sling TV, or wait until a few days after it airs. It's your choice.
Which Devices Are Supported by Sling TV?
According to the product's website, Sling TV is supported by a wide range of streaming devices and third-party platforms, such as:
Amazon Fire TV, Roku, Nexus,
Phones and tablets running iOS or Android operating systems (app-based)
Xbox One gaming console
Macs running Snow Leopard 10.6 or higher, as well as PCs running Windows 7 or higher
When reading through the Sling TV website, we found it curious that there's no support for AppleTV, which is the third most popular streaming device, trailing only Roku and ChromeCast. However, according to Sling TV's FAQ, your WatchESPN account from Apple TV will transfer over, so you'll still be able to watch these associated networks.
Outside of the product's website, what are people saying about Sling TV?
Customer Feedback for Sling TV
Despite being in business only since January 2015 (as a division of Dish Network), Sling TV already has more than 250,000 subscribers, so it's an extraordinarily popular service. In fact, type the phrase "Sling TV review" into your favorite search engine and you're certain to receive millions of hits.
With this in mind, TechRadar gave Sling TV a 3.5-star rating. While they appreciated the service's clean picture, user-friendly interface, and easy setup, they didn't like Sling TV's limited content selection, it's relatively high price, and the fact that you can't pause a show on one device (such as a smartphone) and easily resume on another (such as your TV).
Similarly, CNET users also gave Sling TV a 3.5-star rating, with complaints primarily revolving around:
Connection problems (buffering/loading times, app crashing, etc.), and
The fact that some channels don't allow you to rewind live content or watch previous episodes.
As with the TechRadar review, CNET's users recommended that you'll need to obtain the fastest internet connection you can find in order to fully enjoy the service.
Finally, there were more than 1,500 Sling TV reviews on Amazon at the time of our research, with an average rating of 2.9 stars. There, common compliments cited ease of setup/use, access to premium content, and ability to customize your subscription (more in the next section).
On the other hand, Amazon reviewers didn't appreciate Sling TV's buggy apps, high price-to-content ratio, and inability to pause, fast forward, or rewind some content.
From a company perspective, Sling TV, LLC wasn't listed with the Better Business Bureau, although their parent company Dish Network was. As of 7/28/15, Dish had an A- rating with the BBB, despite having more than 11,500 (yes, you read that right!) complaints. Many of these appeared to reference difficulty canceling service and higher than expected prices.
Admittedly, this doesn't mean you'll experience the same with Sling TV.
Sling TV Pricing
If you're looking to try Sling TV without a commitment, you can sign up through their 7-day trial. Once this time has passed, you'll be rolled over to a recurring subscription priced at $20 per month.
However, if you'd like to add additional packages (known as Extras), they're priced as follows:
HBO Access: $15/mo
Sports Extra – Includes Universal Sports, ESPN U, ESPN News, SEC Network, and more: $5/mo
Kids Extra – Includes Disney Junior, Disney XD, Boomerang, and more: $5/mo
Hollywood Extra – Features networks like Epix 1, 2, and 3, Turner Classic Movies (TCM), and more: $5/mo
World News Extra – Adds Euronews, News India 18, France 24, and other networks: $5/mo
Lifestyle Extra – Includes the Cooking Channel, DIY Network, TruTV, Lifetime, and more: $5/mo
For a full list of available networks and package options, be sure to check out Sling TV's Programming page.
At the time of our research, Sling TV was running a promotion that offered a free Roku Streaming Stick, 50% off a Roku 3 (total of $49.99), or 50% off a Nexus player (total of $49.50), as long as you paid for 3 months of service in advance.
Thinking about Cutting the Cord? If So, Watch Your Costs
Since pricing is fresh on our minds, let's quickly discuss costs here.
If you're like most people, you decided to cut the cord and cancel your cable subscription because you were interested in saving money. However, as we saw above, a single streaming device like Sling TV could set you back $60+ per month.
» See Also: 3 Easy Steps for Cutting the Cord & Saving Money
Then, if you also factored in online subscription services such as Netflix, Hulu Plus, Amazon Instant, and others, you could easily spend as much (or more) than your original cable bill.
Can Sling TV Replace Your Cable Subscription?
If you watch most of the channels that come with your (even basic) cable subscription, then you definitely won't be able to replace all of them with Sling TV.
However, if you find yourself regularly watching shows on networks such as ESPN, HBO, HGTV, Food Network, TNT, and more, but don't want the burden of an expensive cable bill, Sling TV might be just what you're looking for.
Remember this though: Right now, Sling TV is the only game in town if you want to live stream content from premium "cable" networks, without a cable subscription, so your options are limited.
» Recommended Reading: Streaming Services: With So Many Choices, How Can You Pick the Right One?
WON'T GIVE REFUNDS FOR NETWORKS THEY DROPPED

By Kim B.

,

Maryland

,

Oct 20, 2019
Verified Reviewer

Sling.tv had a fight with Fox so was not carrying its channels. At the same time, I signed up with a limited discount of $25 only to watch the American League baseball playoffs only being aired on FS1. So I did not and could not use their service and had to quickly pay YouTube.tv another $50 if I were to watch the first game that was starting in a few hours.

Sling stubbornly says that because at the time, Fox was not listed on their website as an available network, they are justified in keeping my money. Because I didn't somehow know about the dispute with Fox and somehow know that after years or however long of having FS1, they suddenly wouldn't (even though websites that review streaming services all over the Internet said they did) and because I thought too highly of them to think they would remove a network as popular as Fox without announcing this clearly on their homepage so people would know BEFORE they signed up, Sling gets my money and I get nothing.

Sling's problem with Fox and what seems like a deliberate attempt to keep people in the dark created such confusion that Sling had to have known that people wanting Fox would mistakenly sign up and be all too willing to give refunds as any ethical and respectable business would. Instead they took advantage of the confusion.

I have to wonder why Sling would not refund money given to them by mistake and under false pretenses? Why they would give excuses, argue and find trivial, opportunistic reasons to refuse refunds, angering and turning potential customers into enemies. Why take such a hit to their reputation? It makes sense only if you think of it in dollars and cents. Sling simply wants your money apparently at any cost.

Bottom Line: No, I would not recommend this to a friend

---

False advertisement! Run away!

By Brittany W.

,

Florida

,

Sep 16, 2019
Verified Reviewer

I signed up with Sling Total Package so that I can have access to unlimited sports and kids channels. However, I have not had consistent accessibility to my "SERVICES THAT I PAID FOR" since the first week I have had these services. I have attempted to contact Sling several times in regards to the services that I have not been able to access, but each time I called, I was waiting for over an hour before hanging up. I have had to download other apps; often payment needed, so that I can view "THE SAME SHOWS, GAMES, ETC." that I paid for with this fraudulent company.

Today was the final straw! Sling took away all of my sports extras all together! I used to at least be able to see it and even click on it from time to time, but they "LITERALLY DELETED IT". I contacted Sling again today and spoke to a supervisor named Mike, ID Number 99IV9. He told me that he knows I do not have the services that I paid for, but they cannot refund me for the services that I did not receive! I told them that I do not give a care about any of their policies! I did not receive "WHAT I PAID FOR" and all he did was say there is nothing he could do!

This is fraud! False advertising! You cannot charge someone for services that they did not receive! I will stop at NOTHING to resolve this! BBB already informed!

Bottom Line: No, I would not recommend this to a friend

---

Advertisement

---

HORRIBLE

By Kali V.

,

Pleasant Grove, AL

,

Jul 30, 2019
Verified Reviewer

I ordered Sling TV to get a channel that I found out they didn't have. Canceled service online same day. A month later I get a charge in my bank account for $39.95. I call and was told by rep and manager that they didn't have on file where I had canceled online and that they would not refund my money it was company policy. They could see where I had not even used the service but their poor customer service skills and company policy would not allow $40 refund. NEVER ORDER THIS SERVICE.

Bottom Line: No, I would not recommend this to a friend

---

Sneaky billing practices!

By Stephanie J.

,

Bethlehem, NH

,

Jul 26, 2019
Verified Reviewer

Thanks Sling TV for canceling my account NINE days prior to my next bill date with no notice and no refunds! SNEAKY.

Yeah, Sling TV is a class act...shutting down my account because I posted a complaint to the BBB! Thanks for the heads up...wow.

Guys, do not give these thieves your money! The service sucks and they won't give you your money back.

Try Philo - it's only $20/mo.

Bottom Line: No, I would not recommend this to a friend

---

Advertisement

---

SCAM

By Trae B.

,

May 18, 2019
Verified Reviewer

if you order a trial of Sling and elect to cancel before the free trial ends, the popup confirming cancellation is not sufficient notice. You MUST receive a cancellation email - and request one, if you don't receive - or they will charge you, and will NOT refund you once you catch the charge.

Bottom Line: No, I would not recommend this to a friend

---

BUYER BEWARE!

By SC B.

,

Fort Pierce, FL

,

Mar 17, 2019
Verified Reviewer

Please don't fall for the 30-day free, cancel anytime and get charged nothing CRAP!

I canceled within the 30 days and forgotten I had to give them an account even for the free period.

I canceled, they said it was canceled (I neglected to print the screen that said so...never do that again), and because of that, they were charging my savings (which I only check quarterly) three months of charges at $27.48 each!

BEWARE that their policy (OF COURSE) is that any money received by Sling TV is NON REFUNDABLE!

Don't fall for it unless you want to be charged!

Bottom Line: No, I would not recommend this to a friend

---

Sling TV is a SCAM

By Ann M.

,

Colorado

,

Oct 20, 2018
Verified Reviewer

Two weeks into my first month with Sling TV, several channels were removed from my selections. I tried to add them back, but was told that I would have to upgrade. The old bait and switch. You are told you get one thing, and then they take it away. Needless to say, I canceled. And based on this, I had better ensure they don't charge me again. Also, Sling TV did not load much of the time.

Bottom Line: No, I would not recommend this to a friend

---

Fraudulent charges

By James M.

,

Fayetteville, AR

,

Oct 12, 2018
Verified Reviewer

Less than two weeks after signing up, I was billed for a pay-per-view I did not order. After a four-hour hassle, I found out that you cannot talk to their billing department. They were accusatory and said that they could not remove the charge. They said the device used was Android, which we do not own. Simply put, they don't care. They charge your card and there is no way to dispute. They are a very corrupt and dodgy outfit. A class action is coming their way. You also cannot prevent PPV charges with IOS, or so I was told. They didn't have a fraud department or billing department number or email that they would provide.

Bottom Line: No, I would not recommend this to a friend

---

No Christian shows on TV

By Rebecca A.

,

Denver, CO

,

Oct 9, 2018
Verified Reviewer

Sling has zero Christian shows or channels, I would like to see that change! I want more family-friendly channels like Daystar, TBN, or Hillsong. They have way too many non-Christian channels and shows.

Bottom Line: No, I would not recommend this to a friend

---

They are rip offs

By Tammy W.

,

Kansas City, MO

,

Sep 11, 2018
Verified Reviewer

I had a 30-day free. I canceled and just now figured out I'm still be charged since canceling last December. John, the manager, did not see any phone calls that I canceled or an email. I document notes always. But he can't refund me. That's so WRONG! I already emailed the BBB. And I will post about it on any other possible communication so this doesn't happen to others. We give you bank card info then you keep it. Because he says it's recorded. Ok. But apparently, your system isn't correct! So the customer is screwed. Who owns Sling? I'll research that myself! And not depend on John, the manager that makes all the decisions.

Bottom Line: No, I would not recommend this to a friend

---

Updated review

Update - week two

By Garland V.

,

Orlando, FL

,

Aug 16, 2018
Verified Reviewer

The Roku Ultra FINALLY showed up per Victor's promise, so I did feel a little better about that. Once the simple-to-install Roku was connected, the Sling interface was MUCH easier and more usable, and I'm thinking the 3-month commitment and Roku Ultra deal may be OK. I bought Sling primarily to be able to watch MotoGP on the BeIN channel and college football coming up in a few weeks. The free Roku channels are impressive and unexpected. Netflix through the Roku is also very impressive.

So I stand by my conclusions above that are still valid, but for some people, Sling TV may be a good alternative is saving money is very important.

Bottom Line: No, I would not recommend this to a friend

Previous review
Aug 12, 2018

Very unhappy after only one week of service!

I've heard about Sling TV's "Free 7-Day Trial" for a long time and as my local cable company gave us a 20% increase in our bill this month, I decided to make a change based on cable's price increase.

I went to Sling TV's website and looked at their numerous options before choosing to buy a Roku Ultra for $50 in addition to three months of service. Later I found out that I did not qualify for the "Free 7-Day Trial" because I purchased the Roku at a discounted price. So highly recommend trying the Sling TV 7-Day Free Trial before any financial commitment I'm not sure how many people will want Sling TV after a free trial because of so many issues like buffering, pauses, hard to use interface with the app alone, etc.

On August 1st, one day after I placed the order online, I received an email from Sling TV saying, "Good news! Your Roku Ultra is on the way. Expect a package to arrive within the next few days. You'll be watching your personal channel lineup on your big screen in no time." This was NOT TRUE and set me up for an unrealistic expectation!

On August 7th, eight days after I ordered Sling TV, I called them to inform them that my Roku Ultra has not arrived. It turns out that their week-old email was a LIE because the Roku had not even been sent, thus delaying it as much as an additional week!

I have been playing with the Sling TV app since last week, but it is clunky and hard to work with on my computer and not nearly as easy or convenient without the Roku or other interface. The worst part is the channels often pauses or buffers, and that is REALLY annoying! Sling TV recommends a minimum internet speed of 25 Mbps and my internet is over 100 Mbps, plus I'm hard-wire connected with a CAT-5 cable instead of connecting wirelessly, but still get frustrating buffering when I watch!

So I contacted Sling TV today (via chat and phone) asking to cancel my subscription and refund my money. I did so because they had not fulfilled their email promise to me. I politely asked to get out of the contract and have a refund issued, but all three Sling TV representatives/supervisors I talked with told me that it was NOT possible because I agreed to purchase the Roku Ultra and three months of service. I was told, "Sorry you're unhappy, but we can not help you!"

I was then promised by Victor that my Roku Ultra would "definitely" be here in three days (this Friday, August 10th.) So IMHO, Sling TV's customer service won't help you even if your complaint is fair and reasonable. I'm hoping the Roku will come by Friday and that this interface will make Sling TV a better experience. If not, I will re-connect to our local Spectrum cable and pay three times more for a much better picture quality, better customer service, and far greater channel selection.

In hindsight, switching to Sling TV was a bad decision for me.

CONCLUSION:

(1) NEVER sign up for Sling TV without a "Free 7-Day Trial," that way you can quit without going through the frustration I did.

(2) Be sure your internet speed is high enough, and be willing to accept the fact that your Sling TV program will pause and buffer regardless of your internet speed!

(3) The old saying, "you get what you pay for" is most often true! Paying three times as much for cable TV may be worth it as you get MANY more channels with a better interface and no buffering or annoying pauses of your TV programs. Plus Spectrum's customer service IS far superior…I'll give them that!

(

read more

read less

...)

---