Smart Degree Reviews
Claimed This company has claimed this profile, is getting alerted on any new customer reviews entering this page, and may engage in dialogue with its customers to address their matters.

Companies cannot pay money or provide goods in order to remove or alter customer reviews.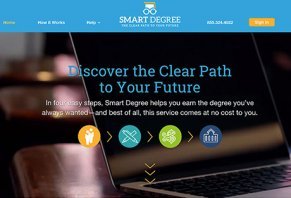 Smart Degree claims to provide returning adult college students with a clear path toward achieving their educational goals through a simple 4-step process.
About Smart Degree
Smart Degree claims to be a simple way to achieve your educational dreams by earning the degree you've always wanted in 4 easy steps. On top of this, Smart Degree claims to help you realize your goals using a customized program and a hands-on, personal approach that can help you avoid obstacles.
Going back school can seem like a daunting task for returning adult students, especially considering all the responsibilities we gain as we grow older, which is something that Smart Degree claims to specifically address. But when it comes down to it, does Smart Degree really represent a better way of going back to school? In other words, will they help put you in a better place in regards to your education, or is it all just marketing hype?
How Smart Degree Works
At its most basic, Smart Degree claims to provide you with a new approach to enrolling in continuing education college courses, which is claimed to work over 4 steps:
First, you'll start by being paired with a Smart Degree mentor, who will work with you on a one-on-one basis to find the right educational program that meets your needs. Once you've chosen your degree path, your counselor will have you take online learning assessments, which can uncover your strengths and weaknesses and can help you and your counselor determine your next steps. In other words, these assessments are claimed to help you become more attractive to potential colleges and to help you be better prepared once you get there. These include the Myers-Briggs MBTI Personality Indicator and Peterson's College Skills Training.
After your career and education assessments have been completed and you and your counselor have formulated a clear path to success, you'll then be able to take online general education courses offered through the non-profit Bellevue University (more about this in the final section), including American History, Art & Culture, Economics, Social Science, and more. Here, Smart Degree claims these courses will only cost you $150 per credit hour ($450 per course), which is 40%-70% less than tuition at most colleges and universities.
Once your general education courses have been completed, you can then transfer these credits to the school of your choice, which Smart Degree claims can ultimately help you save money in the long run.
Finally, you and your Smart Degree counselor will build an online Student Profile, which is kind of like an educational resume. Smart Degree claims that your profile will show other colleges and universities that you're motivated, and will allow them to determine if you're the right fit for their program. If they determine that you are, they'll then make you an enrollment offer that "encompasses their best tuition price, discounts, credits that will transfer and more." Afterward, it's up to you to decide which path you'll take.
Smart Degree Pricing & Refund Policy
Smart Degree services are completely free of charge, although you'll be responsible for course costs and any other associated fees when the time comes. With this said, Smart Degree claims that Bellevue University's general education courses are priced at $150 per credit hour ($450 per course).
If you have any questions, you can contact a Smart Degree counselor at 888-512-5475.
Is Smart Degree a Better Way of Continuing Your Education?
When it comes down to it, does the Smart Degree 4-step program really give you an advantage when continuing your college education? It's possible, but there are some important considerations to keep in mind:
Association with Bellevue University
According to a press release we found during our research, Smart Degree is a partnership between "Nelnet Enrollment Services and BU Ventures, Inc., a wholly owned, for-profit subsidiary of the non-profit, regionally accredited Bellevue University." In other words, Smart Degree is essentially an enrollment tool for Bellevue University, which is where you'll be taking your general education courses.
This is important, because it's not made clear how Bellevue University's general education programs can make you more marketable to other educational institutions, who these institutions are (there is no list of partner schools provided on the Smart Degree website), or how your Student Profile will be marketed. On top of this, it's unclear at what point you would even begin marketing yourself to other schools, as Bellevue University provides complete bachelor's and master's degrees.
Student Feedback
Next, although the Smart Degree URL has been registered since 2004, it appears to have only been in its current form since around May 2014. Because of this, there are no online student reviews regarding Smart Degree or its effectiveness.
On the other hand, Bellevue University appears to have a mixed online reputation, with some of the most common complaints referencing difficulty with financial aid (not receiving it at all, receiving too much, etc.), counselors and financial aid staff that seem unwilling to help in the event of a problem, and administration that doesn't appear to have the students' best interests at heart. In addition, there appears to be a mandatory Kirkpatrick Signature Series course that comes with a $3,400 price tag, which many former students claim was not included in their original tuition quote.
With this said, many former students have also complained that the coursework is extremely easy, with some even going so far as to call Bellevue University a diploma mill.
The Bottom Line
While Smart Degree's initial concept may seem appealing, it's ultimately unclear how the process can help you further your educational goals outside of Bellevue University. As such, if you decide to contact Smart Degree, this might be one of the first questions you ask.
With this said, keep in mind that according to Smart Degree's FAQ page, you won't be able to use Pell grants or student loans for the General Education courses. Also, based on previous student feedback, you'll certainly want to read all paperwork extremely carefully, including tuition, number of credit hours you'll need to finish, the number of credits that will transfer into the program, etc.