Smart Swab Reviews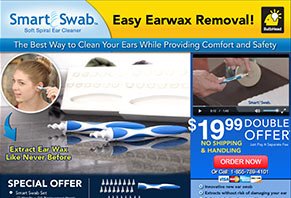 Smart Swab is an at-home earwax removal device that uses specially designed, replaceable, and disposable heads to work effectively, without causing damage.
About Smart Swab
It's not exactly an appealing subject, but Smart Swab promises to deliver comfortable, safe, and easy earwax removal in an innovative new design. How's it work?
Smart Swab consists of two parts: a long handle and a soft, spiraled, and grooved head. We're told the head is designed to go the perfect distance into the ear canal, twist slightly, latch onto wax, and safely extract it, without causing any damage. Then, the touch-free tip pops off into the wastebasket, and replacing it with a fresh head is a snap.
It certainly seems like Smart Swab's design is unique, but does this mean that it'll work for you? Is it really "the best way to clean your ears while providing comfort and safety"? These are just a couple of the important angles we'll address in this review.
What Is Earwax? Does It Need to Be Removed?
Earwax, also known as cerumen, is secreted by special glands in the skin in part of your ear canal. There, it's intended to act as a temporary water repellent, protect against damage and infection, and clear the ear of dirt and other debris once it eventually dries up and naturally falls out.
In most cases, this process is self-regulating and doesn't require interference. In fact, most earwax blockages are caused by accidentally pushing earwax deeper when trying to remove it, which can lead to temporary hearing loss, tinnitus, earache, and more. In other instances, someone may naturally produce an excess of earwax, requiring removal.
In almost every case though, your doctor won't recommend digging around in your ear to remove wax. Instead, you'll find many different methods online, including using mineral oil, hydrogen peroxide, or baby oil to soften earwax. Alternately, some claim to irrigate their earwax using at-home or over the counter methods and products.
In either instance, doing the wrong thing while attempting to remove earwax can cause pain and damage, so it's best to play it safe and talk with your physician first.
What about Smart Swab? Does it occupy a middle ground between dangerous swabs and safer (but perhaps less effective) irrigation and softening?
Is Smart Swab an Effective Earwax Cleaning Solution?
Again, it's important to reiterate two things before answering this question:
Your body does a good job of naturally getting rid of earwax, so manual removal is rarely required.
Even if removal is required, don't attempt to do it using a swab or anything similar. Instead, talk with your doctor, who can safely and effectively remove any blockages.
These two facts alone—at least from a medical perspective—indicate that making an appointment with your doctor might provide more bang for your buck (no to mention safety) than giving it a go with a product like Smart Swab.
But as to the question, is Smart Swab effective? This largely depends what you mean. Will it remove more earwax at a single time than something like a Q-Tip? Perhaps. We'd worry that Smart Swab could push wax farther into your canal, though. And you're still putting something into your ear, which isn't recommended by professionals.
If Smart Swab's inexpensive, though, it might be worth giving a try, right? Let's talk more about this next.
How Much Does Smart Swab Cost?
One Smart Swab set includes 1 handle and 16 replacement heads, and is priced at $12.99 along with $5.99 in shipping charges plus any applicable sales tax.
If purchased directly from the manufacturer's website, refunds will be considered if you submit a return request within 7 days after the receipt of the product. You can return your product for a refund, minus S&H if you discover that you received a defective unit.
You will also need to cover the cost of shipping it back. Promotional priced items cannot be returned.
Additionally, Smart Swabs are available at the following vendors at similar pricing:
Amazon
Walmart ($16.99)
Bed Bath & Beyond
Bulbhead
You will need to adhere to each vendor's unique return policy.
Is Smart Swab a Wise Purchase?
Is there anything quite like Smart Swab? While you'll find many other "stick-based" ear cleaning products available online and even at local retailers, we didn't come across anything designed the exact same way—especially not with Smart Swab's removable heads. Does this necessarily mean Smart Swab will work any better? This remains to be seen.
What we do know is that you rarely need to manually clean your ears, and even when this might be necessary, it's never a wise idea to do it yourself or to stick a long object into your ear canal. Because of this, if you're experiencing signs and symptoms of excess earwax buildup, such as trouble hearing, pain, or infection, speak with your physician first.
---
Correct usage provide good results

By Gelare

,

Iran

,

Jan 26, 2017
Verified Reviewer

People are still not educated on the fact that earwax builds up around the outer part of the ear canal, NOT deep inside or next to ear drum!

If you have ear wax blockage in your ear, it can be because of using a cotton swab, ear buds or finger that pushes earwax in the deeper part of your ear. In this case, you have caused yourself an "ear impaction" in the deeper part of your ear, which can only be cured by doctors through a medical procedure and irrigation.

Smart Swab is a preventative ear cleaner for cleaning accessive ear wax that is naturally produced close to the opening of the ear, which you have not "yet" pushed deeper by putting a cotton swab in your ear. It says not put your ear on their box because they are not an ear cleaner.

Ears are not supposed to be cleaned frequently, so if you use Smart Swab properly (once or twice a week), and before you already impact earwax with inserting improper things and expect a small to moderate amount of excessive ear wax, you will enjoy a cleaner ear with Smart Swab. This will be done without endangering your ear drum, and in a quick, comfortable and mess-free process.

I personally have used it properly and timely and found it to be the only ear cleaner on the market that safeguards your ear drum while cleaning excessive wax without pushing it in deeper.

Bottom Line: Yes, I would recommend this to a friend

---

Amazing gadget!

Ontario, Canada

,

Jun 8, 2017
Verified Reviewer

I had suffered from the accumulation of ear wax for years. My ears would clog out so bad that often I had to have my ears irrigated. Smart Swab is a wonderful gadget that allows me to clean my ears safely and effectively. Since using Smart Swab, I've never had any problems with my ears. I strongly recommend using this amazing invention to people who have an excessive ear wax problem.

Bottom Line: Yes, I would recommend this to a friend

---

Advertisement

---

It actually works!

I was hesitant to buy this because I saw a lot of bad reviews, but it worked perfectly for me. A lot more wax came out than I've ever imagined. There's a bit of a trick to it. You have to get it started gently and then push in more once it begins threading into your ear canal. Once it gripped, it took a lot of wax out. It worked great for me!

Bottom Line: Yes, I would recommend this to a friend

---

Honest and positive feedback from a relieved dude

By Dave

,

Burlington, VT

,

Dec 26, 2017
Verified Reviewer

I'm not a plant. This is a genuine comment from a consumer.

I got sick in late November (2017) and after shaking off what I think was the flu, I couldn't hear out of my left year. I'm 44, and nothing like that has ever happened before. Needless to say, after 3 weeks of being half deaf, I started to get worried.

I remembered I'd previously ordered a Smart Swab but never used it. Found it in a drawer. After trying a water flush, Q-tips, my finger and probably a letter opener, I put the Smar Swab to work. It took a few missions, and the amount of wax it pulled out was absolutely disgusting, but it was the tool that did the trick. I dug until nothing else came out, and about 15 minutes later I heard a little "pop" and could finally hear again!

These low ratings I see here are surprising. I love this darn thing and give it the highest recommendation.

Bottom Line: Yes, I would recommend this to a friend

---

Advertisement

---

Works great!

By Nikolaos T.

,

Ontario, Canada

,

Oct 1, 2018
Verified Reviewer

It is very effective for my wife and her extreme ear wax buildups that affect her hearing. Although she is seen by her doctor, it helps us avoid multiple trips yearly to the clinic to flush out her ears.

It must be used with extreme caution not to hurt the eardrum, but it works quite well overall.

I am surprised by the number of negative reviews.

Bottom Line: Yes, I would recommend this to a friend

---

It's fine for me

By Sommer J.

,

Atlanta, GA

,

Nov 12, 2018
Verified Reviewer

Okay, so to some of you who say that nothing came out, just be aware that most people generally don't have a lot of ear wax production. Also, if you're a person who cleans your ears often, then you probably won't have anything come out of them using the Smart Swab because the lack thereof could be normal, or a result of excessive cleaning. If you're someone like me who has seasonal wax build up, you learn to understand that wax production fluctuates and there are times when stuff isn't coming out because there's nothing there. Just like a clean Q-tip doesn't mean the Q-tip isn't reliable, same goes for the Smart Swab. Also, understand that ear canal size and length vary just as much as wax production.

Despite that long preamble, I've found that the product works well, however, I was able to get it for free with 24 replacement swabs and $2 S&H without a problem, and it got to me in five days time. I love it, I only self-clean my ears once a month as directed by my primary doctor, but during the winter months, it's two to three times because my ears stop up more due my ears trying to protect themselves from the cold weather. Sometimes I get wax, other times I don't, but it's not really that serious. In truth, you really should just clean your ears once a month. That way your build up is still healthy and over cleaning won't backfire in the form of an ear infection, vertigo, canal soreness, and inflammation, or a possible ruptured eardrum.

Overall, the product works as intended, but it's really overpriced. I got lucky with my find.

Bottom Line: Yes, I would recommend this to a friend

---

Scam

My ears itch all the time so I was excited about getting this product. However, the unit does nothing as the swabs are too big to go far enough into the ear and are much harder than they need to be. It didn't extract a thing from mine and I am sorely disappointed. I feel they know this and that's why there are all kinds of disclaimers, waivers, etc. included in the package. They also call you with other supposedly free offers whereby you only pay for shipping? Give me a break! I will never deal with this company again.

Bottom Line: No, I would not recommend this to a friend

---

Complete waste of money

By Amy

,

Sep 12, 2016
Verified Reviewer

Total waste of money, worthless.

Bottom Line: No, I would not recommend this to a friend

---

Regret purchase even before receiving it

By Debbie

,

Tulsa, OK

,

Sep 28, 2016
Verified Reviewer

I got an email a couple of days ago saying my purchase had been shipped. This morning I got a phone call thanking me for my purchase and informing me that they were sending me some free earrings as a thank you and a matching pendant that I could have on a trial basis.

I told the woman on the phone NOT to send anything other than what I ordered and paid for.

We had an unpleasant discussion before I finally hung up on her.

I really regret this purchase already and haven't even received it yet.

Bottom Line: No, I would not recommend this to a friend

---

Doesn't do anything, falls apart.

By Diana

,

Oct 11, 2016
Verified Reviewer

I bought the Smart Swab because my doctor told me I have too much earwax. I totally regret spending my money on this. I have never been able to remove any earwax, and often the tips fall off. A complete failure for me.

Bottom Line: No, I would not recommend this to a friend

---

Does nothing

By Lynne

,

NJ

,

Oct 16, 2016
Verified Reviewer

This product does absolutely nothing - don't throw your money at it!

Bottom Line: No, I would not recommend this to a friend

---