SmartBiz Reviews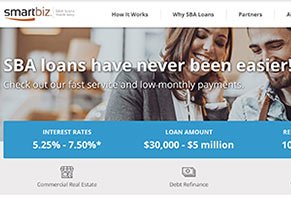 SmartBiz offers small business loans from the Small Business Administration intended to cover operating & inventory expenses, real estate purchases, the hiring of employees, marketing, debt refinancing, and overall working capital for business expansion.
What Is SmartBiz?
SmartBiz is a San Francisco-based lending company that offers small business loans for daily operations, real estate and more via the federal U.S. Small Business Administration loan program.
Each loan is offered based on a variety of factors, including the borrower's income, credit history and what the money will be used for.
The company was founded after the 2008 financial crisis, when small businesses were looking for loans that banks weren't giving, SmartBiz VP of Lending Operations Leo Jacobo told us.
"This left a funding gap of hundreds of billions of dollars that left banks on the sidelines," Leo said. "So-called 'alternative lenders' offered to fill the funding gap at sky-high APRs. SmartBiz knew there had to be a better way to support small business."
Does SmartBiz really offer a better way? Well, when you're deciding on which small business lender you should use, it's important to take a look at what the company offers, who qualifies, what fees you can expect from getting a loan and what other people are saying about the company.
We're going to dig into each one of these areas and help you get a sense of what you'll encounter when you apply for a loan with SmartBiz.
What Does SmartBiz Offers?
As we mentioned earlier, SmartBiz lends what are known as SBA loans ranging from $30,000 to $350,000 and paid back over the course of 10 years. The loans are backed by the U.S. Small Business Administration (SBA).
The SBA actually offers five different types of loans: general (7a), microloans, real estate/equipment loans, disaster loans and special loans. Each of these loans serves a different purpose. The loans you'll get from SmartBiz are called 7a Advantage Loans, which fall under the "special loans" category.
The SBA's 7a loans can only be used for specific things. The SBA's site has a pretty extensive list of allowable expenditures, so we're going to condense it a bit for your sake:
Operational expenses, accounts payable, inventory
Short-term working capital
Revolving funds
Purchasing equipment, machinery, or furniture
Buying real estate or constructing/renovating a building
Refinancing debt
Starting a business
The SBA page we linked to also includes what your loan can't be used for. We suggest reviewing that list before you give SmartBiz a call.
Interestingly, though, SmartBiz' website is even more specific about what you can use your loan for; the more you borrow, the more options you have (we'll get to that in a few minutes).
For example, the 7a loan can only be used for buying real estate if you borrow at least $250,000, a representative told us over the phone.
In our opinion, SmartBiz' lending options are limited compared to other companies like Fundbox, BlueVine and OnDeck, who let you borrow money without specific use requirements.
However, we believe those requirements are due to the SBA loans being a federal program, which means there are tighter rules and restrictions on the money you borrow.
This might sound like a bad thing, but we think it's a good thing because the higher the bar for getting the loan is, the more likely it's going to go to the right person, which leads us to our next section.
Who Can Qualify for a SmartBiz SBA Loan?
Most companies like SmartBiz ask their borrowers to meet certain requirements to be considered for a loan. Typically, you have to have a credit score above a certain number, your business has to make a certain amount of monthly/annual revenue and you have to prove you've been in business for a certain amount of time.
Here are SmartBiz' requirements for the business owner and the business:
In business at least two years
Yearly revenue of at least $250,000
Legal resident of the U.S.
No criminal record (minor moving violations not included)
No significant negative credit events in the past three years
Current on all government-related loans
No outstanding tax liens
In other words, SmartBiz wants to make sure your recent criminal and financial history is clean.
In our opinion, these requirements increase the chances they'll offer a loan to a responsible borrower. It won't weed out everyone, but it will certainly increase the chances the loan you get will be something you can handle.
Once your paperwork and background check out, SmartBiz uses a mathematical equation to match you with a bank who can provide you the loan you want. We asked Leo Jacobo which banks they use to offer the SBA loans, but he didn't give us specific names.
However, he did say that 95% of small businesses who apply for an SBA loan through SmartBiz get funded.
Our advice? Be sure you know the requirements before you start the application process. SmartBiz may not be a good fit for you if you're just starting out and revenue is low. Other lending companies are more accepting of applicants with yearly revenue below $250,000.
What are the Fees Associated With a SmartBiz Loan?
SmartBiz is very up-front about their fees. Some reviews we've done have been difficult because lending companies tuck their fees away in the fine print, or, in some cases, they don't even show them on their site.
Thankfully, SmartBiz lists their fees in a nice, neat table on their website:
10-year repayment
Interest rates between 6.25 and 7.25%
Referral fee of 2%
Packaging fee of 2%
A 2.25% guarantee fee for loans above $151,000
An average of around $320 for bank fees.
Interest Rate
The interest rate on your loan is based on SBA regulations. You can never be charged more than 2.75% above what the prime rate is, unless your loan is less than $50,000. The "prime rate" is a term for the base interest rate that sets the interest rates for auto and home loans, credit card APR's and other financial products.
Origination Fee
The referral fee and packaging fee are basically two different ways SmartBiz makes money off your loan. We'll lump those together and call it an "origination fee", a term you'll pretty much see anytime you get a loan through a financial institution or lending site.
Their 4% combined fee is a little high, in our opinion, as national mortgage origination fees hover around 1%.
OnDeck, another lending site we reviewed, has origination fees of 2.5%, while BlueVine doesn't charge any origination fees.
Comparing SmartBiz Fees to Another Small Business Lender
The key here is that, while SmartBiz origination fees are higher than the competition, their APRs are significantly lower and they allow you to pay off your loan over the course of 10 years and not 1 year or less.
Here's an example using small-business lender Credibly:
You borrow $10,000 at an interest rate of 20% over four months.
You pay $2,000 in interest in four months, or $500 a month.
Over the course of one year, $500 a month would be $6,000, or a 60% APR.
Your weekly payments would be around $750.
Lending companies like Credibly leverage short-term loans to get the most money out of you. SmartBiz, on the other hand, offers 10-year loans with reasonable monthly payments (around $1,100 for a $100,000 loan, for example).
Pro tip: A guarantee fee is basically the SBA's way of getting money from you up-front to protect them in the event you default on your loan payments.
SmartBiz Reviews: What Other People are Saying About SmartBiz
On TrustPilot, a consumer review website, more than 100 customers have left reviews about SmartBiz, with an overall average of 5 stars. The company received two two-star reviews and a single one-star review.
Those pair of two-star reviews resulted from customers who said it took too long to process paperwork, while the one-star review came from a customer who said the fees were too high.
We'll give SmartBiz a pass on the complaint about fees – they list them clearly on their website. The paperwork process, however, is something you'll have to prepare for. Here's how SmartBiz responded to a complaint about the extensive paperwork required:
"Our goal is to provide a quick and streamlined application process. However, SBA loans do require a substantial amount of documentation in comparison to higher cost alternatives."
As a result, it takes SmartBiz anywhere from four to seven weeks to get you your money should you be approved for a SBA loan.
Our Conclusion About SmartBiz
Based on our research, we think SmartBiz is a credible source of funding for small businesses. A lot of that credibility has to do with the fact that they offer their borrowers loans from the U.S. Small Business Administration.
The fact that these are federal loans means there are more regulations and the government is going to be more careful about who they're lending to.
This is why the application process is pretty extensive and there are tons of requirements that you won't see with other lending companies like BlueVine, OnDeck or Fundbox.
As far as we can tell from our research, you don't have to be too concerned about hidden fees. Everything is laid out on their website.
SBA regulations require that your interest rate is within a certain range, so you won't be subject to the same sky-high APRs you'd get from a short-term small business lender that doesn't give SBA loans.
Also, remember that you'll be charged an additional 2.25% if you borrow more than $151,000, putting your up-front fees at 6.25%, which is a really high number compared to other companies.
But, again, other lenders will make up for that by leveraging short-term loans to charge you APRs that can range anywhere from 30% up to more than 100%.
The biggest problem we see with SmartBiz is the time it takes to process your loan. If your business has unexpected financial hardship and you need money right away, SmartBiz probably isn't the best choice because it can take up to nearly two months to get your money.
If you find yourself in that position, take a look at the reviews we wrote about the following lenders who promise to get you your money fast. We structured these reviews just like this SmartBiz review:
In the meantime, if you have more questions about SmartBiz, head to their website's FAQ page. It's got tons of great information about SBA loans, pricing and the application process.
2 out 2 people found this review helpful

Run the other way to avoid awful experience

By Dan B.

,

Clifton, NJ

,

Dec 14, 2018
Verified Reviewer

I have worked with hundreds of banks in my career and have had none as disappointing as SmartBiz. They were processing my SBA loan and continued to give me wrong and false information. They confirmed twice in writing that I had a closing date, which came and went without any notice of a change. If I didn't initiate contact with SmartBiz, I got no responses or updates.

I finally found out who they were working for, and the bank was Florida Capital. That bank told me that they NEVER gave any closing date information and profusely had to apologize for SmartBiz's incompetence and wrong information. Florida Capital was good to work with, but SmartBiz was absolutely terrible.

I would HIGHLY caution anyone to stay away from SmartBiz and go directly to the lender. There was nothing but constant frustrations.

Bottom Line: No, I would not recommend this to a friend

---

Advertisement

---