SMARTECH Power Kit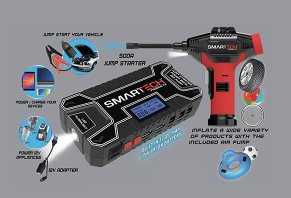 Summary
The SMARTECH Power Kit is a do-it-all charging kit that includes a 12,000 mAh power pack for cars and mobile devices, a hand-held air compressor as well as a variety of charging cables and adapters.
About SMARTECH Power Kit
The SMARTECH Power Kit is an As Seen on TV jack-of-all-trades charger and toolset that includes battery clamps, a car charger, a wall charger, as well as a hand-held air compressor and laptop charger adapters.
The kit's defining characteristic is the variety of charging options it offers – you can use its components to jump start a car or charge a phone.
"This powerful and versatile unit can charge anything from your cell phone to your car battery, inflate bicycle or car tires and even features a built-in LED flashlight," the site says.
In this review, we'll discuss exactly what comes in the kit and what it does, provide pricing at the time of publishing and then price out each component in the kit so you can see how much of a value you are or aren't getting.
What's Included in the SMARTECH Power Kit and What It Does
There are nine items included in the kit:
150 PSI hand-held air compressor
Power pack and battery clamps
Car charger and wall charger 12V/19V accessory cord
USB power cord with Lightning and mini-USB ends
Laptop charger adapters
Carrying case
The high-value items, in our opinion, are the air compressor and the power pack with battery clamps. The SMARTECH website says that the air compressor is a battery-powered, rechargeable device that can fill five tires on one charge.
According to the product's FAQ page, the compressor can fill tires up to 150 PSI and will take about five minutes to charge a tire.
The compressor has three different tips that allow you to quickly change it from a car-tire inflator to a bike tire or ball inflator.
The power pack is a versatile charging station that has adaptors and clamps that enable it to jump start a car battery or something as simple as a mobile phone.
The SMARTECH FAQ page says the charger contains 12,000 mAh of power, which is similar to what you'd get with a portable power bank for phones and/or laptops.
A fully charged power pack can provide one or multiple charges depending on what it is you want to power up. According to tech site EasyAcc, you can calculate how many charges a fully charged power pack can provide by diving 12,000 mAh by the mAh of the device or battery you want to charge.
Now, cell phones require much less power to charge. For example, here's a list from FluxCharger covering the power requirements for popular phones along with how many charges you can get out of the SMARTECH power pack:
iPhone X: 2,716 mAh, 4.41 full charges
iPhone 8: 1,821 mAh, 6.58 full charges
Samsung Galaxy Note 7: 3,500 mAh, 3.42 full charges
Samsung Galaxy S7: 3,600 mAh, 3.33 full charges
As you can see, the power pack can provide a decent number of charges for the leading Apple and Samsung phones. When the pack runs out of power, the SMARTECH site says it will take up to seven hours for it get back to a full charge.
We did some research to figure out how many mAh are needed to jump-start a car and found that a 6,000 mAh power source can provide "a handful of starts," according to tool site Tool Nerds.
The SMARTECH kit provides 12,000 mAh, which should be more than enough power to get your car started in the event that you need to jump start it.
SMARTECH Power Kit Pricing and Return Policy
At the time of writing, you could buy a power kit for $149.97 either by making a one-time payment at checkout or signing up for three payments of $49.99.
All orders include an additional shipping charge of $14.99.
One final thing we'd like to point out about pricing is that the site will charge you the $19.99 shipping fee for every additional kit you order – there is no combined shipping.
Should you decide that you want to return your kit, you have 30 days to do so. A company representative told us that the 30-day deadline starts the day the kit is delivered to you.
What's nice about their return policy is that the company rep with whom we spoke said SMARTECH will refund your shipping costs and send you a free return shipping label, two things you don't often see when it comes to sending returns.
At the time of publishing, this information conflicted with the return policy listed on the website, which says your refund doesn't include shipping costs and you have to pay for return shipping.
How Much the SMARTECH Components Would Cost When Purchased Separately
In our opinion, the best way to understand what kind of value you're getting in this seemingly impressive power kit is to price out the most valuable items in the kit.
Most of us already have wall chargers and car chargers, so we won't include those items in our pricing. Also, we believe most of you already have power cords for your phone or tablet, so we won't include that either.
To figure out pricing, we went to Amazon to search each component and tried to find the highest-rated, most similar product offered on the site:
Portable power pack: DBPOWER power pack, $47.99
Hand-held air compressor: VonHaus compressor, $29.99
Laptop adaptors: SoulBay 3-piece set, $12.88
Carrying case: Caseling case, $13.99
LED headlamp: Alyattes NEWEST headlamp, $25.96
Total: $130.81
Based on this data, we think that the SMARTECH Power Kit provides great value on an item-to-item basis. However, buying each item on its own offers two distinct advantages.
First, every accessory listed above comes with free shipping. Second, you can read through user reviews of each one to find out how well they work.
The SMARTECH Power Kit doesn't offer free shipping and, at the time of publishing, didn't have any consumer reviews we could find.
If you're someone who values the best deal possible along with solid user reviews of a particular product, it may benefit you to buy from Amazon the items you like most in the power kit.
The Bottom Line
The pricing point and value you get from The SMARTECH Power Kit is attractive.
You get a lot of items in one kit, some of which can be crucial in emergencies like a dead battery or everyday life like flat bike tires.
When you price out all the items you get, the value beats what you could get on Amazon.
The product has mostly positive ratings from customers on Amazon, Home Depot, and HighYa indicating that you'll likely be happy with this product.
Customer Reviews
Our Promise to You
In order to safeguard you and ensure helpfulness and relevance, our compliance team manually assess every customer review before it goes live.
We have a zero-tolerance policy for fake reviews, and companies cannot control or alter any reviews at any time.