SmartSilk Pillow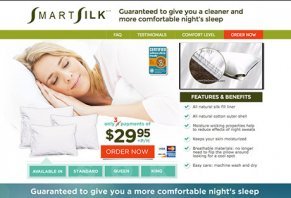 The premium SmartSilk Pillow is made of high-grade silk and soft cotton that's claimed to naturally wick moisture and provide a cool sleeping surface all night long.
SmartSilk Pillow Review: Is It Legit or Just Hype?
Regardless of how you sleep, the patented SmartSilk Pillow is claimed to use an all natural silk fill liner and cotton outer shell to wick away moisture and to keep you cool and comfortable all night long.
In fact, the manufacturer claims that the SmartSilk Pillow is "guaranteed to give you a cleaner and more comfortable night's sleep."
What's Different About the SmartSilk Pillow?
Pillows might seem like a boring subject. After all, they're something that we use nightly, and it's often the case that we don't think about them too much. However, according to the SmartSilk website, choosing the right pillow can make all the difference in not only how well you sleep, but in your overall health as well.
Because of this, the SmartSilk Pillow's exterior is claimed to be made of all natural long stranded Tussah silk floss, which is stretched into sheets and layered. Then, this silk is enclosed in a 100% natural, breathable, pre-shrunk, soft cotton outer shell with a 233 thread count, in addition to being filled with cool, comfortable micro gel. This means that the SmartSilk Pillow can provide a variety of advantages over "standard" pillows, including the ability to wick away moisture and to keep you cool all throughout the night.
On top of this, the SmartSilk Pillow is claimed to be certified asthma and allergy friendly, due to its natural ability to prevent the accumulation of dust mites, pet dander, and other allergens. The SmartSilk Pillow is also claimed to be certified free of any harmful chemicals, thereby providing you with a clean and healthy sleeping environment.
SmartSilk Pillow Loft Levels
In order to accommodate sleepers of all types, SmartSilk Pillows are available in four different loft levels (e.g. thicknesses) that can provide you with proper spine alignment, and can set a natural, neutral neck position.
According to the pillow's website, thin pillows are ideal for individuals who sleep on their stomach, while medium lofts are ideal for back and side sleepers. However, if you sleep on your back or side, the company recommends adding a second pillow under your knees for additional support. Finally, high lofts are also ideal for back and side sleepers, depending on your preferences.
When it comes time to clean your SmartSilk Pillow, the company claims that it is easy to care for, and is machine washable and dryable.
SmartSilk Pillow Pricing and Refund Policy
In addition to its 4 loft levels, the SmartSilk Pillow is available in 3 different sizes, which are priced as follows:
Standard: $69.00
Queen: $79.00
King:: $89.00
Regardless of which SmartSilk Pillow you choose, you'll also pay a flat rate of $19.99 for shipping.
SmartSilk Pillows come with a 60-day refund policy, as well as a 10-year warranty against manufacturer's defects. In order to initiate the refund process, you'll need to contact customer service at 877-678-7455.
What Do Other Consumers Have to Say About the SmartSilk Pillow?
Although the manufacturer claims to have been in business for 8 years, other than blogs (e.g. the authors received free pillows in exchange for reviews), there were essentially no online customer reviews for the SmartSilk Pillow at the time of our research.
However, among these bloggers, the SmartSilk Pillow appears to have a primarily positive reputation, with common compliments referencing its durability, that it maintains its shape without the stuffing shifting around and becoming lumpy, and that it maintains a constant temperature.
Overwhelmingly, the number one complaint related to the SmartSilk Pillow is its high price, which we'll talk more about in the following section.
Can the SmartSilk Pillow Really Help You Sleep Better and Healthier?
If you're looking for a better night's sleep, and the SmartSilk Pillow help? And if so, is it worth the money? Perhaps, although you should consider the following:
SmartSilk Pillow's Price, Quality, and Reputation
There's no denying that the SmartSilk Pillow could be considered expensive, and as such, unless you suffer from night sweats or allergies, the high price may not be worthwhile. Also, keep in mind that the SmartSilk Pillow's 233 thread count could be considered fairly thin, although there will certainly be a tradeoff between higher thread count and the ability to dissipate heat.
With this said, SmartSilk was founded by Harry Walker and Yair Altman based out of Montreal, Quebec, and claims to have been in business for 8 years. Based on a review of their website, it appears they stand behind their premium products, while putting a great deal of effort into their manufacturing. And while there were very few online reviews specifically referencing the pillow, most of their other bedding products appear to have a solid reputation for comfort and quality.
Mainstream vs. "As Seen on TV"
However, it appears that the SmartSilk Pillow has recently ventured into the "As Seen on TV" arena, which is a massive industry that could put the pillow in front of more potential customers. Based on multiple similarities in its website design with many other ASOTV products we've reviewed, it appears that SmartSilk may have partnered with another manufacturer in order to accomplish this.
When purchased through this website, you should also keep in mind that high S&H charges will be applied to your order, which are non-refundable. This means that by the time you send the pillow back to the manufacturer if you're dissatisfied, you could be out $25 or more.
SmartSilk Pillow's Certification
In the course of our research, we verified that the SmartSilk Pillow is indeed certified by the Asthma and Allergy Foundation of America as "Asthma & Allergy Friendly." In general, this means it is "scientifically proven to be more appropriate for customers concerned about allergies, asthma and poor indoor air quality."
Privacy Policy
According to the SmartSilk Pillow's ASOTV website, your information may be "used by us to contact consumers for marketing purposes [and] shared with other reputable organizations to help them contact consumers for marketing purposes." While you can opt out of this, you'll likely receive spam or phone calls until you do.
Bottom Line
If you suffer from allergies or excessive sweating at night, which affect your quality of sleep, then the SmartSilk Pillow's premium price may provide a good value. On the other hand, if you're just looking for something more comfortable without the high price tag, you can very likely find a pillow to meet your needs at a lower price from a local retailer.
1 month & no order!

By Annie

,

Apr 23, 2016
Verified Reviewer

Placed an expensive order of over $700 of products through getsmartsilk.com on 3/26, and as of 4/21 still have not received my order. Their website says 48-hour shipping. They emailed me a generic receipt with nothing other than the items I ordered and an order no., no company address or logo or customer service number to call, strange.

After searching out a phone number on their website, I came across an online order update page, I input my order number which then told me it was non-existent, so I called them and they couldn't find my order at first, but after some time on hold they found it. They said, "Oh, no one reached out to you? There is a delay, we'll send it out shortly." Strange, I did not receive any email or phone call from them regarding this so I kind of felt like they were making that up. Well that was 4/8/16, 2 weeks ago.

I called again a week later on 4/15/16 and again was told that my order will ship shortly. Again, a week later on 4/21/16, and still no Smartsilk. This is crazy. I'd leave a product review if I could get my products so I am leaving an order experience review which I give ZERO stars. I will call my credit card company if this ends up being a scam.

Bottom Line: No, I would not recommend this to a friend

---

Fire retardents found

By Lynn

,

Florida

,

Oct 4, 2016
Verified Reviewer

Got a pair of these as gifts. Seemed really nice to the touch. After using them for a week, I couldn't breathe. I was all stuffed up in the morning. Since I'm in the chemical industry and since this is the only thing that changed to cause my problems, I took them to my work and had them checked out by ripping one apart. In the middle of this pillow is foam which is covered in PBDE's (polybrominated diphenyl ethers) which are highly toxic chemicals that disrupt your hormones in your body, cause lung conditions such as COPD and can make you infertile. As such, PBDE's are banned in Europe from all manufactured products.

I strongly advise against using these products as they cause a serious health risk, especially developing children.

Bottom Line: No, I would not recommend this to a friend

---

Advertisement

---

Can't wash

By L. Clarke

,

Burlington, Ontario, Canada

,

Feb 14, 2017
Verified Reviewer

I loved this pillow. Their directions said to machine wash and dry. I did that and regretted it because it is now ruined with lumps the size of golf balls. I am now trying to find out how to return it. So disappointing.

Bottom Line: No, I would not recommend this to a friend

---

Buyer beware

By Leah

,

Hanover, Ontario, Canada

,

Feb 18, 2017
Verified Reviewer

I ordered Level 3 Standard (medium firm) because all my pillows are Standard size. I've tried everything from soft to firm, and I find that too firm is uncomfortable and too soft disappears. Well, this one disappears; meaning it's small and full of air, not enough fill, so you don't have any support all night.

This company is not interested in customer satisfaction! I can either send this back and waste $30 on shipping and processing fees, or they could send me a Queen Level 4 (firm) if I pay another $16.95 plus tax.

I believe that, for the $84.70 this one pillow cost me, I should have one this is as described, medium firm! "We are not breaking any rules," was the comment when I informed them I would be reporting this to the BBB.

Now I don't have a pillow, and I wasted $30 in shipping and processing fees (maybe more since some reviews claim they are not getting their full refund). These are not good business practices!

Bottom Line: No, I would not recommend this to a friend

---

Advertisement

---

Just another pillow

By Lisa Dawson

,

Bellevue, WA

,

Dec 18, 2017
Verified Reviewer

I ordered two queen SmartSilk Pillows because if the claims made on the infomercial. My first mistake was believing what the infomercial claims. My second mistake was ordering these two pillows at much higher price than advertised.

They arrived about 3 weeks after submitting the order. When I tried them out I found these SmartSilk Pillows are just like all the rest, just a pillow, there's no magic here. Disappointed! Waste of money!

Bottom Line: No, I would not recommend this to a friend

---

Did not work for me

By Shelley L.

,

Delta, British Columbia, Canada

,

May 25, 2018
Verified Reviewer

I just need to share that my SmartSilk pillows are lumpy. I ordered soft, which apparently means zero soft. It's like you're sleeping on your mattress. I wake up with migraines and congestion.

Bottom Line: No, I would not recommend this to a friend

---

Lousy pillows

By Kamilia P.

,

Strathmore, Alberta, Canada

,

Sep 14, 2018
Verified Reviewer

On April 23, 2017 I purchased four SmartSilk Pillows, comfort level 4. I tried them for a month and woke up with a migraine every morning. When I called to complain, they suggested level 3, wanted to ship back the level 4 but the shipping was too high, so I kept them. I tried level 3 and I still get migraines every time I sleep, they actually told me I am sleeping wrong on them (really)! So I am stuck with eight horrible pillows. What bothers me is the false advertising I hear almost daily, how wonderful them pillows are. I would not recommend them to my enemy. Just think of silk nice and soft, but those pillows feel hard.

Bottom Line: No, I would not recommend this to a friend

---

Don't waste your money

By Janet B.

,

Canada

,

Apr 17, 2019
Verified Reviewer

One year later, my SmartSilk Pillow is lumpy and uncomfortable.

Never did live up to the infomercial claims. I dislike it immensely.

Nowhere on their website can you contact the company. I wonder why? Too many complaints? Wish I had read the reviews about it before purchasing. Like sleeping on a cloud? More like a bag of cement.

Bottom Line: No, I would not recommend this to a friend

---

Worse pillows I've ever bought

By Karen I.

,

Ontario, Canada

,

Oct 17, 2019
Verified Reviewer

They were ok for the first 6 months. Now they are totally lumpy. The inside filling is just one huge clump of whatever. There is no filling around the edges. I washed them hoping that would help but no, they are the same. Don't waste your money on these! Very disappointed in Costco for carrying these pillows. They were expensive. I won't buy an item like that again!

Bottom Line: No, I would not recommend this to a friend

---

Good enough pillow (with alterations)

By Cher S.

,

British Columbia, Canada

,

Sep 24, 2018
Verified Reviewer

The pillow itself is just fine - perfect level of softness, good quality ticking (no annoying feathers working their sharp points out of cheap cover fabric). The problem is, it is actually "overly constructed" to the point that all the outer edges are hard and the corners are actually sharp. You can't "cuddle" it. I had to practically reconstruct it (rounding the corners, so they stopped sticking out and poking my partner in the eye). Yes, I could have sent it back, but I'd used it for a week, at least before I realized the problem and it was easier just to "remake" it than go to the trouble of returning it.

Bottom Line: No, I would not recommend this to a friend

---

Pillows

By Cathy U.

,

Toronto, Ontario, Canada

,

Jul 24, 2019
Verified Reviewer

I loved my pillows until I washed them, then they clumped up and are very uncomfortable now. I purchased 2 queen size with med/soft fill. I wouldn't recommend unless you never wash it!

Bottom Line: No, I would not recommend this to a friend

---