SmartyPig Reviews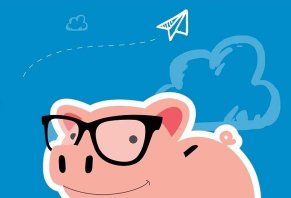 Savers who want a simple platform to meet their goals may enjoy the high-yield and simplicity of SmartyPig, an online savings account aimed at using deadline-based goals to help people save.
About SmartyPig
SmartyPig is a high-yield savings account offered by Sallie Mae that encourages you to set up savings goals for anything from vacations and a new car to a new house or a pair of shoes.
The company was founded in 2007, making it one of the older online-only financial products on the market. Its founders are Jon Gaskell and Mike Ferrari.
Gaskell has a degree in media studies and journalism and, previous to SmartyPig, he worked at a couple of media outlets. Ferrari had a background in technology services before helping Gaskell launch SmartyPig. Both men have moved on from the company and it is now owned by student loan giant Sallie Mae.
SmartyPig has a long history as a savings account for people looking for high yields (interest rates) and goal-friendly tools that help you set money aside for various things. In fact, their website says that people like you have deposited nearly $5 billion in their accounts.
With all this history in mind, we wanted to know if SmartyPig was worth your time. Is it a one-dimensional tool that you can find wrapped into more robust financial apps or is it a legit stand-alone savings tool?
To answer these questions, we did some research about what the company offers and we read through the fine print just so we were clear on what it's like to open a SmartyPig account.
We gathered up all that information and condensed it for this review. By the end of it, you'll have a pretty good idea of SmartyPig's strengths and weaknesses and who, in a general sense, might be a good fit for using this product.
We'll also take a few minutes to compare this to savings accounts you could get with a traditional bank so that you can see how it differs and matches up with the competition.
How SmartyPig Works
To sign up for this site's savings account, you'll need to provide SmartyPig with the following information:
SSN
DOB
Phone number
Address
Checking or savings account info
When you sign up, you'll be asked to link a funding account. This is the account that you'll use to transfer funds into your SmartyPig savings account. You're only allowed to have one funding source.
To vet that funding source, the site will need to run a basic verification process. According to their site, this verification process will put a series of small deposits into that funding account within two business days.
Once those deposits have been made, you can log into your SmartyPig account and verify the two deposits. There's a chance you'll be asked for more information to open your account and, if that happens, you have 14 calendar days to provide the information.
Keep in mind that this will be the only way to fund your account – no checks or cash can be used as a deposit.
After your funding account is set up you get to take advantage of the core of the SmartyPig: goals.
SmartyPig Goals
The website's goals are designed to help you save your money before you spend it. Want to take a vacation to the Bahamas in a year? It won't happen by magic.
You'll need to look at your monthly budget and figure out how much money is going out and how much is coming in. Once you know that, you have the ability to plan out how you'll use any extra money you have to save up for that trip to your island paradise.
And that's where this tool comes in. You can create various savings goals and then direct the site to channel automatic or sporadic transfers into those goals.
The site uses two key principles to help you meet your goals. First, you can set a deadline for the amount you want to save. As the money comes in, it stays in the goal. Once you reach the goal, SmartyPig allows you to send it back to your funding account.
Basically, once you hit your goal you get your money. In that sense, SmartyPig is a pretty solid savings option because you can tap into the money until you hit your goal. Now, if you can't reach the goal by the deadline, the site lets you push the deadline back so that you have more time to save.
If you transfer money to your account without designating it to a savings goal, it's kept in what's called a Primary Account.
Pro tip: If you want to withdraw money from a goal, it will take one to two days to reach your funding account.
Interest Rate on Savings
Every day that you have money in your primary account and/or goals, you'll earn interest on your balance on a daily basis. Your interest is based on your balance: up to $10,000 gets 1.15% and anything above that gets 1.2%.
Now, we said that you earn interest on a daily basis. What SmartyPig does is they divide your yearly interest rate by 365 then, every day, multiply it by your balance.
As an example, if you have $1,000 in your account, you can earn $11.57 in interest the first year. Over five years, that interest rate will earn you nearly $60. It's not much but you're slowly making money.
How SmartyPig's Savings Account Compares to Bank Savings Accounts
If you've already got a savings account with your current bank, the obvious question is: "Why should I switch?". The answer lies in the interest rates and fees. Here's a quick table of savings account interest rates on a $1,000 balance:
| Bank | Interest Rate |
| --- | --- |
| SmartyPig | 1.15% |
| Bank of America | 0.03% |
| Chase | 0.01% |
| Ally | 1.25% |
| HSBC | 0.01% |
| Wells Fargo | 0.01% |
It's pretty clear that SmartyPig's interest rates are better than what you'd get with the three main banks as well as HSBC. Ally is the only one with a better interest rate.
The banks typically charge fees but those can be avoided simply by keeping a minimum balance. For example, Bank of America will waive their $8 monthly fee if you maintain a balance of at least $500.
A SmartyPig account has no fees.
Our Final Thoughts About SmartyPig
After reviewing what this website has to offer, we want to point out a few things about what you'll get and what you won't get with SmartyPig.
First, we think that it's a solid tool for setting up savings goals and strengthening your financial life. However, those savings goals are only as good as your monthly budget. If you don't' know how much you're spending and how much you're earning, trying to set aside money for goal is nearly impossible without going into debt.
That being said, the ease with which you can save money and set goals – while earning interest – is what makes SmartyPig an intriguing option for someone who wants to put money away for the future.
The downside is that it's pretty one-dimensional. You have a savings account and that's about it. There are no extra features that you'd get, say, with a mobile app from your favorite bank. And, when you compare it to savings-style ETF robo-advisors like Betterment and Acorns, it seems even more uninspiring.
Yet we think that's the draw and the charm of this savings tool. Having done dozens of reviews of financial apps and websites, we're pretty aware of how complicated things can get. Even the apps we mentioned before require a learning curve and can get pretty intense if you dig into the details.
SmartyPig is the opposite. It's a simple comparison game. Do banks offer no-fee, high-yield savings accounts? Some do, yes, but very few of them offer them for free and have a return of at least 1.15% per year, as our table pointed out.
The best way to figure out if this financial product is right for you is to take a moment to think about your short-term and long-term financial goals.
What is that you want to accomplish with your savings? Do you want to earn money from it or do you just want to set it aside so when your vacation rolls around you'll have the funds stored away to pay for everything?
If yours is the second goal, then, based on our research, we believe SmartyPig could be a great tool for you. If it's earning money that's your goal, then you may want to consider speaking with a financial planner or financial adviser to determine which types of investment vehicles are the best fit for your situation and risk tolerance.