smilactives Reviews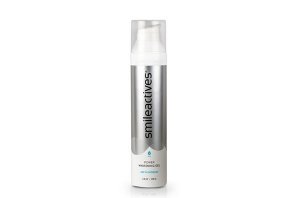 Featuring between nine and 12 percent hydrogen peroxide concentrations, Smileactives teeth whitening products claim to make the process easy and convenient.
What Is smilactives?
After working with consumers, dentists, and hygienists, Robert Eric Montgomery founded smileactives to help customers take care of their teeth and improve the look of their smile, using products with only the features that matter most.
Compared to strips, trays, and visits to the dentist, their most popular option, the Power Whitening Gel, promises to brighten your smile in one step: simply add it to your toothpaste and brush like normal.
Despite this ease of use, the company advertises that in a 30-day clinical study of the Gel, users noticed a six VITA shade improvement, just by brushing their teeth.
Another one of their popular products, the Advanced Teeth Whitening Pen, also claims to help you whiten on the go.
Regardless of the formulation, though, smileactives reports their professional-strength teeth whitening options work on all types of teeth, including natural, veneers, crowns, and dentures, and even on bonding.
And the company claims their products work fast, with some customers seeing results within three to seven days, while it might take a little longer for others.
What kinds of whitening results might you realistically expect to achieve by using smileactives' products? How does this compare to traditional competitors? Has the company revolutionized at-home teeth whitening, as claimed on their website?
As you might expect, the results achieved from any at-home whitening system will largely depend on your starting point, which we'll discuss next.
How Does At-Home Teeth Whitening Work?
Teeth consist of three main layers: The hard, white outer layer (enamel), the softer, yellowish middle layer (dentin), and the inner layer (pulp), which is packed with nerves and blood vessels.
While enamel looks solid from far away, at the microscopic level, it's filled with structures called rods and crystals that can form holes known as pores. While these pores play an important role in the health of your teeth, they can also trap particulate matter that eventually leads to staining.
As we explain in How to Choose an At-Home Teeth Whitening System That Works, trays and strips that can be used in the comfort of your own home (like smileactives) typically use solutions containing between 10 and 44 percent carbamide peroxide, or up to 16 percent hydrogen peroxide (carbamide peroxide breaks down into urea and hydrogen peroxide once oxidized), both of which bleach teeth.
Pro tip: Comparatively, the whitening solution used by dentists for in-office sessions typically contains between 25 and 38 percent hydrogen peroxide. At these levels, painful teeth and gum sensitivity can occur, which is why your dentist will likely use a gingival barrier and cheek retractor for added protection.
Regardless of the strength, once exposed to air, these substances trigger an oxidation reaction that breaks apart stains at the molecular level and then lifts them away.
As mentioned on the smileactives website, though, this process is gradual, and there are numerous factors that can impact effectiveness and the overall timeline, including your "age, medication, eating habits, and dental work," as well as how long you've had the stains and how deeply they're rooted in the enamel.
Taking a Closer Look at smileactives Products
Overall, there are four main products and one kit in the smileactives lineup:
Power Whitening Gel
Power Whitening Gel contains a nine percent hydrogen peroxide concentration, as well as the company's PolyClean 360° technology that's said to create "a powerful foaming action that works in hard-to-reach grooves and crannies for better stain removal than toothpaste alone."
Specifically, they report it "generates an ultra-fine texture foam that is designed to whiten the whole tooth, not just the front." It also works with your favorite toothpaste, helping you whiten and brush at the same time in one easy step.
Note: The company emphasizes that the Gel should only be used with toothpaste; not by itself.
This foam is said to work best for stains caused by coffee, tea, red wine, smoking, and dark-colored fruits and vegetables. Ingredients include:
Water, Hydrogen Peroxide, Glycerin, Hydroxyethyl Acrylate/Sodium Acryloyldimethyl Taurate Copolymer, Flavor, Sodium Saccharin, Etidronic Acid, Potassium Stannate, Ammonium Hydroxide
In order to use smileactives' Power Gel, you'll start by removing the cap, applying an equal amount on your toothbrush (alongside your regular toothpaste), and then brushing for two minutes. When used as directed for 30 days, the company reports the Gel is clinically shown to whiten an average of six VITA shades in 30 days.
Vibrite Sonic Toothbrush
At just over seven inches in length and weighing in at 3.5 oz, smileactives reports their Vibrite Sonic Toothbrush delivers 40,000 brush strokes per minute for ultra-clean teeth, along with three modes: cleaning, whitening, and massaging.
It also comes with a USB charging travel storage case, a built-in UV disinfecting brush head station, along with two "brush heads with color-coded bristles that indicate where you place your toothpaste."
Vibrite Sonic Toothbrush Replacement Heads
These replacement heads feature blue and white spiral bristles the company claims are "designed to enhance surface stain removal with every brushing."
Specifically, the website indicates these color-coded bristle patterns "help indicate the placement of your favorite toothpaste and the smileactives Power Whitening Gel," and that they should be replaced every three months.
smileactives Kit
The smileactives Kit includes one tube of Winter Vanilla-flavored Power Whitening Gel, as well as the sleek, chic Advanced Teeth Whitening Pen, which features a soft bristle brush for no-mess, on-the-go application.
All you have to do is brush the solution onto your teeth, wait a few seconds for it to dry, and avoid eating or drinking for at least 20 minutes. Then, the following ingredients will go to work:
Water, Hydrogen Peroxide (12%), Glycerin, PEG-60 Hydrogenated Castor Oil, Carbomer, Ammonium Hydroxide, Flavor, Sucralose, Etidronic Acid, Potassium Stannate
Like the Gel, the Pen is best suited for coffee, tea, red wine, smoking, dark-colored stains. It can be used up to four times per day, depending on stain severity, and works best after brushing your teeth or eating or drinking any teeth-staining foods or beverages.
Could smileactives Products Cause Potential Side Effects?
As outlined in our at-home teeth whitening buyer's guide, we've learned that the most commonly reported side effect related to hydrogen peroxide-based products is mild, temporary tooth and gum sensitivity. However, unless you're especially sensitive, it might be possible to alleviate much of this by being very careful about where your whitening solution is applied.
Since your smile is important, as well as to alleviate as many side effects as possible, we'd recommend always speaking with your dentist prior to purchasing or using a new at-home whitening system.
How Much Does smileactives Cost?
Smileactives products are priced as follows:
Power Whitening Gel (3.8 fl oz / 100mL): $35
Vibrite Sonic Toothbrush: $89
Replacement Brush Heads: $20
Whitening Kit (including the Advanced Whitening Pen): $29.95, plus free S&H
When ordering the Kit, you'll be enrolled in the company's Automatic Renewal program. This stipulates that three months following your order and every three months after that, you'll receive a new Whitening Kit and be charged $29.95 plus $2.99 S&H each time.
All smileactives products come with a 60-day money back guarantee, less S&H. In order to request one, or to cancel (or pause or modify) your subscription, customer support can be reached at 888-575-5700 or 888-922-4638.
We also found many of smileactives' products sold on Amazon.com and QVC.com for about the same prices.
A Quick Note About Arbitration
Arbitration agreements stipulate that instead of going to court to settle a disagreement, you and the company will attend third-party binding arbitration.
Although they're extraordinarily common in today's marketplace, it's important to point out that you'll be bound to an arbitration agreement as soon as you place an order on the smileactives website, which means you'll waive many of your legal rights like a trial by jury or joining a class action lawsuit.
What Can We Learn From smileactives Customer Reviews?
Between their Power Whitening Gel and Advanced and Original Whitening Pens, smileactives' products held a combined rating of about 3.5 stars at the time of our research, among more than 70 Amazon reviewers.
There, common compliments frequently referenced effective results, ease of use, and no mess. On the other hand, complaints (what relatively few there were) often cited results that didn't live up to expectations, as well as little product for the money.
Among more than 800 combined customer reviews on QVC.com, smileactives' products had a similar overall average rating as on Amazon, who cited many of the same compliments and concerns.
From a company perspective, smileactives products are manufactured by Oral Care Products, LLC based out of El Segundo, CA. Although some of their trademarks go back to 2008, the company wasn't formally founded until May 2017. There wasn't a Better Business Bureau listing as of 10/20/17.
Smileactives was founded by Robert Eric Montgomery, who the website tells us is a biochemist and holds over 90 cosmetic and dental patents. In addition to his role at Oral Care Products, his LinkedIn profile indicates he's worked as President for Oraceutical LLC and Applied Dental Sciences, as well as co-founder and chief scientific officer for OPI, Inc.
Smileactives vs. Other At-Home Whitening Systems
First, at between nine percent (Gel) and 12 percent (Pen) hydrogen peroxide concentrations, it's important to emphasize that smileactives' products don't meet the definition of 'professional-strength,' as claimed on the site. Which, as we learned earlier, can vary between 25 and 38 percent hydrogen peroxide.
But are there other at-home products with similar hydrogen peroxide concentrations competing for the same customers as smileactives?
While we didn't encounter any formulas that contained the exact same ingredients as smileactives' Gel and Pen, we found hundreds of competing peroxide-based formulas sold on marketplaces like Amazon.com, Walmart.com, and Google Shopping. Price-wise, these cost anywhere between $10 and $50+.
To help you choose which product is right for you, it's always wise to start by speaking with your dentist. They'll be able to recommend options based on your patient history, as well as outline any products you might want to avoid due to potential sensitivity or other issues.
Returning to our How to Choose an At-Home Teeth Whitening System article, we also recommend focusing on:
Purchasing from well-established companies with mostly positive online customer feedback, regarding both their business practices and their product quality

Avoiding products sold only through 'free' trials, or ones that automatically enroll customers in a recurring shipping program

Looking for products that provide a clear list of ingredients and back up their claims with clinical evidence

Doing business with companies that provide robust return policies (i.e., that give you plenty of time to try their products), with no restocking or other fees
Using this as our guide, how many boxes does the smileactives lineup tick?
The Bottom Line About Smileactives
While the PolyClean 360° technology contained in the Power Whitening Gel and Advanced Teeth Whitening Pen's formulas appears unique, the only active ingredient in them is nine to 12 percent hydrogen peroxide—which is what hundreds of other products also deliver.
Note: We reached out to the company for a copy of their clinical study showing that Power Gel lightened participants' teeth by six VITA shades, and hadn't yet received a response at the time of publishing. But according to DocShop.com, most professional in-office treatments whiten an average of eight shades, so be sure to keep your expectations realistic.
However, at $35 for their Kit, smileactives prices their whitening system competitively. They also back it with a 90-day money back guarantee, which should be more than enough time to decide if it delivers the results you're expecting. And according to their Terms, there aren't any fees (other than return S&H) if you decide to request one.
Just keep in mind that there are almost certainly a few peroxide-based whitening systems at local retailers near you, which could not only save S&H charges but also make the return process as easy as hopping in your car.
Try product longer, postpone FUTURE MAILING/BILLING

By Renee B.

,

Manchester, CT

,

Mar 16, 2020
Verified Reviewer

Tried this product for 2 weeks and saw no difference whatsoever in this period of time. Rather than experience more shipments or auto-billing, I called to cancel. The representative offered me more time to try the product (called in March), they offered to extend MY trial use of the buy one get one free until May, and I was told the product really takes 60 days to try and see results. I was promised no further shipments or billings would occur (my account remains active but postponed). The customer reviews I am reading here now has me very worried that I was just lured into a condition whereby no matter what I discussed, and no matter what they assured me on the phone, I'll experience future billings whether additional product is mailed out or not. I plan to call back and just outright cancel. These practices seem very shady to me and I don't want to play that game. I'd gladly pay for a desirable working product, but not a money auto billing scam. If the product takes 60 days to work, then why don't they give you 60 days rather than 30 days to try it before future shipments and auto-billing at $59+ per month?

Bottom Line: No, I would not recommend this to a friend

---

Cost is ridiculous

By Nancy V.

,

Portland, OR

,

Mar 14, 2020
Verified Reviewer

The cost for one 3.8 oz tube is not $35. That is a big fat lie. For one 3.8 oz tube you are billed $22.94 each month over a period of 3 months. So that one 3.8 oz will cost you $68.82. I am filing a consumer fraud complaint with my state.

Bottom Line: No, I would not recommend this to a friend

---

Terrible

By Barry M.

,

Salt Lake City, UT

,

Feb 29, 2020
Verified Reviewer

Not only are these people dishonest and deceitful, but the product is a ripoff - doesn't work, period! I hate people that sell you a low price entry and not disclose that you just signed up for auto-billing for the next 3 months. If you were that confident in your product then people would rebuy - but no you have to be dishonest to sell the junk.

Bottom Line: No, I would not recommend this to a friend

---

Don't do it! It's a gimmick to take your money.

By Anna A.

,

North Carolina

,

Dec 9, 2019
Verified Reviewer

Don't do business with this company, smilactives. It is a real mission is to take your money by contradicting everything they say. I received my package on 11/02 and started using it. I've seen NO significant change on my teeth. Since I had a 60-day money-back guaranty to try it, I thought why not. WRONG! After 30 days of you receiving this product, they are already sending you a full-size supply for $59.83, whether or not you want it. I called customer service, my account has been canceled, no future product will be sent (I pray this is true), but the full-size bottle of $59.83 can't be canceled, although it's not shipped out yet it's impossible to stop this shipment. I was told the charge of $24.95 is not the full charge; it's just a charge to be sure there are enough funds in the account, before the package is sent out. The charge of $59.83 is the final amount. So although the package has not shipped out and the $59.83 has not been charged, it cannot be canceled. Don't get this product it's a gimmick. This company is just after your money, it's a scam.

Bottom Line: No, I would not recommend this to a friend

---

Advertisement

---

Auto billing scam

By Joseph R.

,

Texas

,

Oct 19, 2019
Verified Reviewer

I received my first offer of buy one get one free and had 60 days to try it. They sent another package within 30 days and billed me again. I immediately called their customer service and they reassured me this would never happen again, and that my account was canceled. Yet here we are again, another month and another auto-billing charge. I went to my PayPal account and settings and then payments and made sure that I canceled any auto-billing - hopefully, this time it works. I would not trust or buy from them: it is a recurring auto-bill scam. I state this because I spent a good amount of time with their representative by phone canceling any future payments in September of 2019.

Bottom Line: No, I would not recommend this to a friend

---

Ripoff

By Robert T P.

,

Lake Havasu City, AZ

,

Oct 13, 2019
Verified Reviewer

You are a ripoff! I saw your ad on TV and thought I was placing a one time order for your product. Three weeks later I check my bank account and find more charges so I contact your customer service department to cancel and I find out that not only did you charge me approximately $ 20, I'm informed that you'll be charging me an additional $40. I NEVER ASKED FOR ANY MORE PRODUCTS FROM YOU. Then I'm told that I have to return the shipment that I didn't ask for and pay for shipping and then 2 months from now I'll get a refund. You should be required to notify people when the original order is placed about reoccurring charges, but then you probably wouldn't sell anything. Not only am I dissatisfied with your product but using a "BAIT AND SWITCH" is a disgusting way to run your business. You should be shut down and fined.

Bottom Line: No, I would not recommend this to a friend

---

Advertisement

---