Snooz Reviews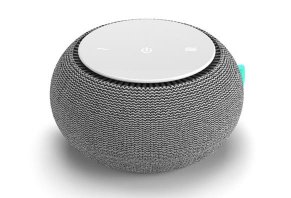 With its mechanical fan that doesn't disturb the air, volume and tonal adjustability, and app connectivity, the Snooz white noise device claims to help improve sleep.
What Is Snooz?
Snooz is an ultra-portable white noise machine that uses a real mechanical fan to raise the sound baseline in your bedroom and help you fall—and stay—asleep.
According to the device's website, this means no more worrying about cheap, unrealistic sounds or looping tracks that can actually reduce the quality of your sleep. It's also app-enabled, so you can adjust the volume without getting out of bed. Or, you set an automatic shutoff, which can be ideal when it's time to wake up.
And if you prefer one tone to another, you can adjust the sound from a light fan to that of a deep drone, along with everything in between.
Whether you're looking to mask disturbances in your room, your baby's nursery, or while you're traveling, will Snooz really turn it "into a haven for sleep," as claimed on the website? We'll explore all the angles here to help you make a more empowered purchase.
How Does Snooz & the Companion App Work?
In total, Snooz is 3.2" tall and 5.6" deep, weighs 1.1 lbs, and is wrapped in a soft 100 percent polyester material, with edges made from high-stretch nylon. Due to its compact size, it also features a wrap to store the power cord while traveling.
On top, the up and down buttons allow you to adjust the volume (anywhere between 46 dBA and 87 dBA) in 10 different increments. Tone can be adjusted to everything between a table fan-like sound to something akin to an airplane cabin, by smoothly rotating the outer shell.
Inside, a 12-volt brushless DC motor spins the fan. But instead of blowing air, the site tells us that nearly all (about 98 percent) of the energy generated is converted into sound. In the end, this means "you get that same familiar fan sound, but nearly zero disturbance to the surrounding air."
This provides several potential benefits. You won't have to worry about blowing air (especially important if you're trying to stay warm during cooler months); the device uses much less energy than a typical room fan at the same sound decibel level, and the close-to-zero inflow and outflow won't attempt to filter surrounding dust, pet hair, and other particulates and collect on the device.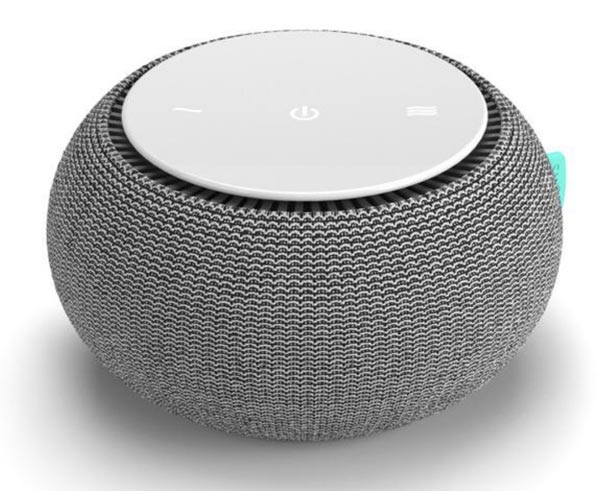 Although Snooz is a fan-based white noise machine, it won't disturb the air, features volume and tonal adjustability, and can be controlled remotely via an iOS or Android app. Image credit: SNOOZ, LLC
Using Bluetooth LE, Snooz can connect via an app with iOS 9.3 (or later) and Android (5.0 or later) devices, in order to act as a remote control. This seems like it could certainly come in handy, since the manufacturer recommends placing the device away from your bed where it can fill the room with sound.
Inside the app, available functions include adjusting the volume, scheduling the automatic shutoff, calibrating for a nursery environment ("ensures the sound level is safe for your little one" as the site puts it), and even naming your unit.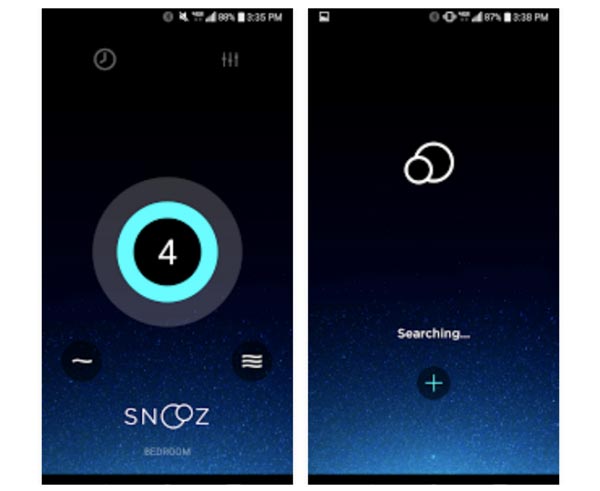 Although Snooz's app isn't required to use, it can act as a remote to choose the appropriate functions while sitting away from your bed. Image credit: SNOOZ, LLC
Are Snooz's claimed benefits scientifically sound?
What Is White Noise & Does It Provide Clinically Proven Benefits?
The formal definition of white noise is "noise containing many frequencies with equal intensities." Or, as Popular Science puts it, "White noise is just an equal amount at every frequency, from low to high, that a human being can hear," like "a gigantic band all playing a slightly different note."
While it might seem counterintuitive that all these different frequencies could help improve sleep, the article goes on to explain that for some people, they create a masking effect that can block out noise changes. (This is what the Snooz website is referencing with their "raise the sound baseline" claim.)
Not only does this work while awake, but also while we're asleep.
Consequently, if you're prone to waking with the slightest changes in the type or level of sounds, many of the nearly 100 studies we found on PubMed showed a positive relationship between white noise and sleep induction. Some even indicated the noise could be useful for infants.
Will this be the case in all instances? Certainly not. In fact, the Popular Science article notes that, for some people who can perceive stochastic resonance, white noise could make it more difficult for them to fall and remain asleep.
How Much Does Snooz Cost?
The Snooz white noise machine is currently only available in the U.S. in Cloud or Charcoal colors for a price of $79.
All orders come with free Standard shipping (3-5 days), although the manufacturer offers 1-Day and 2-Day shipping options for an additional fee.
We also found the device for sale on Amazon at the same price.
If ordered directly from the manufacturer, all Snooz machines come with a 30-day satisfaction guarantee. According to the Return Policy page on their site, original shipping fees (if any) are refundable, but shipping charges back to the company are not.
Finally, Snooz comes with a one-year warranty against defects in materials and workmanship, as long as "the product is used in a home environment."
In order to request a refund or process a warranty claim, customer support can be reached at cs@getsnooz.com.
What Can We Learn from Snooz Customer Reviews?
On their site, Snooz had 34 customer reviews and an average five-star rating at the time of our research, where most compliments referenced improved sleep, ease of traveling, and that it delivered meaningful value.
Snooz also had 20 customer reviews on Amazon, who collectively gave the device an average rating of 4.1 stars. There, most of the compliments mirrored those found on the product's site. However, among the few complaints, one referenced a rattling sound, another didn't like the Android app, and the other felt the price was too high.
Speaking of apps, Snooz's had an average rating of 2.9 stars on Google Play and four stars on iTunes. Between the two, common compliments seemed related to ease of use, effective sound masking, and portable size. Complaints appeared to often cite less-than-stellar functionality.
From a company perspective, Snooz was originally launched via a 2015 Kickstarter campaign, where it raised more than $460K. Despite several reported delays, it started shipping in May 2017.
In between its crowdfunding phase and product's release, have any other similar devices come to market?
Snooz vs. Other Fan-Based White Noise Machines
Searching online for terms like "white noise fan," "fan noise machine," and "sleeping fan," we didn't encounter any devices exactly like Snooz at the time of our research. In other words, if you're looking for a real fan that blows almost no air, features broad volume and tonal adjustability, and boasts app connectivity, Snooz is currently the only game in town.
If you can forgo the app aspect and live with only two speeds, Marpac's Dohm DS mechanical sound conditioner offers a similar sound of rushing air, without actually disturbing the air.
Price-wise, MSRP is about $50, and you might be able to find one locally, thereby saving S&H charges. It's also about the same size as Snooz, which could make it just as portable for travel.
Obviously, if you expand your horizons to more traditional electronic white noise machines that use either loops or random algorithms, you'll have hundreds (perhaps even thousands more choices), some of which you'll find for under $10. But if you're looking for a truly random fan sound, without using a standard fan, you're bound to only a couple options.
Given this, how can you choose the best options for your needs? Let's wrap this thought up in the following section as we come to a conclusion.
Our Final Thoughts About the Snooz White Noise Machine
As far back as I can remember, I've always needed a mechanical fan to sleep well. I've tried a variety of electronic machines over the years in a pinch, although I'll quickly identify the loops and subsequently drive myself crazy. Even the algorithms, while random, feel artificial to me and never quite fit the bill.
While a ceiling or box fan definitely helps me sleep better, there's no denying the downsides, like cool air blowing when you don't want it, disturbing your partner, as well as dust accumulation (and flinging this dust around the room at night), which can be especially problematic for those with allergies.
From this perspective, it certainly seems like Snooz, and the competing Marpac Dohm DS, could provide a portable, convenient solution to all of these problems. Ultimately, it comes down to your budget and your adjustability requirements.
While the Dohm DS is significantly less expensive, only you can decide whether or not the monetary savings will outweigh the tonal and volume adjustability provided by Snooz, as well as its app connectivity.