Snore Away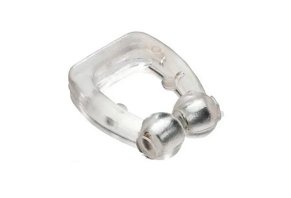 Our research of Snore Away reveals that the product may be effective for certain types of snoring causes but, because those causes are vast, doctors and experts told us nasal dilators aren't a guaranteed fix.
Snore Away Review - Does It Actually Work?
Snore Away is an in-nose clip that widens your nasal passages and may reduce your snoring, the company claims.
What makes the Snore Away so intriguing is that it's a small device that can help with a variety of issues beyond snoring, including dry mouth and poor breathing.
The product is sold by Personthings.com, an online eCommerce company that sells a variety of beauty and home items.
In this review, we'll tell you all the important information you need to know in order to make a smart buying choice. We will cover:
How the Snore Away works
The scientific evidence behind the product's claims
How much it costs
How the product compares to other similar snoring solutions
Along the way, we'll include the insight of sleep experts as well as opinions of consumers who've tried similar products.
How the Snore Away Works
The device is a u-shaped clip that fits in the inside of your nose, with its two ends squeezing the cartilage between your nostrils to stay in place. It's not the squeezing that improves your breathing, though. The shape of the device pushes your nostrils out to open up airflow that, in their opinion, will lead to easier nose breathing.
With your nostrils opened up, the thinking goes, you'll breathe through your nose instead of your mouth, reducing snoring as well as dry mouth often associated with mouth sleepers.
This concept is appealing to me. I'm a mouth breather when I sleep. Whenever I breathe through my nose to sleep, the airflow is restricted because one or both of my nostrils partially collapse.
The National Sleep Foundation's research indicates that 90 million Americans snore occasionally and 37 million people snore regularly.
With this in mind, Snore Away seems like it could be a solution for the millions of us who have a snoring problem.
What the Science Says About Anti-Snoring Devices
Most experts agree that snoring happens because our throat relaxes while you sleep. Because of this, your airway narrows and subsequently vibrates when you breathe in.
Dr. Brandon Peters, an adjunct lecturer at Stanford University and a sleep physician at Virginia Mason Medical Center, told us that opening your nasal passage may be able to help with these noise-inducing vibrations.
"Improved nasal airflow may allow the mouth to be kept closed. With a closed mouth, the jaw and tongue can be held in a forward position, reducing narrowing of the airway," Peters told us via email. "Turbulent airflow causes the muscles of the airway to vibrate, creating the sound of snoring. It is possible for nasal dilators to reduce this vibration."
The Snore Away would qualify as a device that widens your nasal passage and, therefore, there's a possibility that it could help temper your snoring.
However, Peters pointed out that there are a variety of conditions that could cause snoring. These factors could render useless nasal-openers like Snore Away.
"If the airway is crowded due to jaw structure, tongue size, or palate positioning, the nasal clips may not work to resolve the issue," he said.
If snoring is a problem for you and you're hoping to turn to Snore Away or a similar device to remedy the situation, set up an appointment with your doctor and ask him or her to do a quick exam of your nasal passage to see if there are any issues that could lead to you snoring.
If there are some anomalies in your nasal passage, it may be worth it to try a nose device. Dr. Mark Burhenne, a dentist and sleep author says you should temper your expectations, though.
"Anything that's trying to widen nostrils will only help with the soft, less problematic noise made by small nostrils at night," he said. "And products that try to resolve snoring in other ways aren't touching the root cause, which is a collapsing airway."
Snore Away Cost and Add-Ons You Can Purchase
The Snore Away comes in three different purchase packages ranging from $29.99 to $79.99 and shipping is free. The based package is one Snore Away device that comes with a pocket-sized storage case. It is $29.99.
The next option, which is $49.99, comes with three Snore Away devices and cases along with a "deep sleep mask", which is a black contoured eye mask you wear to bed.
The final option is $79.99 and provides the following items:
5 Snore Away devices and cases
1 deep sleep mask
1 chingrip strap
The chingrip strap is a strap that wraps around your head and goes under your chin. It's designed to force your mouth closed so you breathe through your nose.
With a product like hits, the return policy is important because the product is claiming that it could help with your snoring. If it doesn't, then it has no use and a prompt, easy return process is crucial.
According to the fine print, you have 30 days from the day of purchase to make a return. While the policy seems straightforward, it has a lot of exceptions and difficulties.
Among the exceptions to this policy are considered as "sanitary goods," of which these in-nose snore stoppers might be a part.
Furthermore, at the time of research Snore Away was offering a 50% discount on their devices. This may be considered a "sale item," and, per the fine print, would not be eligible for a return.
Another difficulty is that all returns need to be mailed to Ireland, per PersonThings.com's website. Since you won't get a refund for shipping charges, you'll end up paying a considerable amount in shipping to return your items.
How Snore Away Compares to Similar Anti-Snore Products
When we're trying to find a solution for snoring, we may be inclined to buy the first product that claims to help. Snore Away meets that need by claiming to give "hope to all those suffering from snoring." However, there are plenty of products available that claim to do the same thing as Snore Away.
Amazon is home to many of these products. You can find them with an "anti snore nasal dilator" search. Two of the highest-rated nasal dilators are the BRISON anti-snoring device and the VERYCOZY nasal dilator.
The BRISON product is considerably larger than the Snore Away and protrudes pretty far out of your nose:
The anti-snoring device cost $14.99 at the time of publishing and had more than 100 reviews for an average rating of 4.9 stars.
The VERYCOZY product is a pair of spiraled cones you place in your nostrils. They open your nasal passages just like the BRISON and Snore Away.
The device was $11.99 at the time of publishing with an average rating of 4.6 stars from more than 200 reviews.
What's important about these reviews and prices is that they provide you a good backdrop from which to decide if Snore Away is right for you. The positive reviews of the two products we mentioned above are particularly important because we weren't able to find any Snore Away customer reviews that weren't used as marketing promos on the product's website.
The Bottom Line: Is Snore Away a Good Fit for You?
Based on our research and conversations with a pair of doctors, the Snore Away could have a positive effect on our snoring but that the extent of that positive benefit is unknown.
Furthermore, research is clear that your snoring could be the result of a wide variety of conditions and factors. Carolyn Burke, outreach manager at Sleep Advisor, reiterated this in an email interview with us.
"Widening the nostrils may have some effect if low oxygen levels are the cause of snoring but there can be many other causes and these devices wouldn't have an effect on those," Burke wrote.
Because there's a significant probability that Snore Away may not work for you, or at least may not meet your expectations, we suggest trying a more affordable option first. The two products we highlighted in the comparison would be a good place to start, based on what users are saying about the devices' effectiveness.