Snore B Gone Reviews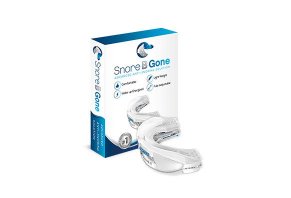 Made without BPA or latex, Snore B Gone is a mandibular advancement mouthpiece that claims to help reduce airway restriction and related snoring while you sleep.
About Snore B Gone
Based on what we learned from the website, Snore B Gone is a comfortable, lightweight, easy to use, fully adjustable mouthpiece that promises to hold your jaw and tongue firmly in place and effectively reduce—or even eliminate—snoring.
Consequently, this could help you enjoy a full night of deep sleep, wake up refreshed and more energized, lower blood pressure, and increase oxygen levels.
You just have to slip the FDA-approved, BPA free, and latex free device into your mouth before you sleep, and its maximally efficient architecture will help ensure it remains in place throughout the night, regardless of how much you toss and turn. And if at any point it doesn't fit perfectly, it's easily remoldable.
With its relatively low price and big, medically proven claims of helping others "say goodbye" to snoring, you might expect a lot from Snore B Gone. Can you expect it to deliver value for the price? Let's start there.
How Does Snore B Gone Work?
In A Step-by-Step Approach to Finding san Anti-Snoring Product That Works, we explain that the physical cause of snoring is often rooted in the relaxation of the tongue and throat muscles upon falling asleep. So relaxed, in fact, that they can often narrow the airway to the point where passing air can vibrate the surrounding tissue.
A wide variety of factors can make this physical reaction more likely to occur, including getting older, gender, level of physical fitness, alcohol and tobacco use, sedative medications, as well as your preferred sleeping position.
And if the situation continues for long enough, it can lead to side effects like excessive daytime sleepiness, mood swings and depression, difficulty concentrating, and frequent headaches. It can also be a signal for sleep apnea, which occurs when patients completely stop breathing for seconds or minutes at a time while sleeping.
Related: How Sleep Apnea Can Negatively Affect Your Appearance
Anti-snoring mouthpieces like Snore B Gone (technically referred to as mandibular advancement devices) have been clinically proven over the years to help reduce the likelihood of this occurring by slightly moving the lower jaw forward. This tightens loose muscles and aids in preventing airway restriction and subsequent snoring, which is why the FDA must approve each one sold on the market.
Some mouthpieces (although this doesn't appear to be the case with Snore B Gone) also feature a tongue stabilizer to help hold it forward and further prevent airway restriction.
How Much Does the Snore B Gone Mouth Guard Cost & Where Can You Buy?
If ordered directly from the manufacturer via the Snore-B-Gone.com website, customers will pay:
1 Mouthpiece: $59.99
2 Mouthpieces: $119.97
3 Mouthpieces: $119.97 (yes, it's the same price!)
All options include free shipping and a complimentary antibacterial container. They also come with a 30-day refund policy, less S&H and a $9.99 per-mouthpiece restocking fee, which you can request by calling 888-317-5763 or emailing info@snore-b-gone.com.
We also found the Snore B Gone mouthpiece for sale on Amazon for $49.99, although it wasn't eligible for free Prime shipping.
What Can We Learn From Online Customer Reviews for Snore B Gone?
Online consumer feedback for Snore B Gone was limited to three Amazon reviews, who had cumulatively given the product an average rating of 2.2 stars.
One customer reported that it helped reduce their snoring, while the other two claimed to have received a different item than what was advertised. One also explicitly mentioned that it wasn't adjustable, other than the boil-and-bite fitting process used by many other sports and anti-snoring mouthpieces.
Let's carry this thought over to the next section.
Snore B Gone vs. the Competition: How to Choose an Anti-Snoring Mouthpiece
If you quickly search online for different combinations of terms line 'moldable snoring mouthpiece,' 'anti-snoring mouth guard,' and 'tongue retention devices,' you'll find there are perhaps hundreds of similar devices available.
While we didn't encounter anything designed exactly like Snore B Gone during our research, the bottom line is that most claimed to deliver the same result: moving the jaw forward and/or suppressing the tongue, thereby prevent the airway constriction and resultant snoring. Price-wise, these mouthpieces typically ranged between $20 and $40, although higher-end models could exceed $80.
The HighYa team has reviewed many of the most popular options over the years. How can you choose?
Returning to our snoring products buying guide, the first factor to emphasize is that because snoring is a medical condition (and can signal potentially serious conditions like sleep apnea), the first person you should talk to about the situation is your doctor. After diagnosing you, they can recommend medically sound treatment options.
If—after you've tried addressing lifestyle factors and physical attributes—your doctor suggests you explore third-party over-the-counter products, the next important factor to remember is that these mouthpieces are only intended to address those who snore through their mouth. If you're a nose snorer, you'll likely want to focus on alternatives like nasal strips, nose clips, or nasal expansion devices.
Important: Because adjustability was such a predominant customer concern on Amazon at the time of our research, we reached out to several customer support representatives and confirmed that Snore B Gone is not adjustable, outside of the fact that it can be boiled (and re-boiled, if necessary) to deliver a customized fit.
Finally, after researching dozens of anti-snoring products over the years, we've learned that you'll want to focus on doing business with companies who:
Support their claims with quality clinical evidence
Stand behind their products with competitive pricing, at least 30-day refund policies, and no restocking fees
Come with mostly positive online customer feedback, which is usually a solid indication of what you might expect
Does all of this bode well for Snore B Gone?
Should You Choose Snore B Gone or Another Anti-Snoring Mouth Guard?
Even if you've already received the go-ahead from your doctor and have confirmed that you're a mouth snorer, the reality is that no single anti-snoring mouthpiece will meet every consumer's needs and preferences. After all, even a small difference in design could lead to vastly different functionality and overall comfort.
To this extent, we concluded our anti-snoring product guide by emphasizing that finding your 'perfect;' solution will almost certainly involve some trial and error. And while Snore B Gone's manufacturer stands behind the mouthpiece with a 30-day satisfaction guarantee, they also charge a $9.99 per-mouthpiece restocking fee, on top of whatever it'll cost for you to ship the product back to them.
For these reasons, it might be valuable to explore all of your anti-snoring mouthpiece options before settling on Snore B Gone, including those that might come with a more competitive price and no restocking fees if they don't meet your needs.
Snore B Gone

By Mike D.

,

Greenwood Village, CO

,

Jan 7, 2019
Verified Reviewer

This product may be the greatest rip-off scam ever. The mouthpiece is expensive, not adjustable and huge. After boiling it and fitting it to my mouth, I still choked attempting to position it. I also was charged $29.99 for a Luxexia Membership (have no idea what that represents) and then received a promotional bottle of Lunexia and charged another $19.99. So disappointed, and the company needs to be reported to the Better Business Bureau.

Bottom Line: No, I would not recommend this to a friend

---

Very large

By Angela D.

,

Minnesota

,

Dec 11, 2018
Verified Reviewer

I could not close my mouth, it was too big. Also, I have a CPAP mask.

Bottom line, I could not use it at all. Now what?

I couldn't find any information to get any kind of help. I have read other reviews where there is no help available, is this true?

If anyone has better information, please post. Thanks.

Bottom Line: No, I would not recommend this to a friend

---

Advertisement

---

Didn't work and they didn't return my money.

By Leonard A.

,

Hinckley, IL

,

Oct 30, 2018
Verified Reviewer

It sounded like a great deal, but when I received it and tried it for a week, I found the snoring did not stop, and it made my jaws ache. I returned it and never got my money back, less shipping and restocking fee. Save your money.

Bottom Line: No, I would not recommend this to a friend

---

False advertising

By David I.

,

Ohio

,

Oct 22, 2018
Verified Reviewer

Nowhere in the advertisement for this thing does it say that you should not use it if you have obstructive sleep apnea, nor does the advertisement mention TMJ. I must return this product. Horrible scam/misrepresentation of the product. The thing is so wide, I can't even put it in my mouth.

Bottom Line: No, I would not recommend this to a friend

---

Advertisement

---

1 out 1 people found this review helpful

Product not what it's made out to be.

By Carol S.

,

Seattle, WA

,

Oct 21, 2018
Verified Reviewer

I received three mouthpieces. They are so BIG, Michael Jordan would have problems keeping it in his mouth all night. I have tried everything to locate a return address and phone number to return all three mouthpieces to no avail. This is very frustrating for a $149.00 purchase. Not impressed. Not at all.

Bottom Line: No, I would not recommend this to a friend

---

10 out 10 people found this review helpful

Returning due to product advertisement MISREPRESENTATION

By Marc J.

,

California

,

Sep 16, 2018
Verified Reviewer

I just received this alleged "perfect" replacement for sleep apnea, CPAP therapy, as so was advertised, and there's a warning on the boxes containing the mouthguards. It states do not use if you have obstructive sleep apnea! What a waste of my time and effort and hope. Why would you advertise a solution to alleviate symptoms of sleep apnea only to warn against using the product? It's not like there's a particular sleep apnea that this product would have treated anyway, am I right or what!

Bottom Line: No, I would not recommend this to a friend

---

11 out 11 people found this review helpful

Mouth pieces do not stop snoring

By David M.

,

Maryland

,

Sep 15, 2018
Verified Reviewer

I am a CPAP user and have tried other products.

Most of them don't work for me because I sleep with my mouth open and therefore, must use a full face CPAP mask.

The most interesting thing I noticed about the Snore B Gone ads is that you never see, in ANY of the photos, someone with the device in their mouth! Hmmmm...

Bottom Line: No, I would not recommend this to a friend

---

15 out 16 people found this review helpful

False advertising at its worst

By Max C.

,

Franklin, TN

,

Sep 12, 2018
Verified Reviewer

After watching the Snore B Gone ad, which detailed a snore device comparison in which Lester Holt was featured, I ordered the product because, according to the ad, Snore B Gone was the hands down winner and the only device that totally eliminated snoring!

The device arrived within a week and upon opening it was glaringly apparent that the device I received was not the one used in the ad. It was blue and small. This one was clear and MASSIVE. It was a boil and bite mouthpiece that was near impossible to get in my mouth and did NOT reduce my snoring as my wife can attest. This company should be taken to task on this product as it is false advertising at its WORST!

Bottom Line: No, I would not recommend this to a friend

---

19 out 19 people found this review helpful

Not the same one

By Barb G.

,

Johnson City, TN

,

Aug 9, 2018
Verified Reviewer

The one in the advertisement is not what you receive. You get just a plastic boil and bite mouth guard. Report to BBB. Nowhere on their website is there a place to contact or comment on this product.

Bottom Line: No, I would not recommend this to a friend

---

28 out 28 people found this review helpful

Snore B Gone false ad

By Cathie S.

,

Arvada, CO

,

Jul 22, 2018
Verified Reviewer

What Snoore B Gone shows in the ads is not what they send you. Then they make you pay to return it and refund only the base price, not the original shipping or shipping return cost. False advertising. What the ad shows is a much better model. It is adjustable. The one they send has no adjustment, which you can buy for $20 or less.

Bottom Line: No, I would not recommend this to a friend

---