Sobakawa Cloud Pillow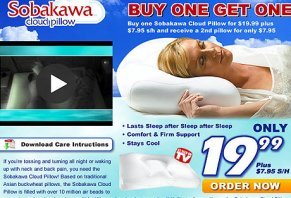 Sobakawa Cloud Pillow Review: Is It Legit or Hype?
The Sobakawa Cloud Pillow is a contoured pillow filled with millions of "air beads" to make you feel like you're sleeping on a cloud while supporting your head and neck. A product of Nature's Pillows, Inc. and distributed by National Express Online in Norwalk, Connecticut, this pillow is an As Seen on TV item.
National Express, Inc. sells a variety of products including the Sobakawa Cloud Pillow and has been an accredited business with the BBB since 1992. It has an A+ rating and most of the 120 listed complaints are about problems with other products this company distributes, rather than the Sobakawa Cloud Pillow. Based on the BBB customer comments and company responses, the company does seem to try to make good faith effort and does issue credits when a customer is dissatisfied.
Sobakawa Cloud Pillow Features
The company claims that each pillow is filled with over 10 million air beads which absorb movement and continually adjust to your motion to softly cushion your head as you sleep. Although the Japanese word Sobakawa refers to buckwheat hulls, this is not the kind of buckwheat hull-filled pillow that you may have seen at your local health store; the beads in this pillow are definitely man-made.
The crescent shape of the Sobakawa Cloud Pillow is designed to follow the contours of your neck and shoulders, and the pillow claims to retain its shape when other more traditionally-filled pillows flatten over time. Additionally, the unique bead filler of the Sobakawa Cloud Pillow allows it to stay cool, eliminating the need to continually flip your pillow to find a "cool spot."
This pillow claims to absorb movement so well that it can protect 4 eggs placed underneath it from breakage even when a 10 lb. weight is dropped onto it. Pillows with more traditional fills such as fiber, feathers, and memory foam are shown to be unable to protect eggs from breakage under the same conditions.
The Sobakawa Cloud Pillow can be used to alleviate back pain relief when you place it under your knees while lying on your back. The standard size Sobakawa Cloud Pillow is noticeably smaller than most traditional pillows, but this can be an advantage if you want to use it in the car for improved lumbar support, as support during yoga practice, or while watching TV on the couch. The Queen/King Size is closest in size to traditional US bed pillows.
Sobakawa Cloud Pillow Pricing and Refund Policy
The Sobakawa Cloud Pillow is available from a wide variety of retailers including Bed Bath & Beyond, Walmart, Target.com and Amazon.com for $19.99 to $39.99, but you can only get the offer of a second Standard Size pillow for $7.95 shipping and handling at the company's own website.
Before ordering, it's important to note that the sizes of the Sobakawa Cloud Pillow are significantly smaller than their names suggest. Note that the Sobakawa Cloud Standard Size 12 5/8" x 15 7/8" Pillow is not much bigger than half the size of a traditional US standard 20" x 26" twin pillow. The closest size to a usual standard-sized pillow is the Queen/King Size Sobakawa Cloud Pillow, which at 17 3/8" x 22 1/4" is still a couple of inches smaller in length and width.
Currently, the Standard Size Sobakawa Cloud Pillow is priced at $19.99 including pillow case plus $7.95 for shipping and handling. A free second pillow and case are also included for an additional $7.95 shipping and handling charge.
The Full-Size Sobakawa Cloud Pillow (14 5/8" x 20 7/8") costs $29.99 plus $9.95 shipping and handling, and a Queen/King Size Sobakawa Cloud Pillow (17 3/8" x 22 1/4" ) costs $39.99 plus $12.95 for shipping and handling. No "free second pillow" offer is available of the Full or Queen/King sizes.
The website for the Sobakawa Cloud Pillow states that the pillow comes with a 90-day money back guarantee, but no instructions or further details regarding obtaining a refund are given. An email address and mailing address are given on the site for further communication and/or mail order by check or money order. Several purchasers report difficulty changing orders or obtaining refunds. Although most issues reported to the BBB appear to have been resolved, obtaining a refund on shipping and handling fees seems difficult at best.
Pros
Conforms to head and neck
Several consumers report neck and shoulder pain relief
Designed anatomically to relieve muscle tension and pain
Includes a custom fit pillow case
Free (plus $7.95 shipping and handling) second Standard Size pillow when ordered on company website
Can be placed in a freezer for maximum cooling effect
Light and portable for yoga, driving, and neck support while sitting
Cons
Standard size Sobakawa Cloud Pillow is significantly smaller than the usual standard pillow
Choking hazard for children under 5; hazardous for pets
Many consumers report an odd chemical "styrofoam" smell
Warning precautions state that the pillow and its case are extremely flammable and give off hazardous gases if ignited
Pillow is not machine washable, machine dry-able, or dry-cleanable; pillow case is not machine dry-able.
3 out 5 people found this review helpful

Great for neck pain

By Cheryl S.

,

Tennessee

,

Jan 11, 2019
Verified Reviewer

I have three herniated discs and nerve damage in my neck from a car accident and get horrible migraines. Finding the right pillow has been an expensive and trying experience. I am on my second cloud pillow and am looking to buy a third as the beads inside lose their air after a while and the pillow needs to be replaced.

Pros - being able to move the beads around to get the most comfort, waking up less during the night with neck, head, and ear pain, and it stays pretty cool.

Cons - beads leak out (they don't go through the pillowcase, but do go through the pillow), the pillow turns inside the case and needs to be readjusted, and beads lose their air, and the pillow needs replacing and isn't always easy to find.

If you have pain like me, this is the pillow for you.

Bottom Line: Yes, I would recommend this to a friend

---

Advertisement

---