SolarCity Reviews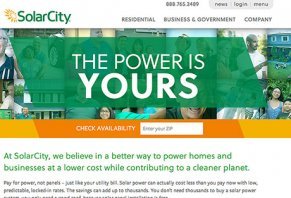 SolarCity claims that one of their customizable solar panel systems can help provide you with low, locked-in electricity rates for little-to-no money down.
About SolarCity
By using their customizable solar panel systems to generate electricity, SolarCity claims to be a better way of powering homes and businesses at a lower cost, while also contributing to a healthier, cleaner planet. By offering solar panel systems for homes, businesses, and government institutions; by making the process easy; and by providing low, predictable locked-in rates, SolarCity claims to be America's #1 full-service solar provider. In fact, the company claims that someone switches to SolarCity once every 5 minutes.
With an ever-increasing focus on "going green" and minimizing the impact on our environment, especially when it comes to powering our homes, it's no wonder than solar power companies such as SolarCity have become immensely popular over the past several years. However, when it comes down to it, can SolarCity really help you enjoy all the benefits of clean solar energy, worry-free, or is it more of a pain than it's worth? Let's shine some light on the facts.
How SolarCity Works
Because solar power systems cost less than traditional power in many markets, SolarCity claims that they can help provide you with "a clean, more affordable energy bill." In order to accomplish this, SolarCity claims that they will plan and supervise your project from start to finish, and that they feature the most sophisticated project management system in the industry.
If you're interested in finding out if a SolarCity system is right for you, the first thing you'll want to do is check to make sure that the company's services are available in your area, which can be accomplished by entering your zip code on the website's home page. If so, you'll then need to follow these steps in order to begin experiencing all the benefits that the company claims to provide:
After a free consultation and signing an agreement, a site auditor will visit your home, take measurements, and gather technical information.
SolarCity's engineering team will then use this information to custom design your solar system.
Plans are then submitted for permit and local HOA approvals.
After approval is received, installation will begin, which generally takes 1-3 days to complete.
Then, your system will be inspected by your local building department.
After this final approval, you'll be able to enjoy clean solar energy!
According to SolarCity, each of their solar power systems are continuously monitored in order to ensure that everything's running smoothly, and their online portal allows you to track your project's progress. Once everything's complete, you'll also be able to monitor your system in real time by accessing the SolarCity Power Guide via any PC, tablet, or smartphone.
SolarCity Pricing & Refund Policy
If you decide that a SolarCity system is right for you, there are three different options from which to choose:
$0 Down Solar Lease – Simply pay for the power your solar panels generate each month, along with your lease fee. Includes locked-in low rates and a 20-year protection plan. SolarCity claims that 95% of customers will benefit more from a lease than a purchase.
Solar Power Purchase Agreement (PPA) – A contract to buy solar power based on a set rate that is usually equal to or less than market rate from your local utility company.
Outright Purchase – Here, you'll pay for equipment and installation upfront, although SolarCity claims you'll see a return on your investment in less than 10 years, and you'll be eligible for 30% or more annual solar tax rebates. Includes a 30-year protection plan.
If you choose option #1, SolarCity claims that solar panel installation is free, and that maintenance, repairs, and insurance are provided at no extra cost. In other words, the company claims that you'll simply pay for the power your system generates.
All SolarCity systems come with a 100% performance guarantee. If not, you'll need to contact the company at (888) 765-2489 in order to have the problem resolved.
Important note: As of the time of this writing, your monthly SolarCity bill will be increased by $15 if you choose not to sign up for automatic withdrawal.
Can SolarCity's Solar Panel Systems Help Reduce Your Electricity Bills?
Now that you know more about SolarCity and their solar-based power systems, can they really provide you with a worry-free experience, and can you expect to save a lot of money in the process? Perhaps, but keep the following in mind:
Limited Availability
First, SolarCity systems are only available in 16 states: AZ, CA, CO, CT, DE, DC, HI, MD, MA, NV, NJ, NY, OR, PA, TX, and WA. On top of this, you'll need to own the home you live in order to install the solar panels on the roof (e.g. cannot lease your home).
Very Long-Term Contract
While SolarCity's contracts seem to be in line with other solar energy providers such as SunRun, remember that you'll be signing up for a 20-year service agreement, which comes with some fairly steep penalties if it's cancelled it in advance.
While SolarCity claims that you can transfer your solar agreement to the buyer in the event you sell your home, you'll be responsible for buying the system outright if they don't agree to such a stipulation.
Numbers Don't Lie
If you decide to go the $0 Down Lease option, keep in mind that you could actually increase you overall expenses when compared to your current utility bill. For example:
Let's say that you currently pay $300 per month for electricity, and SolarCity claims that one of their systems can significantly reduce this amount. After your panels are installed, you find that you're generating 70% of the electricity you need, thereby decreasing your utility bill to approximately $90 per month. However, keep in mind that you'll still have to pay for the leased panels, which could total several hundred dollars per month, ultimately negating any utility savings.
Also, according to the "What's you electricity bill?" slider on SolarCity's home page, it appears that you may not see much savings if you spend less than $100 per month on your electricity bills.
Company Reputation
SolarCity holds an A+ rating with the BBB, based on nearly 100 closed complaints over the past 3 years. However, the company claims that they have more than 90,000 customers, and that the vast majority of them have been satisfied with their service.
With this said, there are hundreds of customer complaints online, most of which appear to reference shoddy installation, poor customer service, high pressure sales tactics, and hidden fees in their contracts.
SolarCity's Legal Woes
SolarCity is part of a class action lawsuit on behalf of its investors, who claim that the company has been providing false and misleading information in its financial statements. In addition, there is also an ongoing Federal investigation into SolarCity in regard to their "fair market value" pricing on leased systems. According to this same article, SolarCity customers can pay up to 70% more than some of the competition.
As if this weren't enough, SolarCity has received millions in stimulus money and federal tax credits since 2008, but has still posted a net loss of more than $300 million. As such, it appears that the company may be staying afloat on the backs of taxpayers instead of their products, which might present some concern for their overall longevity.
Service Timeline
Finally, although SolarCity claims that your panels can often be installed in one day, this doesn't mean you'll be able to use them. In fact, although your contract will give you an estimated timeline as to when you can expect service, most people usually have to wait a month or more.
Bottom line
Although solar power can often represent a solid investment with low, lock-in rates, not to mention the environmental impact it can have, it's important that you thoroughly think everything through before signing a 20-year contract, whether through SolarCity or another provider.
SolarCity did not give unproved costs fact to rent their systems.

By Frank L.

,

Las Vegas, NV

,

Sep 23, 2019
Verified Reviewer

I was told that the 3 percent plus they charge you is the same increase that Nevada Energy charges. That is why it is 3 percent up each year. The fact is that Nevada Energy had a 14 percent decrease in every year that SolarCity rented their systems. They also told other lies to get to rent their system. The cost after 5 years is more money to SolarCity than the electric company charges by far. They don't care. They received $13000 from the government and $3500 from Nevada Energy right after the contract is signed. They refuse to even talk about fixing the contract to offset overpricing. They will do nothing. My only hope is that I die and my son will cancel the contract as in the contract I signed.

Bottom Line: No, I would not recommend this to a friend

---

Worst mistake since buying an 80's GM car

By Rick P.

,

Victorville, CA

,

Aug 16, 2019
Verified Reviewer

I had my panels installed in December of 2015. I was told by the salesman that "It's a great investment and you'll save a ton of money on your energy bill." So when I got my first SCE Bill and it was $17.00 I went woohoo!

Fast forward to the summer months, and the woohoo went away. My bill was supposed to be around $170.00 in the summer, which isn't too bad. But my bill has been upwards of $250 plus. When I contacted customer service and asked why, I was told, "Well, let's see...ohh, umm (clearing voice) it looks like your panels are over-producing." I said, "well, what can we do?" She said, "I'm sorry, nothing". I said, "So this is going to be my bill..?" She said, "No, it may go higher."

I was so livid! I'm actually selling my home hopefully soon, and I promise, I'll never do this again. As far as recommending SolarCity (Tesla) STAY AWAY! Not unless you want to spend 20 years paying off $16-$30K in panels. A complete rip!

BTW, they told me, "When you sell your home, you can add the price of the panels to your appraisal." FALSE! My realtor said I'll be lucky if I get 40% of what I paid.

Bottom Line: No, I would not recommend this to a friend

---

Advertisement

---

Poor installation and customer service

By John K.

,

Douglas, MA

,

May 17, 2019
Verified Reviewer

SolarCity installed the solar panels on my roof 3 and 1/2 years ago. Since then I had had major electrical problem from day one that took them a year to fix. Finally, when they sent an electrical tech with a 1/2 of brain, I was told by that tech he personally never would have done the job. His statement was there was not enough room in the breaker box. The tech then inserted a wire into a breaker that his counter parts had disconnected. My basement lights and outside outlets then worked again. However, he mentioned my panel is now overloaded.

Now 3 and 1/2 years later my roof has a major leak. Over a month ago SolarCity sent out a tech to inspect. The tech then said I needed a new roof. Why would SolarCity install solar panels on a roof that was in question? I was told at that time the roof was ok. Well, how can a perfectly fine roof need replacing 3 and 1/2 year later? I can tell you why. The roof vent was disrupted when they ran the electrical conduit across the top of it. Also, under the number 5 panel there is a leak. I have been waiting for over a month to find out when the panels can be removed. So I can spend the $12,000 on repairs to my roof. SolarCity, of course, takes no responsibility for there actions, my roof is still leaking, and I have no date on when they will be out to remove the panels for repairs. SolarCity says they have up to 6 months to remove the panels by contract. I hope I still have a house by the time they get here.

They sucked from day one, their workmanship is poor, and they do not stand behind their product. I was told when agreeing to install the panels I would save money on my electrical bills. Well, my electrical bills are no less than they were before the panels as they do not work during the winter months, when it rains or if it is cloudy. I have not saved a dime and have had nothing put grief. Do not get burned like I have, this company sucks bad.

Bottom Line: No, I would not recommend this to a friend

---

Avoid SolarCity like the plague

By Mister H.

,

California

,

Jan 24, 2019
Verified Reviewer

I made a reservation to have a rep from SolarCity come to my home for a site inspection to determine the appropriate location for installing solar panels. I was required to make a $500 refundable deposit in order to schedule an appointment. A week before the appointment, I emailed the rep to cancel the appointment. He quickly replied, "Why?" I said I changed my mind. He quickly replied, "Is it the cost?" I wouldn't go further into the conversation and simply requested a refund of my deposit. That was October 2018. Three months later, after numerous phone calls and emails to the company, and SolarCity is still dragging its feet to return my deposit. Such rotten customer service for an overpriced product. Save yourself money, regrets, and grief, and AVOID this company like the PLAGUE.

Bottom Line: No, I would not recommend this to a friend

---

Advertisement

---

Why are they rated so low?

By Craig C.

,

Nevada

,

Aug 21, 2018
Verified Reviewer

If you look closely, do you see how many negative reviews there are? I now understand what the adage, "If you see smoke, start looking for fire" so it means the number of negative reviews should be a glaring warning. Read the reviews, then read them again, and again, and again.

They're telling you something, and I didn't heed them the first time around. They'll treat everyone with the same disrespect and disinterest once you become a customer. There is no real SolarCity service staff in Las Vegas, no repair inventory. They will special order the item, but that take up 15 days or longer.

Younger folks really don't know great customer service. In my opinion, it used to be so much and was so much better. Now they operate from a sanctuary state, so you can't confront them in your market. If they cared for the customers, there wouldn't so many negative reviews. There are better options in your market, choose from one of those. As customers of SolarCity, we have to suffer. Maybe time for a Class Action?

Bottom Line: No, I would not recommend this to a friend

---

Roof leak three weeks after install

By Michael D.

,

Massachusetts

,

Aug 13, 2018
Verified Reviewer

The roof leaked three weeks after install. Tesla did "courtesy patches" saying the interior damage was not their liability. Multiple emails and no resolution. One email from Tesla agreed they caused the damage.

Bottom Line: No, I would not recommend this to a friend

---

Worst customer service

By Jennifer N.

,

Hamilton, NJ

,

Jul 9, 2018
Verified Reviewer

I have had my solar panels for two years now. Starting about eight months ago, I would get emails from Tesla about every two weeks that there was a problem with my panels and I had to call from home, while it was light out. Hard to do when you work, and it's winter. I would call and they would just have me reset the button. This happened about every two weeks for about two months. I continuously asked to have someone out but was told it was not necessary.

Finally, about three months ago they came out and told me everything was fixed. On June 15th I get an email again about a problem. The service tech came out on 6/19 and told me there was water in the panel box, and it was unsafe, so they had to shut down the panels and replace the box-at a future date of course. Makes me wonder how long it was unsafe before they finally realized it. The panels were shut down in height of energy season and service scheduled for July 3rd from 12 pm-2 pm. Technician called at 3 pm to say it was too hot and he would need to reschedule. The next available date is 7/16, which means a month without the panels and no compensation. I would not recommend this company to anyone.

Bottom Line: No, I would not recommend this to a friend

---

Rip off

Texas

,

Dec 4, 2017
Verified Reviewer

Is everyone getting together nationwide and filing a case to get out of this horrific contract? Surely with all the lies and more lies, something can be done. I have paid so much money for electric service I know would be able to not pay an electric bill for a couple of months if I had not done these panels with this lying company.

Bottom Line: No, I would not recommend this to a friend

---

Rip off

Texas

,

Dec 1, 2017
Verified Reviewer

I have never felt so violated by a company as I do with SolarCity. I trusted the salesperson and I find out LIES. My electric cost is higher now than before this company. I HATE paying this scamming company. Anyone find a way out of this contract?

Bottom Line: No, I would not recommend this to a friend

---

Terribly untrustworthy company!

I'm writing this review because I don't want other well-meaning customers to go through what my family and I are going through. The SolarCity reps are really good at selling you on their crummy panels and environmental benefits, not to mention "how much you'll be saving!"

What they fail to mention is that, while you will only be paying dollars and cents per month for taxes and fees to your electricity company, at the end of the year, you have to pay the sum amount of what the solar panels didn't cover. And really, they cover so little that, after all is said and done, whether you're renting the panels or paying for them in full, you're not saving anything, you're paying more. Even in California, with all that sun, what we accrued barely covered a fraction of our consumption for a full household.

Our last bill at the end of 12 months was over $1,000. Who can afford to pay that all at once? The reps neglected to tell us that and only sold us on the ONE good point of the panels, and that's what you save just a little bit of money every month. Depending on how much you're paying a month to the solar company, you may be paying more than you were before and not helping anyone. If they had only told us that from the beginning, I wouldn't feel so slighted. It's the fact that they were so dishonest about it that makes them a bad company.

Bottom Line: No, I would not recommend this to a friend

---

Terrible experience

By A Lew

,

Dallas, TX

,

Oct 9, 2017
Verified Reviewer

My hubby thought he was doing a good thing in trying to help the environment by getting solar panels, but it has been an absolute nightmare now that we are selling! So many things that we were told were lies. If you decide to get solar panels definitely do your homework and stay away from SolarCity! It's been a terrible experience, and we are now having to get lawyers involved.

Bottom Line: No, I would not recommend this to a friend

---