SoLo Funds Reviews
Claimed This company has claimed this profile, is getting alerted on any new customer reviews entering this page, and may engage in dialogue with its customers to address their matters.

Companies cannot pay money or provide goods in order to remove or alter customer reviews.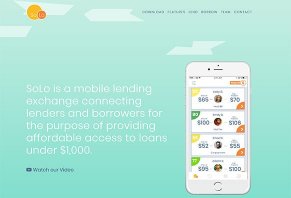 OD
SoLo Funds is a peer-to-peer marketplace app where borrowers post a need for loans of less than $1,000 and lenders can meet those needs. Loans have no interest or fees if paid on time.
About SoLo Funds
SoLo Funds is a peer-to-peer lending site where borrowers can ask SoLo's community for loans of up to $200 without any interest rates or up-front fees.
The company is the brainchild of a team of founders led by Travis Holoway who, along with his founding team, discussed the idea of doing peer-to-peer loans back in 2015. They found that family members would ask to borrow money from them but there really wasn't a good platform to lend and get repaid, especially for loans of $1,000 or less.
Payday and title loans were an option in these situations, his team discovered, but interest rates were high and lenders were predatory in most cases. Basically, consumers who were looking for these small loans had few options and the options they did have were expensive.
Because of this, he and his team felt like there was an opportunity to create a marketplace to serve these consumers.
"We wanted to have a wide-open marketplace where anyone could lend and borrow, where you have more access to capital that goes beyond your social circle, and it would help individual solve needs more quickly and avoid the alternative like payday lender," he said.
So, in March 2017, Holoway left his job as a financial advisor at a well-known bank and devoted himself full-time to the company. He founded it the following month, then he and his team launched a beta version of the app and, in April 2018, SoLo did their full launch.
In this review, we'll talk about how the SoLo Funds borrowing and lending platform works, what fees are involved and how what the company offers differs from competing sites who focus on community lending.
How SoLo Funds Works
Users can access SoLo from their Android or iPhone. The SoLo community is made up of all kinds of users who are there to borrow and to lend. User profiles aren't designated by "borrower" or "lender" but by a SoLo score that rates the individual's borrowing history on the site as well as their financial ability to pay back their loan.
If you need to borrow money, then you can post your need on the site. In addition to the dollar amount you need, you can explain why you need the money. You also have the option of leaving a tip for your potential lender.
According to Holoway, at the time of publishing about 85% of the site's borrowers provided a tip for the lender.
Lenders can view the different loans which borrowers are asking for. Should they find one they want to fund, both the borrower and lender sign a digital promissory note, a document that says the borrower promises to pay the lender back. The money will be available to the borrower in 1-2 days, SoLo's FAQ page says.
The borrower, Holoway said, tells the lender the date on which they'll pay the loan back. That date has to be within 30 days of receiving the money.
In the meantime, SoLo has vetted the users on the sites according to bank-level standards for AML and KYC, which are acronyms that stand for "anti-money laundering" and "know your customer", two standards meant to ensure that shady people aren't using the lending platform to launder money and do other illegal things.
Paying Back the Money
Because the marketplace is very simple to use and lenders are sending money to borrowers they may or may not know, you might have worries about getting your money back.
As we mentioned earlier, there are a couple of ways you can reduce the risk of someone defaulting on their repayment.
First, you can check out the borrower's SoLo Score. The company's website describes the SoLo Score as a score they generate that predicts "a borrower's ability to repay loans in a timely manner." This is the basis by which they'll approve the amount they'll let you borrow. Meanwhile, lenders can use this score to determine whether or not they want to lend to you.
Second, the promissory note that you and the borrower sign gives you the right to send the borrower's account to collections. Doing so would put them in a tough position credit-wise – collections agencies report your delinquent account, which can drop your score significantly and hurt your chances of getting good rates on loans and credit cards.
However, you don't have to go straight to reporting the borrower to collections. In the event that the borrower can't repay the money by the due date, they can rollover their loan into an additional two-week repayment period.
The fee for a loan rollover is $5 or 5% of the loan amount, whichever is greater, and is paid to the lender, not SoLo. This is the only mandatory fee that SoLo requires. You can avoid the fee by repaying your loan on time. And, remember, you can only do one rollover.
After that, the lender can send your account to collections.
Here are a few other reminders:
You can't lend and borrow at the same time
Loans are capped at $200
You don't have to leave a tip
SoLo Funds Fees
The only mandatory fee on the site is the $5 or 5% that you'll pay to roll over a loan for a couple of weeks. That fee goes directly to the lender; SoLo doesn't take a cut.
Leaving a tip for your lender is optional; you can literally borrow money for free if you want to.
Also, Holoway noted that you can donate to the site, too, if you'd like.
The Final Word: Pros and Cons of SoLo Funds
Based on our research of this service as well as our conversations with SoLo Funds CEO Travis Holoway, we believe this site's greatest strength is that it provides a no-fee, no-interest platform for those who seek small loans and can pay them back within 30 days.
Even if you aren't able to pay your loan back in 30 days and need a two-week extension, the fee you pay (5% or $5) is much fairer than what you'd get from a payday or title lender.
The downside to the service is that the lender has the power to send your account to collections if you don't pay up after 30 days (no rollover) or 44 days (rollover). In our opinion, this is the site's only downfall but it is a severe one. A collections account on your credit report can drop your credit scores significantly.
In conclusion, we believe this site is a great fit for someone who needs a small loan with no fees and the opportunity to tip your lender. We think SoLo is a refreshing financial service that breaks from the tradition of payday and title lenders who force you to pay high interest rates or put your car up for collateral to get the money you need.
Great idea, scummy app

By David S.

,

Minnesota

,

Dec 31, 2019
Verified Reviewer

For lending, it is a high risk to do p2p and that is why there is a high return. So me risking money for high return is fine, I don't mind, but I found a point about SoLo that I think would-be lenders should keep in mind.

They collect their fee for the service from you, the lender, in your borrowed money then ask the borrower to pay you back...why is that scummy? Because let's say there is a request for $50, the app tells you they want $54 and will pay you back $59 in 7 days. So I have lent $50 to the borrower and $4 to the company. When the borrower defaults, guess what, I get back nothing...the company keeps your $4 you have to pay them to lose money...and do you think they have any care in the world about collecting your lost funds, no, they got their share you paid them already. What a joke, if they were smart, decent people, they would put the fee to be collected when the loan is paid or to originate the loan from the borrower. Why steal from your lenders they make your app possible.

Bottom Line: No, I would not recommend this to a friend

---

Borrowed funds

By Kathy N.

,

Houston, TX

,

Sep 25, 2019
Verified Reviewer

I recently applied and got approved for a loan. I have medical issues and they lent me the funds to go to the doctor tomorrow. I don't have the best credit. Life happens to everyone and it is good to have someone to know that people need second and third chances.

Thanks you so much!

Bottom Line: Yes, I would recommend this to a friend

---

Advertisement

---

Terrible

By Carol D.

,

Youngstown, OH

,

Sep 17, 2019
Verified Reviewer

I requested a loan, waited almost 2 weeks with no response. Requested another loan but again no response. Honestly, how long does it take to get a loan on here? Ridiculous to wait that long!

Bottom Line: No, I would not recommend this to a friend

---

I could never get the scan to work

By Linda R.

,

Mississippi

,

Dec 26, 2018
Verified Reviewer

I sign up for the request of getting a loan. The place asked for the scanning of the back of my ID and I made a mistake of scanning the front first and after that mistake, I couldn't scan anymore and could not go any father. I submitted many tickets. I was not able to get it to work.

Bottom Line: No, I would not recommend this to a friend

---

Advertisement

---

Good app for honest folks

By Mimi B.

,

Virginia

,

Dec 22, 2018
Verified Reviewer

I was very happy to discover this app via Instagram. Ran into some setup issues in the beginning, but eventually got everything squared away. I find it useful, being someone with extremely challenged credit and no other borrowing options. I feel this app is good, but the scammers are making it difficult for those who need the money, therefore making the lenders wary about lending their money (and rightfully so).

A few things - if you know you cannot afford to pay back a SoLo loan, then don't ask for one. Plain and simple. This is the same for any other traditional lender.

For borrowers, if you have zero transactions, do not expect to borrow a lot your first time. My suggestion is to start with $50, and work your way up. Also, BE HONEST as to why you need the money. Things happen, and we may forget about a bill sometimes. As with most banks, your loan application needs to be "attractive enough" to make lenders comfortable in lending you money. If your SoLo loan request just says "Bills," your application will sit there for a while without being funded. It may not get funds at all.

For lenders, I don't need to say much. But I highly recommend that you DO NOT LEND to those with high SoLo scores and 0-1 transactions. Also, your SoLo score is actually a reflection of your real credit score range. Mine is 78, which falls in the Fair Credit range. I have never borrowed more than what I can afford at the time.

This app is promising. It has come through for me several times. But I urge the borrowers to take some Personal Finance 101, and educate themselves on how lending works.

Bottom Line: Yes, I would recommend this to a friend

---

People only lend to females with sob stories

By Matthew D.

,

Washington

,

Dec 18, 2018
Verified Reviewer

Looked like a great way to get money in a pinch, but if you go through and look, people only lend to females who need meds, or their car broke down. Most males who ask for help get no help at all. I've needed emergency funds for a medical emergency, but no one would lend to me, but the lady who had a lower score then me that posted hours after got approved in no time. This app is total crap.

Bottom Line: No, I would not recommend this to a friend

---

Need to do better

By Karen D.

,

New York

,

Nov 8, 2018
Verified Reviewer

I first tried this app out because it was constantly being promoted on my IG. I did my research and liked the fact that it was peers lending you money with no interest. I know how hard it is to get loans nowadays, so I thought this was great.

I tried it out and had a lot of trouble understanding the app at first. It's very hard to navigate and understand at first glance. I've been trying for days to just "request" a loan. I never got it. I've been going crazy online looking for a customer service number, never found one. Finally, I came across an email address for "help," sent an email, got a response about how my ticket has been received and someone will get back to me, but yet no response except for an automated one. This was back on November 3rd. Even if the situation hasn't been resolved, some kind of response from an actual person and not a system would be nice. Until this is done, I'll kindly keep two stars. Customer service-wise, a no go for me!

Bottom Line: No, I would not recommend this to a friend

---

Lending and app issues

By Scott H.

,

Boston, MA

,

Oct 29, 2018
Verified Reviewer

Lending is going great, 16/17 loans have been repaid. Two loans took two extra weeks to be repaid, and one was sent to collections. If want to lend, learn what the scores mean; 70 and up are for lenders with 690 - 800 credit score, they use Vanguard, a credit services company. The app is buggy; if you go on their App Store (Apple), type SoLo Funds, you will see plenty of good and bad reviews. Most reviews are very consistent, relating to ID validation, others are from the lenders that don't receive their money back.

I say if you're reading this, don't lend to people with one month and bad scores. 72 and UP! Nothing less. People who need help with their pets, these people repaid. Often those with pictures are people with Facebook accounts and most likely aren't out there to get ya. Don't lend money to people with Bills and Food, it sounds bad, but wait until they go delinquent. Then you know who the bad guy is. Don't lend to people with 69 and below. That's like lending to someone with a 550 credit score.

The app also has problems and at times won't even deduct the borrower or the borrower would pay as they said to me on their email. Two borrowers repaid and the funds never reflected my account until two weeks later. There are even borrowers asking for help on the reviews section because they are trying to repay and can't, the app is very buggy.

Bottom Line: Yes, I would recommend this to a friend

---

Do not become a lender unless you like to throw away money

By John E.

,

Austin, TX

,

Oct 28, 2018
Verified Reviewer

I had some extra money and wanted to do some good with it and also try and make a little extra money while doing it. I found this app and thought it was a great idea to help people get short term loans and avoid Payday loan places. The problem is that there is zero guarantee that (you) the lender will ever get your money back. So basically you are loaning our $200 in order to make $20, but you could very likely never see your $200 again. Two out of the six loans I've given out have defaulted in the past couple weeks, that's just so far. I have two more loans due in the next week, let's see what happens with those.

If you have money and want to do something with it, stick it in a savings account. Lending money to these deadbeats with such lousy credit they can't even get a credit card will just result in you losing your money. Yes, they may send it to collections, but what is another bad debt to someone with a long history of bad debts. Their credit is ruined, one more bad mark isn't going to bother them. Avoid SoLo Funds at all cost.

Bottom Line: No, I would not recommend this to a friend

---

Loans never fund

By Erika P.

,

Texas

,

Oct 24, 2018
Verified Reviewer

I've submitted two separate small loans to the marketplace as a test to see how it works. Neither loan was ever funded, even though I was willing to pay the maximum allowed tip on each one. There are literally 100's of other loans to compete with. Great idea but poorly put together.

Bottom Line: No, I would not recommend this to a friend

---

Can't even get it to work

By Marciana P.

,

North Carolina

,

Oct 19, 2018
Verified Reviewer

I've downloaded the app and tried to set up my account two days ago, and I am still waiting for "validation." Now I see there have been a lot of people saying the same thing and have been waiting for going on a week. I guess this would be a nice source for help, IF you can get it to work!

Bottom Line: No, I would not recommend this to a friend

---