Somabar Reviews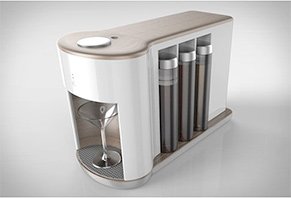 Somabar is a automatic bartender that can fit on your kitchen countertop and make 300 different cocktails and mixed drinks in seconds, all from an app.
About Somabar
The idea of a robotic bartender isn't new, but only over the past couple years has technology reached a point where it can keep up with our collective alcohol consumption habits.
One of the newest entries into this field is Somabar, a kitchen countertop device that holds liquids in airtight pods, connects to your smartphone via Wi-Fi, and allows you to make more than 300 different adult beverages in seconds. Somabar even has the ability to add bitters to your mixed drinks!
According to the company, just fill each of Somabar's six Soma pods with your favorite ingredients, select the drink you want, and the device will pour precisely, thoroughly mix each cocktail before dispensing, and then flush its system with water to ensure purity and flavor. And all of this for the price of a standard smart appliance.
Whether you frequently host large parties, or simply prefer an evening with a couple friends, there's no denying Somabar's cool factor. One you clear away the hype though, just how usable will you find it in the real world? Will it really make you become "a world class mixologist, as easy as pressing a button"?
How Does Somabar Work?
The Somabar Device
While Somabar might be classified as a "standard" (although it's not made clear exactly what that means) countertop kitchen device, at 19" L x 11" W x 15" H and weighing in at around 15 pounds, it's not exactly something you'll be able to tuck away discreetly in a corner.
Each Soma pod (more about this in a second) can hold 750ml of liquid, while the water container can hold up to 1.5L. Fully loaded, the company tells us Somabar will weigh somewhere around 30-40 pounds.
Regardless of where you live, Somabar is compatible with 110v and 220v outlets.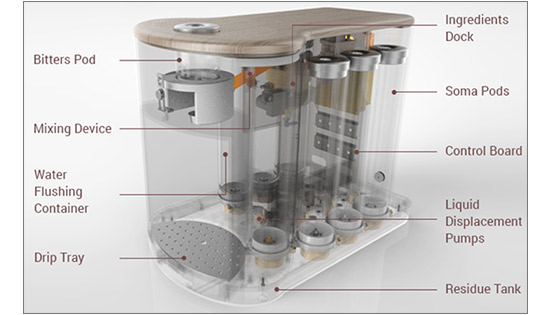 The different internal and external parts of Somabar.
Somabar's Pods
Somabar claims their device's versatility is provided by their six food safe, BPA free pods, which feature airtight seals to keep your ingredients fresh and ready to serve, whether in the fridge or freezer. Soma pods are also portable and leak-free, so, you'll be able to share them with your friends.
Once attached to your Somabar, a proprietary friction fit seal mechanism ensures further leak-free performance, and software and sensors send information to the companion app. Then, the positive displacement pumps and static mixing technology help deliver perfectly crafted—and mixed—cocktails as soon as they hit your glass.
Once your Soma pods are empty, they're easily removable and dishwasher safe for easy cleanup. Somabar's internals are flushed with water after each cocktail, too, so you won't have to worry about mixed-up flavors.
Somabar's Companion App
Available for iOS and Android smartphones, Somabar's app allows you to order drinks based on the ingredients contained in your pods, while also alerting you whenever you're running low.
Currently, the app can offer 300 different drinks to choose from. As users add their own cocktail recipes, you'll be able to make other people's drinks from around the world, too!
To accomplish this, we're told that all you have to do it scroll through the menu, select your drink, customize the ingredients and alcohol content, and submit your order.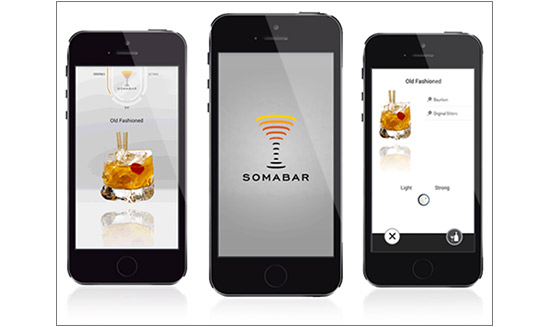 A couple screenshots showing Somabar's customization options inside their smartphone app.
What is Somabar's Drink List?
Here are some of the more popular cocktail programs for Somabar (a complete list can be found on their Kickstarter campaign), although this number is certain to increase once users being adding their own recipes:
Manhattan
Whiskey Sour
John Collins
Old Fashioned
Moscow Mule
Cosmopolitan
Screwdriver
Lemon Drop
Margarita
Americano
Classic Martini
Red Russian
Mimosa
Gin Tonic
Mai Tai
How Much Does Somabar Cost?
Somabar's original Kickstarter campaign has ended (more about this soon), although you can still preorder the device directly through their website for $429.
Somabar is available in Black, White on White, White w/Wood, Blue, Orange, and Red colors. Average shipping will cost $37.
According to the company's most recent update, they're currently in the final phase of manufacturing. However, no estimated shipping date was provided.
No refund policy was listed on Somabar's website (we emailed them for additional information), although we are told it comes with a 1-year limited warranty against manufacturing defects.
Even though Somabar hasn't been released yet, is there any feedback from professionals or other users?
Online Reviews for Somabar
Somabar made its online debut via a December 2014 Kickstarter campaign—where it eventually raised more than $312K based on an original goal of $50K—and its real-world debut at the 2015 Consumer Electronics Show soon thereafter. A few high-profile tech-oriented outlets picked up the story, including Tech Times, Digital Trends, and CNET, although these didn't deliver much more information than provided by the company.
However, Engadget's Christopher Trout (@Mr_Trout) met up with Somabar co-founder and CTO Ammar Jangbarwala for an in-person test in March 2015. Ultimately, Christopher felt that, "as a replacement for fully functional bar setup, it falls flat on a number of levels."
One of the author's biggest complaints was that Somabar doesn't feature a cooling element, which Ammar claimed was to keep costs low. This means that you'll have to pre-chill the Soma pods or add ice, which Christopher mentioned, "For those who prefers their drinks straight up that could be a deal breaker."
In the end, he concluded that Somabar "promises craft cocktails when in reality its limited feature set makes it more of a mixed drink dispenser than an automated mixologist."
Despite these initial hesitations, Somabar went on to win the best innovation award for home appliances at CES 2016.
Considering the apparent market for devices like Somabar, it'd be easy to assume that it isn't the only player in the game. Let's talk more about this next.
Somabar vs. Other Automatic Bartenders
While it seems that a lot of us would like to have automatic drink makers in our home, it's currently a largely underserved market. How can we tell?
Currently, Somabar's only real competition is Barbotics, a similarly designed countertop machine that can cater recipes to each individual person. However, Barbotics claims to hold up to 24 different ingredients (you can purchase additional pumps for customization), plug-and-play functionality (no app needed), and a price tag as low as $99.
So, while Barbotics doesn't seem quite as feature-packed as Somabar, it might be difficult to beat the price, especially if you're on the fence about your purchase.
Although Monsieur is also a self-serve automated bartending station, it's much larger than either Somabar or Barbotics, and seems better suited for commercial applications. Oh, and it costs several thousand dollars, to boot.
From a "cool factor" perspective though, it's difficult to beat Makr Shakr, a fully automated bartending system that uses two preprogrammed robotic arms to make whatever concoctions you like. Makr Shakr's fixed unit is designed to be permanently installed in one location, while the mobile unit can change locations at whim.
You can buy or rent Makr Shakr, but it's certain to be magnitudes more expensive than any of the other options we've discussed above.
Just because it's one of the only options available, does this mean Somabar should be your next automatic bartender?
Is Somabar Worth the Price?
If you're in the market for an automatic bartender and you want app connectivity, Somabar is really the only game in town. And at $450 (or so, including shipping), it's also one of the least expensive options.
Can Somabar quickly make drinks for you and your friends? It certainly seems like it. But after a few get-togethers, will it amount to anything more than a parlor trick that you'll soon tire of? The answer to this largely depends on your needs and perspective. For example:
As mentioned in the Engadget article above, perhaps the biggest drawback is the fact that Somabar can't chill ingredients and can't dispense ice. So, even under ideal circumstances, if you want anything other than a room temperature drink, you'll have to pre-chill certain liquids and serve ice (or, at least have it available).
Speaking of hands-on, it's important to remember that you'll be the only one with access to the Somabar app for your machine. As such, any time someone wants a drink at your party, you'll be the one inputting their order, which could become time consuming.
On top of this, with only 6 pods, you'll be limited on what Somabar can make at any given time. Have someone with a custom request? You'll either need to add new liquids to pods and let Somabar handle the rest, or you'll be mixing the drink the old fashioned way.
Somabar isn't exactly small, so it's probably not something you'll leave on your countertop, unless you have a massive kitchen. As such, you'll need to figure out where to store it when it's not in use.
Finally, like we mention for any crowdfunded project, keep mind that Somabar isn't a completed product and the company hasn't shipped a single unit yet. In fact, according to their Kickstarter campaign, the original expected shipping date was July 2015, which has long passed.
Even now, customers aren't advised when Somabar is expected to ship while placing their orders.
Taking all of this together, only you can decide if Somabar might be a good fit in your home, or if you should hold off until the price comes down or more competition makes their way to market. After all, the cool factor is off the charts, but just how much value it'll provide depends on a variety of personal factors.
This Article was originally published on August 10th, 2016 using publicly available information at that time.
This is a scam

By Jane G.

,

New Jersey

,

Jan 10, 2020
Verified Reviewer

Backed this company 5 or 6 YEARS ago when it was in Kickstarter. They are now selling the unit for thousands and have refused to send out any real updates. Scam scam scam. This is a joke. At this point, it's a lesson learned for many people. Don't let anyone else get scammed.

I don't know how these scammers sleep well at night.

Bottom Line: No, I would not recommend this to a friend

---

Scam artists

By Marc S.

,

Austin, TX

,

Dec 14, 2019
Verified Reviewer

I ordered and paid for a Somabar 4-5 years ago. They still haven't fulfilled the order, don't communicate with Kickstarter and early web order backers, and ignore requests for updates. This must be a scam. They should be ashamed of themselves for taking our money and running.

Bottom Line: No, I would not recommend this to a friend

---

Advertisement

---

Somabar CES Review

By Isabella M.

,

Las Vegas, NV

,

Mar 28, 2019
Verified Reviewer

I had the pleasure of seeing Somabar at CES this past year. By far one of the most innovative and applicable products showcased in its industry. The app interface is extremely user-friendly, and the machine itself is ingenious. Well-deserving of the awards it has received. Eager to see how it will be incorporated into real-world bars and restaurants.

Bottom Line: Yes, I would recommend this to a friend

---

Impressed

By Kianna M.

,

Los Angeles, CA

,

Mar 27, 2019
Verified Reviewer

I was at a restaurant in the Santa Monica area and they were serving cocktails made their Somabar automated bartender. It is a slick product and fit right in on a small counter space. But what I found most interesting, was that with Somabar, this restaurant which only had a Beer and Wine License could LEGALLY serve cocktails under their ABC liquor license. ALL restaurants with beer and wine licenses should consider getting a Somabar ASAP! The robot grabs the customers' attention, and it must do wonders for liquor sales.

Bottom Line: Yes, I would recommend this to a friend

---

Advertisement

---

Be aware of massive delays in supply

By Adrian W.

,

United Kingdom

,

Mar 8, 2019
Verified Reviewer

Investors have been waiting over two years for their equipment. Deal with these people at a long distance and do not hand over any advance cash!

Their customer service is appalling, and the fact they don't publish an address should be a massive indicator that you are at risk of been scammed.

Bottom Line: No, I would not recommend this to a friend

---