Sonic Pic Reviews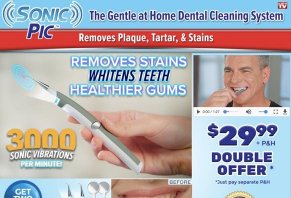 Sonic Pic is a battery operated device that uses vibrations to dislodge plaque and tarter, simply by pressing a button and pointing the interchangeable tip wherever you want to clean.
What Is Sonic Pic?
By delivering 3,000 gentle vibration waves per minute, Sonic Pic is an at-home dental cleaning system that promises to help you remove plaque, tartar, and stains from hard-to-reach places, leading to whiter teeth and healthier gums.
And since the device is battery operated (a single AAA, which is not included) and portable, we're told you can achieve this wherever you are—just press the button on the side and point the tip toward the area you want to clean. From there, it will go to work on the front, back, and in between your teeth, as well as on any crowns, implants, veneers, or other dental work.
The website tells us that additional potentially helpful Sonic Pic features include:
An ultra-bright LED for maximum visibility
Ergonomic design with soft comfort handle
A low-profile tip (including a silicone flossing tip for healthier gums, which can be changed by simply pulling on the head)
Enamel safe operation for adults and children alike
Most of us are well aware of the benefits of good oral hygiene, and of visiting the dentist regularly. But will Sonic Pic really leave your teeth looking and feeling like they were professionally cleaned with an ultrasonic scaler at your dentist's office, as the website claims?
That's just one of the product's central claims we'll help you unpack in this brief article. And to begin, we'll address a few fundamental concepts.
The Basics of How Ultrasonic Scalers Work
Nearly all of us are familiar with traditional scalers; the small metal and plastic hooked tools dentists use—often uncomfortably—to scrape away plaque and tartar from the surface of teeth and from underneath the gum line.
Well, according to McLoughlin Dental Care in Milwaukie, OR, an ultrasonic scaler accomplishes much of the same. But instead of manual scraping, these handheld devices use electromagnetic forces to cause a tiny tip at the end of the unit to vibrate rapidly.
And depending on the type of the device, the motion of this vibration will either be elliptical (oval; magnetostrictive), or linear (in a straight back and forth movement; piezoelectric). Either way, we're told that these devices can range between 18,000 and 50,000 vibrations per second, which means they reach ultrasonic speeds.
Because of the speed and preciseness of professional ultrasonic devices, they can often reach periodontal pockets better than traditional hand scalers, and often deliver a more comfortable experience for patients, since (among other things) they utilize a coolant spray to "flush the area and remove bacteria and their by-products." How does all of this relate to Sonic Pic?
At just 3,000 vibrations per minute, Sonic Pic vibrates much slower than something you might find at your dentist's office, and as such, wouldn't be classified as an ultrasonic device. In fact, most professional ultrasonic scalers measure their cleaning power in kHz, not vibrations per minute.
As such, we think it might be wise to maintain realistic expectations about its overall ability to deliver a similar level of cleaning, plaque removal, or freshness as a visit to your dentist.
How Much Does Sonic Pic Cost?
Ths Sonic PIC toothbrush is sold in units of two for $14.99 plus $6.99 S&H for each brush. That would bring your total to $28.97 plus any applicable sales tax.
While the Registered Dental Hygienists magazine explains that tip wear on professional ultrasonic devices is "subtle, occurring over a period of time," there's no indication on the Sonic Pic website of how long its tips last, if replacements can be purchased through the website, and if so, how much they cost. Or, which motion the device vibrates in, whether elliptical or linear.
To learn more, we tried reaching out to customer support at 844-822-2348 (the toll-free number listed on the site at the time of our research), although we received a message advising it wasn't in service.
Nonetheless, all orders come with a 30-day money-back guarantee, less S&H charges.
What Do We Know About the Company Behind Sonic Pic?
Sonic Pic is manufactured by the Spark Innovators Corporation based out of Fairfield, NJ, who's been in business since 2008. In that time, they've released dozens of popular products.
As a company, Spark Innovators held an A+ rating with the Better Business Bureau, with one negative customer review and 11 closed complaints, as of 1/10/18. When additional details were available, most of these referenced ordering and problems. A company representative responded with a resolution in each instance.
Sonic Pic vs. the Competition: Are There Other At-Home Ultrasonic Scalers?
We encountered many different ultrasonic scalers available for online purchase during our research, although none were battery operated, all featured water flushing capabilities, and the majority was priced in the hundreds—or even thousands—of dollars range. Not to mention the fact that these devices should only be operated by trained professionals, both for maximum results and from a safety perspective.
Even when moving outside of the ultrasonic spectrum, though, we didn't encounter any other at-home, battery operated scalers of any type during our research. As such, if you're looking for a product that delivers even remotely the same features, it appears that Sonic Pic is currently the only game in town.
Does this necessarily mean that you should go ahead and hand over your hard-earned money? In other words, how much value can you expect the device to provide? In the next section, we'll wrap up the article and help move you one step closer to making a more informed decision.
Our Bottom Line About Sonic Pic
Based on what we learned from the product's website, as well as online dental professionals and the Registered Dental Hygienists magazine, it doesn't appear that it will deliver the same ultrasonic speeds as something you'd likely find at your dentist's office.
Because of this, as well as the fact that ultrasonic scalers are typically operated by trained professionals, we remain skeptical that it would deliver the same level of tartar removal or boosted gum health. And even if it did, it's important to point out that scalers are only effective at removing stains on the surface of teeth (intrinsic), and not those located underneath the enamel (intrinsic).
Does this mean it won't provide any cleaning at all, or that it won't help reduce the amount of time your dentist spends hand scaling your teeth during your next appointment?
But if you feel like finding out for yourself, Spark Innovators seems to stand behind Sonic Pic with a 30-day refund policy. Just keep in mind that you'll lose your initial $13.98 S&H charges, plus whatever it will cost to ship the devices back to the manufacturer.
If you're looking to maximize the value of your dollar, though, we'd recommend speaking with your dentist before making any purchases.
» RELATED: How to Choose an At-Home Teeth Whitening System That Works
Worthless device...

By Cathee M.

,

Tennessee

,

Nov 13, 2019
Verified Reviewer

This device is very poorly made. All parts all fitting. Battery was difficult to insert and the end piece did not screw on correctly. Once we got it lined up, the device came on by itself. We could not stop it even pushing the on/off button. Also, no light at all. Waste of money!

Bottom Line: No, I would not recommend this to a friend

---

Worst CS

By Susan M.

,

Wymore, NE

,

Jul 27, 2019
Verified Reviewer

I ordered 3 by mistake. That day wrote them and told them and received a message back that on 6/25/19 my $22 was refunded. I have yet to receive it. The one I kept didn't even turn on. Did not know it was from China. I was not even asking for a refund for the one I did receive since it would be a hassle for me to return it. Today they have me blocked from emailing them.

Bottom Line: No, I would not recommend this to a friend

---

Advertisement

---

Useless

By Denise L.

,

Melbourne, Australia

,

Jul 26, 2019
Verified Reviewer

This gadget is a useless piece of junk which did not even function. After inserting the battery, which took several attempts to even get any response, the light finally came on but the rest of the mechanism was as dead as a doornail. Totally non-functional.

Bottom Line: No, I would not recommend this to a friend

---

Product died after 30 seconds

By Gina C.

,

Florida

,

Jul 24, 2019
Verified Reviewer

I bought the Sonic Pic, put new batteries in it. It turned right on, but after 30 seconds it completely died. Now I have to drive clear across town to get my money back. Don't waste your time on this product. The marketing on the package is good, but the product does not work.

Bottom Line: No, I would not recommend this to a friend

---

Advertisement

---

Junk and a scam

By Anthony B.

,

Brisbane, Queensland, Australia

,

Jun 17, 2019
Verified Reviewer

This is a scam. The product supplied is a very poorly made piece of junk and a complete waste of money. When an AAA battery is inserted and the lid closed, it automatically starts vibrating and cannot be turned off without removing the battery. The On/Off switch does not function. There is no LED light. It is a $30 toothpick that also wastes batteries. Junk. Do not waste your money.

Bottom Line: No, I would not recommend this to a friend

---

Sonic Pic = zero rating

By Pam S.

,

Lansing, IL

,

Jun 4, 2019
Verified Reviewer

If there was a zero rating, that's what I'd choose! No directions for use! Only info about the product. I used it logically. No improvement, waste of my money, waste of my time! POS! Don't waste your money!

Bottom Line: No, I would not recommend this to a friend

---

Absolute rubbish

By Karen L.

,

United Kingdom

,

Apr 13, 2019
Verified Reviewer

I bought this in good faith. It looked plausible. Hey what! The batteries do not fit! So cannot be used! AAA batteries cannot fit into the chamber for the product to function! How pathetic!

Bottom Line: No, I would not recommend this to a friend

---

Cheap made in China crap

By Guy C.

,

New York

,

Mar 22, 2019
Verified Reviewer

I purchased this on February 24th, didn't receive it until three weeks later and it was broken! Trying to get my money back, DOUBTFUL. If they sold this for $3.95 they would still make a $3.00 profit. Even if this worked I could not see this lasting more then a week or two. Cheap, cheap. DO NOT waste your money!

Bottom Line: No, I would not recommend this to a friend

---

Mine was as it should be and said it would be

By Gabriel P.

,

Texas

,

Mar 19, 2019
Verified Reviewer

Everyone says their battery doesn't fit, or something like that, and some people have even put the battery in backwards and got it too hot and thought it was the product, lol. I know there are a lot of people who want to complain and say their product wasn't functional, but that's whack because there must have been a bad batch go out or something. I simply took a (triple A) AAA battery out of my living room remote put it in and used it for about 30 minutes. (Don't press too hard and destroy your enamel, be gentle.) After a week or two of using somewhat regularly, it did make a huge difference. It may have even saved a couple of my teeth. I wasn't taking so much great care of as well. It doesn't work instantly so don't try and force it too. Instant noticeable changes? Yes, but not what you're expecting so soon. For your $5-$10 spent on it (I got mine on eBay for like $7), it's well worth the money, good product.

Bottom Line: Yes, I would recommend this to a friend

---

Utter rubbish

By Christine M.

,

United Kingdom

,

Mar 6, 2019
Verified Reviewer

I got this product and when I tried to put in a AAA battery, it didn't fit. I also realized that this product was very cheap and flimsy for the money, it wasn't cheap.

I contacted the company and they told me it should have been an AAAA battery, which is a penlight battery. I did mention that I wanted a refund, they offered me a 10% discount, which I didn't get. When I finally tracked down the batteries, the device didn't work, and I am now getting no communication from the company.

More cheap, worthless Chinese product, no wonder their economy is shrinking, I hope it goes all the way!

Bottom Line: No, I would not recommend this to a friend

---

It was alright!

By Lynn B.

,

Anderson, SC

,

Mar 2, 2019
Verified Reviewer

Once I tried a four AAAA battery, I was able to get it to work. I bought it at Target for $10. $5 for the battery. It did feel ok. I just had to pay more for the battery. I didn't know they made that size. It's not a miracle worker, but it's alright to take away when you can't use a water pic.

Bottom Line: Yes, I would recommend this to a friend

---