SONICLEAR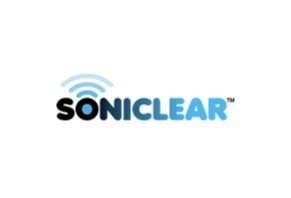 Using rechargeable batteries and a behind-the-ear shape, SONICLEAR claims to provide clear sound for those who are struggling with hearing loss.
SONICLEAR Review: Does It Work or Just Hype?
SONICLEAR is an As Seen on TV, behind-the-ear sound amplifier that claims to provide "sound clarity at an affordable price."
The device is sold by Telebrands Corp, a well-known As Seen on TV company that sells a variety of products. Telebrands Corp products like this one are usually sold online only, although you might find home-related products in As Seen on TV sections in stores like Walmart and Target.
In our review of SONCLEAR, we will tell you how the device works, talk about how sound amplifiers' limitations compared to more expensive hearing aids, then give you a breakdown of how much the product costs and what the return policy is.
We will end our review with a section highlighting this product's pros and cons.
Editor's note: We will use "sound amplifier" and "hearing aid" interchangeably, as the average person tends to use the terms interchangeably.
How Do SONICLEAR Hearing Aids Work?
These hearing aids are behind-the-ear devices, which means they have a receiver that hides behind your ear. It picks up sound and then sends that sound into a clear tube the goes from the amplifier to your earbud.
The sound leaves the tube and travels to your eardrum, providing sound at a higher volume level than what you'd hear if you didn't have the device in.
You can change the volume setting on your SONICLEAR by pushing a slider on the amplifier up and down. The slider includes a perpendicular tab that's easier to locate and adjust than a dial.
When your batteries are running low, you can set your hearing aids in a wired charging dock that comes from with the hearing aids.
The charging dock has a lid on it that you can flip back to so you can put the hearing aids in the dock. You can flip it closed while the aids are charging so they don't accidentally get knocked loose from their charging connection.
SONICLEAR says a full charge will last one day.
Our impression of these various features is that SONICLEAR does well to give you hearing aids you can charge. Fumbling with small batteries can be frustrating; a charging dock eliminates that hassle.
The device is simple, too. The volume slider is easy to locate by touch and putting the device on takes one or two seconds.
Sound amplifiers like these are designed for people with mild to moderate hearing loss.
What Are the Differences Between Sound Amplifiers and More Expensive Hearing Aids?
In our research of numerous hearing aids sold online, we've had the chance to talk to multiple experts about some of the differences between sound amplifiers like the SONICLEAR that cost less than $100 (more on that later) and pricier and/or bespoke options that cost hundreds or thousands of dollars.
Deirdre Worrell, owner of Minneapolis-based North Ridge Hearing Company and a Fellow of the American Academy of Audiology, has told us that the main difference between a sound amplifier alike SONICLEAR and a more expensive hearing aid your specialist would provide is that sound amplifiers amplify all sound whereas hearing aids are tailored to your specific hearing deficiencies.
So, if you're in a loud room, there's a good chance that all noise will increase in volume, not just the conversations you want to listen to.
SONICLEAR's promotional video indicates the sound the device creates is crystal clear. While this sounds appealing, it could be frustrating if you're hearing all noises perfectly and not just one noise, like a human voice.
That being said, Worrell went on to point out that some research indicates folks might be just as happy with a sound amplifier under $100 like SONICARE as they are with a more expensive version that offers a more tailored listening experience.
"The research suggests that consumers are willing to trade off small benefits gained through improved technology for substantial reductions in price," Worrell told us.
SONICLEAR Cost and Return Policy
These sound amplifiers cost $99.99 with free shipping at the time of publishing. You can choose to upgrade your SONICLEAR to a $118.99 version that includes a wireless charging dock.
The company provides a 10-year guarantee. According to their fine print, the guarantee covers any failures due to normal use. If it breaks, you can send it back for a full refund.
The guarantee doesn't cover damage due to "mistreatment, misuse and intentional abuse," though.
Are SONICLEAR Hearings Aids Covered by Medicare or Insurance?
SONICLEAR sound amplifiers are not covered by Medicare because Medicare does not cover hearing aids, according to the American Academy of Audiology (AAA). Hearing implants, which are a far more complex device, are often covered by Medicare.
The AAA points out that your insurance carrier most likely won't cover your over-the-counter hearing aid, either.
Are There Risks to Using SONICLEAR Hearing Aids?
SONICLEAR devices, like most over-the-counter sound amplifiers, provide a one-size-fits-all solution for its customers. Its volume levels aren't tailored to your particular hearing deficiency. This can be a problem, the AAA says.
These types of devices may cause more damage to your hearing over time because they might provide less volume or more volume than you need.
"For these reasons, the American Academy of Audiology recommends that consumers with certain signs and symptoms do not select a direct-to-consumer device," the AAA notes.
Those signs and symptoms refer to the three types of hearing loss: sensorineural, conductive and mixed. Sensorineural affects your ability to hear sounds clearly, whereas conductive muffles sound. Mixed refers to a combination of both.
The key takeaway here is that a visit to your audiologist isn't required to buy an over-the-counter hearing device like SONICLEAR but, if your hearing condition gets worse, it's a good idea to talk with a professional about what's causing your poor hearing.
The Bottom Line: Is SONICLEAR Worth It?
Our research shows that the benefits of these sound amplifiers are clear. The price is manageable if you don't have hundreds or thousands to spend on customer hearing aids from an audiologist.
Second, the charging dock is a convenient way to keep your SONICLEARs charged up without having to fumble with small batteries.
However, the charging dock is also a drawback, in our opinion. If these devices are your only hearing aids, their one-day charge means you can't forget your charger at home if you travel.
If you forget to bring your charging base with you, there's no way to quickly get a replacement base.
Another drawback is that Medicare won't cover these amplifiers (or any amplifiers, for that matter), which means you'll pay the full price for this device.
Also, this device is a one-size-fits-all proposition. The behind-the-ear design may not fit your anatomy.
Therefore, we recommend going to a local hearing aid store to try on different styles of hearing aids. This will help you know which style of a sound amplifier is a good fit for the way your ear is shaped.
Finally, our research indicates that Walmart's website features a variety of similar sound amplifiers ranging in price from $20 to $40. However, these devices receive poor customer reviews.
This is also reflected in customer reviews of similar products listed on our website, where around seventy five percent of ratings are one star.
If you're unsure about buying SONICLEAR sound amplifiers and you want to do more research, read through our Personal Sound Amplification Products (PSAPs): A Comprehensive Buying Guide.