SoniPad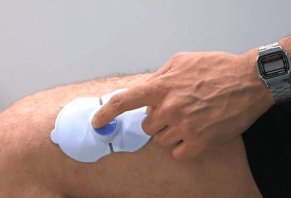 The SoniPad patch uses electrical impulses to block pain signals in your muscles and joints, alleviating pain without the use of medication.
SoniPad Review: Is It Worth It?
SoniPad is a battery-powered patch that uses a well-known electrical impulse therapy called "TENS" to relieve muscle pain without the use of medication.
This type of muscle therapy gives you an alternative to using over-the-counter or prescription medication to relieve muscle pain. Whether you deal with muscle soreness from working out, sports or old age, TENS therapy is a great way to treat your muscles in a simple, effective way without dietary restrictions, dependence and/or side effects that come from medications.
While SoniPad uses a therapy technique that's well-known, it's really important to understand how it works and what factors could make the device more or less effective. Our review will inform you about these factors and help you make a better buying decision.
Pros:
Cons:

Provides temporary relief from your pain without using medication
Easy to use
Cheaper than prescription devices

No replacement sticky pads
Short battery lifespan
More expansive than a wide variety of drug store TENS devices
How It Works
SoniPad ships with the TENS device, gell sticky pads, and a storage tray. To use it, you apply the sticky pads to the underside of the device, stick it to your pain area and turn it on. It has 15 intensity settings you adjust with "+" and "-" buttons.
As it works, the device sends electrical impulses into your muscles, scrambling the pain signals your nerves send through your body. This is what provides muscle-pain relief.
The patch automatically shuts off after 20 minutes. SoniPad uses CR2032 batteries that provide 40 20-minute sessions.
The patch's instruction manual lists specific tips for making sure you're maximizing SoniPad's ability to relieve muscle pain:
You get the best results after a warm bath or shower
Works best on shoulders, legs, neck and arms
Take batteries out after use to prolong their life
Clean the gel pads after every use
That last point is important, as SoniPad does not sell replacement gel pads. Once the pads lose their stickiness, you can't get new ones.
TENS Scientific Efficacy
TENS, or transcutaneous (through the skin) electrical nerve stimulation, has a wide body of scientific research behind it since it became popular in the 1960s.
Common conditions that doctors and therapists use TENS for include:
Joint, bone or muscle pain from osteoporosis
Joint, bone or muscle pain from fibromyalgia
Bursitis (joint-related)
Neck pain
Labor pain
Sore muscles
You should feel relief from these aches and pains shortly after starting your TENS treatment. Once the treatment ends, you'll feel the pain return.
The Takeaway
While SoniPad's marketing and website push its use for sore muscles, the scientific evidence indicates you can try the SoniPad on your achy joints, too. This widens the device's appeal to those who are dealing with arthritis or soreness in joints.
Second, you cannot rely on SoniPad to cure the cause of the pain you feel. View this as a temporary pain reliever. Once the electrical impulses stop, the relief stops.
Finally, the TENS devices your doctor or therapist uses and the ones they prescribe for you have hundreds of combinations of pulse power, frequency, and intensity settings. This means a prescribed TENS device may fit your range of pain levels better than the SoniPad.
SoniPad Safety and Side Effects
Because SoniPad uses electrical impulses, there are some important safety rules to keep in mind:
Don't use it in the tub or shower
Don't use it with heat or ice packs
Don't use it while driving
Use the pads 20 minutes at a time
Don't use it when sleeping
Also, you should not use SoniPad on the following parts of your body: head, private parts, near the heart, mouth, and face.
The main side effect you need to watch for is skin irritation. If you have a burn or rash in the treatment area for more than six hours, you should stop using SoniPad.
Furthermore, you could experience certain side effects if you use SoniPad when you have the following conditions, per the device's instruction manual:
Fever: Could get worse
Menstruation: You may skip your cycle while using SoniPad
Pregnancy and post-natal: Could affect your hormone balance
High blood pressure: May overburden blood vessels
Pricing and Return Policy
You can buy one, two or three SoniPad's at a time:
One device: $69.99
Two devices: $139.99
Three devices: $199.99
Shipping is free but will take up to 20 days.
You have 90 days to start a return if you're not happy with how SoniPad relieves your pain. To start the return, contact MaxDeals, the company that sells SoniPad to let them know you want a refund.
You'll send your return to the following address: MaxDeals Returns; 231 Greymon Dr.; West Palm Beach, FL; 33405
Once you have the shipment's tracking number, send it to the customer service email address.
If the device shows signs of wear, then there's a good chance you'll get a partial refund. You won't know your refund amount until MaxDeals receives and reviews your returned device.
The Bottom Line
SoniPad's use of TENS pain relief is well-supported by science and has been in use in medical settings for more than 40 years. There's a very good chance that the device will provide some level of pain relief for your muscles and joints.
While the device's scientific backing is very strong, there are possible issues with its sticky pads and battery life that bring its longevity into question.
If the lack of replacement pads makes you wary of investing around $70 in this product, your local drug stores and Walmart sell a wide variety of TENS devices at $70 and under. Many of these devices' have replacement pads.