Soothe Reviews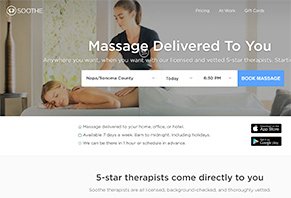 Soothe makes it easy to book a last minute massage. Available in over 50 cities, Soothe delivers a licensed massage therapist to your doorstep in just one hour.
About Soothe
Feeling tired, sore, and a little run down? A professional massage from Soothe might be just the thing to revive your body and mind. Of course, enjoying the expert touch of your favorite massage therapist usually means scheduling up to two weeks ahead—which doesn't offer much in terms of immediate relief.
Soothe aims to eliminate the need for advanced scheduling by offering massages where and when you want them.
This on-demand, mobile massage service promises to deliver a certified, licensed, and insured massage therapist to your door in just 60 minutes—anytime from 8 am to midnight, seven days a week.
What Types of Massage Can You Book Through Soothe?
Soothe customers can choose between four different types of massage: Swedish, deep tissue, sports, and prenatal. Here's a quick overview of the difference:
Swedish massage focuses on long strokes, gentle kneading, and circular movements that help you to relax.
Deep tissue massage concentrates slow, forceful strokes to target deep muscle layers and connective tissue.
Sports massage aims to boost your flexibility and endurance by targeting muscle-tendon junctions.
Pre-natal massage helps to lessen the discomfort of pregnancy, alleviating backaches, stiffness, leg cramps, headaches, and swelling.
Any of the four types of massage can also be booked as a couples massage by ordering one therapist for two back to back appointments or two for simultaneous massages.
Where Can You Get a Soothe Massage?
Soothe massage therapists come to wherever you are, including your home, office, or even a hotel—ideal for unwinding after a tough day of travel.
For employers exploring ways to reinvigorate their workforce, Soothe also provides in-office chair massage through the Soothe at Work corporate wellness program. Soothe at Work can be scheduled as a one-off event, or scheduled weekly.
Are your shoulders already tingling at the chance to receive a professional rub? Chances are, Soothe is already available near you.
Since 2013, Soothe has expanded to offer service in over 50 cities across the US, UK, and Canada. Their locations include all of the cities that you'd expect (New York, Seattle, Los Angeles, Chicago) and many smaller cities that don't normally see service from a new company so quickly.
You can check out a complete list of locations served by Soothe here.
How Experienced Are Soothe Massage Therapists?
Soothe is kind of like an Uber for massage therapists—if Uber drivers were all trained, certified, experienced, and carefully vetted. So, primarily just in the sense that Soothe massage therapists are independent contractors.
This is how Soothe is able to provide on-demand services, and massage therapists available through Soothe's network might even work elsewhere as well, but we're told that the network maintains notably high standards.
First, to work with Soothe, a massage therapist must prove that they're licensed and certified in their area.
We reached out to Soothe to ask what kind of experience a massage therapist needs to have before joining their network, and were informed that requirements for certification vary by location, but it generally requires around 500 hours of experience.
To ensure that Soothe massage therapists are top-notch, the company maintains liaisons in each of the cities that they operate. Massage therapists applying to be part of the network have to demonstrate their ability with a practical massage.
How To Schedule a Soothe Professional Massage
To set up an appointment with Soothe, you can visit the company's website, download the app (iOS and Android), or call their scheduling service at (800) 960-7668 (available 24/7).
Scheduling a Soothe massage takes about 60 seconds and is as simple as answering a few questions, such as your address and contact information.
Also be sure to include any necessary parking information that your massage therapist will need. (If they get a parking ticket during your massage, Soothe asks that you refund the cost.)
Soothe customers are invited to select your desired massage type, choosing between Swedish, deep tissue, sports, and prenatal. You'll also specify how long of a massage you want, which is the only variable in the cost (more on this shortly).
Finally, Soothe gives you the option to state if you'd prefer a male or female therapist, or to say that either is fine.
If it's your first massage through Soothe, the service will match you with a massage therapist who's available and experienced in your preferred style. But, otherwise, you're not given the option to choose anything other than specifying gender.
You can rebook with that same therapist in the future—just know that they might not be available if requesting an appointment on short notice.
What about rebooking with the same massage therapist outside of Soothe? That's not allowed—the company works on the honor system, but asks that customers and massage therapists keep their bookings within the service.
What To Expect When Ordering a Soothe Massage?
Your massage therapist will arrive with everything he or she needs to perform your massage, including a massage table, fresh linens, lotions, oils, and even music so that no aspect of the soothing spa experience is left out.
Before starting, he or she will ask you a few questions to learn if there are any specific areas in which you're experiencing pain, stiffness, or discomfort. This brief chat allows them to ascertain if there are any spots that you'd like your massage therapist to concentrate on—and if there are any that should be avoided.
Soothe states that customers are free to undress to their level of comfort—undergarments on or off is completely fine. Your massage therapist will give you a moment of privacy to get comfortable and slide under the sheet, and is trained on how to position the covering throughout your massage so that you're never over exposed.
How Much Does a Soothe Massage Cost?
Soothe's pricing is straightforward; the cost is the same for each type of massage and only varies depending on the length of your appointment:
60 Minute massage is $99
90 Minute massage is $139
120 Minute massage is $169
Does calculating the gratuity ruin your post-massage state of zen? Another way that Soothe simplifies the process is by bundling the tip in with the cost of your massage—there's no need offer an additional gratuity.
Note that Soothe doesn't accept health insurance as payment. So, if massages are covered under your plan, it's up to you to see if your insurance company will allow you to self-claim and file for reimbursement.
Soothe Massage Cancellation Policy
Because Soothe offers massages on such short notice, their cancellation policy is understandably strict.
If you've booked a massage a few hours or days ahead, you can cancel or reschedule your appointment up to one hour before the appointment time with no penalty fee. However, once it gets within an hour, the fees are worth noting:
If you reschedule with less than 1 hour's notice, you will be charged a $35 fee.
If you reschedule with less than 30 minutes' notice, you will be charged a $50 fee.
If you cancel with less than 1 hour's notice, you will be charged $50 fee.
If you cancel with less than 30 minutes, you will be charged the full amount of the massage.
The only exception is if a therapist hasn't yet been assigned to your appointment, at which point you won't be charged.
What Are Customers Saying About Soothe Massage On Demand?
Shelling out for a disappointing massage is an awful feeling. So, customers are usually pretty vocal when a massage service is subpar.
Diane Henderson of Out Travel writes that the service allows her to order an at-home massage without worrying about any potential safety concerns that normally come to mind as a solo lady. And, for the massage itself? Henderson couldn't have been happier.
Head over to Soothe's Facebook page and read more comments from happy customers.
There was one, singular remark from a customer who'd had their Soothe massage therapist not show up. Others pitched in to say that the experience must have been a fluke and that Soothe's customer service was always on point.
Sure enough, within a short time of posting, Soothe's customer service had responded to correct the situation.
From usability and convenience to the quality of massages offered and customer service, Soothe appears to receive rave reviews all around.
Should You Book a Massage Through Soothe?
With prices ranging between $99 and $169 for anywhere between one and two hours, you're likely to pay more for your Soothe massage than with your local spa.
With this said, Soothe only hires select therapists and helps ensure they receive fair pay. For the added money, your gratuity's also included—and what could be more convenient then having a massage therapist visit your home?
And, that's important. Not just because you want to ensure that anyone invited into your home is a vetted professional. But, because improperly applied massage techniques can lead to muscle injury and even blood clotting—an important reason not to just settle for the cheapie foot massage parlor down the street.
If, at this point, you're yearning for a massage, we certainly don't blame you!
Sure, you could drive over to a local spa, but by the time you get ready, drive there, and check-in, your Soothe massage therapist could have been at your home—and that's assuming your local spa has an immediate opening.
From a consumer perspective, the overwhelmingly positive reviews of their services combined with the convenience of being able to order a massage on such short notice make Soothe Massage On Demand a service that's worth ordering anytime you need to wind down.
Vaseline nightmare

By Mark W.

,

Boston, MA

,

Oct 29, 2019
Verified Reviewer

The therapist used Vaseline...didn't alert me to this until afterwards. Was wondering why there was too much friction.

Filed complaint with customer service only to be ghosted by their online chat customer service representative. Called twice and used their call back customer service line...twice...still no response.

Unethical, unprofessional, avoid this trainwreck of a company.

Bottom Line: No, I would not recommend this to a friend

---

Non-starter

By J S.

,

London, England

,

Jan 17, 2019
Verified Reviewer

I booked the appointment. I was called an hour later saying that a therapist was not available and would I like to re-book? No.

Ok, your payment will be released back you within 7-10 working days.

Excuse me?

Bottom Line: No, I would not recommend this to a friend

---

Advertisement

---

Soothe has CUT their massage therapists' pay

After four years in business, Soothe has decided to CUT the therapists' pay. That's right, not a raise, but a pay cut. They have received over $50 million in funding and continue to grow, but now CUT their therapists to pay for advertising. Many angry therapists and customers. There is a petition circulating. Please support the therapists and get this pay cut reversed!

https://www.change.org/p/soothe-inc-stop-the-massage-therapist-pay-cut.

Bottom Line: No, I would not recommend this to a friend

---