Spark Cash Business by Capital One Reviews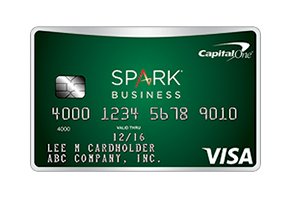 The Capital One Spark Cash for Business card offers a $500 bonus and unlimited 2% cash back on all purchases. Is it worth a try? We've got the answer.
About Spark Cash Business by Capital One
Capital One's Spark Cash for Business Credit Card is currently running an offer for a $500 bonus if $4,500 is spent in the first three months, as well as a waived $59 annual fee.
For business owners, this card's introductory offer is attractive because of the cash bonus and the yearly cash rewards. But we've learned that making a decision about a credit card should be more than the introductory offer.
So, we've examined the ongoing benefits of the card, its security features and the fees/charges you can expect. We've also compared it to other cards and taken a quick look at what fellow business owners are saying about it.
Over the next few minutes, we'll touch on each of these areas and then offer our conclusions about the Spark Cash business card.
What Are the Ongoing Benefits of This Credit Card?
The big draw for this card is its unlimited 2% rewards on all purchases (balance transfers are not included). These awards are available at any time. You can put them toward your statement balance/individual purchases, or you can request they be sent to you by check whenever you want or at a scheduled time every year.
Capital One also allows you to add cards for your employees. When they make purchases, you get the rewards. Also, you can download all purchases into Quicken, QuickBooks and Excel formats for, as Capital One puts it, "easy accounting."
There aren't foreign transaction fees, either.
Our opinion is that this card's benefits aren't flashy because it offers the basics with a modest reward percentage. Compared to other consumer credit cards, they're downright paltry. However, when compared to other business cards, this one's 2% is a pretty good deal (more on that later)
What Kind of Security Features Does this Card Offer?
The security issue is an important one, in our eyes, because you'll most likely be issuing several cards to your employees or colleagues.
Capital One will send you real-time alerts if there are fraudulent attempts to use your card and you aren't liable for any charges made after you report your card lost or stolen.
Also, you'll have collision damage waiver (CDW) when you use your card to pay for a car rental.
The Spark also has a chip for added security, but if you're traveling overseas you'll need to ask Capital One for your card's PIN, since many kiosk-type payment stations (parking garages, metro stations) require a chip and a PIN.
We think these security features are pretty run-of-the-mill and are standard among business credit cards as well as consumer credit cards.
What fees and charges can I expect?
The Spark Cash card has a $59 annual fee and an annual APR of 17.24%. Late fees can be up to $39. If you make two payments at least three days late in any 12-month period, there's a chance Capital One will bump up your APR to 29.65%. If that happens, your best bet for getting them to lower your APR is to pay on time for 12 consecutive billing cycles.
It's important to understand your yearly APR because, according to Creditcards.com, about half of business owners carry a balance on their credit cards. That means there's a decent chance you'll be paying an APR.
How Does the Spark Business Card Compare to Others?
The Spark Cash card's competition isn't as fierce as you would find in the consumer credit card world.
In terms of your cash-rewards percentage, the Spark is a solid bet because no other business card offers 2% in cash rewards. American Express' Starwood Preferred Guest card shells out 2.3% in hotel/airline points. Chase's Ink Plus hands out 1% in travel points. American Express' Plum card carries a decent 1.5% cash back rate, but it also has a $250 annual fee after the first year.
The Spark also ranks high for its $500 bonus offer. Only the Amex Starwood and the Ink Plus have higher intro offers ($575 and $600, respectively).
Our opinion is that this card is an excellent choice for those who want straight cash, not miles or points. If you spend $2,000 a month on the card, you're looking at nearly $1,000 in rewards in the first year. We think that's a pretty great bonus check.
What are Fellow Business Owners Saying About This Card?
Sometimes it's best to hear the opinions of your fellow consumers, right? Knowing this, we took a look at several popular credit-card sites to see what others are saying about the Spark.
Capital One's Spark rating page shows an average rating of 4.3 stars with 87% of 525 reviewers saying they recommend the card. It received praise for customer service, ease of getting information, the 2% reward and, in one case, prompt handling of a fraudulent charge.
The Spark fared slightly worse on consumer credit site CardHub, where it received a 3.8-star rating from 251 reviews. Many reviewers praised the unlimited 2% rewards, while one person pointed out that she didn't like the penalty APR and late fees.
So, What's the Conclusion About the Spark Business Credit Card?
We write a lot of reviews about consumer credit cards that boast big offers of 5% cash back, so the Spark's 2% offer didn't seem so exciting at first.
But we really like how the card doesn't have a limit on your rewards and how you can get a sizeable $500 bonus in the first three months. Also, compared to other business card, the 2% cash back tops the charts.
The security features on the card are pretty standard, so we don't think the Spark really sets itself apart in this area.
All in all, we think this card is an excellent fit for business owners who want cash back instead of travel points.
However, keep in mind that you'll be paying a 17.24% APR if you keep a balance (which includes about half of all business owners).
How does that affect you? For the sake of example, if you put $15,000 on your card in the first three months and only pay the minimum (1%) for the first 12 months, you can expect at least $2,550 in interest charges in the first year. That nullifies your $800 reward (bonus plus 2%) in a heartbeat.
Our advice? Use this card if you can pay it off every month. Otherwise, it may not be worth it.
Tired of constant fraud reviews

They keep locking the card for fraud protection three times a week. Why do they constantly need to verify it?

Bottom Line: No, I would not recommend this to a friend

---

Capital One Business Visa liars!

By Tella Bon

,

San Francisco, CA

,

Oct 19, 2017
Verified Reviewer

Don't bother with Capital One Business Visa. Capital One is the biggest amount of liars around.

First and foremost, if you get some dink from Indonesia, hang up the phone and demand to speak with a US rep. Overseas they will lie to your face, and they will put you on hold purposely while you're talking, and they are the rudest of all. They will talk while you're talking and they love to lie and play games.

This isn't the first time. Every single time and for the 6th time in 2 months, just like the guy below says, they keep locking accounts for no reason. They locked my account for a $20 worth of gas one town away from my billable address. Mind you, I'm making multiple payments a week to this card and have about 10,000 transactions, and now all of the sudden you put $1 on the card and fraud gets alerted?

Spending hours on the phone with morons for them to just yes you to death only to have the same problem happen 24 hours later. This person from Indonesia is trying to tell me that I have pending authorizations (mind you they already posted) as the reason why the card isn't working. There's nothing in pending (which by law they were supposed to show it, so the person is lying).

Then we go through every single transaction with a calculator and come up with the same numbers. Then all of the sudden he makes up some B.S. excuse to side with whatever B.S. the screen shows. My available balance shows a balance, and there's nothing that's pending, but yet I have no credit available, not to mention a payment I made. Total lying people.

Bottom Line: No, I would not recommend this to a friend

---

Advertisement

---

Of course there is a catch!

By John Phelan

,

Colorado

,

Jul 24, 2017
Verified Reviewer

Capital One needs to find ways to pay for this without actually charging you explicitly. So they will, and do, hold your deposited funds without allowing you to draw upon them (they call that "uncollected funds") for a few days; even though they have your deposited money on hand, they will refuse to grant you access. This increases their average cash available to the bank at no expense to them. If you really don't care about that, could be a fine account for your business, maybe.

Bottom Line: Yes, I would recommend this to a friend

---