SpeedOut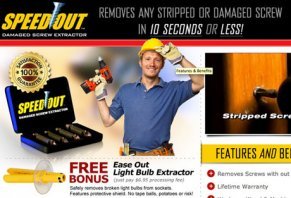 SpeedOut is an "As Seen on TV" product that's claimed to easily remove almost any kind of damaged screw or bolt in 10 seconds or less, without any drilling.
SpeedOut Review: Does It Really Work?
SpeedOut is a damaged screw and bolt extractor that's claimed to work with any drill, while using a patented process that removes any stripped or damaged screw in 10 seconds or less, even if you break off the entire head.
Each SpeedOut extractor is claimed to be made of professional-grade hardened steel, and to remove most types of screws and bolts, including Phillips, flat, hex, bare, or painted over.
According to the manufacturer, SpeedOut works over 2 steps:
Drill out the damaged area using one end of the SpeedOut bit.
Then, flip your SpeedOut over and use the extracting end to pull the screw right out.
Can you really expect SpeedOut to work as well as the manufacturer claims and to provide good value for your money? Consider the following:
Other Screw and Bolt Extraction Tools
First, although many "As Seen on TV" manufacturers like to make their products seem revolutionary, they're often just different takes on existing ones.
For example, if you type in the phrase "screw extractor" or "bolt extractor" into your favorite search engine, you'll find that they can purchased for less than what you'll pay for SpeedOut—especially considering the high, non-refundable S&H charges (more about this in the Pricing section). In fact, these types of tools are so popular that they're almost certainly available at a hardware or home improvement store near you.
Is SpeedOut Really Easy to Use?
For the most part, this depends on what you mean by "easy."
In other words, extractor sets (like those mentioned in the previous section) will require that you first use a drill bit into the broken screw or bolt, remove it, and then use the extractor bit. And getting the right "feel" for the process might take some trial and error.
On top of this, most of these kits feature heated and tempered steel for good performance and longer life. However, we're not told much about the metal used in SpeedOut, other than it's "hardened" steel. And as we'll read more about in the Reviews section, this could mean everything.
Finally, if you're trying to remove a small screw that's highly damaged, it might take some creative thinking to get it out of place, which is often only learned from experience.
What Are Customers Saying About SpeedOut?
Since writing our original SpeedOut review, 29 HighYa readers have provided feedback about their experience, ultimately rating it an average of 1.5 stars and only 7% claiming they'd recommend it to a friend (as of 6/6/15).
This is based primarily on common complaints surrounding poor quality (steel is soft, bits strip or break easily), failure to work as advertised (the process isn't as easy as the manufacturer makes it seem), and poor customer service.
The SpeedOut extractor seemed to fare a bit better on Amazon.com, where it averaged 3.7 stars based on 394 customer reviews, although many complaints seemed to mirror those found here on HighYa. However, it's important to note that many of SpeedOut's positive Amazon reviews came from accounts where this was their only review (or where all reviews were posted within a very short time period), which is often an indication they might be fake.
SpeedOut Pricing and Refund Policy
SpeedOut is available in 3 different purchasing options:
1 Set (includes 4 different sizes of extractors): $19.95
2 Sets: $31.90
5 Sets: $59.85
Although S&H is free regardless of the number of SpeedOuts you order, you will be assessed a $3.95 "processing fee."
At checkout, you'll also be able to order an Ease-Out light bulb extractor for an additional $5.95 S&H, which claims to feature a protective shield that can help you safely remove broken light bulbs from sockets, without having to use tape balls or potatoes.
SpeedOut comes with a 60-day refund policy, less S&H charges—although this only applies to unused products, as well as a lifetime replacement guarantee.
In order to request a refund or process a replacement claim, you'll need to contact customer service at 855-355-0417.
Important note: Remember that the ultimate goal for any "As Seen on TV" product is to make it to store shelves. This means that due to the popularity of SpeedOut, you'll also find it sold through Target, Bed Bath & Beyond, and many other third-party retailers.
Can You Expect SpeedOut to Work as Advertised?
Considering the shaky online reputation for SpeedOut based on a series of common complaints among consumers, it's our opinion that the extractor set may not work as well as the manufacturer makes it seem.
As such, we might recommend searching for local options from more mainstream manufacturers, which might ultimately provide you with better performance and more value for your money.
SpeedOut SUCKS

By Davon R.

,

San Antonio, TX

,

Nov 9, 2019
Verified Reviewer

We bought this product, a 4-pack, and it didn't work at all. Says GREAT FOR USE WITH IMPACT DRILL! Wrongggggg. Then you can't find the customer service number to call about a refund!! Someone needs to contact us back.

Bottom Line: No, I would not recommend this to a friend

---

Biggest extractor broke inside bolt

By Kyle B.

,

Florida

,

May 6, 2019
Verified Reviewer

I used the biggest extractor out of the set to try and get a bolt out. The extractor grabbed on, but when trying to spin it out the extractor tip snapped inside the bolt. Now I have to try and drill through the snapped piece and extract and extractor out.

Bottom Line: No, I would not recommend this to a friend

---

Advertisement

---

1 out 5 people found this review helpful

Saved me $800

By Rob Pearson

,

Los Angeles, CA

,

May 24, 2017
Verified Reviewer

I over tightened the hex nut on my $800 Fox mountain bike's front forks headset bolt and sheared it off flush with the top surface. I was able to remove the bolt with this product. This is the first "3 am, can't sleep" TV purchase I have ever made. It looked like it would be useful.

Well, six years later and after a bit of hunting to find it in my toolbox, it was. I was screwing into a 4mm bolt shaft so I needed to use a much smaller drill bit to create a pilot hole. Then the drill end of the speed out to widen the top of the hole then attached it to a powerful low rpm drill, pushed hard on it and the broken bolt shaft came out easily on the first attempt. If this bolt could not have been removed, my forks would be useless.

I recommend this product!

Bottom Line: Yes, I would recommend this to a friend

---

8 out 8 people found this review helpful

Does not work

I bought the titanium set, but when I tried it, it wore out two bits and the screw was untouched. They are junk.

Bottom Line: No, I would not recommend this to a friend

---

Advertisement

---

7 out 7 people found this review helpful

SpeedOut is a Disappointment

By Jenn

,

Texas

,

Nov 8, 2016
Verified Reviewer

I needed to remove the cover of a baby stroller that was held in place by small phillips head bolts and rectangular plastic washer-type fasteners. I used my MIlwaukee Impact to remove all but one bolt which began stripping out. I have a Dremel and was going to use that to re-slot the head but remembered my parents had bought a Speed Out set for Christmas and thought since it was specifically made for this purpose, it would be easier and quicker than the Dremel method. WRONG!

I read the entire instructions that came with the SpeedOut set before using it - followed them exactly but after drilling with the first side of the bit, then flipping, I still could not get the bit to grip into the head enough to extract it. I thought perhaps I didn't do it right - after all, I am a chick and had never used anything except a Dremel to get out a stripped screw, so I got online and watched the how-to video on their website. I didn't see any steps that I didn't do or did differently.

So I tried again, using the next larger size bit - since the hole was much larger now and still could not extract the bolt. When my boy friend got home, I explained my problem and what I had already tried and left it to him. Well here it is almost 3 months later and the stroller is outside rusting on the porch with the cover still attached by that one bolt. In a nutshell - SpeedOut is a not a good name for the product - it isn't speedy and it didn't get my bolt out.

Bottom Line: No, I would not recommend this to a friend

---

8 out 8 people found this review helpful

Speedout your money

By John

,

Ventura, California

,

Jul 27, 2016
Verified Reviewer

I am a local handyman and decided to buy this tool specifically for removing a stripped out heads that are in railings and grab bars, as usually one or two of the six that are used to put in become stripped out when removing. I tried this tool on three different types of screw manufacturers, it worked on none of them. It was a waste of time. I've since gone back to using vice grips to twist out the screws manually. The directions were simple to follow, and I followed them as directed, unfortunately it made no difference. The only thing the Speedout is good for is removing money from your wallet. Sorry guys, I would not recommend this. Just my opinion.

Bottom Line: No, I would not recommend this to a friend

---

7 out 7 people found this review helpful

Does not work

By Steve

,

Kansas

,

Jul 4, 2016
Verified Reviewer

Steel is way too soft. Won't drill a recess deep enough for the spiral extractor to grip. Don't waste your time and money.

Bottom Line: No, I would not recommend this to a friend

---

27 out 27 people found this review helpful

Bait and Switch

By Bob R

,

Washington

,

Aug 8, 2015

Went to order a set of these for myself thinking its a pretty good deal. The order process was easy but required your credit card up front. Once the order was processed, with name address etc, they offered an upgrade of 1 unit at 19.95 and a second at 10.00. Sounded good. I said yes. This also stated free shipping and no processing fees. even better. Order went through then the bill for 73.00 dollars came up? What the heck? E-mailed the customer service right away to stop the order or have it corrected. No luck. Waited until product arrived. Three came in package, again what the heck?

Called the Customer service number on the package only to be told they have "Upgraded me to the Pro unit at 29.95 each" Again, what the heck? Said they would allow me to return them for refund using the order number as an RMA. Scared that it may be lost in shipping or wait forever for my money back I decided to try and sell them at work.

If this doesn't work I will try to send them back with return receipt and hope for the best. Bait and switch. Buyer beware.

Bottom Line: No, I would not recommend this to a friend

---

7 out 8 people found this review helpful

Speedout review

By Dave

,

Colorado Springs, CO

,

Jul 23, 2015

This cheap. I was trying this on the first of two wood screws I had to remove and following instructions, I broke two of the smaller bits almost immediately. At first they just spun, the "drill" didn't dig in the metal and the extractor broke off in pieces. Why do we keep buying cheap Chinese crap? I wish I had read these reviews first. I spent just about $10 or so bucks at Walgreens in the "As seen on TV" isle so I wasn't out too much. Don't buy them.

Bottom Line: No, I would not recommend this to a friend

---

1 out 7 people found this review helpful

SpeedOut Purchase

I went down to my local Walmart and I saw the SpeedOut in their "As Seen on TV" section. I purchased it at the store for only $19.94. I did not have to worry about any shipping and handling. It was right there in the store. Yes, it is available in stores. I'm very happy with the product so far.

Bottom Line: Yes, I would recommend this to a friend

---

5 out 7 people found this review helpful

SpeedOut works.

By Tom Fergus

,

Jul 9, 2015

This product worked perfectly on a steel screw that was in with loctite. It absolutely got me out of a bad jam. Received it as a gift so no experience with telemarketer's.

Bottom Line: Yes, I would recommend this to a friend

---