Spinn Coffee Reviews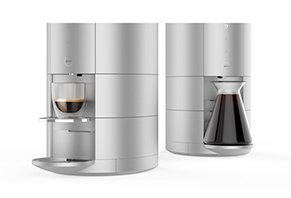 Spinn Coffee attempts to split the difference between traditional coffee machines and convenience capsules, promising a variety of better coffee and zero waste.
About Spinn Coffee
Tired of Nespresso or similar capsule coffee makers that create waste while only brewing up one type of beverage? Spinn Coffee offers an eight-in-one coffee machine that works at the touch of a button, without creating any waste or mess.
What claims does this countertop brewer make that stand out from the pack? It comes down to variety, convenience, taste, and environmental consciousness.
Spinn Coffee promises that their next-generation brewing machine will wake coffee lovers up to a world of options for sourcing fresher, tastier beans—as well as high-tech features that ensure you get the perfect cup.
The brand's commercial claims that coffee lovers are so used to buying beans from "large corporates who only care about their sales," that we don't realize how many local roasters there are who have a genuine passion for creating great tasting coffee.
To help you break out of buying beans from the same old' store or local franchised coffee shop, Spinn Coffee pairs their machine with a smartphone app that helps you discover and buy from both local and national independent bean roasters.
Equally bad to paying top dollar for burnt beans, Spinn Coffee states that we've grown too accustomed old-fashioned machines that create a lot of waste. They claim that the total amount of pods that are thrown away each year could be lined up to wind a string around the earth 20 times.
Spinn claims that their machine doesn't just create a better cup of coffee—but a smarter way to brew. The Spinn Coffee machine uses only beans—no capsules, filters, or pods—so that there's no environmental waste. Spinn claims that their bean-only machine also means that your morning habit is a lot cheaper to maintain.
Who's Behind Spinn Coffee?
Roderick de Rode, the co-founder of Spinn Coffee, has an extensive background in tech. How did he get started in the coffee business? According to an interview with Highway 1, de Rode met his current partner, Roland Verbeek, on a bike trip through Death Valley.
Verbeek shared that he held a patent on a machine that brewed coffee using centrifugal force. The two soon-to-be Spinn Coffee co-founders kept in touch and started brainstorming ideas on how to make a coffee machine that used both this innovative way of brewing and offered connectivity to a user's smartphone through apps.
In addition to the co-founders, Spinn's coffee advisor, Dick de Kock, brings noteworthy experience to the (coffee) table. Prior to joining the team, Dick founded CoffeeCompany, a Netherlands-based retail chain and has deep experience with everything from the Cup of Excellence to Ecuadorian agricultural research.
The Spinn Coffee team is currently made up of 21 members whose bios are available on the company's website.
How Does Spinn's Coffee Machine Work?
Because Spinn Coffee is yet to launch (more on that soon), the company is staying hush on some details of their machine.
According to the company's official website, the Spinn Coffee machine works using centrifugal force—when mass is forced away from the rotating center of a spinning object. (Hence the name "Spinn.")
The website goes on to state that Spinn can be used to make all your favorite styles of coffee, including espresso, lungo, americano, and French press. But, no further information detailing how the brewing machine works are given.
Thankfully, the folks at TechCrunch got the chance to witness the Spinn Coffee machine in action and have provided a few more details.
According to TechCrunch, the Spinn Coffee machine houses beans in an airtight cylinder designed to keep them fresh. (More on what happens when your coffee supply gets too low soon.) Water is also kept in a reservoir on the machine's backside. While both need to be refilled by hand for now, Spinn states that they're looking into having a plumbed-in version for automatic water refilling in the future.
To begin brewing, simply select which style of coffee you prefer. The Spinn Coffee machine grinds beans to the coarseness specified by your chosen setting. Grounds are then released into a cylinder, where they can brew while sitting, being agitated, or spinning at varying speeds. That last option forces hot water through the grounds in a way that simulates the pressurized brewing method of an espresso machine.
How does it create so many different styles of coffee? "It uses eight parameters in the brewer," explains Spinn co-founder Roderick de Rode.
The Spinn Coffee machine can combine a very fine grind with a smaller amount of water to get espresso-style coffee. Or, continues de Rode, to achieve a French press-style brew, the machine first "rocks" the grounds before spinning them out.
Another bonus according to de Rode? There's no mess.
Spinn's smart machine drains the grounds of any water, before shooting them out "dry as a bone" into a waste container.
How Spinn Makes Brewing Coffee Even Smarter
The Spinn Coffee machine also has some high-tech features, including built-in sensors that will connect with your smartphone via an app. The app is both an online marketplace for customers and a remote for the Spinn machine, itself.
Using Spinn's smartphone app, you can shop from both local and national roasters. Interested in trying out some new beans? The app includes reviews, product comparisons, and pricing.
Spinn owners can add multiple selections of beans to their list. If your Spinn machine is running low on coffee, it will automatically order more. Without any further action on your part, the new beans will be delivered directly to your door.
Aside from ensuring that you never run out of coffee beans, Spinn's app also allows you to:
Set a brewing timer
Adjust brewing settings
Explore brew recipes
Get technical in barista mode
Remote start your brew
If you have a hard time finding the motivation to start your day without the first cup of coffee, it's that last feature that might be extra appealing. Just imagine a winter weekday morning where, instead of shuffling across a freezing kitchen floor, brewing a perfect americano is as simple as grabbing your phone, opening your app, and selecting "start"—all from bed.
Not the only coffee lover in your home? There's no need to fight over the first brew—the Spinn Coffee machine can produce anywhere from one to six cups at a time.
Additional Spinn Coffee Machine Specs
The Spinn machine might be able to replace your French press, drip and espresso machines in usefulness. But, not to worry, it won't take up the space of all three on your countertop.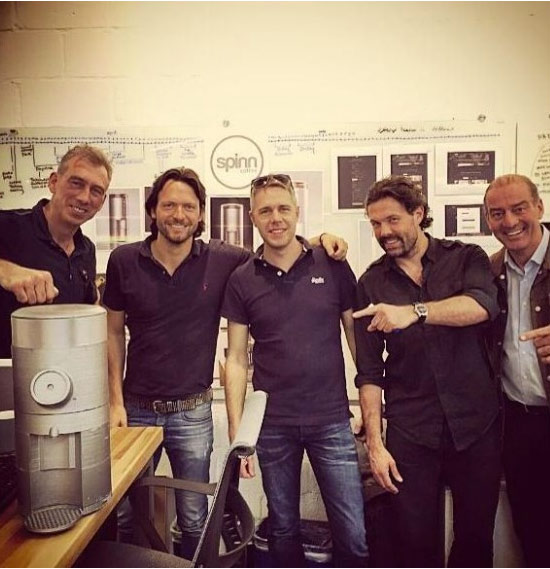 Image via Daily Coffee News
Cylindrical in shape, the Spinn Coffee machine prototype shown to TechCrunch stands at approximately 17 inches tall and 7 inches wide.
With all that the Spinn machine claims to accomplish, it's also important to note what it won't do: Steam your milk. For lattes, cappuccinos, and other dairy-infused coffee drinks, you'll need to use a separate device called a milk frother. (These range anywhere from $6-$40.)
How Much Does A Spinn Coffee Machine Cost?
The Spinn Coffee machine is so new, not only is the product not yet available for order, pre-orders don't even start until fall 2016.
Spinn's official website doesn't list a retail price yet either. Although, Daily Coffee News estimates that the machine will cost $499.
Customers interested in hopping on Spinn early might be able to score a discount on the device by pledging for their up-and-coming crowdfunding campaign. (If you can pledge early enough, that is.)
We reached out to ask about the possibility of an early bird discount and received a prompt and friendly answer from Spinn co-founder Roderick de Rode.
Roderick confirmed that Spinn is running a preorder campaign this fall that would make the machine available for $299—which is 40% off for supporters. Pledging to support Spinn's campaign would also include $50 in "coffee credits" through Spinn's app so that beans are delivered when you start running low.
The price of the credits would be added to that of your Spinn preorder, bringing the total of an early bird special Spinn plus coffee credits to $349. When would it be delivered?
Spinn's goal, according to Daily Coffee News' report, is to have the machine on customer's kitchen counters by the first quarter of 2017. For those interested in learning more, Roderick encourages signing up for their newsletter at www.spinn.com.
What's Spinn's Return Policy?
While Spinn might not have released their pricing model or opened the door for pre-orders yet, the company's official website does have a return policy listed. Returns must be made:
Within 45 days of the date of original shipment for any reason.
Within 1 year of the date of original shipment for a defect.
Note that this warranty only guarantees Spinn products purchased from their official store (which is yet to open) and that pre-orders—particularly those that are discounted due to early-bird special pricing—might be subject to different return policies.
How Does The Spinn Coffee Machine Compare To Alternatives?
Before we compare the Spinn Coffee machine to alternate brewing methods, let's quickly recap its claimed benefits:
The Spinn Machine can create a variety of styles of coffee, including drip, press, and espresso.
It's environmentally friendly, in that no filters or pods are used.
Spinn claims that there's no clean-up, as all moisture has been removed from grounds.
Spinn's app offers wireless controls to remote start or adjust your brew.
Spinn's marketplace offers access to a wider variety of beans than you might find at your local store.
The machine also wirelessly communicates to order more beans when you're running low.
Now, how does Spinn compare to other methods of brewing coffee?
Spinn vs. Drip & French Press Coffee
If you stick mainly to traditional drip or French press coffee, the benefits of Spinn might be negligible.
That's because French press brewing doesn't require filters and drip coffee makers can be fitted with a reusable filter (about $5), which reduces any environmental impact. Additionally, many high-end coffee makers come fitted with a timer that allows you to program a start time for your morning brew.
Granted, these two options do require you to rinse out wet grounds. There's also an absence of a smartphone application and marketplace giving you access to independent roasters.
Bottom line? If you're happy sticking with basic drip or French press coffee, the extra styles and connective application offered by Spinn might not be worth the machine's high price tag.
Spinn Coffee vs. Espresso Machines
Even if you love espresso-style coffee, you might be intimidated by traditional machines. There's a small learning curve to pulling a perfect shot, and clean-up (especially if you froth milk using the machine's stem) can be time-consuming.
Pulling shots is also time intensive. I use mine several times a day, and doing so takes between 5-10 minutes to make a drink and clean up.
If you're willing to learn, the machines are still slightly more spendy than traditional drip options—they range from $50 up to $1000 (or even more) for specialized or designer options.
Since espresso machines don't require filters, there's no environmental impact. However, like drip machines, traditional espresso machines also lack the smart features and marketplace app that could appeal to potential Spinn customers.
Bottom line for espresso lovers? If you fall into this group, but have yet to get comfy with a countertop espresso machine, you might love the smart perks and extra coffee styles offered by a Spinn Coffee machine.
Spinn vs. Nespresso & Other Capsule-Style Coffee Makers
In my opinion, this is the comparison in which Spinn really shines. Not only does Spinn remove the environmental impact of throwing away all those pods, but it gives you access to a much better-tasting brew.
Consider that the pods these machines use on a daily basis contain coffee that's been ground up and sitting on a shelf to dry for months, which dramatically affects their flavor for the worse. Additionally, capsule coffee drinkers might be able to choose between different blends, but you're limited to prepackaged grounds, and miss out on tasting independently roasted beans.
When it comes to variety of drinks that can be made, in my opinion, Nespresso and similar machines also fall short of Spinn's abilities. They make only one style of drink—something I refuse to even call "espresso"—without giving users any way to alter the grounds or "shot." To make a different style of drink using a capsule coffee maker, a user would have to add water themselves.
Spinn, on the other hand, makes eight different styles of coffee, not only by altering the water-to-brew ratio, but by varying the grind of your beans.
Since capsule coffee makers cost in between $200-$400, splurging the extra $50-$100 for a Spinn Coffee machine is likely worth every penny for consumers in this group.
Final Thoughts on Spinn Coffee Machine
Based on a brief college stint working as a barista, and conversations with other coffee drinkers, I guesstimate that 95% of people just want their morning cup of coffee without fuss. If that describes you, then the high price of a Spinn Coffee machine might mean that you'll just stick to drip.
However, for those who enjoy the taste of a lovingly pulled shot, but are swayed by the convenience of Nespresso and Keurig machines, the Spinn Coffee machine might just split the difference at only a marginally higher cost.
Here's why: Not only does the Spinn offer fresher (and, thus, better tasting) coffee prepared in an equally convenient manner, it gives users eight-times the variety in styles of drinks that can be made. There's also the nifty smartphone app that allows you to start your brew from bed, which is darn near priceless depending on how much you hate mornings.
Combine that with the ability to reduce waste and bring attention to independent coffee roasters, and, for those with the means, the Spinn coffee machine might just be worth taking for a (you knew it was coming) spin.