SpringboardAuto.com Reviews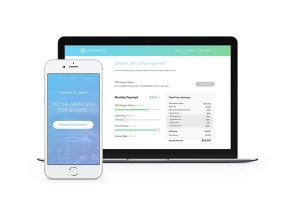 SpringboardAuto.com offers dealer, private party, and refinance auto loans through a proprietary online process that can have you pre-approved in minutes, with no hard credit check.
About SpringboardAuto.com
Even if you have less-than-perfect credit, SpringboardAuto.com's proprietary technology promises to deliver a simple, transparent, and personalized end-to-end auto finance solution.
Whether you're looking to purchase from a dealer or private party, or refinance your existing loan, the company's online application process only takes 60 seconds, with instant decisions and no impact to your credit score. In addition to their competitive rates, SpringboardAuto allows you to configure your loan and personalize the terms while moving through the process at your own pace.
An increasing number of auto and home lenders have implemented quick online applications and proprietary algorithms into their business model, in order to deliver instant decisions to potential customers. How does SpringboardAuto.com compare to the competition, and how can you choose which option is right for you?
Let's start by taking a closer look at the company's loan products and application process.
How Does SpringboardAuto.com Work?
The Loan Approval Process
By "strategically using data to fill in some of the blanks," Springboard's electronic platform allows you to quickly and easily see if you pre-qualify. In addition to this speediness, the company only runs a soft (versus hard) credit inquiry so that pre-approval won't impact your score.
To get started, you'll choose the appropriate loan type (purchase from a dealer or private party, or refinance—more soon), purchase type (if applicable), and whether or not there will be a joint applicant.
Next, you'll enter vehicle details, which you can leave blank if you don't already have one in mind, as well as whether or not you're trading in a vehicle.
You'll finish by entering personal details like name, address, DOB, phone number, email address, income, and whether you own or rent, and then pressing the Apply Now button.
The company advertises their "platform was built leveraging sophisticated scoring models and robust data sets," so this results in "decisions that are made quickly."
Even after you've been pre-qualified, Springboard's online loan configurator allows you to customize the terms of the loan (e.g., change down payment and loan duration, view interest rates) to best suit your needs.
Once the loan is tailored to your needs, you can move on to the simple closing process. Here, the company will send you your loan documents, which can be signed electronically and uploaded via your smartphone or computer
With these high-level details in mind, let's zoom in and take a closer look at each of SpringboardAuto.com's individual products:
Dealer Loans
Springboard allows customers to arrange financing before heading to the dealer, which can help ensure you're getting the rate you need, without any markup.
Once you've found the vehicle you want, you'll simply notify the company, and they'll schedule an appointment with the dealer. Then, at delivery, Springboard will issue funds directly to them, and you can enjoy your new car.
Private Party Loans
Once you're approved for a loan, you'll only have to provide a few details about the car you're buying, as well as whom you're buying it from.
Then, compared to the old method of purchasing a used vehicle from a private party, Springboard aims to simplify the process by having the car inspected at the seller's convenience, and sending you both the results.
If everything looks good, a closing agent will meet you and the seller at a mutually chosen location to sign all the paperwork. As soon as this occurs, the company will issue an electronic payment to the seller and get you your keys.
Refinance Loans
Whether you're looking to lower your payment, shorten your loan term, or decrease the amount of interest you pay over the course of your loan, Springboard claims they can help. And if they can't beat your current rate, they'll let you know.
The application and documentation process is much the same as the other loan types. The biggest difference is that after signing your loan documents, they'll pay off your existing auto loan and act as your new lender.
SpringboardAuto.com Rates & Eligibility Criteria
Regardless of the product, SpringboardAuto.com offers loan amounts ranging between $7,500 and $45,000, with terms between 24 and 72 months and APRs starting at five percent. Borrowers must have a minimum FICO score of 500.
Vehicle eligibility criteria:
Private passenger vehicles (no heavy-duty, cargo vans, electric cars) that have standard engines, are owned (not leased), and don't have a salvaged title
Aren't more than 10 years old
Have less than 138,000 miles
Are for personal use only (no for-hire vehicles)
Are from one of the following manufacturers: Acura, Audi, BMW, Buick, Cadillac, Chevrolet, Chrysler, Dodge, FIAT, Ford, Genesis, GMC, Honda, Hyundai, Infiniti, Jaguar, Jeep, Kia, Land Rover, Lexus, Lincoln, Mazda, Mercedes-Benz, MINI, Mitsubishi, Nissan, Ram, Scion, Subaru, Toyota, Volkswagen, Volvo
The company currently offers loans in the following states (although not all products are available in every state: AL, AZ, CA, CO, FL, GA, IL, IN, KS, KY, MD, MA, MI, MN, MO, NE, NJ, NM, NY, NC, OH, OK, OR, PA, SC, TN, TX, UT, WA, WI
SpringboardAuto doesn't charge application fees, although they do charge origination fees of up to $695 on approved loans.
If you have additional questions, support can be reached at 844-267-1670 or help@springboardauto.com.
What Can We Learn From SpringboardAuto.com Customer Reviews?
Between customer feedback on sites like Credit Karma, Best Company, and SuperMoney, SpringboardAuto.com seemed to have a mostly positive online reputation. Most compliments appeared to reference easy application, quick pre-approval, and competitive rates.
On the other hand, complaints often revolved around less-than-stellar support experiences, along with long (and/or complicated) approvals.
NerdWallet's Philip Reed noted that SpringboardAuto.com might be ideal for those with subprime credit (their borrowers' average credit score is 600), who don't want to impact their score in order to receive a rate quote, or those who are focused on a quick application process.
From a company perspective, SpringboardAuto.com, Inc. is based out of Irvine, CA and has been in business since 2015. They held an A+ Better Business Bureau rating, based on nine customer reviews and no closed complaints, as of 3/6/18.
Are There Other Lenders Like SpringboardAuto.com?
The HighYa team has watched as the financial technology (fintech) industry has rapidly grown over the last few years, with popular home loan companies like Rocket Mortgage, Lenda, and Clara Lending now using complex, proprietary algorithms to handle most of the basic underwriting related to new applications.
This way, they're able to provide prospective customers with quick applications and loan decisions—often in just a few minutes.
And while it seems fintech's entry into the auto lending industry is progressing at a somewhat slower rate, there remain several direct lenders currently in the marketplace:
| Lender | Available Terms | Min. Credit Score | APRs |
| --- | --- | --- | --- |
| SpringboardAuto.com | $7,500 - $24K / 24 - 72 mo | 500 | 5%+ |
| RoadLoans.com | $5K - $75K / up to 72 mo | N/A | Up to 30% |
| OpenRoad Lending | (refinance only) | 500 | 1.9% - 24.9% |
| LightStream Loans | $5K - $100K | 660 | 3.09% - 7.69% |
| CarFinance.com | $7,500 - $45K / 72 mo | 525 | 6.99% - 14.99% |
| MyAutoLoan.com | $7,500 - $100K / up to 84 mo | 500 | 1.99% - 24.9% |
This fintech approach has even recently been implemented by more traditional lenders like Capital One, Wells Fargo, Bank of America, and U.S. Bank (to name just a few). How can you wade through all these options and make the best decision for your needs?
In Financing Your Car: 6 Expert Tips on Landing a Great Auto Loan, we interviewed Matthew Coan, a personal finance expert from Casavvy.com, who had this to say: "Whenever you are planning on financing a large purchase such as a car, the two things you should look at is the interest rate you will be paying along with the length of the loan that is offered."
After all, both of these factors will directly impact how much extra you'll pay over the course of the loan, so they're ultra-important.
Along these same lines, another thing to keep in mind is that when you go through a direct lender like one of the options above—versus an online broker that takes your information once and sends your application to multiple companies—you might not get the lowest rate possible. This is why you'll certainly want to shop around and avoid going with the first offer you receive.
Finally, it's worth repeating that the APR and ideal loan length presented by any lender you apply with will be directly mandated by your credit score. So, if your score's currently low and you can hold off for a bit, it might be worth improving your credit score and applying for an auto loan at a later date.
» For Further Reading: How a Good Credit Score Can Save You Money on Car Loans
Our Final Thoughts About SpringboardAuto.com
Although we didn't apply for any loans during our research, based on what we experienced on the company's website, it certainly seems like SpringboardAuto.com lives up to its claim of providing quick and easy auto loan pre-approvals.
And after reading dozens of customer reviews, we also learned that they come with a mostly positive online reputation and that they offer relatively competitive rates, even for those with less-than-perfect credit. Will they necessarily be the 'best' option for you, though?
There are too many variables (credit score, car details (year/make/model/mileage), employment and income information, etc.) to accurately answer this, without submitting an application first.
But, with quick data entry and instant credit decisions, it seems SpringboardAuto.com really does strive to deliver a simple, fully digital experience, without the hassle, as advertised on their website. And if they ultimately can't match your needs, with no hard credit inquiries during pre-approval, you might not lose much more than a few minutes of your time.