SpyFly Reviews
Claimed This company has claimed this profile, is getting alerted on any new customer reviews entering this page, and may engage in dialogue with its customers to address their matters.

Companies cannot pay money or provide goods in order to remove or alter customer reviews.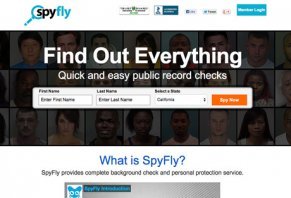 SpyFly claims to allow you to quickly and easily search public records about individuals, including criminal records, contact and address information, and more.
About SpyFly
If you're looking to find out more about your new neighbor, or find a person you haven't spoken to in years, SpyFly claims to allow you to quickly and easily perform public record-based background checks.
This includes criminal records, contact and address information, financial information, related individuals, and even registered sex offenders in your area.
But when it comes down to it, does SpyFly provide a solid amount of value for your hard-earned money? Let's search for the facts and see what they have to say.
How SpyFly Works
SpyFly claims to provide you with accurate, up to date, and complete background checks about anyone in a fast, easy, and safe manner.
SpyFly claims to accomplish this by using cutting edge technology to aggregate billions of public records, which can help you find someone you haven't had contact with in a while, learn more about your new neighbor, or find out what public records are available about you.
In addition, SpyFly claims to help you locate sex offenders in your neighborhood, or anywhere else in the U.S., and to receive email alerts any time a registered sex offender moves into your area.
With SpyFly, you'll also be able to monitor up to four individuals, and to be notified when anything in their public record changes, such as a marriage, divorce, arrest, and more.
On top of this, SpyFly claims that you can store personal Emergency Response Profiles (ERPs) for your whole family, which can be quickly emailed to authorities if anyone should go missing.
In order to begin using SpyFly, you'll simply need to enter a person's first name, last name, and state on their homepage.
However, keep in mind that according to the Fair Credit Reporting Act, information obtained through SpyFly cannot be used for employment, consumer credit, or other related purposes.
SpyFly Pricing and Refund Policy
SpyFly offers four different automatically-renewed membership options, which allow you to run an unlimited number of background reports:
Monthly: $29.97
Quarterly: $39.97
Semi-Annual: $49.97
Annual: $59.98
Regardless of the membership option you choose though, you can sign up under either a 7-day trial or a standard version.
With the 7-day trial, you'll initially be charged $1, and if you cancel before the seven days are up, you'll owe nothing further.
However, if you fail to cancel, you'll be billed exactly seven days from your original registration date based on your chosen membership option.
According to SpyFly's Terms of Use, no refunds are available for memberships, although you can be credited for a specific search if no information about an individual is found.
If you need to cancel your SpyFly subscription, you'll need to contact their U.S.-based customer support team at 800-831-9235.
What Do Other Consumers Have to Say About SpyFly?
SpyFly Inc. was founded in 2012 and is based out of San Diego, CA. The company holds an A- rating with the Better Business Bureau, with zero complaints filed over the past three years.
Unfortunately, we were unable to locate any online customer reviews about SpyFly during our research. This could be due to the fact that, although the company's URL was originally registered in 2012, their site appears to have been operational only since early 2014.
What's the Bottom Line About SpyFly?
With all this information in mind, should you spend your hard-earned money on a SpyFly membership? Perhaps, but consider the following before signing up:
First, one of the biggest complaints is that they contain incomplete information.
In other words, your results may be missing criminal information for someone who is known to have a criminal record, bankruptcies for someone who has undergone bankruptcy, etc.
The second most common complaint is that these types of sites will nickel and dime you for detailed information above and beyond a basic report.
As such, they can quickly become expensive, and you may find yourself paying $50 or more for all the information you need, on top of your membership fees.
With this said, we performed a SpyFly test search and found that before viewing your report, you'll be required to enter credit card details in order to pay for the $1, 7-day trial. As such, we were unable to verify whether or not either of these complaints apply to SpyFly.
Bottom line: With limited customer reviews, and a search process that requires you to enter your credit card information before viewing a report, it's difficult to provide solid feedback on the usefulness of SpyFly's background checks. As such, we would recommend signing up for the 7-day trial and canceling your membership immediately if you're not satisfied with the results.
» See Also: The Problem with People Search Websites and How You Can Find the Same Information for Free
---
SpyFly has the 411!

By Erin S.

,

Georgia

,

Jan 11, 2020
Verified Reviewer

Overall Experience:

SpyFly has been extremely thorough and accurate, as well as easy to read and understand. One of the best things about SpyFly is that, unlike so many other sites of this type, there are no hidden and/or additional charges or requests for payment to gain access to information that is advertised as if it is included in the first place! I have tried them all, and if you want the most bang for your buck, I highly recommend SpyFly!

Bottom Line: Yes, I would recommend this to a friend

---

Will not allow me to use the app...and I pay money!

By A B.

,

Provo, UT

,

Jan 8, 2020
Verified Reviewer

Overall Experience:

When I first came upon this app and decided to try it out it was great...Well, as great as I expected, which honestly wasn't a whole lot. But it did supercede my expectations...during my trial and during the first month in which I was charged $29.99 (for a single month). Now, please keep in mind that I initially signed up for the trial period where I believe I was given 7 days to use the service before deciding rather or not to commit to the monthly subscription billed at $29.99/mo. I made sure to not only triple check the date which I had to have opted out of the monthly agreement in order to not be charged the $29.99 (which is recurring!), but also set a reminder on my phone for two days prior to said date in order to have the option to cancel if I wished to do so...with time to spare leaving what I believed to be no question as to rather or not it was done in time.

Well, I did decide to opt-out of the monthly program, did, in fact, cancel 2 days before the date given as the automatic enrollment date if no action was taken, but guess what...I was still billed $29.99 shortly thereafter! So, at this point I contacted their customer service department again and attempted to obtain a full refund and was insistent that they investigate so that I could prove that I had in fact canceled on time! They did investigate and I was proven to have done just what I had claimed! However...when I then asked when I would be getting my refund I was informed that I was actually only eligible for a $14.95 refund. Are you kidding me? That is not even a full 50% of what I was wrongly charged!

Anyway, I do have to admit that the customer service rep was actually amazing and I couldn't be angry simply because he was so incredibly kind, knowledgeable, and definitely a salesman, lol! By the time we had hung up not only had he talked me out of requesting the portion I was eligible for of the money in which I was in fact wrongly charged, but had also sold me on continuing my monthly subscription (that I decided against) at a discounted rate he offered me to make up for charging me to begin with! LOL!

Well, after all of that, the initial month where I paid full price I was able to use the app without any issues. It was fun for a couple of weeks and then I became bored with it and stopped using it. When I attempted to use the app and its services approx 3-4 weeks later (keep in mind at that point I was into the next month where I was paying less than the first month), it would no longer allow me to log in to use the app! That was over 3 months ago and every month I am charged the discounted rate and every month I am continually denied access! At this point it allows me to input the email that I signed up with but the password does not work, so I have made multiple multiple attempts to reset the password, using the correct email I assure you, but it never sends the link in order to reset it no matter how many times I "Send" it! I have tried calling customer service a few times but I am very busy and despite the one time where they were amazing, now I cannot get past "Hold" ughhhhhhhh. Honestly, ridiculous! Sad because I actually enjoyed the app while I was allowed access! But seems like maybe a scam, unfortunately! Beware.

Bottom Line: No, I would not recommend this to a friend

---

Advertisement

---

Kinda like it

By Laura M.

,

Dec 16, 2019
Verified Reviewer

Overall Experience:

I hit the wrong button and it wouldn't let me fix it. I tried to log out and log back in but it still wouldn't let me go back and switch the names. I also believe it may have charged me more than once, it didn't let me look up, but only one report and it was not the right one. I've heard people have been having a lot of problems with this app but some say they love it so hopefully I can get it fixed so I can get done what I need to get done.

Bottom Line: Yes, I would recommend this to a friend

---

Great service!

By Douglas R.

,

Atlanta, GA

,

Dec 5, 2019
Verified Reviewer

Overall Experience:

Great service. Very helpful and a very effective way to know who you and your children live around and accompany yourself with. I would highly recommend this service to anyone with children. They also update you with any registered sex offenders living around you.

Bottom Line: Yes, I would recommend this to a friend

---

Advertisement

---

Not the best choice for an accurate, up to date report on your person of interest.

By Danny C.

,

Georgia

,

Nov 25, 2019
Verified Reviewer

Overall Experience:

Upon joining the site (SpyFly), I decided to make my first search be on my own name, so that I could personally determine the accuracy, thoroughness and current the information provided by the site's reports and information gathered by their sources. I found the information contained within the report on myself was not only littered with inaccuracies, but was extremely outdated and was even missing some very pertinent pieces of information, that I happened to have already verified as being readily available, via public record searches, made online, by myself.

Bottom Line: No, I would not recommend this to a friend

---

Overall Experience:

I was browsing the internet looking for a person that had married and divorced into and out of my family. Unfortunately, I was unable to locate this person, however, SpyFly was very accurate with the information in my report. Everything is so easy to follow along and do. The reports are clear and have all the information you may need. No hassles from them even when I wanted to cancel. If there are any changes in information from a report they email you letting you know. Overall I am very satisfied with having SpyFly just a few clicks away.

Bottom Line: Yes, I would recommend this to a friend

---

Not enough use to rate properly.

By David M.

,

Gresham, OR

,

Sep 24, 2019
Verified Reviewer

Overall Experience:

Used only about 1 hour. I read all I could so I didn't get very deep into what was offered.

I am a very busy person running my life so I will need more time to evaluate SpyFly to give an honest opinion.

Bottom Line: Yes, I would recommend this to a friend

---

Too expensive

By Alice V.

,

Wisconsin

,

Sep 23, 2019
Verified Reviewer

Overall Experience:

Your service is too expensive for the little work that you do. Then you don't send a reminder that you're gonna charge another month you just take it from my account not knowing if I want another month of horrible service. I really would like a refund because you didn't provide me with anything.

Bottom Line: No, I would not recommend this to a friend

---

Addresses

By Terri F.

,

Yaima, WA

,

Sep 11, 2019
Verified Reviewer

Overall Experience:

This service is more complete than others that I have used. The one item that could be better is when an individual lived/lives at a specific address.

Also, could not tell, easily, if someone has died when I look up the information, or if they are incarcerated.

Bottom Line: Yes, I would recommend this to a friend

---

Auto-renew fraud

By Betty F.

,

North Carolina

,

Jul 11, 2019
Verified Reviewer

Overall Experience:

I suppose I must have clicked on the $1 free trial since they seem to have all my information including my smartphone number. I have no memory of doing this, however. Sure enough, 7 days later they billed my card for the $29.97 monthly charge. I called to cancel and they agreed to refund $14.99 as long as I didn't dispute the charge. So they got $16 for nothing. Do not click on anything from this company.

Bottom Line: No, I would not recommend this to a friend

Jul 23, 2019

Dear Betty,

We are sincerely sorry if you had a negative experience with our service. It is of the utmost importance to our company that we are able to resolve this situation with SpyFly. We attempted to call you today in efforts to assist you and resolve this issue.

Please give us a call at 800-831-9235 and we will be happy to assist.

Thank you,

SpyFly Member Support Team

---

Complete ripoff and scam

By James H.

,

New Jersey

,

May 2, 2019
Verified Reviewer

Overall Experience:

Information inaccurate and now they are billing me every month. Will NOT return phone calls and have been calling for 3 months at least 5+ times per month. This site is a total SCAM.

Bottom Line: No, I would not recommend this to a friend

---