SpyFly Reviews
Claimed This company has claimed this profile, is getting alerted on any new customer reviews entering this page, and may engage in dialogue with its customers to address their matters.

Companies cannot pay money or provide goods in order to remove or alter customer reviews.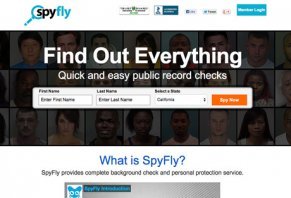 SpyFly claims to allow you to quickly and easily search public records about individuals, including criminal records, contact and address information, and more.
---
Rip offs

By Karen S.

,

Tennessee

,

Dec 3, 2018
Verified Reviewer

I canceled and they continue to take money out of my account. And that was a rip-off, I never got any information regarding your name, this was several months ago. And then this morning I get up in the morning and they are taking more money out. I would not recommend this site to anyone other than the police. If my money is not good back on my card, I am going to make a police report, they are against this company, so before you think about using it, run.

Bottom Line: No, I would not recommend this to a friend

---

Don't use this site!

By Saeah L.

,

Grand Rapids, MI

,

Sep 28, 2018
Verified Reviewer

I signed up for their $2 trial period and was disappointed with the accuracy of their information (outdated, completely incorrect, or desperately lacking in many "advertised" information areas). I forgot about it until they billed me $29.97. I called them immediately, at 9:08 am the day they charged me. They told me on the call (and I subsequently read on their site) that all charges are non-refundable even if you have not used their service.

I signed in after I saw the charges and it said my account expired in 10/10/18 even though they charged me on 9/28/18. I told her, and she said no it would be expired on 10/28/18. So this was all very frustrating, but then she told me she had been authorized to offer me the same service for $2.99 a month compared to the $29.97 they just told me was non-refundable, even when you haven't used their site because of the cost incurred by them from my not canceling (and didn't remember or I would have canceled prior to money being taken from my account).

It's a scam, to trap people into paying $30 a month regardless of site usage or lack thereof, and then offering the same gosh darn thing at a discount of $26.98 when you call to cancel! They also intentionally make it very inconvenient to cancel your membership - they don't offer a cancelation option online, you must call and sit on hold or accept their offer to call you back when they are free, whenever that might be. I 100% do not recommend this site for anyone! Also on a side note, per the cancelation email, if you sign up for their ID PROTECTION you have to cancel that separately!

Bottom Line: No, I would not recommend this to a friend

---

Advertisement

---

I got it and now I can't log in

California

,

Apr 9, 2018
Verified Reviewer

These guys suck. I can't log in or reset my password because I never get an email. It is bad, and no one answers that can help me. I'm very upset. I get charged yet I can't log in.

Bottom Line: No, I would not recommend this to a friend

---

Terrible, avoid at all costs, total ripoff

By Brett Nowlin

,

Westlake Village, CA

,

Jul 11, 2017
Verified Reviewer

Absolutely awful. Don't get ripped off like me. The real criminal is SpyFly. They lock you into their scheme and no info at all. Super lousy. You can get all the info free that they provide.

Avoid this big time.

Bottom Line: No, I would not recommend this to a friend

---

Advertisement

---

This company is untrustworthy

By Penny Mann

,

Arlington, TX

,

Jun 1, 2017
Verified Reviewer

This company and many like it are not reporting truthfully. They are great at gathering information, but they lack accuracy. The other companies doing this are just as bad. Beware of these scam companies that do nothing but ruin a person's reputation. They may hit the nail on the head often enough to look legitimate, but don't count on it.

Bottom Line: No, I would not recommend this to a friend

---

Wonderful

By Gail Regula

,

Massachusetts

,

May 30, 2017
Verified Reviewer

Spyfly showed an incredible amount of info and was very accurate. It showed detailed criminal and financial on someone that I suspected to be a royal scumbag. Fabulous! Highly recommended.

Bottom Line: Yes, I would recommend this to a friend

---

Not a scam but not detailed either

By Joe K.

,

Earth

,

Feb 19, 2017
Verified Reviewer

I have gathered pertinent information with the use of SpyFly.

As with all searches, it is limited in both accurate current information, as well as complete data. For instance, with the criminal background checks, it comes up with only a few, and it doesn't differentiate between a felony and a traffic ticket. But does include, if available, county, date, offense (and the code at times), as well as the case number.

If you are serious at doing a background check, first of all, you don't take everything at face value. Verify the information and while verifying, you will learn other tidbits and leads for more information.

You people are a bunch of whiners. Use the info they give you as a stepping stone to more information. It is out there. Why do you think these companies exist? A specific Google search of only certain databases, records, institutions, and many other specific details will give you so much. This is work people. There is so much information gathered on each of us that it would fill a novel. The bad guys? An encyclopedia of info.

So that is my bottom line. Use any "people search" as a foundation and go from there. They are a bit pricey, though, and there are more accurate agencies and services out there, AND it is impossible to unsubscribe without getting your credit company involved. THAT in itself is what is the deciding factor.

Now I would like to say a bit about highya.com's review of this company. Very very poor job. I do many types of checks and rechecks on things, IPs, domains, people, addresses, any kind of record, and I do NOT make an opinion until it is verified. I do commend you for being upfront in the fact that you have never even tried the service you are reviewing, though. And allowed consumer reviews as well. So you're not all that bad in my book. But please, to be taken seriously, even to myself, I verify anything I gather. By at least one other source if possible. If I cannot verify, I either don't include that fact, or I disclose that the fact is unverified. Bottom Line: I would not recommend them to a friend for the simple reason of subscription cancellation problem. They have a search engine of their own and a database that is probably self-perpetuating and requires very little intervention as it is all freely available with the right query. They utilize that technology, as they are allowed to, in order to make money. Better then Phishing as they may know about that too. Disclaimer: I have verified nothing in this review except my own experiences and success as well as failure using SpyFly

Bottom Line: No, I would not recommend this to a friend

---

Scam

By Jackie

,

Cartersville, GA

,

Jan 1, 2017
Verified Reviewer

I can't even get through you customer service to cancel my free membership. I have to listen to all the BS ads, and then it tells me please hang up now. I want my trial canceled now. You aren't giving anyone the option to get through to cancel! That's illegal.

Bottom Line: No, I would not recommend this to a friend

---

Don't buy SpyFly

By Toby

,

Southern California

,

Nov 1, 2016
Verified Reviewer

I have two people I know that have long term criminal history and SpyFly couldn't even find they existed! Waste of time and money. Also, SentryLink is no good.

Bottom Line: No, I would not recommend this to a friend

---

Terrible Scam

I think this is like a scam service. I signed up and didn't get anything. I tried to cancel and couldn't figure out how. I found a better site with better information and customer service who answered their phone.

Bottom Line: No, I would not recommend this to a friend

---

Fairly accurate

By David

,

Lombard IL

,

Oct 16, 2015

Used it yesterday for the 1st time. Only paid $2.99 for 7 day membership. I just looked up people whose life story I know about. The information was fairly accurate. Some information was rather old and outdated but it is expected. I would recommend this service.

Bottom Line: Yes, I would recommend this to a friend

---