Square Copper Pan Pro Reviews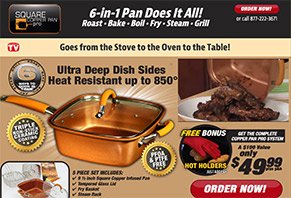 Featuring five-layer construction, including a copper-infused nonstick ceramic surface, Square Copper Pan Pro promises to deliver 6-in-1 cooking performance.
About Square Copper Pan Pro
Whether it's baking, roasting, boiling, frying, steaming, or grilling, the 6-in-1 Square Copper Pan Pro promises to do it all.
In addition to its versatility, we're told that Square Copper Pan Pro's PFOA and PTFE-free nonstick ceramic coating will help you cook food without unhealthy oils. You'll also be able to use any utensils you like and cook up to 850°, without having to worry about the coating flaking or peeling.
What else will you find? According to the company, Square Copper Pan Pro's ultra-deep 4" sides make it perfect for cooking stews, and its Step Edge Technology helps keep in steam, stop boil-overs, and prevent warping.
Want to move Square Copper Pan from the stovetop to the oven—or to the dining room table? The company claims you'll find its silicone EZ Grip handles easy and comfortable to use.
Speaking of which, we're told that Square Copper Pan Pro's induction plate bottom gives you the ability to cook on any stovetop surface, including gas, electric, ceramic, and induction.
Whew! That seems to be a whole lot of features packed into a single piece of cookware! But once you have Square Copper Pan Pro in your home, will it deliver on its marketing promises, or just leave you steamed?
How Does Square Copper Pan Pro Work?
At its most basic, the manufacturer tells us that Square Copper Pan Pro's benefits stem from its five-layer construction:
A topcoat layer made of a copper-infused, triple nonstick ceramic coating that's scratch resistant and PFOA/PTFE-free.
A primer layer consisting of a nonstick ceramic basecoat that provides "long-lasting wear and durability."
A middle aluminum layer that evenly distributes heat for faster cooking.
A copper-infused outer coating that can withstand heat up to 850°, wipes clean in seconds, and is dishwasher safe.
A bottom stainless steel induction plate that allows you to cook on any surface, including induction, gas, electric, and ceramic. It's also supposed to evenly distribute and maintain heat.
A cutaway showing Square Copper Pan Pro's 5-layer construction.
To help you better understand what this means for you, let's quickly break down some of these key terms.
Traditional Nonstick Coatings vs. Ceramic
Until recently, all nonstick cookware was coated in a proprietary substance known as Teflon, which contains two primary chemicals called perfluorooctanoic acid (PFOA) and polytetrafluoroethylene (PTFE).
When applied to a new piece of cookware, this traditional nonstick material poses little-to-no health risks to humans. However, if Teflon is exposed to high enough heat, or if subjected to repeated scratching from normal wear and tear, it can flake off into the food you eat.
Consequently, repeated exposure to these chemicals carry potential health risks, including increased likelihood of some forms of cancer.
Largely in response to these concerns, ceramic-coated cookware has become increasingly popular over the past several years. However, some of the most common complaints about ceramic-coated cookware is that it doesn't deliver the same level of non-stickiness as Teflon, so it might come down to a question of health vs. performance.
Pro tip: Regardless, it's never a good idea to repeatedly scratch a ceramic nonstick coating, as shown in the "egg beater" display in Square Copper Pan Pro's commercial, as this will greatly diminish its effectiveness.
For more, be sure to read through our 3-part cookware series, starting with Choosing the Right Pots and Pans for Your Cooking Style.
Copper Infused vs. Copper Construction
The second part of our cookware series talks about the pros and cons of stainless steel vs. copper cookware. There, we learn that copper cookware can heat evenly, precisely, and quickly, which are three reasons why it's often used by professional chefs.
However, copper cookware is notoriously expensive, can impart a metallic taste to food, and can become damaged quite easily.
But here's the thing: Square Copper Pan Pro's manufacturer doesn't provide any clarification about what "copper-infused" actually means. Does this mean it only contains copper flecks suspended in the ceramic coating? Or, does this just mean that it's color in copper only, without any of the metal present?
We can't be sure, so we can't know if you'll experience any of the same benefits as traditional copper.
The Basics of Induction
With traditional stovetop cooking, you use a heated coil or gas-fueled flame to transfer heat to a pan, which then transfers heat to your food. With an induction cooktop, however, an electromagnetic field is generated, which directly heats the pan above.
This way, induction cooking provides more precise control and much less wasted heat than traditional cooktops.
One of the biggest drawbacks related to induction cooktops is that you'll need—as you might guess—cookware with a magnetic base, usually made of iron or steel. Fortunately, Square Copper Pan Pro claims to provide this, so you should be able to realistically use it on any cooktop.
Alright, so we've talked a lot about Square Copper Pan Pro's features up to this point. Next, let's talk about how much you'll pay for them.
How Much Does Square Copper Pan Pro Cost?
One Square Copper Pan Pro will cost you $49.99, plus $19.99 S&H. For this price, you'll receive the entire 5-piece set, including:
9.5" Square Copper-Infused Pan
Tempered Glass Lid w/Steam Vent to reduce lid rattle and maintain temperature
Fry Basket
Steam Rack
50 Recipe Cookbook
You'll also have to pay an additional $7.99 S&H for a pair of potholder gloves, whether you want them or not, bringing your final total to $77.97.
All Square Copper Pan Pro purchases come with a 60-day money-back guarantee, less S&H charges. Putting this in perspective, this means you'll lose $27.98 of your refund in S&H charges, plus whatever it'll cost to send your set back to the company. And considering Copper Pan Pro's size and weight, this might not exactly be cheap.
Nonetheless, in order to request a refund, Inventel's customer service department can be reached at 323-375-1042 or 973-400-8646.
Given how much money you stand to lose if you're not satisfied, is it worth rolling the dice on Square Copper Pan Pro?
Should You Place an Order for Square Copper Pan Pro?
Within the As Seen on TV industry, it's not uncommon for several companies to simultaneously jump on the same bandwagon for a successful product, and these "square copper pans" seem to be the latest example of this. For instance, you'll also find the Red Copper Square Pan and Copper Chef from other manufacturers.
How does Square Copper Pan Pro compare? From an appearance perspective, it seems to be functionally identical to these other options, except for the fact that it adds silicone EZ Grips on both handles. The competitors even include the same vented glass lid, roast rack, and fry basket.
Interestingly, each of these options is priced identically at $74.97.
How does Square Copper Pan measure up from a performance perspective? We didn't test the cookware firsthand, so we can't give you our personal feedback. And until customer feedback starts rolling in, the only way to find out for sure is by placing an order and testing it out yourself.
Just be sure to keep in mind that you could be out a hefty chunk of change in non-refundable S&H charges if you're not satisfied with its performance.
Square Copper Pan Pro

By Dee N.

,

Hendersonville, NC

,

Nov 9, 2018
Verified Reviewer

I have cooked with this pan all of five times with excellent results. Then I tried to boil some green beans on a medium heat, and when done, turned the burner off, only to come back and find the lid had totally cracked and disintegrated into the pan. I have tried to reach COPPERPAN.COM but to no avail. This should not happen. Sadly, I am very disappointed, to say the least.

Bottom Line: No, I would not recommend this to a friend

---

Love it.

By Sharon L

,

Atlanta, Georgia

,

Mar 8, 2017
Verified Reviewer

I absolutely love his product. I am not much of a chef and get easily frustrated with the cleaning and multiple pans needed for a meal to come out. This allows more food to be cooked at once. It heats evenly and cleans easily.

Bottom Line: Yes, I would recommend this to a friend

---

Advertisement

---