Squat Magic Reviews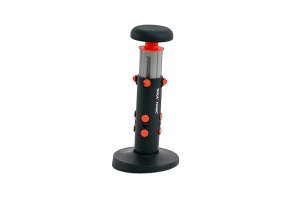 Claiming to be a way to transform your bottom from saggy to shapely with ease, Squat Magic is a workout machine that aims to achieve perfect form with each and every squat, allowing you to master the exercise while avoiding strain on the knees and back in the process.
What is Squat Magic?
Claiming to be a way to transform your bottom from saggy to shapely with ease, Squat Magic is a workout machine that aims to achieve perfect form with each and every squat, allowing you to master the exercise while avoiding strain on the knees and back in the process.
The makers of the product state that it allows anyone to become proficient at squats, promising to be ideal for women of all fitness levels. The device claims to make use of its patent-pending Squat Assistive Technology to guide your exercise on the way down while also gently supporting you on the way back up, allowing you to keep perfect form in focus throughout your workout.
Weighing in at just 5 pounds, it's also designed to be easily stowed away when not in use. The website lists that there are countless toning exercises that can be done using the Squat Magic, and a workout guide is included with every purchase to help guide you through some of the most common forms.
Before delving further into Squat Magic, let's briefly take a look at squatting as an exercise from a top-down perspective to gain a better understanding of what it really does for your body. Once we know this, we'll be in a better position to determine how effective you can expect the product to be in practice.
Are Squats an Effective Exercise for Shaping Your Bottom?
\, squats are one of the most well-rounded exercises you can do for your body in general. Just as the makers of the Squat Magic state, the movement works out your calves, quadriceps, hamstrings, core, and yes…the glutes.
Squats are also considered a "functional exercise" in that they help you to do the things we humans have to do every day. This means that apart from making you look and feel better overall, squats can also help you be more confident in your own skin and work more efficiently in the real world.
Relating specifically to the bottom, however, are squats truly an effective way to get the derrière you've always wanted? According to WomensHealthMag.com, the glutes are actually three different muscles; the gluteus maximus, gluteus medius, and the gluteus minimus. They go on to state that the maximus is the specific muscle responsible for the shape of your butt, and that working it out is the most direct path toward reaching your goals.
Luckily, according to LIVESTRONG, squats specifically target this muscle, making them a very direct and effective way to tone and improve the strength of the glutes as a whole. Bodybuilding.com confirms this, stating that squats not only work out the glutes on a deep level, but also engage the entire lower body in one sweeping, comprehensive motion, a statement echoed by the makers of Squat Magic.
So, we know that squatting is a solid exercise for building the botty. Now, here's the question; can the Squat Magic deliver on its claims?
Will Squat Magic Really Help You "Achieve the Booty of Your Dreams"?
According to the product's website, the Squat Magic is designed from the ground up to put you into perfect squatting position using its 5-degree tilt. They also state that using their Squat Assistive Technology and three resistance bands, you'll be supported during the motions, allowing you to perform them without any strain or added potential for injury to the back or any other part of your body.
Because poor form is often considered to be one of the biggest issues people run into with squatting, we could potentially see how a product that naturally aligns you would be beneficial for those looking to get the most out of the exercise.
Having said that, because the device provides users with support on the way back up, we can envision it actually doing you a disservice in this way, lessening the overall intensity of the workout and making it take longer for you to see actual results compared to traditional, assistance-free methods.
In addition, though three different resistance levels are definitely a plus, we aren't provided any additional information about them, which leaves the door open to the possibility that it may not be enough for you in time as your skills (and strength) improve. We reached out to customer service to clarify, but they informed us that the product was not capable of adding any additional layers of resistance.
Knowing this, it may stand to reason that the Squat Magic may not be ideal for "women of all shapes, sizes and fitness levels," as there may come a point where you need additional resistance to improve your muscles in a meaningful way. Of course, this only applies to advanced users.
Squat Magic Pricing & Return Policy
As of this writing, the Squat Magic was available both on the manufacturer's website and on Amazon.com. Through the former, it is available in a three-payment pricing structure. This means you'll only need to pay $33.33 + $19.99 for S&H up front to receive the product, making two more equal payments for two months, bringing your grand total to $119.98, just a few dollars less than it ran on Amazon as of our research.
For this price, you'll receive the following:
One Squat Magic device
One nutrition and health guide
One 30-day wall challenge chart
One workout DVD
They also state that each order is covered by a 60-day money back guarantee. To initiate a return, you'll need to reach out to customer service at (800) 510-7944 to obtain an RMA number. You'll be responsible for any shipping fees associated with getting the device back to the manufacturer, and seeing as it weighs in at 5 pounds, this is an important consideration to make going into a potential purchase.
Squat Magic vs. Other Squat Machines
The Squat Magic represents one way of working out your glutes and shaping your bottom, but is it necessarily the best one? There are so many ways to perform the actual maneuver, from fancy, involved equipment to just doing some air squats in your living room. How can you choose which machine, if any, is right for you?
For many of us, working out is a very personal endeavor, and though there are definitely "right ways" and "wrong ways" to perform a given exercise, there's still a large degree of individuality to our routines, and it's important to keep this in mind when searching for the ideal product.
Before drilling down and comparing devices, however, it's crucial to decide if having something like this is right for you in the first place. Think about it this way; if you're going to spend money on a machine to do an exercise that you could still accomplish on your own, it should add meaningful functionality that helps you achieve your overarching goals.
For instance, if you find performing traditional squats to be difficult due to improper form, an ideal workout aid may be something that helps you get into the right position and stay there throughout the course of the workout. In addition, if you struggle to get motivated to exercise in the first place, a product that makes the experience more fun or engaging may be worth its weight in gold, even if it delivers less overall in terms of performance than traditional methods.
During our research, we didn't come across any other squat machines with appreciably similar designs, though we do know that products with similar claims exist, including some that we've reported on in the past, like the DB Method. This device mirrors the Squat Magic's claim of being able to put you into the perfect position for the exercise, but differs in that it offers arm support for added stability.
If you feel that having a bit of extra support is something you need, this might be worth looking into, though it is a bit pricier than the product in question at $189. You'll also need to consider how much resistance you're looking for when determining which product is right for you. The three levels included with the Squat Magic are good in theory, but what happens when you advance to the point where the final level is not a challenge?
The DB Method, on the other hand, relies on your own weight to augment the resistance, making it a potentially more scalable system.
The Bottom Line: Will the Squat Magic Deliver?
Based on everything that we've learned about the Squat Magic, can you expect it to help you "get the booty and body-shaping benefits of squats, without the strain"?
We learned that squats are one of the best tools you can use to shape your butt, and that improper form is one of the most common issues with the exercise, so a device that helps put you into the right position could reasonably be effective if this is something you struggle with.
Having said that, the fact that the Squat Magic assists you on the way down and up means that you may find it to be less effective than conventional squats in general. Without using the product, we can't say for certain that this is the case, but it's still important to factor in when considering all of your options.
If you'd like to give the product a try, we'd simply recommend keeping the 60-day return policy in mind and hold on to the original packaging, just in case.
Great for seniors

I saw this on TV and thought "well here's another useless dust catcher," but I went ahead and ordered one anyway.

After using it for a month or so, I really like it.

A year ago I had a knee replacement, it went very well but getting strength back into my legs was a slow boring procedure. Not anymore, now I get on the Squat Magic at least once a day for about 25 reps, that's all I can do as my knees really burn and my legs get wobbly, which is a good thing.

I try to do this four times a day. I just turned 85 and for the past 5 or 6 years I have had trouble getting up and down due to lack of activity and arthritis, now I find that I am able to crawl on hands and knees and get up on my own without help. Knee pads are a must though due to the knee replacement.

I found the Squat Magic a little tricky to operate at first, but now it's no problem at all. I highly recommend it for seniors like myself as well as hikers, runners, swimmers, or anyone that wants to get in shape without being bored.

Bottom Line: Yes, I would recommend this to a friend

---

Advertisement

---