StarNight Laser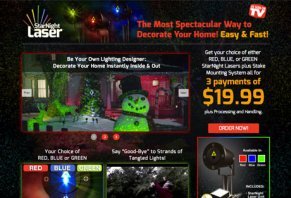 The StarNight Laser is an "As Seen on TV" device that's claimed to quickly and easily light up your home without having to worry about tangled cords ever again.
StarNight Laser Review: Is It Legit or Just Hype?
Using advanced holographic laser light technology that creates a dramatic three-dimensional effect, StarNight Laser is an As Seen on TV product that claims to be an easy, fast, and spectacular way to instantly decorate your home. According to the manufacturer, all you have to do is plug in the StarNight Laser, point it in the desired direction, and breathtaking lights will immediately illuminate your home.
Each StarNight Laser is claimed to contain up to 1,000 lights, and you can mix and match units to create customized effects (see more about this in the final section). You can also adjust the density of the lights by moving the unit closer to or farther away from your home, and StarNight Laser is claimed to be water resistant, so it can be used indoors and out all throughout the year.
StarNight Laser Pricing & Refund Policy
Each StarNight Laser is available with red, blue, or green lights, and includes a stake mounting system and timer. Each unit is priced at one payment of $59.96 or three payments of $19.99 plus $14.99 S&H, bringing your total to $74.95.
StarNight Laser comes with a 30-day refund policy, less S&H charges, as well as a 60-day warranty against manufacturing defects (see more about this in the following section). In order to initiate the refund process, you'll need to contact customer service at 973-287-5136.
Can StarNight Laser Help You Decorate Your Home without Worrying About Tangled Cords?
The Holiday season is right around the corner, and while you may be looking forward to celebrating, you're probably not looking forward to putting lights on your home. However, can you really expect StarNight Laser to help take the frustration out of lighting your home? Perhaps, but keep the following in mind:
"As Seen on TV" Product Reputation
Most importantly, StarNight Laser is an "As Seen on TV" (ASOTV) product, which tend to have lower customer satisfaction ratings than similar mainstream products, often due to not performing as advertised, and/or for being of poor quality. We'll discuss why next.
However, StarNight Laser is manufactured by Tristar Products based out of Fairfield, NJ, who is one of the major players in the ASOTV industry. The company also makes the Perfecter Fusion Styler, Flex-Able Hose, ClearTV, and many other products, most of which have ratings of 2 stars or less, usually due to complaints of failure to work as advertised, poor quality, difficulty processing returns/filing warranty claims, and poor customer service (unhelpful, rude, frequently disconnect calls, etc.). The company also has a C- rating with the Better Business Bureau, with close to 1,000 closed complaints over the past 3 years, most of which reference the problems above.
Ultimately, while we're not saying this is what you'll necessarily experience with the StarNight Laser, it's an important factor to keep in mind.
It's All About Coverage (and Price Too!)
When it comes to laser decorating, the primary concern is how big of an area each unit can illuminate. After all, the less area covered, the more units you'll have to purchase.
While the StarNight Laser website doesn't provide this information, there is a wide range of coverage provided by similar mainstream products. For example, Blisslights range in price from $199 to $229, project at a 160 degree angle, and cover an area of about 300 square feet. On the other hand, Firefly Landscape Lasers cover an area approximately 625 square feet, while still priced at $199.
With this in mind, the StarNight Laser is priced well below either of these models, which raises the question of whether or not it will perform equally at such a low price point.
Other Concerns Regarding the StarNight Laser
Next, remember that the pictures shown on the StarNight Laser website and in the promotional video are clearly using 2-3 different colored units. However, each unit only comes in one color, which means that in order to achieve the same effect, you'll need t purchase multiple units, which can greatly increase your overall price.
Finally, like most ASOTV manufacturers, you may receive unwanted emails or phone calls soon after placing your StarNight Laser order. According to the product's Privacy Policy, "We may use the personally identifiable information we collect from you to offer you products and services that may be of interest to you."
Bottom Line
If it works as advertised, the StarNight Laser seems like it could drastically reduce the time and frustration of decorating your home for the Holidays. However, considering its "As Seen on TV" status, it may not work as well as the video makes it appear, and it may not stand up to more than one season of use.
4 out 4 people found this review helpful

StarNight Lasers stink!

By Joe Stacy

,

Montclair, VA

,

Jan 25, 2017
Verified Reviewer

This is the worst product and even worse customer service that I have ever had.

The lasers were ordered for Christmas in October. They arrived around Thanksgiving. They appeared to be made well and looked durable. The first laser stopped working in four days, the second one two days later, the third one three weeks later.

I called customer service and was told, "Sorry, no problem, we will get new items out to you, just send the other units back." Before I shipped them back, the fourth laser stopped working. I sent them all them back, and to date (despite 15 phone calls to customer service each time promising they would go out that day), no lasers.

I finally told them to refund the account, and they did, but for only two lasers. Five phone calls later, they have agreed to refund the balance. I will never again buy anything else this company sells.

Bottom Line: No, I would not recommend this to a friend

---

3 out 3 people found this review helpful

StarNight Laser dancers

By Tammy

,

Galway, NY

,

Jan 5, 2017
Verified Reviewer

My parents bought these as a gift. After the fourth time of enjoying them, the red light stopped working. Now I'm told I have to take them back to the store because it must be a defective one.

I recommended this to a friend before it stopped working. My friend went and bought one, and I had her get me another one as well. I'm sorry that I ever got one, and I will never recommend this to anybody.

Bottom Line: No, I would not recommend this to a friend

---

Advertisement

---

3 out 3 people found this review helpful

Absolutely horrible

By Donavan

,

Pennsylvania

,

Jan 2, 2017
Verified Reviewer

I have never in my life dealt with a company this horrible. I ordered my an extension set to go along with my unit which was an additional charge. I got my unit in the mail that didn't include the extended stand and cord I called customer service who then repeatedly stated the unit doesn't come with an extension cord continued to try to explain to her (Abigail) I'm asking for the set that I paid for not an extension cord. I was realizing this conversation was going nowhere because she wasn't listening I asked for her supervisor he gets on the phone and does the same thing.

I asked him to listen to what I was saying to him. He finally understand what I'm saying and tell me to send the unit back( which I would have to pay the return postage) and they will resend my order I told him being 9 days away from Christmas I would never get the replacement before Christmas at that point it would be useless to me, he then tell me that it can be used for other occasions.

I bought to have for Christmas for my kid. I asked could I just get a refund of the part I didn't get he told me no. Seeing me getting pissed off my wife gets on the phone requesting a refund and was told "whatever" by a so called supervisor. Needless to say, I will be reporting them to the BBB and will never do business with them again.

Bottom Line: No, I would not recommend this to a friend

---

2 out 2 people found this review helpful

Stay away from Starnight

Taking back the 3rd one. They burn out after a week. Had two colors, now only one again, so it is going back yet another time. Next, I will just get my money back.

Bottom Line: No, I would not recommend this to a friend

---

Advertisement

---

1 out 2 people found this review helpful

Works Beautifully

By Angela

,

GA

,

Dec 2, 2016
Verified Reviewer

I saw this on TV and it's just like the 49.99 ones I have seen in the store. It works great and it has 6 modes and 2 colors, red and green. For 23.98 including shipping, it's a steal. I'm so happy I saw it on TV and didn't pay double for it.

Bottom Line: Yes, I would recommend this to a friend

---

12 out 13 people found this review helpful

Unacceptable on Every Level

Maryland

,

Nov 22, 2016
Verified Reviewer

My customer service interaction with this company was deplorable!

After I placed the order and later received the confirmation email I began checking the status of the order a few days later. I noticed the status never changed from "Awaiting Approval" for several days.

I then decided to check my bank account and could see the transaction within my bank activity and the funds were being held. I waited a few more days and checked the order status again only to receive a message that my order could not be located.

I contacted the Customer Service Department who accused me of not having the funds available. That statement was not only inaccurate but also highly inappropriate!

At the time of the purchase there was ample funding to cover the order and at no time after the order was placed was the account lacking the funds to have covered the transaction.

I was very offended when I was accused of not having funds in my account to cover the transaction. Because of that experience, I am not at all surprised that they were incapable of finalizing the transaction once the bank held the funds.

This was clearly an error on their part for not finalizing this transaction. Had they attempted they would have certainly been able to process the transaction.

It has obviously never occurred to this company to implement scripting as simple as "It appears that the transaction for your order was not processed." This statement is not an accusation towards the customer nor does it reveal that the company dropped the ball.

In this case, they dropped the ball and I canceled my order. They offered to charge the card again but I declined. I am not comfortable with allowing them access to my bank account again.

Bottom Line: No, I would not recommend this to a friend

---

16 out 61 people found this review helpful

As big a joke as Donald Trump

By Michel Jacques

,

Montreal, Québec, Canada

,

Nov 14, 2016
Verified Reviewer

I bought it today and tried it on my house and tomorrow it is going back to Canadian Tire. I simply can't believe someone serious would sell this. Must be a company owned by Donald Trump to lie like this.

Bottom Line: No, I would not recommend this to a friend

---

46 out 48 people found this review helpful

RIP OFF

I ordered the laser light product - 4 of them with the additional multi light package for different holiday's, 4th of July, Halloween, Easter, ect. When I received the lights it came with only the red and green lights. I called the number on the email invoice and got someone I could not understand. I keep trying to explain what happened and give them the order number but all they wanted was my name and zip code. Every time I asked for a supervisor all they would say was what for. When I finally got a supervisor, told them what had happened they said it was their mistake and will send out the lights at no charge. I said I'd pay for them. Well guess what, I got an email and they aren't sending out the lights, they are sending out fishing lures. Now my money back guarantee means I pay for everything shipping back, handling, restocking, ect., you get what I'm talking about. They say to be fair. Well I bet this will not get addressed and the aggravation they put me through can not compare. I spoke to more than 5 different so called supervisors and this is a terrible rip off.

Bottom Line: No, I would not recommend this to a friend

---

38 out 40 people found this review helpful

Not worth the money

I bought this StarNight Laser off the ASOTV program and I purchased another laser projector from Amazon at the same time, at twice the price. The StarNight is so dim that if you drive by my house you would have to look twice to see it. First off, it is not a laser, it is an LED. My second projector is a real laser (2 red and green), it has a required laser warning label affixed and is 10 times brighter than StarNight which is without a laser warning label.

I took the covers off both units after about 6 weeks of use and both units had water inside. I guess you should use them indoors. A shame, as the "real" laser was beautiful. Snowflakes shimmered in the light beams as they fell. StarNight is going back. I am going to dry the real laser and use silicon caulk to try and waterproof it.

Just remember, you get what you pay for.

Bottom Line: No, I would not recommend this to a friend

---

7 out 15 people found this review helpful

Beautiful Lights

Love these lights. I want to order the red, white and blue lights. I wish there were Mardi Gras lights. I would buy them, too. My neighbors love them and will be buying them as well.

Bottom Line: Yes, I would recommend this to a friend

---

31 out 31 people found this review helpful

Dim to no lights showing.

By Robert

,

Endicott, NY

,

Jan 26, 2016

Bought a combo red & green laser light at Boscov's on a Sunday. Went back that Monday to buy another one, but they were sold out and had the red or the green left on sale. Bought two reds, took them home. One lasted one week, took the red one back, lucky they gave me another. That lasted two weeks and the other red one that I bought in the first place went about the same time. With in three weeks all three red lights went dim. The red and green combo works fine, no problems.

Bottom Line: No, I would not recommend this to a friend

---