Status Money Reviews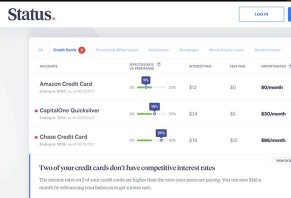 Consumers looking to compare their financial life to other people on a local and national scale will enjoy Status Money's in-depth data and the multitude of metrics it offers through its free accounts.
About Status Money
Status Money is a free financial tracking app that provides data about your spending habits, assets and more and compares that information to your peers, national averages and customized metrics you set.
The app capitalizes on our habit of reading what other people say about a product or service before we buy it. The thinking is that consumers like you and I will use Status Money to help us make decisions about our money – how and where we spend it – based on the tendencies of people like us.
The company was founded in 2016 by Korash Hernandez and Majd Maksad. The duo has quite the financial resume. Hernandez was a VP and associate director at Goldman Sachs while Maksad was a senior VP of two different departments at Citi.
According to the company's website, the goal is to "help everyone make financial decisions by democratizing access to financial information."
That financial information is what drives the Status comparison tools and is what sets the company apart from many other financial websites and apps.
Does Status Money provide a helpful level of information? Is the data it sources comprehensive enough to truly help you see where you stand and help you make financial decisions?
Those are the types of questions we'll answer in this review by analyzing the app's sign-up process and its various features. To get a feel for all of this, we signed up for Status and got a first-hand experience.
How to Sign Up for Status Money
The application process is straightforward but it asks questions you normally wouldn't have to answer for other financial sites/apps.
For example, after providing your name, email address, and password, you'll be asked if you own or rent.
If you own, then Status wants to know the address of your home. Most sites won't ask that because your address doesn't really play a part in your finances and those sites that do ask for it usually do so because they want to confirm your identity.
However, as we came to find out, Status uses this information to calculate an important data point (more on that later).
You'll also be asked for the year, make, model and value of any cars you own.
The next step is to connect your credit report. We tried this with the last four of our social and it didn't work; Status said it couldn't connect to our TransUnion account. It then asked us to provide our full social; we did, but the site still couldn't connect.
The final page of the sign-up process involved connecting our Chase bank account. It took a little longer than it usually does for financial apps we've tried but Status was eventually able to link the accounts.
Using Status Money: Comparisons and Customizations
With our sign-up process complete, Status provided us a quick profile of 33,500 people in our 30-40 age range at a similar income level living in Florida
We clicked on the "Dashboard" link at the bottom of the comparison and ended up at the heart of Status Money.
Net Worth
The site's Dashboard default setting shows three metrics across the top: your net worth, how that stat compares against your peers (ages 30-40, in this case) and how it ranks compared to people in your area.
Net worth refers to the value of your assets – two cars and a home, in our case – minus your debt. Remember how we said that the site asked us for the value of our home and cars? They used that data to calculate our net worth.
A line graph beneath the net-worth numbers shows your spending for the current month and how that spending compares to your peers and to people in your area.
Our initial impressions of the net worth calculations were positive. Their percentages help you see how you compare to your peers.
As for monthly spending five days into the month, ours was above normal because our mortgage payment and health insurance payment comes at the beginning of the month, resulting in around $2,000 in debits.
The national and local averages were far lower than ours and, at $850 and $543, respectively. The line graph for each the national and local averages rose at a consistent rate, which makes us think those numbers are calculated by dividing the average spending in both groups by the number of days in the month.
That method doesn't account for front-loaded spending like mortgages and rent. So, keep that in mind as you review the spending comparisons.
Spending
The spending comparisons at the top of your dashboard are purely comparative. They give no details about where you spent your money or how much you've spent in certrain categories over time.
To figure those metrics out, you'll have to go to the Spending menu on your dashboard. As a side note, navigating through the Status dashboard is extremely simple.
In our opinion, the Spending section of Status is the strength of this tool. The site gives you a category-by-category breakdown of how much you've spent and, as is the case with many of the site's other metrics, you can customize them with just one or two clicks the groups to which they compare you.
Status tracks 16 different spending categories, a number which is really high compared to other spend-tracking apps like Clarity Money and Trim.
Each one of these spending categories has its own page of comparisons and metrics that you can adjust based on how far back you want to track them: current month, last month, last six months and last 13 months.
These various category specializations serve the dual purpose of showing you how much you're spending – there's a transaction log at the bottom of the page – as well as how your spending compared to the parameters you choose, whether it's peers, national average or custom settings you select.
We also discovered that the pie charts you get in the "All Categories" spending page feature drop-down stats that show the percentage of your overall spending that you spent in each of the 16 categories.
Glitches in the Spending Section
Some of the initial quirks we discovered in Status' classification of our spending included classifying our mortgage payment as a loan payment and not housing. While it's true that our mortgage payments are loan payments, we believe the average person would see mortgage payments going under the "Housing" category.
What's nice about the site is that we were easily able to change the category to "Housing." To do so, we clicked on the "Loan Payment" designation in the transaction, which opened a pop-up menu of all the spending categories. We then clicked on "Housing" to change the category. Very simple.
Other Features: Custom Comparisons
As we mentioned several times in this review, Status is big on comparisons. The initial comparisons they do are based on pretty broad metrics – age ranges that span 10 years and income numbers that span $10,000.
You can make your comparisons as narrow or as broad as you like with their customization tools, which allow you to set parameters for each of the following classes of data:
Age range
Location
Location type
Credit score
Income
Housing type
Does Status Money's Emphasis on Comparison Help?
One of the main questions we had as we researched Status Money was: Does comparing ourselves to other consumers actually help?
That's an important question for you because it calls into question the main part of the site's methodology in getting you to become more responsible with your finances.
To answer that question, we did a little research and found an interesting article that spoke to this issue.
The article was a piece by LearnVest in which reporter Allison Kade asked if gamifying your money management could help you achieve your goals.
Basically, could turning personal finance into a competition actually help? The question is kind of a complex one because consumers have different personalities.
CFP Cary Carbonaro, whose financial services business uses personality tests to help clients make financial decisions, told Kade that comparison could help people motivated by fear.
"People motivated by fear really want to see numbers that are good," Carbonaro told Kade. "They want to feel comfortable that they're not in a danger zone."
However, for consumers who've had past money failures and aren't the competitive type, the article pointed out that seeing negative comparison data could drive these types of people deeper into frustration and failure.
Our Final Thoughts on Status Money: Pros and Cons
Our research has shown that there is no shortage of financial tracking apps and websites available to consumers just like you. There are literally dozens to choose from in the iTunes and Google Play app stores.
Many of them do the same thing, too: track your finances. So, with all this competition out there, it can be hard to find apps that provide a distinct experience. We believe this is Status's strength.
The fact that they're able to compile data on millions of consumers and use that data as a comparison tool for your personal finances is pretty unique.
Related: What Can You Do with a Good Credit Score: 8 Tips for People with Higher Scores
In addition to this strength, we also believe, based on our own experience using the site, that they've done a good job of making the data easy to read, organize and customize. This is important because it could be really easy to get lost in all the numbers, percentages and graphs.
The downside of the site is that, if you aren't a competitive person and comparisons tend to frustrate you more than motivate you, then the abundance of comparisons could turn Status Money into a disappointing experience for you.
If you're unsure that Status Money is the right tool for you, consider using a tool like Clarity Money or Trim, both of which provide similar analyses of your spending habits without the comparisons to other consumers.