Stilla Security System Reviews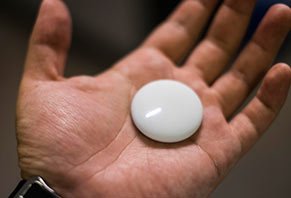 Using a polycarbonate pebble device and a machine learning algorithm, the Stilla Security System promises to alert you as soon as your belongings move.
About Stilla Security System
Whether it's your purse, stroller, laptop, bag, door, or just about anything else, the Stilla Security System promises to deliver instant notification if something moves when it shouldn't.
Called an "instant, pocket-sized security system" by the company, we're told Stilla works over three simple steps:
Download the Stilla app and sync it with your smartphone or smartwatch.
Activate your Stilla Motion device, either through the app or through the device itself, and then place it on anything you'd like to keep an eye on.
If your object is moved, you'll be instantly notified.
Admittedly, we think the Still Security System looks pretty cool, and that it could foreseeably help you keep an eye on things. But can you expect it to work as well as the manufacturer makes it seem in the real world? Are there any competitors? Will it really solve some of your everyday problems?
Let's start by taking a closer look at what you'll get with Stilla.
How Does the Stilla Security System Work?
While there aren't any specifications listed on the Stilla website, their pebble-shaped Motion device appears to be about 1.5" in diameter and perhaps 1/2" thick.
Other than the polycarbonate housing, the only other discernable exterior feature is the LED that lets you know it's activated.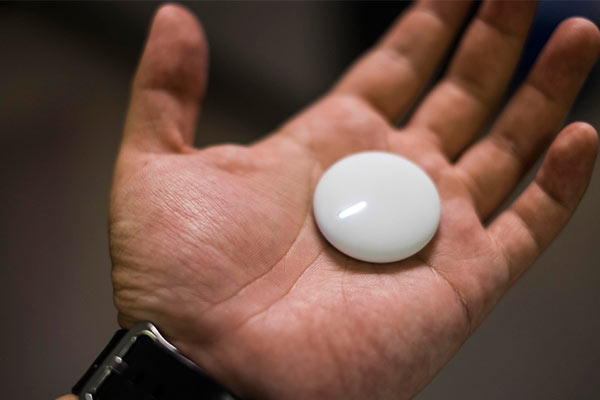 The Stilla Motion device with its illuminated LED. Image source Stilla.
Because of its polycarbonate construction and silicone o-ring gasket, we're told each Motion device is durable, as well as splash and temperature resistant (no additional details are provided).
It also features a replaceable CR2016 coin cell battery, which should last about a year with normal use.
To activate your Motion tracker in a matter of seconds, you can quickly squeeze the device or access your Android or iOS smartphone/watch.
Then, simply place Motion wherever you need to track (it comes with adhesive tape if you need to stick it somewhere, such as on a door), and it will send you an instant alert as soon as movement is detected—whether through its built-in 85+ dB alarm, your smartphone or smartwatch, or through all three.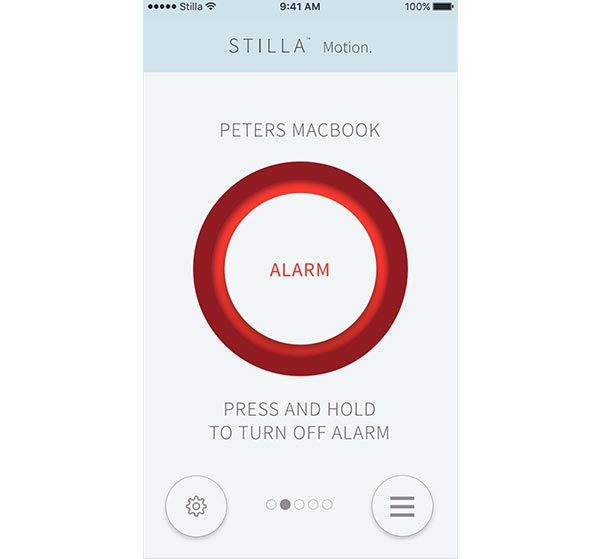 An example of the alert you'll receive through Stilla's app after a motion is detected. Image credit Stilla.
Compared to the competition (more soon), each Stilla Motion device promises to guarantee reliability, deliver "extended reach," and "unique tracking functionality."
Specifically, each Motion device features a 150-foot range (slightly less than the width of a football field), adjustable sensitivity; sound, vibration, and image alert modes, and a geo-fence that will automatically notify you if you're outside Motion's range.
On top of this, we're told that Motion uses smart machine learning algorithms to distinguish recurring motion (such as a bag on the floor of a moving train) from alert-worthy activity (such as your laptop being moved).
Important note: No details were provided about Motion's image alert mode. We're unsure how this would work though since Motion doesn't appear to feature a built-in camera.
All of this sounds pretty cool, right? But how much will you pay for this technology?
How Much Does the Stilla Security System Cost?
At the time of our research, the Stilla Security System was only available for preorder through the company's Indiegogo campaign, with an expected ship date of March 2017.
Packages started at $35 (shipping cost and tax will vary by country), with options available in Sleek Silver, True Black, and Snow White colors.
How do these prices compare to the competition? Is there even such a thing for Stilla?
Does the Stilla Security System Have Any Reviews? What About Competition?
As you might imagine, since Stilla's security system isn't set to be released until March 2017, there isn't any firsthand online customer feedback yet.
The product has been featured in high-profile publications like TechCrunch, Digital Trends, and more, although these weren't much more than high-level overviews.
What about Stilla's competitors? Can we learn anything from their customer feedback?
Overall, most of these trackers have a 2-star or lower average rating from customers here on HighYa, based on three common complaints:
Lower quality than expected (usually that they unexpectedly stop working).
Shorter range than advertised.
Less-than-stellar customer support, generally related to no response or long response times.
Granted, these are completely different devices from third-party manufacturers, and as of yet, there isn't any consumer feedback indicating you'll experience the same with Stilla.
Comparatively, Stilla claims they're different than the competition because it's triggered by motion, not only distance. Also, Stilla claims Motion "doesn't just help you find your things — it keeps you from losing them in the first place." Here's a quick table comparing some of Stilla's key features with the competition:
| Brand | Stilla | TrackR | StoneTether | Tile | Magic Finder |
| --- | --- | --- | --- | --- | --- |
| Device Types | Pebble | Tile (StickR, Wallet, TrackR Bravo) | Tile | Tile | Tile (original or slim) |
| Services | Motion detection | Location only | Item, child, trip, and event | Location only | Location only |
| Supported Systems | Android & iOS | Android & iOS | Android & iOS | Android & iOS | Android & iOS |
| How Is It Held In Place? | Adhesive | Loop hole | Adhesive | Loop hole | Loop hole |
| Price | $35+ | $24.95+ | $20 | $25+ | $20 |
| Range | 150ft | 100ft | Up to 500ft | 100ft | 150ft |
| Replaceable Battery? | Yes (CR2016) | No | Yes (CR2016) | No | No |

Now, this is for Stilla itself, but what do we know about the company behind it?
Who Founded Stilla?
Founded by CEO Elin Elkehag in May 2015, Stilla is a San Francisco-based company that got its start at a "geek girl" happy hour. To bring their Motion pebble to the market, Stilla launched an Indiegogo campaign earlier this year that had raked in more than $54K and 823 backers (based on an original goal of $20K) at the time of our research.
According to the company's website, the Motion device has gone through "tons" of research and 27 prototypes to reach where it is today.
Taking everything we've learned together, is it a good idea to place your preorder for Stilla?
Will the Stilla Security System Give You Peace of Mind?
Have you ever wished you had eyes in the back of your head? Well, if Stilla Security System's Motion device works as advertised, it seems like it might go a long way toward making this wish come true.
Based on our research for devices like these and from reviews from customers like you, though, we think there are a couple things worth considering:
First, remember that when you purchase a product through a crowdsourcing website like Indiegogo or Kickstarter, you're basically just putting down a placeholder for something that hasn't been mass produced yet. In some instances, these products exist nowhere but on paper.
What's the point? Many of the other crowdfunded products we've investigated, one of the most common complaints is repeated delays. In some instances, the projects fizzle out altogether, leaving backers twiddling their thumbs.
As such, it might be a good idea to avoid placing an order for a product pending release only if you can afford to lose your entire investment.
Additionally, keep in mind that there are more than a dozen other products that offer the same tracking capability as Stilla. So, while Stilla seems to be meaningfully different with its motion capability, if your primary goal is tracking, there could be other options worth considering.