Stockpile Reviews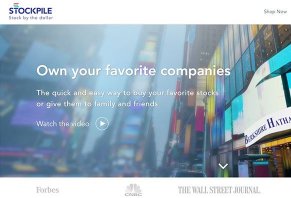 Stockpile is an online investing tool designed to make stock investments easy and understandable for kids and adults through a simple website/app and stock gift cards.
What Is Stockpile?
Stockpile is an online stock service that allows average people – kids are encouraged, too – to buy fractions of expensive stocks instead of one full share. The company makes these investments easy through stock gift cards and a user-friendly app.
Stockpile CEO Avi Lele got the idea for the service a few Christmases ago when he tried to give stock to his nieces and nephews. The task was pretty much impossible because single shares of big companies like Amazon and Apple were too expensive.
So, Lele and co-founder Sanj Kulkarni created a stock brokerage (company who sells stocks) where customers could by fractions of stocks. If prices on a single share go up $10 in a year and a Stockpile customer owns 25% of a share, they get 25% of that price increase: $2.50.
"Basically, our mission is to make the stock market easy and affordable and accessible," Stockpile CCO Dan Schatt told us. "You can't really do anything with $50 in your wallet at a traditional broker. It would cost you probably a couple of thousand of dollars to get started."
This new idea was even more novel because Stockpile focused on making stocks accessible to kids, an idea that was still in its infancy when, in 2010, Stockpile started filing paperwork to become a company.
As time went on, kid investors became popular because, as Steve Rosen pointed out in a 2017 Chicago Tribune article, young people who learn about investing tend to do it throughout their life.
We think it's a great idea to educate your kids about finances and investing, but is Stockpile the right solution for helping them understand the world of stocks?
To get a better sense of the answer to that question, we researched how the company works and what other people are saying about it. What we discovered is split up into three sections in this review:
How Stockpile Works
Stockpile Fees and Other Considerations
How Kids Invest Through Stockpile
What Other People are Saying About Stockpile
Once we work through each of these areas, we'll give you our final thoughts about Stockpile.
A Quick Word About Fractional Stocks
As we mentioned earlier, one of Stockpile's perks is that you don't have to buy full shares in a company. Rather, you can buy a portion of stock and earn portions of dividends.
Dan Schatt told us this works via a pretty simple process. Each day, Stockpile customers place orders for stock. At the end of the day, Stockpile gathers up all the orders and then buys stock to cover those orders.
Fractional stocks have been around for a while, Dan said, but it never made much sense for big firms to sell them because they usually dealt with clients who had tons of money to spend on stocks and the fees that firms charge.
Since Stockpile is brining on clients who are giving $25, $50 or $100 gift cards, fractional stocks are necessary.
How Stockpile Works
You have two ways of buying stock through Stockpile: purchasing a gift card for someone or selecting stock yourself.
Stockpile Gift Cards for Someone Else
The process of purchasing a Stockpile gift card for someone else is pretty easy.
Go to their website and click on the "Shop Now" button. A menu drops down and you can choose to buy an e-card or a physical gift card.
Stocks are Divided into Categories
Once you click on the link you want, you're taken to the Stockpile marketplace. Stocks are divided up into categories like "Kids", "Trending" and "Fashion".
When you choose your category, you're presented with all sorts of familiar brand logos and, underneath, the parent company who owns the brand.
For example, when you click on "Kids", you get dozens of various brands. One of those brands is Barbie, and underneath the Barbie logo, Stockpile lists the parent company, Mattel.
Pro tip: You can buy ETFs, too, which are collections of different types of investments (currency, commodities, stocks) made into one stock.
It's Fun to Buy Stock from Companies You Know
We like the way Stockpile organizes their stocks and ETFs because we think it's a great way for investors young and old to put their money toward companies they like.
"A lot of people gravitate to our brokerage because they can connect with the brands they know and love and understand who the parent companies are," Dan told us. "Buying what you understand and know is something our customers are excited about."
Once you find the company you want, you click on it and choose the amount of the stock's gift card you want to buy.
Gift Cards Can Be Used for Stock or Retail Cards
Dan told us the gift card you choose, even though it's intended for a particular company's stock, is basically a cash card you can use on the Stockpile site. That means you can redeem it for the stock on the card, other stock on Stockpile or a retail gift card.
The big advantage here, Dan said, is that you have flexibility. If your kid isn't interested in buying a quarter-share of Apple stock, they can redeem the card's amount for a Best Buy gift card.
You can also buy Stockpile gift cards in retail stores around the country. We used the company's store locator to figure out where we could by some gift cards in Seattle. One hundred different Safeway and Kroger locations sold the cards.
Pro tip: You don't have to have a brokerage account with Stockpile in order to buy someone a gift card.
Buying Stock for Yourself Through Stockpile
If you aren't in the giving mood and you want to buy stock for yourself, you have the ability to do that through Stockpile's website.
You'll have to open an account with Stockpile – the industry lingo for this is "brokerage account", which means the account you use to buy stock. Buying actual stock happens two ways:
Pick stock, buy it and open an account with a linked bank acct.
Open an account, link bank acct. & buy stock
According to Stockpile's FAQ section, if you place your orders before 3 p.m. EST, you'll have the stock in your account by the end of the day.
How Kids Invest Through Stockpile
The thought of helping kids invest in the stock of companies they love is a great idea, but how does it work, exactly?
"We actually allow kids to have their own log in, and they can request a trade as long as they have their parent's permission," he said. "Kids get to track their stocks and it gives them an opportunity to get their toe in the water at a very low price."
These accounts are what's known as custodial accounts – the kids own the stock but the parent opens the account and is responsible for it until the child turns 18.
When the child wants to make a trade either for stock or to exchange their stock gift card for a retail gift card, a notification is sent to the parents, who then decide if they'll approve or deny the trade.
Stockpile Fees and Other Considerations
Stockpile's fee structure is pretty simple. They have sets of fees for buying and selling stock.
Fees for Buying a Stockpile Gift Card
When you purchase a gift card, you're paying all the fees associated with the card so that the recipient doesn't have to.
Stockpile will charge you $2.99 for the card, as well as a 3% fee of the value of the card. So, if you buy a $50 card for Apple stock, you'll be charged $2.99 and $1.50 (3% of $50) for a total of $4.49.
Some might argue that paying almost $5 for $50 worth of stock is too much, but we'll get to that in a minute.
Fees for Making Trades on Stockpile
Any time you buy or sell a stock for yourself on Stockpile, you'll pay $0.99 per transaction. That fee is really low compared to what you'd pay a big brokerage firm or a financial advisor, and, in that sense, Stockpile is making trading affordable for everyone.
They aren't the only app/website offering low-fee stock trades, though. Robinhood lets you trade stock for free. However, the site doesn't allow minors to trade stocks, something that sets Stockpile apart.
Insurance on Your Purchases
All stocks held by Stockpile customers are protected by something called SIPC, which is an acronym that means: Security Investors Protection Corporation.
SIPC-insured stocks mean that, if Stockpile goes under and the company disappears, SIPC will reimburse you up to $500,000 for the stock you owned.
Why will they reimburse you for stock you lost? Because Stockpile is a member of the SIPC. This is an important designation that adds to the company's credibility.
What Are Other People Saying About Stockpile?
The reviews of Stockpile have been pretty positive and impressive, as heavy-hitting sites praise the company for making the world of investing accessible to people under 18 years old.
A 2015 article from Consumer Reports noted that merging stock and gift cards was a great idea, and that it could have an impact on kids if they actually caught on during the holidays.
"But if the marriage of gift cards and stocks catches on, this could be a novel way for kids to start investing," reporter Chris Horymski wrote. "It wouldn't be bad for the online brokerage firm, Stockpile, either, which is behind the stock gift cards. The company could end up with some new, long-term customers."
On the other hand, Seeking Alpha's Reuben Gregg Brewer said you should avoid Stockpile's gift cards.. His main criticism is the cost of buying a card for someone. When you're paying a nearly 10% total fee for a $50 worth of stock, it's just not worth it, he said.
"That's a huge cost, particularly when some brokers are willing to give away free trades for new business," Brewer wrote. "True, you might need more than $25 to open an account for Junior and there are likely to be more headaches involved in the process, but I'd be loath to pay what amounts to a trading commission of that scale for anything."
In our opinion, this criticism is pretty harsh. While brokerage firms may offer free trades in order to get business, the business they want doesn't include under-18 investors.
They're looking for established – or at least wealthy – individuals who have thousands to spend on their investments.
Also, as Brewer goes on to point out, a 10% fee is what you can expect when you buy a gift card from a grocery store, so Stockpile's gift-card fees aren't unusual.
However, Stockpile's gift cards can buy stocks that gain value over time. Gift cards for stores lose value over time as the dollar amount on the card stays the same as inflation rises and cost of goods increase.
Our Final Thoughts About Stockpile
Stockpile is an innovative product because it allows parents to teach their kids about investing through hands-on trading.
The stock comes in a form of currency (gift card) that kids understand. Cashing in the card is as simple as typing in a code and setting up an account.
Easy for Kids to Use
The way Stockpile chose to organize their stock by categories is also pretty cool. Kids can literally shop for stock just like they'd shop for something on Target's website. Identifying brands they like helps them choose what they want to buy.
In our opinion, this methodology is pretty amazing. It seems to be working, too. As we mentioned earlier, 25% of Stockpile's customers are under 18.
Easy for Adults to Use
Stockpile's kid-friendly user experience also benefits adults who are new to investing. But it's not just about making stock choices easy.
The ease with which you can set up a brokerage account and buy stock is a low barrier that most adults can hop over without any problems.
If you're a more advanced investor, you may not like Stockpile because stock choices are limited. You might want to check out Robinhood, as you'll have more of a choice of stocks and trades are free.
Watch out

By Jan R.

,

Miami, FL

,

Apr 4, 2019
Verified Reviewer

This company operates like a scam. You cannot call them. I transferred $2000 to them from PayPal and they can't find it. You cannot talk to anyone by phone, and everything is done by email. I'll probably have to hire an attorney to go after them - terrible! Be careful -do not use this company!

Bottom Line: No, I would not recommend this to a friend

---

Money transfer to bank

By Steven D.

,

Richmond, CA

,

Jan 15, 2019
Verified Reviewer

If you're ok with waiting a week for your money to show up in your banking account, this is the company for you. This company is not worth your frustration, believe me, and get Robinhood or someone else. These people are not ready for prime time at all.

Bottom Line: No, I would not recommend this to a friend

---

Advertisement

---

Terrible, would give ZERO stars

By Valerie F.

,

Austin, TX

,

Jan 8, 2019
Verified Reviewer

I used $50 worth of Verizon reward cards to "buy" stock. I went in to check one day and there was ZERO in my "portfolio." I emailed Stockpile, and this was the response:

Thanks Valerie, the reason is that Volkswagen AG has terminated its sponsored ADR program. As a result, there is no longer a liquid market for VLKAY and the shares are no longer trading as confirmed by a lack of quotes from financial sources such as Nasdaq and NYSE. Stockpile is no longer accepting or able to fill trades on VLKAY due to the lack of a market for VLKAY. This is beyond the control of Stockpile and is an inherent risk of dealing in non-domestic securities.

Current Stockpile clients holding VLKAY ADR will only be offered the default cash option as Stockpile does not offer, or trade foreign stocks and we do not offer or trade unsponsored ADS or American Depository Shares.

Terms of the default cash option are as follow: On or after February 11, 2019 JP Morgan acting as the depositary will sell the securities represented by VLKAY and distribute the proceeds for the pro rata benefit of the registered holders of the VLKAY ADR that have not be surrendered. For more information, please visit the link below. No further action is required on your part as Stockpile will only support the default cash option.

I WOULD not "invest" with Stockpile. Thankfully it was reward cards, but still...I should have used those reward cards at Starbucks or GAP and actually enjoyed something. A pile of crap company.

Bottom Line: No, I would not recommend this to a friend

---

Do not buy into this scam!

By Colleen B.

,

San Ramon, CA

,

Dec 29, 2018
Verified Reviewer

They stole my money. I bought some stocks, then they locked my account. I have tried to close the account a few months again and not only have I not received my money, but they have locked my account again! They will STEAL your money! Do not fall for this scam as I did!

Bottom Line: No, I would not recommend this to a friend

---

Advertisement

---

Fun and easy to use

By Phillip J.

,

Saugerties, NY

,

Jul 31, 2018
Verified Reviewer

Stockpile is a fun and easy-to-use long-term INVESTING vehicle. It makes it enjoyable to purchase fractional stocks (for example, when buying $50,000 of a high priced company stock is not feasible). For what it is designed to do, it does it very well.

Bottom Line: Yes, I would recommend this to a friend

---

Stockpile is unresponsive

By Darrel H.

,

California

,

Jun 26, 2018
Verified Reviewer

Took money for a graduation gift certificate, took the money from my checking account. Where are the gift card and email confirmation? Where is a return email? They don't answer the phone. I think I've been scammed. I will never invest anything with them again. FedEx sent me my first gift card from the reward program. They must not be aware of this problem with Stockpile.

Bottom Line: No, I would not recommend this to a friend

---

Not worth a dime

By Gilbert C.

,

Virginia

,

Jun 25, 2018
Verified Reviewer

I signed up, and they don't transact fast enough so you can make money. If anything, they transfer stock after the price goes down.

You can't get money back from them.

If I could do it again, I would not waste time or money on this company as they are just a fraud company stealing money from you.

Bottom Line: No, I would not recommend this to a friend

---

Learning the market

By Geraldo M.

,

Las Cruces, NM

,

Jun 17, 2018
Verified Reviewer

I've had nothing short of a great experience with Stockpile. It's easy, and you are learning how to play the market, still have a long way to go but so far its great. Inexpensive to start off cause you can buy partial stock, and fund it as you go. Watch it grow and stumble is something that gets a little to get used to, but overall, great.

Bottom Line: No, I would not recommend this to a friend

---

Couldn't save the gift card

By Kai L.

,

Cambridge, MA

,

Jun 12, 2018
Verified Reviewer

My daughter got a gift card from Stockpile for Christmas. We were really excited because it gave her a chance to choose a stock and watch it over time. She went on the site and entered the stockpile gift card but then couldn't decide what stock to buy. She didn't buy a stock but thought the gift card was saved to her account. Later I went into the account to check to see what stock they offered and noticed there was no amount under gift card. I got the gift card entered it again and then left the site. Well, my daughter, final decided what stock she wanted went into the account and again no gift card credit. Now in my daughter's group gift cards are popular she has gift cards from Starbucks, Target, Amazon, and iTunes and she has always put her card into her account to use later so this was not new, but never has she had a gift card that wasn't automatically saved to the account after it was accepted and entered.

I emailed Stockpile, and someone named Joel said he would help and after several emails back and forth told me they could do nothing about it. If you have kids, I would not buy this unless you knew what stock you wanted before you bought it. I would not recommend buying Stockpile. If you want them to learn about stocks just set up an account virtual or real and do it that way. Much simpler.

Bottom Line: No, I would not recommend this to a friend

---

Scam and be warned investors, this is not live trading but a form of delayed trading.

By Daryl M.

,

Arizona

,

May 26, 2018
Verified Reviewer

Be very cautious, it takes days for sales of stock of purchases of stock to go through it takes days. Sometimes a week or so before the sale of your stock will go through and can take up to multiple weeks before you can get your money back in your account.

I've been invested into six stocks with this company, and it was a nightmare trying to trade them.

The company does not operate in live trading but they use what's called close of day trading, so whatever the day closes at is what your stock will sell or what you buy at, regardless of when you did the trade during the day.

My point, you've made a purchase or are trading. No matter what time you did that trade during the day you are at the mercy of how the market ends.

Not happy.

Bottom Line: No, I would not recommend this to a friend

---

Good and legit, but screwballs for support staff

Nevada

,

Apr 23, 2018
Verified Reviewer

Stockpile is NOT for short-term, meaning 30 days or less. I tried Stockpile as a way to "hide" money from myself, a place where it would not be so easily accessed like a bank account. The execution of trades and fees are good. All is good with Stockpile UNTIL IT COMES TO BANKS.

You can't log in to your account and add a bank; you must email support from the same email address you have on file with them. Ok, wait for support. WHEN IT IS TIME TO HAVE MONEY TRANSFERRED into your bank account, look out. Stockpile does not cut checks. Stockpile does not have a Customer Service phone where they can be reached. After you sell some of your stock, if you want some cash-out, it is done by bank transfer only, which takes 7 DAYS from the time your stock is sold. My bank transfer was delayed an additional 5-6 days because an error left ONE CENT in my account. Stockpile canceled my initial wire request and RE-SENT it 5 DAYS LATER and never notified me of the cancellation or re-sending the wire transfer late...not by email, not by phone. I had to email "support" and ask them what happened to my wire transfer and then they emailed back about the bank transfer.

I will never trade with Stockpile again for ANY reason. It was Stockpile's responsibility to their customer to keep me informed. I would stay clear of this outfit. Forever.

Bottom Line: No, I would not recommend this to a friend

---