Strava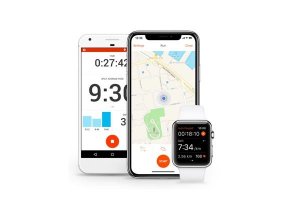 Strava is a top-rated running and cycling app that gives users access to detailed workout statistics and highlights popular training routes near them.
Strava Review: Features, Cost, Comparison to Similar Apps
Self-proclaimed as the #1 fitness app for runners and cyclists, Strava boasts one of the largest collections of route and trail resources accumulated from the workout results from millions of athletes across the world.
Like most fitness tracking apps, Strava is designed to make it simple to clock your time, speed, distance, and route information during your outdoor workouts. The company states that it's possible to track your activities directly through an iOS or Android phone or by syncing your account with a supported device like a smartwatch or a bicycle computer.
Is Strava the perfect virtual trainer for fitness enthusiasts, or are you better off going in a different direction? Here, we've gathered the facts to aid your decision.
How Does Strava Work?
The first step for signing up with Strava is to create a new account profile with your email address or through your Google or Facebook login information. You have the choice to provide the site with basic information like your full name, birthdate, gender, and a profile photo, but you can exclude these if you prefer. It's also possible to sync your social media lists with the app to find people to follow.
At this point, the app offers several quick-start guides for using the app, including how to sync your data with a GPS watch. You can start using the app to track your outdoor workouts, monitor friend's progress, or change your privacy settings.
Strava will operate behind the scenes as you exercise (audio cues are optional), and you can look through detailed reports of your performance once you finish. If your privacy settings allow it, all your workout stats will be shared on the Strava feed where friends and followers can see and comment on it.
According to the company website, a primary appeal of Strava are the options for community building. They state that all kinds of groups form on the platform with a focus on providing support and fostering healthy competition.
The app also sets itself apart with its route guidance, both by letting you upload a route to your phone and allowing you to popular browse courses near you. Strava encourages competition by letting you see the stats of other people who exercised along your route so you can see how you rank on personalized leaderboards.
It's also possible to sync compatible devices from brands like Fitbit, Polar, Wahoo, Timex, Sigma, Soleus, bryton, Tomtom, Suunto, Magellan, Mio, and Garmin with the app.
What Are the Current Strava Summit Pack Options?
At the time of writing, Strava offered both free and premium versions of their app. The free version gives you access to basic data records for your workouts and helps you discover popular exercise routes near you.
The app has three premium "Summit Packs" that are available for an extra monthly charge (more on that later). Each Pack includes a collection of themed features to improve your workout experience. Below we've highlighted the main features for each Pack.
Training Pack
Designed to help you upgrade your workouts and keep yourself motivated, this Pack enables you to set practical goals to achieve better results. It offers:
Customized goals based on distance, time, and power
Expert training plans
Filtered leaderboards to let you track your stats based on your age and weight group
Post-race analysis
Real-time speed, distance, pace and location data
Safety Pack
Meant to keep you safe while you exercise outdoors, the Safety Pack shares your real-time location with followers and gives you the confidence to explore new places. It includes:
"Beacon" feature to share your current position with chosen safety contacts (not the full Strata community)
Personal heatmaps to show you popular routes in your region you can follow
Analysis Pack
You can dive deeper into the data from your recent performance with the Analysis Pack, which breaks down the data from GPS devices and your heart rate monitor to give you better tools you monitor your fitness improvements.
Track your relative effort level across multiple sports
Get a more in-depth analysis of your workouts with lap data and visual pace zones
Get workout segment performance reports in real time
Sync Strava with a heart rate monitor
Connect to a power meter
Better monitor your fitness trends over time
What Does Strava Cost?
At the time of writing, Strava offers both annual and month to month subscription options for their Summit Packs. You can buy each pack separately or bundle the three together to save more money.
Paying month-to-month, each Summit Pack will cost you $2.99 per month, or $7.99 per month if you purchase all three ($95.88 per year).
If you choose to pay for a year in advance, your total breaks down to $2 per pack per month that is billed as a once-per-year payment of $59.99. Paying for just two Packs comes to $47.98 per year, and one Pack per year is $23.99.
Both monthly and annual subscriptions are auto-renewing, which means that you need to cancel before the anniversary of the date you subscribed if you don't want to continue with the service.
What Do Users Think of Strava?
We like to analyze previous customer experience of the products we report on to give you a better sense of whether they will suit your needs. We looked through Strava reviews posted on Trustpilot, PC Mag, and the Google Play Store page to get a sense of the consensus.
Trustpilot has nine published reviews for Strava, and the app averages just two stars out of five on the site. Some users reported that they liked Strava's website version but that they found the app disappointingly buggy. For instance, one user said that the app kept sending him notifications for local events even after he turned that setting off.
We also noticed some complaints about customer service from reviewers who reported they were slow to respond and ignored their help requests. A few people also took issue with Strava's lack of privacy standards because they stated that they didn't want their friends and followers to have so much access to their workout details.
The Google Play Store's reviews took a more positive perspective. The app averaged 4.5 stars after almost 400,000 reviews, and we read dozens of glowing reports about how well it works. Many people wrote how much they loved tracking their friend's workouts and using the app to find accessible routes near them.
We also noticed that some reviewers reported that they appreciated how simple syncing their watch and heart rate data was to the app and that Strava's stats were consistent with what more expensive devices delivered.
Saying that, a few users reported that their exercise stats were occasionally inaccurate and that they had problems with their phone disconnecting from GPS tracking in the middle of their workout.
The PC Mag review we referenced lists Strava as one of the best fitness apps for people who thrive on competition, thanks to the seamless way it creates leaderboards for everyone who uses the same training route. However, reviewer Jill Duffy warns this comes at the cost of giving up a substantial amount of personal data to the app.
Some people might not be comfortable with other app users gaining access to their daily workout route, so it's best to weigh out these concerns before committing to the app.
Similar Apps to Strava
There's no shortage of outdoor fitness apps available today for those who want to track statistics, so we created this chart to compare the features of a few popular options:
| | Strava | Nike+ Running Club | Map My Run | RunKeeper | Runtastic |
| --- | --- | --- | --- | --- | --- |
| Supported Formats | Apple, Android, web browsers | Apple and Android | Apple and Android | Apple and Android | Apple and Android |
| Price Per Month | Free, or $2/month (annual) or $2.99/month (monthly) per Summit Pack. Discounts offered for bundling all three. | Free | Free, or $5.99/month or $29.99/year for premium. | Free, or $9.99/month or $39.99/year for premium | Free or $4.99 for the ad-free pro version. |
| GPS Route Options | Yes | Yes | Yes | Yes | Yes |
| Audio-Guide Runs | No | Yes | No | No | No |
| Affiliated Sports Gear Brand | None | Nike | Under Armour | Asics | None |
| Notable Features | Supports statistics for outdoor sports besides running, including cycling, hiking, kayaking, rock climbing, surfing and more. | Tracks the mileage of your shoes and lets you know when to buy a new pair. | Simple to plan routes out ahead of time with "Route Genius." | Easy to track other activities besides running. | You only access training plans and routes with premium. |
Of these five services, the only one that offers you full access to every feature for free is the Nike+ Running Club. Both Map My Run and RunKeeper offer a similar pricing structure to Strava with monthly and annual subscription options, though you'll pay more from Strava if you opt for all three Summit Packs.
Premium Strava users get some features not available with other running apps. The company's Beacon feature should ease some concerns for people who work out alone, and the route-based leaderboard adds an extra level of friendly competition for people who thrive from that.
If you're looking for more of a focus on guided training, you might find the Nike+ Running Club to be a better choice. This free app gives you access to guided audio workouts designed for a variety of fitness levels. Nike+ also creates a detailed workout schedule for you based on your stated goals and fitness level that updates itself as you complete workouts.
In our option, this makes Nike+ Running Club a good app for people who are new to running and need some guidance and motivation to get started A statistic-rich app like Strava is ideal for people with an established exercise habit who want to track their improvements over time and connect to a broader community for motivation and route inspiration.
Our Bottom Line: Should You Consider Strava?
As we've stated previously, the Strava app is targeted towards people who are both competitive and community-minded with their workouts. It offers a higher detail of in the moment statistics and workout analysis than the competition, and its route-based leaderboard is a big hit with people who like to see how they rank against others.
There are a few reasons to think that Strava's premium Summit Packs give you a similar caliber of statistics as pricy GPS watches, and it's possible to sync a lot of sports equipment directly with the app. But if you want a similar caliber of stats without the community connection, apps like MapMyRun or RunKeeper may better fit your needs.
Likewise, we don't think that Strava is necessarily the best option for people who are new to exercise and need accountability for the beginning stages. This app also only works in outdoor settings, so it's not a tool you can use in the gym. If you're interested in finding an app that acts more like a virtual running, we think you should consider options like the Nike+ Running Club, Aaptiv or Peloton Digital instead.
This app is terrible and there is no support

By Matt A.

,

San Francisco, CA

,

Aug 29, 2019
Verified Reviewer

The support team does not respond to any tickets. It took me 4 days to get a response from a human and all they could do is repeat what was already written in the help article. The app itself barely works, if you are using it with the apple watch, the sync is very questionable, and there is about a 50% chance your file gets "corrupted". Overall, there are so many better apps out there they are way more accurate. Strava clearly does not care for its users that don't sign up for their overpriced service. Do not download this app. Stay away at all costs.

Bottom Line: No, I would not recommend this to a friend

---

Advertisement

---