Strayer University Reviews
Strayer University specializes in online and on-campus education, along with lower tuition costs, which can offer the flexibility and affordability you need.
About Strayer University
Each year, the number of students taking online distance education courses continues to grow, as the restrictions of traditional campus-based education often don't meet the needs of modern working professionals.
But according to Strayer University, their blended learning model—combining brick-and-mortar classes at one of 70 nationwide campuses with online iCampus instruction—can help accommodate your busy lifestyle, while the face-to-face interaction can "enhance and reinforce" your education. This way, you'll be able to choose between one of Strayer's 27 accredited degree programs and 67 concentrations and "help make your dreams possible."
Like a lot of online universities (more in a moment), Strayer University's degree programs are focused on high-demand, fast growing fields, so that you'll have the real world skills you need to succeed after graduation. Unlike many other online universities though, Strayer has been around since 1892 and has helped more than 100,000 students earn their undergraduate and graduate degrees over the past 120+ years.
Whether you're fresh out of high school or are returning to continue your college education after a decades-long absence, an online degree could be a perfect fit for your busy life. But does that mean Strayer University is your best option? What important factors should you look at when making a decision? What are the University's pros and cons? We'll explore all of these important aspects here.
Let's begin by taking a look a what you can learn at Strayer University, as well as at how the school supports you throughout your journey.
Strayer University's Degree Programs & Support Network
According to Strayer University, they provide all students with a three-tiered support system.
From an academic perspective, Strayer's Strong Start program offers step-by-step assistance while signing up for courses, getting your books, and more. During the school year, you'll also have access to a wide range of tutoring options, whether self-guided or face-to-face.
Whether you're taking online or on-campus courses (or a combination of both), access to your courses and tools is of the utmost important, which is why Strayer's tech support is available 24 hours a day.
Lastly, life (and school) can get messy sometimes. So if the unexpected happens, Strayer gives students access to trained clinicians "who are there to listen and to help with everything from stress to depression to family emergencies."
Strayer's Associate Degrees
Accounting
Acquisition & Contract Management
Business Administration
Information Systems
Information Technology
Marketing
Strayer University Bachelor's Degrees
Accounting
Business Administration
Criminal Justice
Information Systems
Information Technology
Nursing
On top of the support we already talked about, another unique aspect about Strayer is their Success Coaches. When it comes to your bachelor's degree, they can guide you through enrollment and registration, show you how to navigate iCampus, map out your goals, give you an idea what to expect, provide encouragement, and more.
Strayer University's Master's Degrees
Accounting
Business Administration
Education
Information Systems
Information Assurance
Management
Health Services Administration
Public Administration
Human Resource Management
Jack Welch Executive MBA
In addition to what's provided to undergraduate students, on a graduate level, your Strayer University Success Coach can also help you identify what you need to do in order to advance from your current position to a new one, help you network and identify job opportunities, connect you with career resources, and more.
How much will your Strayer University degree (and all the support that comes with) cost you?
Strayer's Eligibility Requirements, Admission, & Costs
Strayer Claims that they're "committed to providing affordable degrees," which they accomplish in three main ways:
First, as you can see from the image below, a Strayer 4-year Business Admin degree will cost you about $58,000, which is significantly lower than other top-tier online learning institutions (again, we'll loop back around to this topic in a moment).
Next, Strayer claims they can maximize your transfer credits (up to 84 semester hours, or 126 quarter hours for a bachelor's program), and can even provide course credit for portfolios and exams that "allow you to prove your knowledge and reduce the number of required courses you have to take to complete your degree."
Strayer University's Graduation Fund is unique in that for every class you successfully complete, your Fund will grow and will eventually cover the cost of up to 10 classes (or $14,200 in tuition). This is why you'll see the second, lower number in the chart below.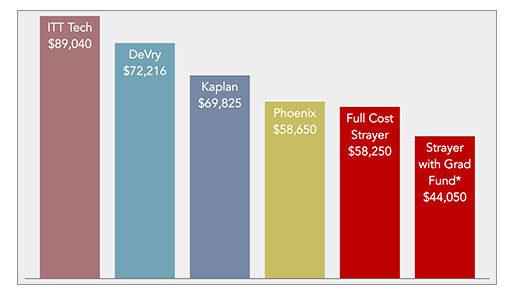 According to Strayer's numbers, their Bachelor of Business Administration degree can be significantly lower than several online popular online universities.
If you're looking to get a good idea of what you might pay without actually contacting anyone, be sure to check out Strayer's net price calculator, which can "make an early estimate of your annual and total cost." Thinking about the Jack Welch Executive MBA? This program appears to have a flat fee of $39,000.
From an admissions perspective, just like any other online university, there will be specific eligibility guidelines for each program. But in general, you'll have to fill out an application (no fee and no commitment), and have a high school diploma or equivalent for bachelor's programs, and a bachelor's degree for master's programs. Transferring credits will also require official copies of transcripts from all other colleges or universities attended.
In order to get a better idea of what it'll cost to earn your degree, a Strayer University admissions officer can be reached at 888-311-0355, or through online chat. Also, Strayer's Graduation Roadmap seems to be a great resource that can help address costs, schedule, graduation timetable and more. All you need to do is take about 10 minutes to answer a few short questions.
Popular, in-demand degrees at a price that's lower than some of the competition? What's not to like about Strayer University? But are the school's students happy with their education, or are they just in debt with nothing to show for their money and all their hard work?
Strayer University's Online Student Reviews
When it comes to online student reviews for Strayer University, it seems to be a mixed bag.
For example, on Colleges.Niche.com, Strayer University had a 3.9-star average rating, based on 2,509 student reviews. Common compliment's referenced flexibility to match your schedule, engaging coursework, and solid support staff. In fact, you'd be hard-pressed to find any really negative feedback on the website, even among the relatively few 3-star reviews.
On the other hand, Strayer University only had a 5.2 rating (out of 10) on OnlineDegreeReviews.org. Again, common compliments referenced the flexible schedule and quality education, while a lot of current and former students complained about poor staff communication, questionable coursework, high tuition, and problems with financial aid.
Strayer also had an average rating of 3.2 stars on GradeReports.com, where about half (49%) would recommend the University. Once again, we found most compliments referenced enjoyable experience and great staff, while most complaints referenced poor quality education (especially that the degrees are not looked upon favorably by employers), as well as problems with payment/financial aid.
These financial aid complaints seemed to be a recurring theme, as it was the most common criticism among 336 reviews on ConsumerAffairs.com, where the school earned a 1.6-star rating.
Despite this feedback, Strayer University had an A+ Better Business Bureau rating at the time of our research, with no closed complaints (as of 2/26/16).
How does everything we've talked about so far compare to other online universities?
Strayer vs. Other Online Universities
In this section, we're going to see how Strayer University stacks up against the competition based on two different tangibles: price and academics.
However, while these are arguably two very important aspects, keep in mind that the right online university for you probably isn't going to be based on these factors alone. Instead, your preferences will weigh heavily, which is obviously something we can't address here.
Strayer University's Tuition Costs
In the pricing section above, we already talked about how Strayer can be quite a bit less expensive than a couple of other online universities, such as DeVry and University of Phoenix. What about other popular options?
Western Governors charges students $3,000 per six months, Grand Canyon University $350 to $465 per credit hour for online undergraduate degrees, $340 per credit hour for Liberty University full-time students, and $700 to $1,100 per credit hour at Drexel University.
From a loan default perspective (which is an indicator of how well students can afford the University's education programs), CollegeFactual.com reports that the average 4-year Strayer student graduates with $35,728 in loan debt, while about 11.6% of students defaulted on their loans in 2013. Both of these figures are much lower than behemoths like University of Phoenix.
How Does ​​Strayer's Academics Compare?
Most online universities have some kind of proprietary online learning environment (e.g. Strayer's iCampus, Western Governors' MyWGu Portal, etc.), along with some kind of attractively-named "flexibility" program. In Strayer's case it's their "blended learning model," and aside from the marketing hype, neither seem particularly different from the competition.
It's important that any online college you attend offers accredited programs, and Strayer University is accredited by the Middle States Commission on Higher Education, "the same organization that accredits universities like Princeton University, Johns Hopkins University, Syracuse University, and many more." According to the school, this means you can "have the confidence that your degree will be recognized and respected by schools and organizations across the country." As we learned from several online student reviews though, this may not always be the case.
Pro tip: Unlike many other online universities, Strayer doesn't offer any certificate programs. So, if you're simply looking to brush up on your knowledge or professional skills instead of investing the time and money into a full-blown degree program, Strayer probably won't be your first option.
Finally, according to federal data, Strayer has an ultra-low graduation rate of about 15%, although the school responded by claiming that it's actually much closer to 33%.
The Bottom Line About Strayer University
As we briefly mentioned above, there are dozens of different factors that can decide which online university you ultimately choose, much of which will be based on personal preference. But if you're primarily focused on cost, Strayer seems to be one of the more "reasonably" priced options around.
Of course, even the term reasonable can mean different things to different people. For example, you'll pay a whole lot more to attend Strayer than you would a local community college or state-funded university, which could ultimately offer more bang for your buck. On top of this, most traditional colleges have hopped on the distance learning bandwagon, which could maximize your flexibility—especially since Strayer appears to specialize in common degree paths. So, be sure to include these options in your search as well.
Did you decide Strayer was your best option? If so, were you able to complete your degree? Did your real-world experience match your expectations? Be sure to tell us all about it by writing a review below!
Tuition credits

By Khimiyah C.

,

Stafford, TX

,

Feb 11, 2019
Verified Reviewer

I had to take off a semester due to a surgery I had in May of 2017. I spoke to a representative in regards to me returning to school and taking the classes I received an incomplete in. I specifically asked the representative if I complete the classes will I lose my tuition credits who stated incorrect information that I would still be able to keep them because I am completing the classes. After the semester I realized my tuition credits were removed, and when I spoke to my counselor, Tiffany Palmer, she stated I lost them because I would have to take two new classes in order to keep them. I told what was stated to me by the representative from Strayer. She said she would speak to her director in regards to incorrect information given to me which I had to keep getting back to her for a year and a half because she kept forgetting to follow up.

As of today, 2/4/2019, she told me they would not be able to give back the tuition credits because there was no documentation and they no longer record their conversations even though when they answer the phone they state we are on a recorded line. I followed what the information I was given from their rep because they are supposed to know what the policies are for the company they work for especially when given out information to their students attending the school. I lost more than $11,000 of tuition credits that I worked hard for every semester due to an untrained representative. I would not recommend anyone to attend a school who doesn't take responsibility for their representatives. I will continue my education with another university which takes their students' education seriously.

Bottom Line: No, I would not recommend this to a friend

---

Advertisement

---