StreamLoan Reviews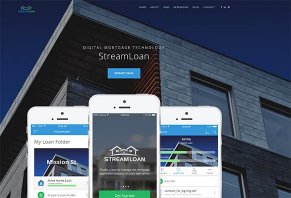 Whether you're a borrower, lender, real estate agent, or any other party involved in the mortgage approval process, StreamLoan's all-in-one platform claims to simplify and boost productivity.
About StreamLoan
StreamLoan is a fintech company whose digital mortgage platform promises to make the loan process simple and efficient for both the lender and customer, whether purchasing or refinancing.
A large portion of this involves streamlining the document gathering, filing, and retrieval process, thereby eliminating headaches and reducing loan application times, as well as relieving potential headaches for customers and allowing lenders to boost efficiency, increase revenue, close more loan, and reduce costs.
StreamLoan's technology also allows customers to easily communicate with lenders, including a clear audit trail for all submitted and un-submitted documents, so everyone knows exactly where they stand throughout the process. Not only does this help improve customer experience, but it also allows lenders to continue focusing on sales and business development.
According to their website, the average home loan currently takes more than 40 days to close, with lender manufacturing costs hovering somewhere around $8,800. But will StreamLoan help reduce time and costs? Are they the right solution for your business, as well as your customers?
Give us a few minutes, and we'll help point you in the best direction.
How Does the StreamLoan Website & App Work?
From a high-level perspective, StreamLoan promises to provide lenders with a consistent, organization-wide workflow process that allows them to "seamlessly collect, manage, and share data and documents" within the same platform. It also integrates with a variety of legacy "LOS, CRM, credit, employment verification, banks, and pricing" systems.
Lenders can also consolidate and streamline their lead management, including "digital leads purchased, referrals from home builders or real estate agents, or from other digital channels."
Zooming in and taking a closer look, lenders using the StreamLoan platform (there are currently more than 15,000 connected banks and financial firms) will start by sending a registration code to customers, which will allow them to sign up for the service.
In some instances, the company's private white-label option means that the transition between the lender and the software will be seamless and invisible to customers.
While family members can also join the primary applicant(s), each user will require their own account and unique registration code. However, only the company will have access to each person's financial data, which can be gathered in real time from banks, insurance companies, brokerages, tax, and payroll systems.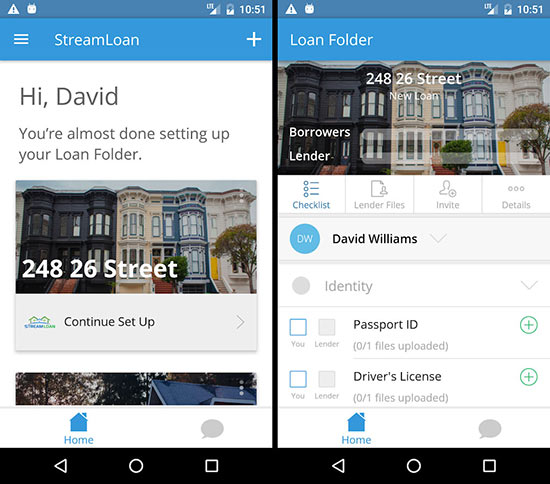 StreamLoan's Android and iOS app provides borrowers with quick access to (among other things) their Loan Folder, which contains checklists and other important documents related to their mortgage application. Credit: Google
Along these same lines, their StreamLoan Certified Documents™ (part of their Lender Suite) "are authorized from the source (stock brokerage, insurance company, bank, etc.)," which "keeps all documents from being modified inappropriately." These include pre-qualification and pre-approval letters, disclosures, purchase contracts, and appraisals.
All documents can be collected, reviewed, and approved from any device at any time. Clean, flawless files and financial documents procured directly from their source also allow underwriting to process loans at a faster pace, improve workflow, reduce errors and omission, and result in fewer wasted cycles between all parties involved.
Borrowers, lenders, relevant stakeholders, and real estate agents can monitor loan progress as well as receive updates and instant communication (part of their Collaboration Suite), including chat and notifications, to "share status, identify and resolve issues in real time, and keep your business partners and borrower up-to-date," all in a centralized location.
From a security perspective, all data, including documents, personal information, and chat sessions, is AES-256 bit encrypted, as well as AICPA secure & CFPB compliant. Logging in each time involves a multi-factor authorization process.
Data is also tracked and saved throughout the qualification process to help lenders build an audit trail, while each team member involved "can be assigned to a variety of roles including Management, Loan Officer, Loan Officer Assistant, Junior Loan Officer, Processor, and Underwriter, enabling the right set of security access."
Finally, StreamLoan's Financial Passport promises to allow borrowers to build their "financial DNA, and keep it updated automatically, so you are ready to go for a refinance or purchase on your own terms."
How Much Does StreamLoan Cost?
For borrowers working with any enabled mortgage lender, the StreamLoan platform is free to use. For lenders, their site's FAQ indicates "a monthly SaaS platform fee" is charged.
For additional details, the company can be reached at (415) 617-9906 or info@streamloan.io.
What Do We Know About StreamLoan as a Company?
There were only three reviews on Google Play for the StreamLoan app at the time of our research, although it held an average five-star rating.
From a company perspective, StreamLoan, Inc. is headquartered in San Francisco, CA, has been in business since 2015, and was co-founded by Stephen Bulfer and Armando Gonzalez, specifically "to bring a simple experience to getting a mortgage or loan."
Related: How a Good Credit Score Can Save You Money on Mortgage, Car Loan, and Credit Cards
StreamLoan held an A rating with the Better Business Bureau, with no closed complaints, as of 3/13/18.
StreamLoan vs. Blend's Digital Mortgage Platform
Whether you're a consumer, loan officer, or lender, there are certainly a variety of options that can help you streamline the process, remove potential roadblocks, and maximize your time.
However, the only other end-to-end solution we've encountered that brings together all parties involved under a single web/mobile platform is Blend. Like StreamLoan, their software can be white-labeled to offer a seamless borrower experience; provides easy communication between everyone, automated data mining from many large payroll providers, and quick access to all documents.
While we didn't test either of these services ourselves, the biggest difference is that Blend seems to focus on more of a hand-held application experience, including contextual help and the ability for LOs to 'co-pilot' an application on behalf of a borrower.
On the flip side, StreamLoan's financial data gathering seems more robust, since it includes payroll systems, in addition to banks, insurance companies, brokerages, and tax systems. Communication might also be faster with its chat and instant notifications, while their certified documents might greatly reduce the chance of error.
And compared to the one-size-fits-all approach of some other software, in a February 2018 interview with SuperbCrew.com, Stephen added:
"… not every lender manufactures loans the same way, so we have designed our system to seamlessly integrate into the individual process of each client. We also realized early on that applying for a mortgage isn't enough – so we build productivity tools for lending and real estate professionals to facilitate the home purchase process before the borrower engages with a lender (e.g., shopping with a real estate agent), and we provide tools to the lender to allow them to move faster and deliver more productivity in their firms."
What does all of this mean when it comes to your future with StreamLoan?
Our Final Thoughts About StreamLoan
When it comes to choosing the right all-in-one mortgage platform for your company, there are far too many moving parts involved to know which way to go without giving them a test drive. But, if you need a robust system with direct communication, in-depth security and document management, and transparent timelines, the website certainly makes it seem like StreamLoan might fit the bill.
From here, we'd recommend requesting a demo through their site's contact form.